This post may contain affiliate links. Please see my disclosure policy for more information.
'Tis the season for Christmas cookies! I've rounded up a dozen great recipes for you to enjoy this holiday season.
Thank you to Cost Plus World Market for sponsoring this post.
With Thanksgiving now in our rear-view mirror, it's time to start the holiday baking in earnest. (Who am I kidding…I've been holiday baking for a few weeks already!)
Of course I love all types of holiday desserts, but Christmas cookies hold a special place in my heart. Christmas cookies are the BEST because:
they're relatively easy to whip up
they can be made in advance and kept in the freezer until you need them
toss a few on a plate, and you have a delicious edible gift for teachers, neighbors, and friends alike!
This month, I teamed up with Cost Plus World Market to create 3 Christmas cookie recipes featuring some of their products, and now I'm excited to share these recipes with you!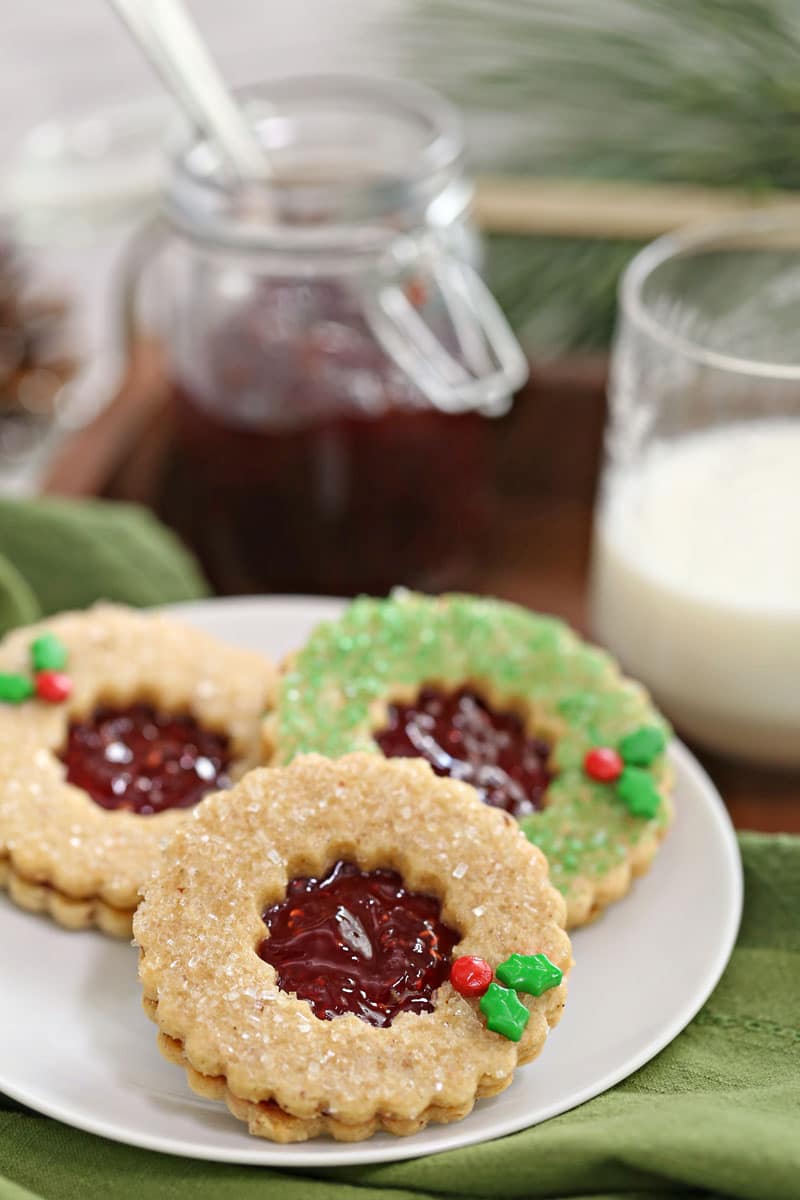 First up, these Linzer Wreath cookies (pictured above). The classic Linzer cookie is traditionally an almond cookie with a raspberry jam filling. My version keeps the same flavor profile, but I used a scalloped cookie cutter and added some sparkling sugar and holly sprinkles to transform the cookies into cute wreath shapes.
These cookies keep very well, and I always think it's nice to have at least one non-chocolate choice on a cookie plate. Get the Linzer Cookie Wreath recipe here!
Next up, these Gingerbread Men Sandwich Cookies. They may have the standard gingerbread man shape, but these aren't your grandma's cookies! I've given them a modern twist by including one of my very favorite ingredients: BROWN BUTTER. (pause for drooling)
The cookie dough and the filling both use brown butter, in addition to lots of ginger and cinnamon. They're flavorful, they keep well for days, and the fancy piping and gold buttons make them beautiful, too. Get the Gingerbread Men Sandwich Cookie recipe right here!
Finally, I indulged my inner chocoholic with these Hot Cocoa Brownie Cups. They're a rich, tender brownie with a soft, silky chocolate ganache filling inside.
The filling has hot cocoa powder mixed right in, so I decided to complete the cocoa comparison by topping these with a pinch of crushed candy canes and plush star-shaped marshmallows. They may not be as warming as an actual cup of cocoa, but they're just as cozy! Get the Hot Cocoa Brownie Cups recipe right here!
Lots of great inspiration for Christmas baking on this list—which one would you want to make??
This post was sponsored by Cost Plus World Market.