This post may contain affiliate links. Please see my disclosure policy for more information.
Happy last-day-of-the-year, folks! All you cool kids probably have plans to party like it's 1999. I myself am a wizened old lady who is battling the plague (or maybe just a really bad virus) so I'll be showing myself to bed at a reasonable hour and reminiscing about my youthful New Year's Eve escapades. Ah, those days at Studio 54…
I couldn't let the year pass without a quick look back at my favorite recipes from SugarHero! As I plan out 2015, I'm anticipating some projects that might take some of my attention away from the blog, so it was a little bittersweet to read through older entries and feel the weight of all the time and energy (and butter and sugar!) that went into creating these posts. Despite the ever-encroaching ads on the sidebar, SugarHero truly is a labor of love and it has been such a pleasure building it and watching it grow these past few years.
So let's get to the good stuff! To celebrate the end of 2014, here are ten of the BEST recipes I've posted this year. Numbers 6-10 are personal favorites of mine, picked because I just love how they taste, or I think they're fun and unique, or they were a huge thorn in my side and haunted my dreams until I got them juuuust right.
Numbers 1-5 are chosen based on page views—these are the most popular recipes on my site that were published this year. If I were a clickbait title writer, I would now say, "You Won't BELIEVE What Recipe Was #1 On SugarHero!!!" But I respect you all too much to do that, so I will only say, enjoy! Thank you for reading and for being in this space with me. Have a safe and happy celebration, and let's do it all again in 2015!
10. Churro Ice Cream Sandwiches
This recipe is all the good things in life. Fried dough? Check. Cinnamon-sugar coating? Check. Rich, soft homemade (horchata) ice cream? Check! I didn't think I was a big churro fangirl until I tried them in ice cream sandwich form, and now I would pole-vault over my own grandmother to get one more bite of a Churro Ice Cream Sandwich. True story. (Sorry, grandma.) Get the Churro Ice Cream Sandwich recipe and photo tutorial here.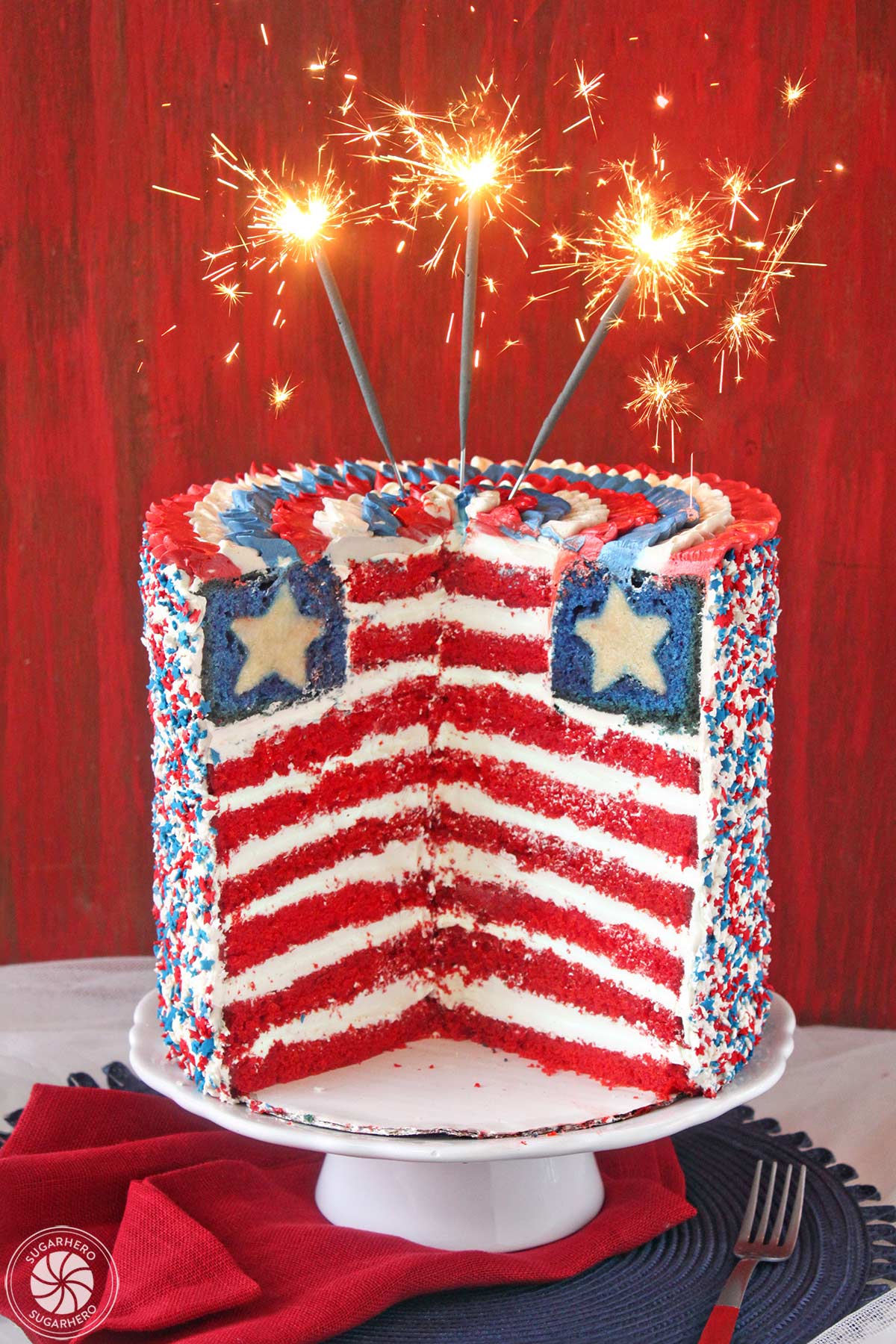 Apologies to all of my international friends, but I HAD to include this beast of a cake! (Plus, as someone pointed out in the comments, using only one star makes this Liberia's flag, so, uh…international appeal!) This mega-layered Fourth of July cake is everything I think dessert should be: fun, magical, and more than a little over-the-top! Get the American Flag Layer Cake recipe and photo tutorial here.
Answering the age-old question, "What does five pounds of apples in a pie filling look like?", this Mile High Apple Pie is the stuff dreams are made of! I found a cool, easy trick for making the pie beautifully round and neat, so you have no excuse not to give it a try the next time you're craving pie! Get the Mile High Apple Pie recipe and photo tutorial here.
7. Raspberry Almond Spiral Cake
If we're going by taste alone, this just might be my favorite recipe from last year. I know—it's shocking that it's not a deep, dark, extra-fudgy brownie or something! But something about the light and fluffy almond cake, chocolate whipped cream, and juicy raspberries just hit all of the right spots for me. The spiral design is super easy but looks SO impressive. Get the Raspberry Almond Spiral Cake recipe and photo tutorial here!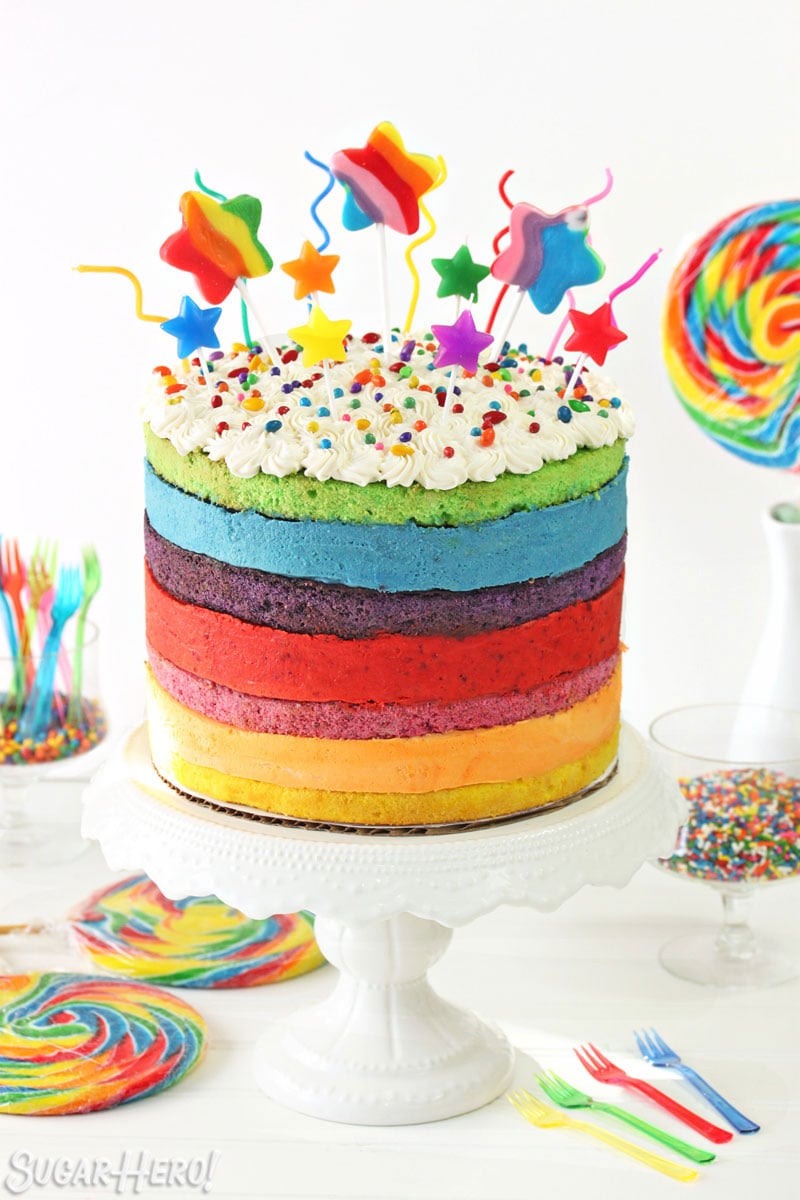 Happy birthday to me! This is how I celebrated my blog's 3rd birthday, and this is how I think all birthdays should be celebrated: with a crazy amount of sugar, candy, sprinkles, and bright rainbow colors. Basically, I was trying to make the cake equivalent of a magical unicorn, and I think this rainbow cake, with its alternating layers of fruit-flavored mousses and cakes, definitely succeeded.  Get the Rainbow Mousse Cake recipe here!
5. Doughnut Cake With Mocha Whipped Cream
If this epic doughnut cake hadn't made the cut based on page views, it would have been one of my personal picks, because: DOUGHNUT. CAKE. Do I need to say more? It's four layers of homemade sour cream doughnuts, sandwiched with mocha whipped cream and covered in a shiny chocolate glaze. It's insane but it totally, completely works. Get the Doughnut Cake recipe here!
4. Neapolitan Chocolate Chip Cookie Cake
The popularity of this one surprised me—I made it on a whim after dreaming up the idea the day before. That's how these things go—sometimes I plan and agonize and struggle for weeks, only to produce a post that has a lukewarm reception, and sometimes I'll make something off the cuff that seems to catch on and spark people's interest. I guess a love of giant cookie cakes is pretty universal, though, right? This version features three soft, cakey cookie layers with lots of strawberry, vanilla, and chocolate buttercream in between. Get the Neapolitan Chocolate Chip Cookie Cake recipe here!
What's better than a cake with polka dots on the outside? How about putting some polka dots on the inside, too! I made this cake for Easter, although it can really work for any time of year. Just pop some cake balls into your batter before you bake the cake and you'll end up with an adorable cake with a surprise inside! Get the Easter Polka Dot Cake recipe here!
Bless Mssr. Dominique Ansel and his crazy brain for inspiring this creation! This is one of the more ambitious recipes I've tackled this year, and I'm so pleased that it resonated with people, and that folks are actually making it and enjoying it! It features layers of dulce de leche-soaked banana bread, caramelized bananas, and mascarpone cream, wrapped in an edible chocolate shell and topped with lots of whipped cream. Can you dig it? Get the Banana Bread Tiramisu recipe and photo tutorial here!
1. Salted Caramel Hot Chocolate
Presenting…drum roll please…the most popular recipe posted on SugarHero in 2014! Yes, after the fifteen-layer cakes and complicated chocolate techniques have come and gone, one truth remains: the people love them some Salted Caramel Hot Chocolate! I can't argue—this recipe is legit! It's a little more time consuming than mixing some dry powder into a mug of hot water, but in return you get a delicious, rich drink with an amazing depth of flavor. If it's cold where you are, I'm thinking you need some of this today. Yes, right now! Get the Salted Caramel Hot Chocolate recipe here!
Honorable Mentions:
Peace OUT, 2014, and hellooooooo, 2015!