This post may contain affiliate links. As an Amazon Associate I earn from qualifying purchases. Please see my disclosure policy for more information.
This Easter Polka Dot Cake is a gorgeous spring cake with polka dots on both the outside AND inside of the cake! Learn how to create this cute, easy cake with surprise polka dots inside.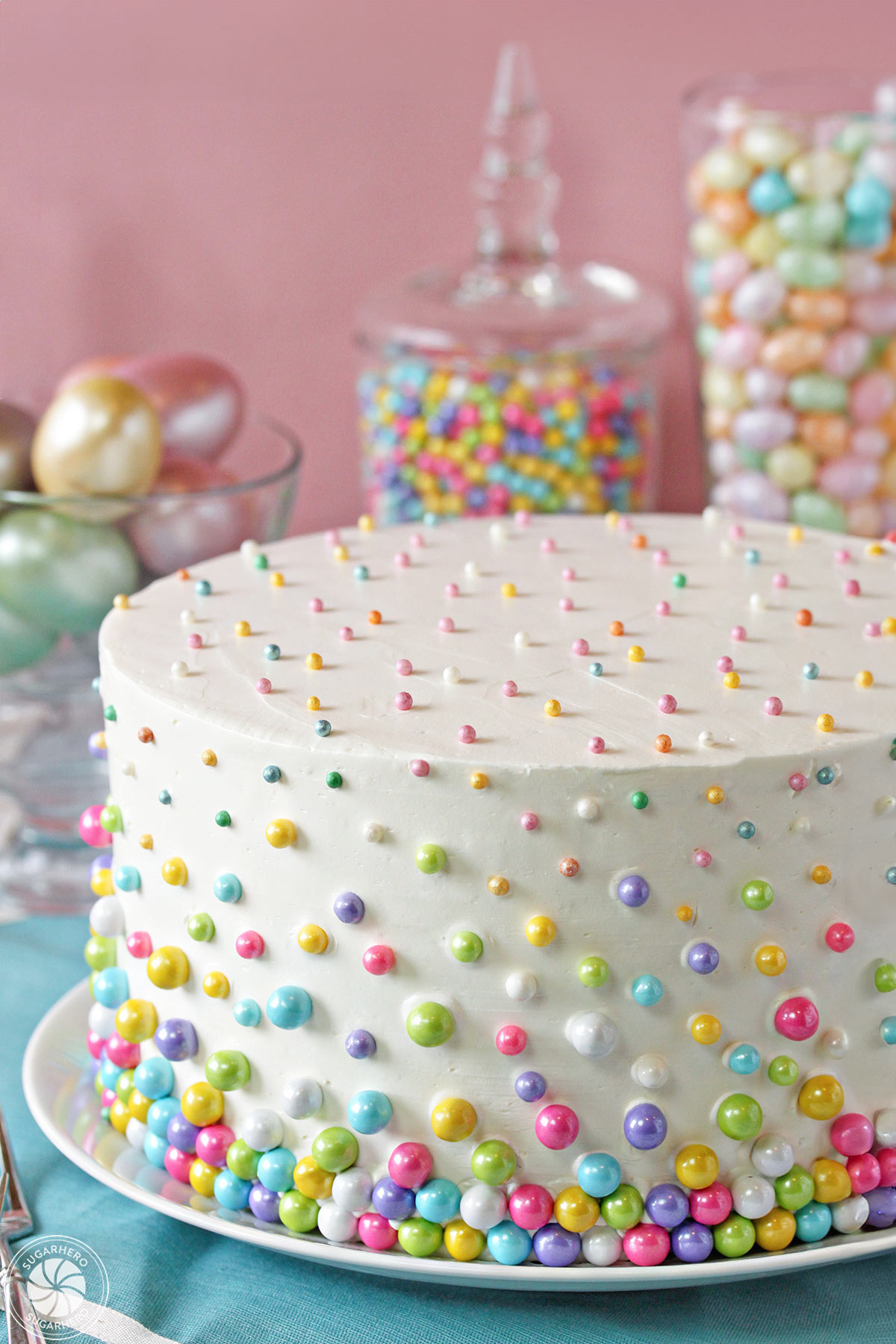 My parents were in town last week for my son's birthday party, so they were around when I was making and photographing some SugarHero desserts. When my mom walked into the kitchen and saw this cake, she stopped, smiled and said, "Oh honey, everything you make is so—"
A pause.
What was she going to say? Beautiful? Gorgeous? Stunning beyond measure?
"—time-consuming."
BUSTED.
My mom does not lie—many things that I make and post here are time consuming. Let's be honest about this. I'm no Rachael Ray, and very few of my recipes could be described as quick or easy. This is something I think about frequently, both because it causes me to be working in my kitchen at unholy hours of the night, and because I'm aware that fast and easy foods are the flavor du jour. We live in a Pinterest world, and that means few ingredients, minimal steps, and instant gratification. Basically, the exact opposite of everything I make.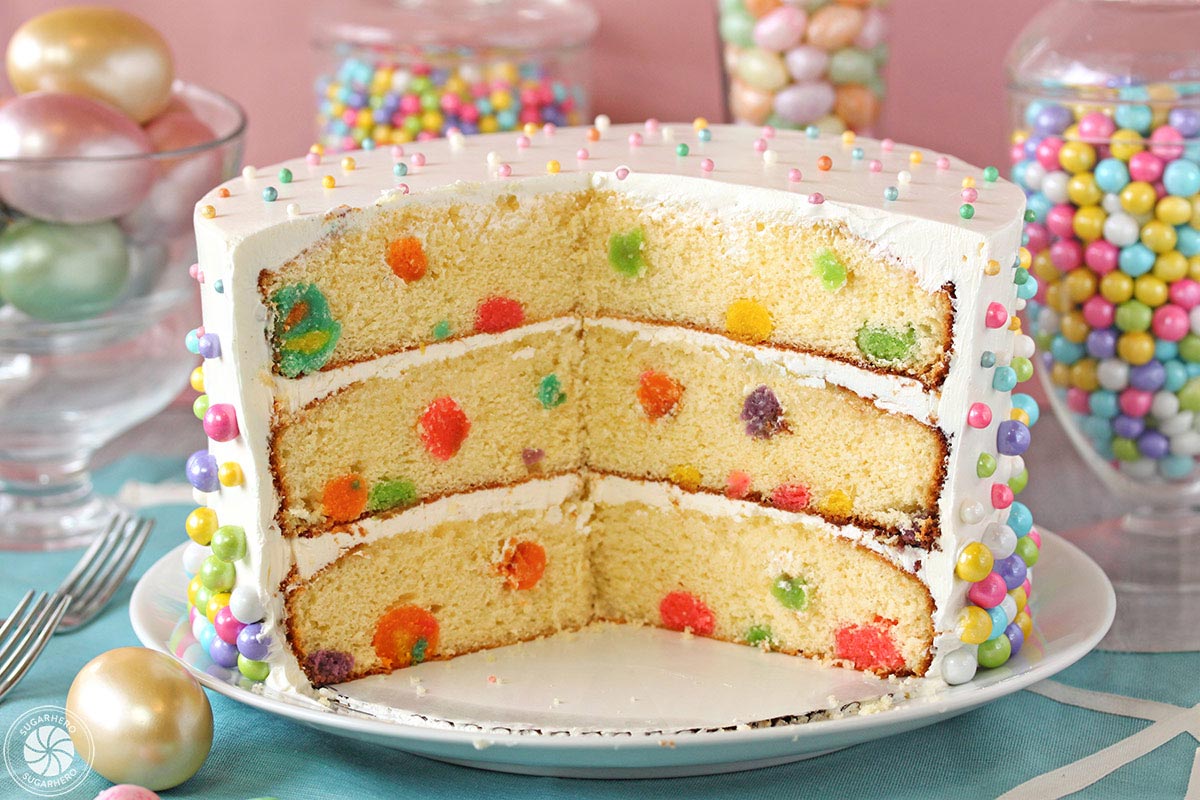 On one hand, I want to give the people what they want. Of course. What good is a recipe blog if no one ever makes the recipes? On the other hand, what's the point of having a personal blog if you're writing to popular opinion and not your own tastes? I go back and forth on this issue on a weekly basis, but what it usually comes down to is the fact that I can't bring myself to make and post things that I'm not really, really excited about.
And what excites me most are semi-ridiculous things like are sky-high mousse desserts, homemade stuffed doughnuts, eight layer cakes, and swirled tarts topped with whipped cream and chocolate curls and homemade truffles. In my world, more is more, and I just need to own it. If people pass by my recipes in favor of ones made with a cake mix*, well, that's the way the overly complicated cookie crumbles.
*I should point out that this particular recipe does make use of a cake mix, though, so y'all should come back here right now!
Now that I've effectively talked you out of ever making one of my recipes, let me sell you on this polka dot cake. I won't tell you it's fast, because I like you too much to ever lie to your face. But I pinky-swear to you that it truly is easy. The polka dot pattern on the outside is made by pressing candy into frosting, which requires zero planning and very little thought.
The polka dots on the inside start as mini cake balls, which every single person on this planet and a few intelligent apes have probably made by now. Cake + frosting + rolling = instant cake balls! The cake balls are suspended in yellow cake batter before being baked, which again doesn't take many brain cells. Both aspects are simple on their own, but when you combine them, you end up with a whimsical cake with a super-fun surprise inside.
To make this even more Easter-appropriate, you could roll your cake balls into egg shapes, and decorate the outside with an Easter egg pattern. You might be able to see in some of the pictures that I got a little ambitious and tried to make multi-colored cake balls with stripes or dots inside. It worked, but I didn't think the effect actually looked very appetizing, so I abandoned the idea–but you could certainly experiment with combining colors to form cool patterns! The cake itself is a lemon cake with coconut buttercream, so it tastes light and springy. It's the perfect way to end a special Easter dinner, or you can use this technique to make any special occasion cake. Birthdays, anniversaries, and major holidays all call for surprise polka dots, in my opinion.
And don't worry, this story with my mom has a happy ending. To punish her for her brutal honesty, I served her a big slice of this cake that as soon as I was done taking pictures. That'll show her.
If you're looking for more desserts to make for Easter, be sure to check out these adorable Easter Basket Cupcakes, Spring Chick cupcakes and Easter Baby Chick Cupcakes. Or, if you've got candy on your mind, try these beautiful Marbled Easter Egg Truffles and Peanut Butter Easter Eggs. These unique Easter Push-Up Pops and Chocolate Easter Nests (Birds Nest Cookies) are so fun for the kids!
💗More Spring Layer Cakes You'll Love
Chocolate Easter Bunny Cake
It just wouldn't be Easter without at least one adorable bunny-themed treat, and this Chocolate Easter Bunny Cake delivers! Moist chocolate cake, smooth buttercream, and lots of mini fondant decorations on top make this bunny cake a favorite the whole family will love.
Get the recipe!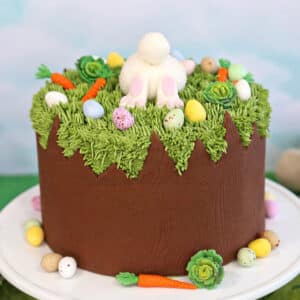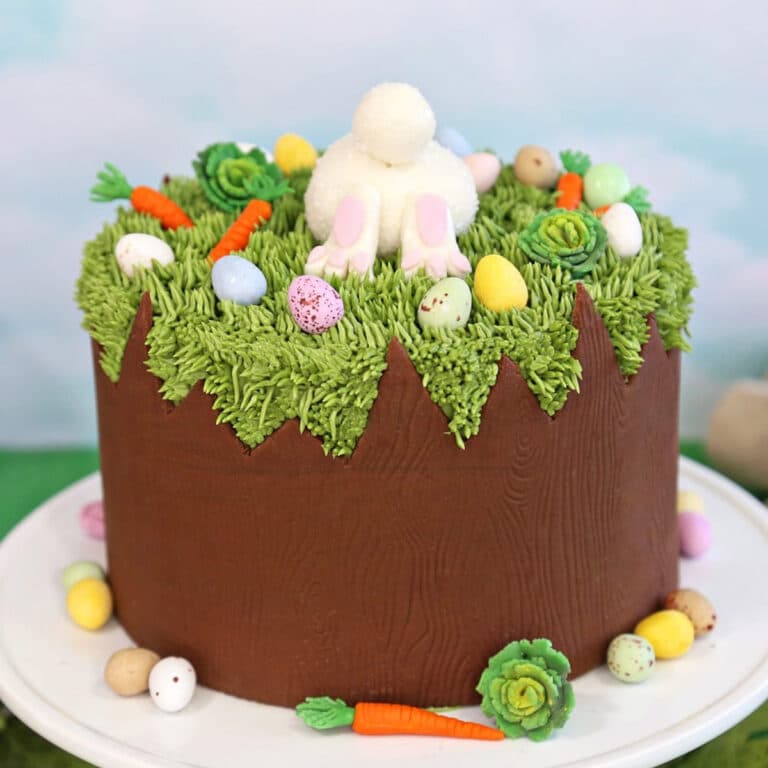 Easter Nest Cake
This Easter Nest Cake is a cute and easy Easter dessert recipe! It's baked right in a bowl–no special pan required–and is decorated with chocolate frosting to look like a sweet little bird's nest, complete with your favorite Easter egg candies.
Get the recipe!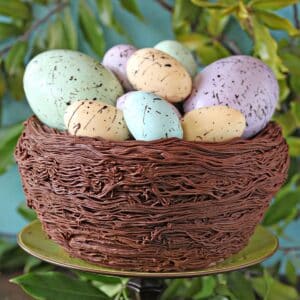 Easter Polka Dot Cake
This Easter Polka Dot Cake is truly easy to make, don't let it's look be deceptive! Just combine a few simple steps and you'll end up with this beautifully whimsical cake.
Ingredients
For the lemon cake:
9

large egg yolks

1 1/2

cups

milk

1

tbsp

lemon extract

zest of 2 lemons

15.75

oz

granulated sugar,

(2 ¼ cups)

15.75

oz

cake flour,

(3 ⅔ cup)

2

tbsp

baking powder

1

tsp

salt

9

oz

unsalted butter

,

at room temperature
For the coconut buttercream:
9

large egg whites

,

at room temperature

14

oz

granulated sugar,

(2 cups)

1

lb

unsalted butter

,

softened but still quite cool

1/2

tsp

salt

2-3

tsp

coconut extract,

to taste
Instructions
To Make the Polka Dots:
Preheat the oven to 350 F. Prepare the box mix according to the package directions. Divide the batter between five or six small bowls. Add a small amount of food coloring to each bowl to make different pastel shades. Scrape the colors into small cake pans, pie tins, or other small oven-safe containers. Bake until a toothpick inserted into the center comes out clean and the top springs back when lightly pressed. The baking time will vary depending on how much batter you use and the size of the pan, so watch the cakes carefully and start checking for doneness after 10-15 minutes of baking.

After the cakes are baked, let them cool completely. Crumble the cooled cakes into separate small bowls, then add a spoonful or two of frosting to each bowl. Work the frosting and cake together with your fingertips until the cake is moistened and holds its shape when rolled into a ball. (If you have ever made cake balls before, you are looking for the same texture as cake balls.) If necessary, add more frosting until you get a consistency that's easy to work with, but stop adding frosting before the cake gets greasy or gummy. Roll the cake into small balls of different sizes, and place them on a wax paper-covered baking sheet. Cover the sheet with cling wrap and keep it in the refrigerator until you're ready to make your cake layers. The polka dots can be made up to a week in advance, and kept in the refrigerator or freezer until ready to use.
To Make the Cakes:
Preheat the oven to 350 F. Line three 9×2-inch cake pans with parchment paper, and spray them with nonstick cooking spray. Combine the yolks, 1/2 cup of milk, and lemon extract in a small bowl, and whisk gently to combine. Set aside for now.

Combine the lemon zest and sugar in the bowl of a large stand mixer, and rub them together with your fingers until the sugar is moist and fragrant. Add the flour, baking powder, and salt, and mix together with a paddle attachment on low speed for 30 seconds.

Add the room temperature butter and the remaining 1 cup of milk to the flour, and mix on low speed for 30 seconds, until the dry ingredients are moistened. Turn the speed up to medium and mix for 90 seconds. With the mixer running on medium-low, add the egg yolks in three batches, mixing for 30 seconds after each addition. At the end, stop the mixer and scrape down the bottom and sides with a spatula so that the batter is well-mixed.

Divide the batter evenly between the three cake pans. Take the cake balls and press them into the batter, pressing some all the way to the bottom, some into the middle, and leaving some on top. You don't have to use all of the cake balls, but do use a lot of them—it takes a surprising amount of polka dots to make the cake slices look well-dotted!

Bake the cakes at 350 F for about 25 minutes, until they're puffed and golden on top, and a toothpick inserted into the center comes out with just a few moist crumbs attached. Cool the cakes completely.
To Make the Coconut Buttercream:
Combine the egg whites and the granulated sugar in the bowl of a large stand mixer, and whisk them together. Choose a small saucepan that lets you fit the base of the stand mixer snugly into the top of the saucepan—this is your makeshift hot water bath. (Alternately, you can use a different bowl or an actual bain marie and then transfer the mixture to a mixing bowl once it's heated.) Add an inch of water to the bottom of the saucepan, and bring the water to a simmer.

Place the mixing bowl on top of the saucepan, making sure that the bottom isn't in contact with the water, and heat the egg white mixture. Whisk frequently so that the egg whites don't cook. Continue to heat the whites until they are hot to the touch, and when you rub a bit between your fingers, you don't feel any grittiness from the sugar. Once the whites are hot, transfer the mixing bowl to your mixer and fit it with a whisk attachment.

Beat the whites on medium-high speed until they are no longer warm to the touch—feel the outside of the bowl, and make sure that it is around room temperature. Depending on your mixer and the temperature of your environment, this may take 15-20 minutes, or more. Reduce the speed to medium-low and add the softened but cool butter in small chunks, a tablespoon at a time, making sure to wait in between additions. It may separate or look a little gloopy at this point—fear not. Once all of the butter is added, increase the speed again and whip until it comes together and is light and fluffy. If, after 5 minutes, it hasn't come together, refrigerate the mixing bowl for 5-7 minutes, to cool the mixture down, and whip it again.

Add the salt and 2 tsp coconut extract, and mix until well-blended. Taste the frosting and add more coconut flavoring if desired. The buttercream can be made in advance and kept at room temperature if you're going to use it the same day, or refrigerated. If it's been chilled, let it sit at room temperature until it softens, then re-whip it to get the fluffy texture back before you use it.
To Assemble:
Trim the tops of the cakes so that they are level. Place one cake layer on a cake cardboard (ideally) or a plate. Spread a generous cup of frosting on top of the cake, extending out to the sides. Place a second cake layer on top of the first, and top that one with frosting as well. Finish with the third cake layer, then cover the sides and top of the cake with a thin layer of frosting, then refrigerate until firm.

Once firm, spread the top and sides with the remaining frosting. To get a very smooth finish, I like to run very hot water over an offset metal spatula, wipe it dry, then slowly run it over the sides and top, rinsing frequently. The heat of the metal helps to smooth out the frosting. Finish the cake by pressing Sixlets, sugar pearls, or other sprinkles into the tops and sides of the cake. For the best taste and texture, serve this cake at room temperature.
MEASURING TIPS
Our recipes are developed using weight measurements, and we highly recommend using a kitchen scale for baking whenever possible. However, if you prefer to use cups, volume measurements are provided as well. PLEASE NOTE: the adage "8 oz = 1 cup" is NOT true when speaking about weight, so don't be concerned if the measurements don't fit this formula.
Click here to learn more about baking measurements and conversion.
Nutrition
Calories:
779
kcal
|
Carbohydrates:
75
g
|
Protein:
7
g
|
Fat:
39
g
|
Saturated Fat:
24
g
|
Cholesterol:
207
mg
|
Sodium:
579
mg
|
Potassium:
258
mg
|
Fiber:
0
g
|
Sugar:
54
g
|
Vitamin A:
1290
IU
|
Vitamin C:
0
mg
|
Calcium:
120
mg
|
Iron:
0.7
mg
Share by Email
Share on Facebook
Share on Pinterest