These Gingerbread Cookie Mug Toppers are the best way to finish off your coffee or hot chocolate! They're deliciously spiced gingerbread cookies, perfectly designed to sit on the edge of your favorite mug. Give them as gifts, or keep them all to yourself and enjoy throughout the holiday season!

Gingerbread Mug Huggers
There is nothing that signifies the holidays more than the smell of spiced gingerbread cooking in the kitchen. I make it a point to make at least a few batches every year–one for gingerbread houses, another for cut-out cookies like this gingerbread tree, and then maybe a fun variation like chocolate gingerbread cookies or Gingerbread Chocolate Chip Cookies. Basically, if it's December, you're pretty much guaranteed to find me with a giant canister of ground ginger in my hands, and that's the way I like it!
I'm always on the lookout for new ways to enjoy my favorite Christmas cookie flavor, though, so this year I decided to experiment and make these adorable Gingerbread Cookie Mug Toppers.
These cookies have everything you love about traditional gingerbread cookies — the soft-but-chewy texture! The robust spices and ginger flavor! The royal icing decorations! — and one big improvement: a small notch at the base that lets them sit firmly on the edge of a glass. These cookies hug your mug and I could not be more obsessed!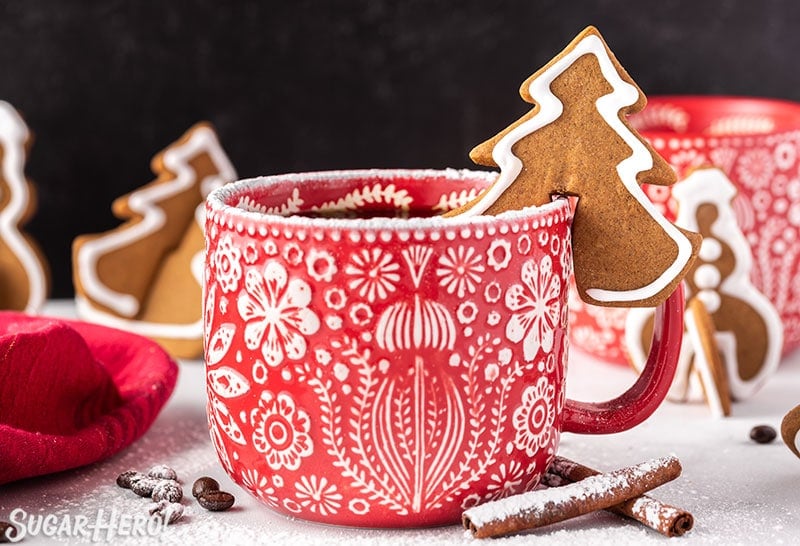 [lwptoc depth="1″]
☕️ What's the Deal with Mug Toppers?
What can you do with these Gingerbread Cookie Mug Toppers? Obviously they're perfect as a tea-time or after-dinner treat: brew a pot of coffee or tea (or whip up some hot chocolate!), add a cookie or two to the rim, and dip as you sip. The cookies are sturdy enough to withstand a good dunking, and there are few things more enjoyable than the combination of cookies and coffee.
The novelty and cute presentation of these cookies also make them an excellent edible gift. Package them in airtight bags and give them to teachers and friends with a mug and gourmet coffee or hot cocoa mix.
You can also serve them at holiday parties, or bring them to a Christmas cookie exchange. (And if you do that, let us know how it goes so we can add "award-winning" to the list of this cookie's accomplishments!) Speaking of cookie exchanges . . . check out more of my favorite holiday cookies like Candy Cane Cookies, Big Soft Sugar Cookies, Cinnamon Puff Pastry Twists, Pecan Snowball Cookies and Chocolate Truffle Peppermint Crunch Cookies!
Finally, don't forget to leave a few of these out on the plate for Santa. I'm not saying it'll sweeten your stocking, but I'm not saying it won't. *exaggerated wink*
🧾 Ingredients
In addition to staples like flour, baking soda, and butter, here are a few tips about the ingredients you'll need:
Spices:

This recipe calls for a LOT of different spices: you'll want ground cinnamon, ginger, cloves, nutmeg, and allspice. For many of us, these are spices we reach for a few times a year, at most. Spices rarely go rancid, but they do lose their flavor and potency over time. Before you begin baking, give them a sniff, and if they smell off or weak, buy a fresh jar. This cookie gets all of its flavor from the spices, so it's important that the spices are fresh and flavorful!
Molasses: For this recipe, you want to use unsulphered molasses. Grandma's Molasses is the most common brand and is often found in the baking aisle of large grocery stores. Blackstrap molasses is more bitter and is not a good substitute in this recipe, unless you know for sure that you love the taste of blackstrap.
Brown sugar: The recipe calls for light brown sugar, but dark brown sugar is also completely fine to use.
🥄 Equipment
Here's what you need to make these cute mug huggers! (The following are all affiliate links, and I earn a small commission from your purchase.)
📋 Instructions
These cookies are made in 3 parts: making the dough, baking the cookies, and decorating with royal icing (optional but very cute!). You can get full, printable instructions in the recipe card below, but here's a quick overview of the steps.
Make the Gingerbread Cookie Dough
Whisk the dry ingredients together and set aside.
Combine the butter and brown sugar, and mix them together in the bowl of a stand mixer.
Add the molasses and mix it in. (Pause here and enjoy the amazing smell.)
Mix in the egg and vanilla. At this point, the mixture might look broken (as in the picture on the right). This is normal! Do not panic.
Add the dry ingredients in 3 batches, mixing just until combined.
Divide the dough in half, wrap each half in plastic wrap, and chill for at least three hours. Several days is okay too!
Bake and Decorate the Gingerbread Cookies
Once the dough is chilled and firm, you can get rolling! Roll the dough out on a well-floured surface until it's about 1/4-inch thick.
Cut your shapes out with the cookie cutters. If you're manually making the notches in the bottom, use a real mug to decide how wide to make them, and make sure to leave a little extra room to account for the cookies spreading.
Place the cookies on a parchment-covered baking sheet, leaving a few inches between cookies.
Bake at 350 F for 7-8 minutes. Transfer to a wire rack to cool completely.
Once cool, decorate with royal icing, if desired. Let the icing harden, and serve!
💡 Tips and FAQs
Here are some answers to common questions. If you have a different question, feel free to leave it in the comments below!
Substitutions & Variations
Spices: You can slightly alter the gingerbread spices without affecting the overall taste. For instance, if you don't like the taste of cloves, you can omit the cloves spices. You should not omit the ginger or the cinnamon.
Orange: Adding the zest of an orange deepens the flavor and adds a wonderful citrus undertone. Add the orange zest at the same time you add the vanilla extract.
Maple: If you like the taste of maple, you can substitute real maple syrup for vanilla extract.
Make-Ahead and Storage Instructions
This dough can be made ahead and frozen for up to 3 months. Wrap each dough disc in plastic wrap, then place in a freezer zip-top bag to prevent freezer burn. When ready to use, thaw in the refrigerator and start at step 6.
Halving the Recipe
There are ways to halve this recipe. You could freeze one of the discs of dough (see above), or cut the recipe in half. When dividing a recipe that uses one egg, the best way to get an accurate measurement of half an egg is to whisk the egg well, then divide the whisked egg in half.
Don't miss the step-by-step tutorial showing how to make Gingerbread Cookie Toppers – check out the web story here!