Where the Wild Things Are Birthday Cake is a beautiful nine layer cake! It has a layer of chocolate cake, sandwiching chocolate buttercream, salted caramel buttercream, and salted caramel filling. It is delicious and perfect for birthday parties!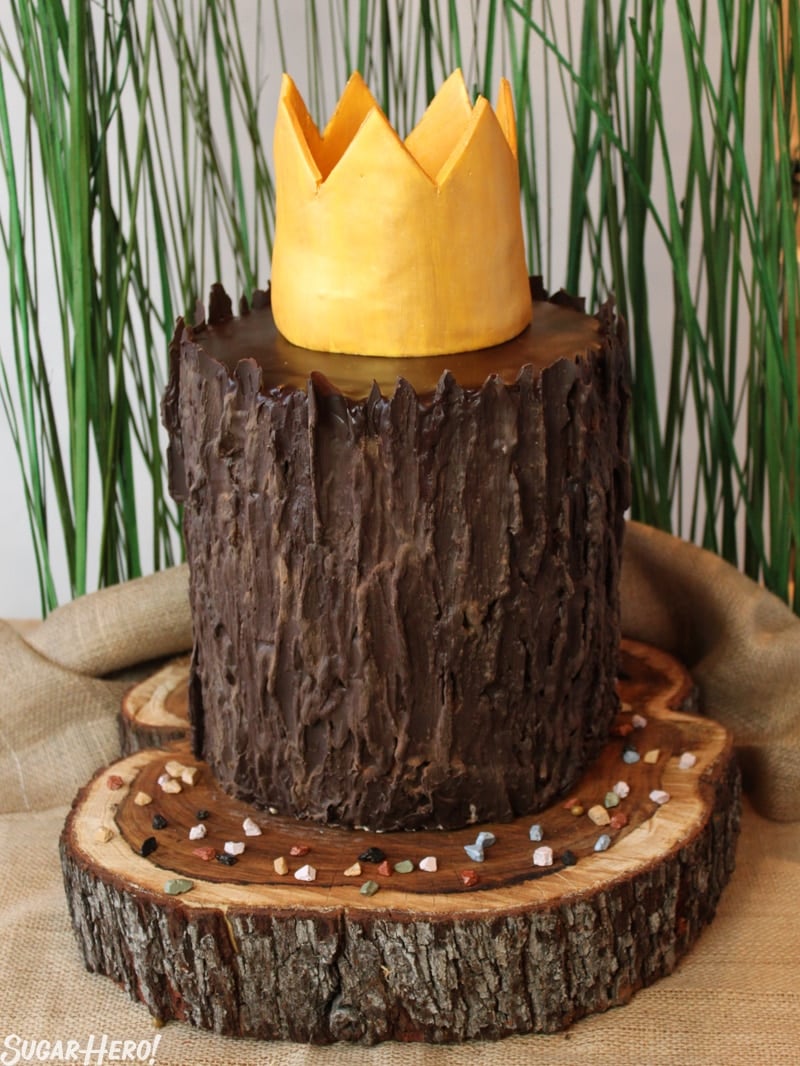 My son Asher turned two this month. I know. I KNOW. It seems like only yesterday I was writing a blog announcement and posting pictures of him in a wee Hershey's kisses hat. Like every parent always says, the past few years have sped by and I can't believe I now have a toddler who runs and sings and eats us under the table and tells me over and over that he's a big kid. This parenting stuff is heartbreaking and wonderful.
Last year we threw him a big Very Hungry Caterpillar birthday party, and it was a blast! (You can see the 3-tiered Caterpillar cake I made here, and read more about the party details here.) I loved everything about it–the park setting, the big gathering of our friends from all over the city, and the use of a literary theme. We decided to recreate the magic this year, and threw him a Where the Wild Things Are
party. I have a big post coming up with all the party details, but before that happens, we have to talk about the most important thing: the cake!
This beauty is nine layers of chocolate cake, sandwiching chocolate buttercream, salted caramel buttercream, and salted caramel filling. I wanted to evoke the feeling and imagery of the book without being super literal and sculpting mini Wild Things out of fondant or something. I decided to make my cake look like a tree stump, complete with rough chocolate bark, and topped it with a gleaming gold fondant crown.
I wouldn't necessarily say that any type of layered cake is easy, but I do think that this type of decoration is easier and faster than traditional fondant-covered layer cakes. It's meant to look rough and imperfect, so the texture of the cake can go a long way toward hiding any mistakes. The tree bark effect is made by pressing long strips of curled chocolate into the buttercream, then painting over it with more melted chocolate. The protruding curls, uneven brush strokes, and globs of chocolate really made the cake look like realistic!
The full recipe is below, and I've put together a little photo tutorial showing how it was done. Please excuse the uneven lighting, these were (sadly) taken in the middle of the night. Maybe one day I'll figure out the secret to making birthday cakes in advance and sleeping like a normal person.
One thing you might notice in the pictures is that the cake is not actually nine layers stacked on top of each other. Rather, I made three 3-layer cakes (each cake is 9″) and put them on individual cake boards, then stacked the cakes on top of each other using dowels for support–much the way you would stack a regular tiered cake. I wanted my cake to be really tall and visually striking, but I also wanted to be able to serve people reasonable portions, so this seemed like the easiest way to get the look I wanted without having to serve small children a heart attack on a plate.
The cake was a huge hit at the party. Several people asked me if it was really a cake, and I know there were a few children who were concerned that Asher didn't have a cake at all! (I guess it blended well with the rest of the decor!) I served it on a giant 16″ tree slab, scattered with chocolate rocks, and set it on a burlap runner backed with green grass–all of the natural elements really made the gold crown pop.
Sadly, this is the best picture I have of Asher with the cake. He wasn't feeling well for his party (more on this in the next post!) and didn't even want a slice of his own cake. He also didn't enjoy having everyone sing–this is him crying on my shoulder during Happy Birthday. Like I said: heartbreaking.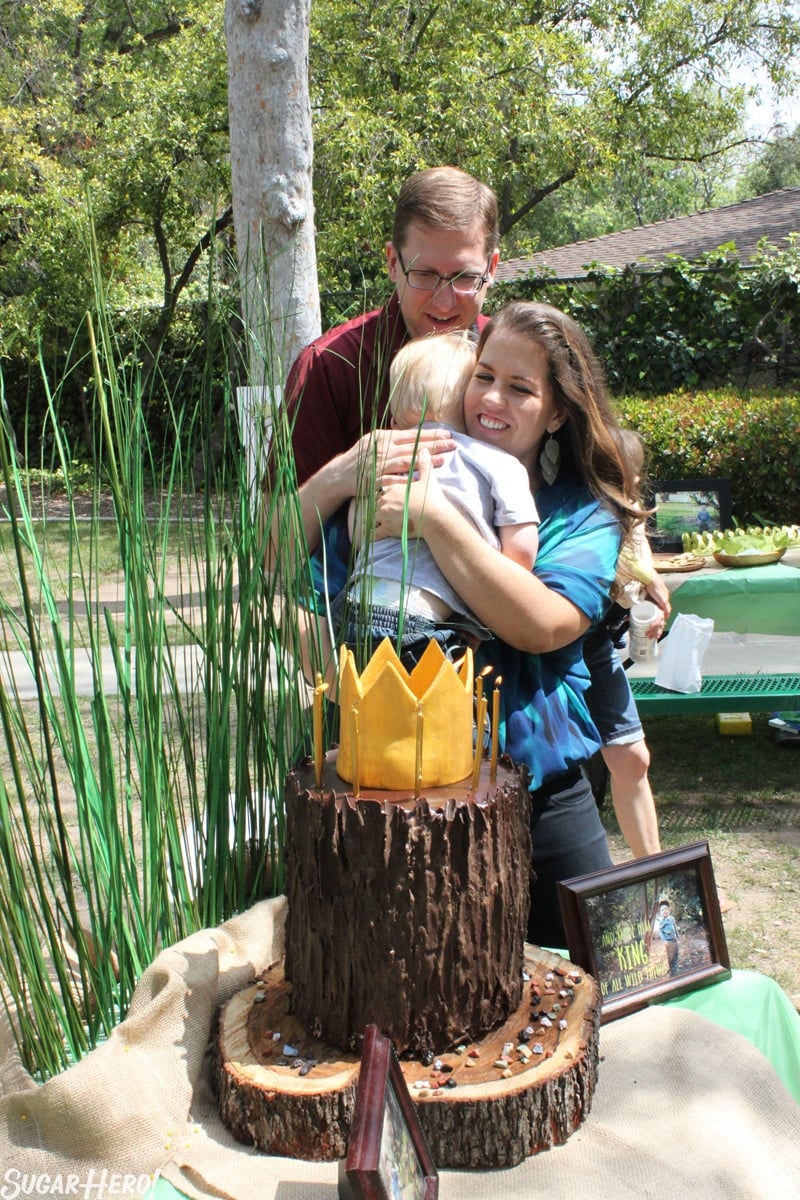 Fortunately, no one else objected to having cake, and most of it was demolished during the party. We had over 50 people, about half of them children, and I'd say we served about 75% of the cake. The remaining 25% we sent home with friends, and a few stray pieces came home with me (for photography purposes, of course!). Having the cake boards in between the layers was a godsend in dishing it up, and it was easy to cut small slices right off the top of the cake. The sides did get messy, though, and I generally had to pull the chocolate off because it didn't cut cleanly into slices. So I was left with a lot of chocolate scraps, although people did come up and munch on it as I was dishing up the slices.
And here's what it looks like on the inside! The cake itself is my go-to chocolate cake recipe. It's moist, with a deep chocolate flavor, but also holds up well to stacking and layering. I spread a thin layer of salted caramel on the bottom layer, then topped that with salted caramel buttercream. The second frosting layer is a chocolate buttercream, which was also used around the outside of the cake. I wasn't sure how well the salted caramel would do as a layer (whether it would cut cleanly, whether it would hold its shape, etc) so I was reluctant to use too much of it. In retrospect, it was one of my favorite parts of the cake, and I wish I'd used it for both filling layers instead of just one. I wrote the recipe with this change in mind–more salted caramel is never a bad thing!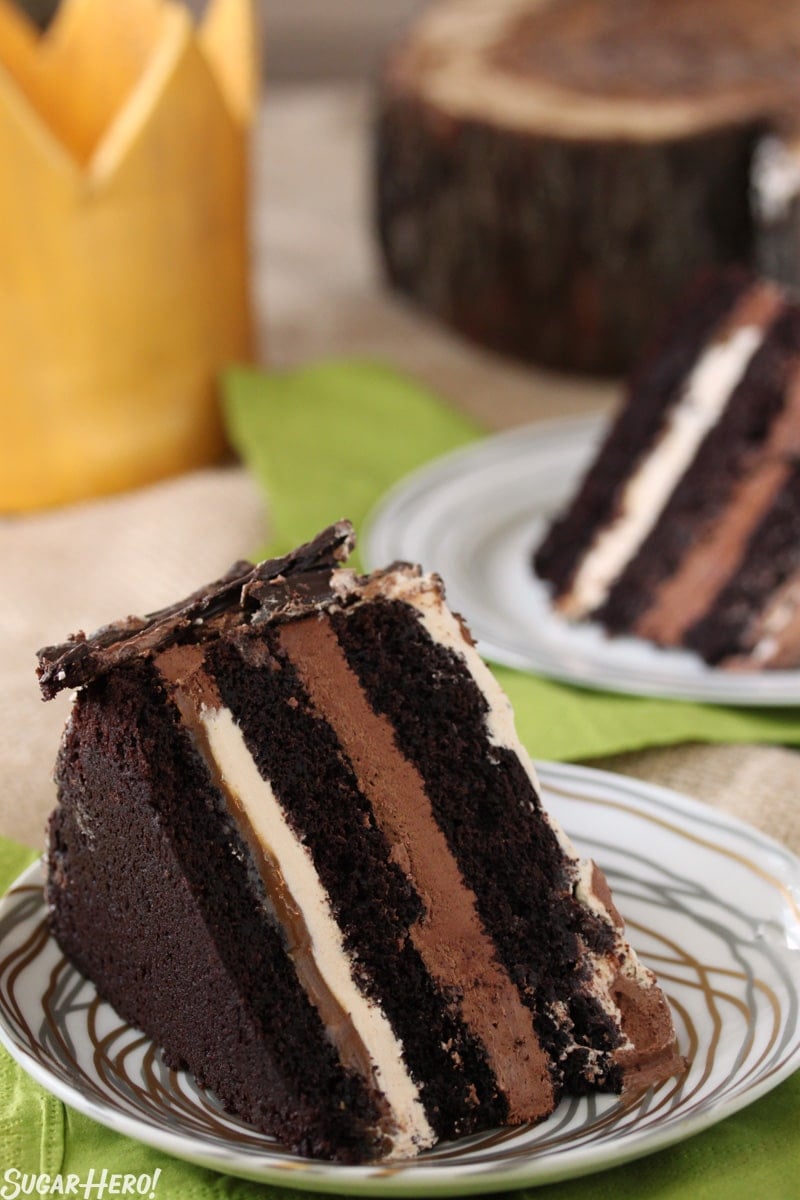 The recipe down below is for making one 9-inch cake. I figure most people probably won't have many occasions to make cake for 50 people, but there are plenty of occasions where a 9-inch cake could come in handy! So you can recreate our Wild Things cake at home any time, but if you need to make a giant one like I did, you'll need to triple this recipe.
I'll be back soon with all the party details, and gratuitous cute pictures of my kid. Sorry not sorry!
💛More Chocolate and Caramel Dessert Recipes
This post contains Amazon affiliate links. For more information, see my Affiliate and Advertising Policy.