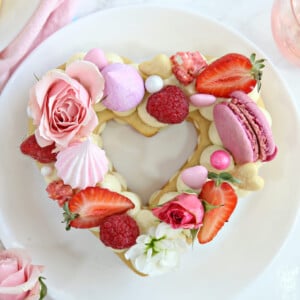 Trendy Cream Tarts
Total Time:
1
hour
8
minutes
Servings:
6
large cookies
These Cream Tarts are all the rage! Also known as cream biscuits or cream cakes, they're a beautiful and unique twist on traditional cakes. You can cut them into letters, numbers, or shapes, and decorate them with fruits, flowers, and all your favorite candies.Note that both the cookie dough and white chocolate frosting require some chilling time, so make sure you leave enough time to finish all the components.
Print Recipe
For the Tart Dough:
2

eggs

5.5

oz

granulated sugar

(3/4 cup)

3

oz

honey

(1/4 cup)

Pinch

salt

1

tsp

vanilla extract

3.5

oz

butter

1/2

tsp

baking powder

1/2

tsp

baking soda

13.5

oz

all-purpose flour

(3 cups)
For the White Chocolate Frosting:
10

oz

white chocolate

finely chopped (or real white chocolate chips)

10

oz

heavy cream

16

oz

cream cheese

at room temperature—do not use low-fat or non-fat varieties
To Decorate:
Flowers, berries, meringues, candies, or anything else you want!
To Make the Tart Dough:
Combine the eggs, granulated sugar, honey, salt, and vanilla extract in a medium saucepan, and whisk together. Add the butter, and place the pan over medium heat. Watch the pan and whisk frequently while the mixture heats up and the butter melts. Continue to whisk until it starts to simmer, but don't bring it to a full boil.

Once the honey mixture is hot, remove the pan from the heat and whisk in the baking powder and baking soda. It will foam up and get thick and frothy. Set aside to cool until it is warm but not hot.

While you're waiting for the honey mixture to cool, sift the flour to remove any lumps, then pour half of it out onto a cutting board or your countertop.

Stir the other half of the flour into the honey mixture, and whisk until it's all incorporated. The batter should still be pretty runny. Scrape the batter out onto the flour on your work surface, and gently use your hands to work the flour into the dough, gently kneading it just until the flour is incorporated and the dough is mostly smooth and only a bit sticky. Flatten the dough into a disc, wrap it in plastic wrap, and refrigerate it for an hour, until firm.

Preheat the oven to 350 F. Roll the dough out onto parchment or a sil-pat, dusting with a bit of flour only if necessary to prevent sticking. Cut out 6" hearts, then use a smaller 2.5" heart cutter to cut out the middle. (Alternately, you can cut any shape you'd like out of cardstock, and trace the shape with a sharp knife onto the dough.) Re-roll the dough until you've cut out 12 heart shapes, to make a total of 6 cream tarts. Use excess dough to make small hearts for decorations, if desired.

Place the large hearts a few inches apart on baking sheets covered with a sil-pat or parchment paper. Bake for 6-8 minutes (I find that cookies on parchment cook faster than cookies on a sil-pat.) The cookies won't take on any color on top, but should puff and expand a bit, and if you use a spatula to take a peek under the cookie, the bottom should be golden brown.

Let them cool completely before decorating.
To Make the White Chocolate Frosting:
Combine the chopped white chocolate and heavy cream in a medium bowl, and microwave it for 1 minute. Whisk the cream and white chocolate together until the chocolate is completely melted and smooth. Press a piece of plastic wrap directly on top, and refrigerate for at least 4 hours, until completely cold. It should have the texture of thick syrup after it has been chilled.

Place the room temperature cream cheese in the bowl of a large stand mixer fitted with a paddle attachment. Beat until the cream cheese is creamy and no lumps remain. Switch to the whisk attachment, and add the cold white chocolate ganache. Mix on low at first, to incorporate the ingredients, then scrape down the bottom and sides of the bowl.

Turn the mixer to medium speed and beat for a few minutes until the frosting becomes thick and holds its shape well.
To Decorate:
Fit a piping bag with a round coupler, and fill it with white chocolate frosting. Take one cookie and pipe two rows of frosting around the edges of the cookie, covering the top surface completely. Gently place a second cookie on top of the first, and repeat the frosting pattern.

Decorate the top of the cookie with fresh flowers, fresh berries, candies, macarons, or anything else you'd like! They look best when covered with a colorful assortment of treats. Repeat until all of the cookies are frosted and decorated.

Since the cookies remain soft after decorating, they can be enjoyed right away, but I think the texture is best after they have been refrigerated for at least an hour, so the frosting can firm up a little bit and the cookies soften a bit more—at that point, they have a cakey texture that's divine! They can be enjoyed up to 8 hours after assembly, but I wouldn't recommend pushing it much past that—the edges will start to get a bit stale. If you do need to do parts in advance, the cookies and frosting can both be made several days ahead of time, and then it's short work to assemble everything on the day of serving.
Calories:
794
kcal
|
Carbohydrates:
119
g
|
Protein:
16
g
|
Fat:
73
g
|
Saturated Fat:
43
g
|
Cholesterol:
247
mg
|
Sodium:
444
mg
|
Potassium:
454
mg
|
Fiber:
1
g
|
Sugar:
68
g
|
Vitamin A:
44.3
%
|
Vitamin C:
0.6
%
|
Calcium:
25.7
%
|
Iron:
20.8
%