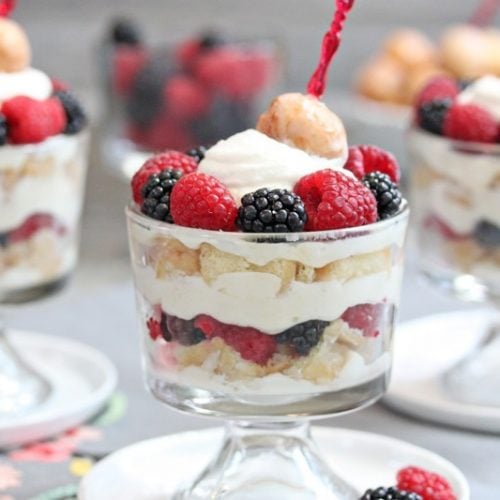 Doughnut Trifles
It's official--Doughnut Trifles are the BEST way to make a trifle! Layer doughnuts, cream, and fresh berries for a quick, easy, and delicious treat! This recipe makes 6 individual trifles (about 8 oz each). If you don't have individual trifle dishes, you can make it in one medium trifle dish, or even a glass bowl! Note that there is a 3-4 hour chill time before serving for optimal taste and texture.
Print Recipe
6

large glazed doughnuts

2

cups

heavy cream

divided use

6

oz

prepared lemon curd

(2/3 cup)

24

oz

fresh berries

(I used a mix of raspberries and blackberries)

1

oz

powdered sugar

(1/4 cup)

½

tsp

vanilla extract

6

doughnut holes for decoration

(optional)
Cut the doughnuts up into small pieces, between ½-1 inch. Place 1 ¼ cups heavy cream in a mixing bowl, and whip it until firm peaks form. Add the lemon curd to the whipped cream, and gently fold them together until they're combined.

Spread a thin layer of the lemon cream on the bottom of 6 individual trifle cups (8-10 oz in size). Arrange a layer of doughnuts on top of the cream, then add a layer of fresh berries on top of the doughnuts. Scoop more lemon cream on top of the berries, spreading it into an even layer, then repeat the doughnuts-berries-cream pattern one more time. (Depending on the exact size of your trifle cups, you may need to adjust the layers and add more or fewer layers to make everything fit neatly.) Make sure you finish with a layer of whipped cream, so that the doughnuts are completely covered and are not exposed to air. Refrigerate the trifles for at least 3-4 hours (overnight is optimal) to give the doughnuts time to soften and the flavors time to meld together.

Shortly before serving the trifles, combine the remaining ¾ cup heavy cream, powdered sugar, and vanilla extract, and whip to medium peaks. Spoon a big dollop of cream on top of each trifle, and put a ring of fresh berries around the cream. (While you can decorate them before refrigerating overnight, I think they look and taste the best when they're freshly decorated.) Finish each trifle with a doughnut hole on top, if desired.
Calories:
645
kcal
|
Carbohydrates:
37
g
|
Protein:
2
g
|
Fat:
32
g
|
Saturated Fat:
20
g
|
Cholesterol:
108
mg
|
Sodium:
116
mg
|
Potassium:
120
mg
|
Fiber:
3
g
|
Sugar:
31
g
|
Vitamin A:
24.4
%
|
Vitamin C:
4
%
|
Calcium:
6.1
%
|
Iron:
1.1
%