This post may contain affiliate links. As an Amazon Associate I earn from qualifying purchases. Please see my disclosure policy for more information.
It's official–Doughnut Trifles are the BEST way to make a trifle! Layer doughnuts, cream, and fresh berries for a quick, easy, and delicious treat!
Without any intention or premeditation on my part, 2016 has turned into the Year of the Doughnut. In the past few months alone, we've had Doughnut Ice Cream Sundaes, Doughnut Funfetti Ice Cream, and Grilled Doughnuts. But after stuffing them with sundae toppings, churning them into homemade ice cream, and throwing them on the grill to get nice and caramelized, I'm still not done with the humble doughnut. My new plan is to steer into this skid, rebrand as DoughnutHero, and shove doughnuts into as many desserts as I possibly can. Who's with me?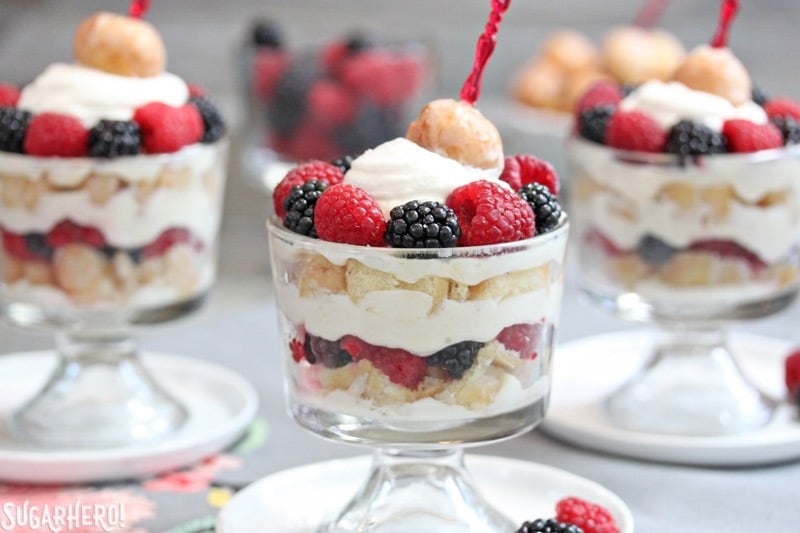 Next up: Doughnut Trifles! Most trifles are made with chunks of cake (like this Peaches and Cream Trifle from a few weeks ago!) but you know what's even better than cake cubes? Doughnut cubes! Swapping in doughnuts for cake is the perfect way to level up your typical trifles and make them 83.54% more delicious.
Here's the deal: in most trifles, the cake is a pretty neutral component. Its job is really to soak up some moisture and become a tasty cake-sponge that holds all of the other ingredients together. Doughnuts bring that same wonderfully soft texture, but they also add a sweet, yeasty, glazed flavor that you can't get from traditional pound cake.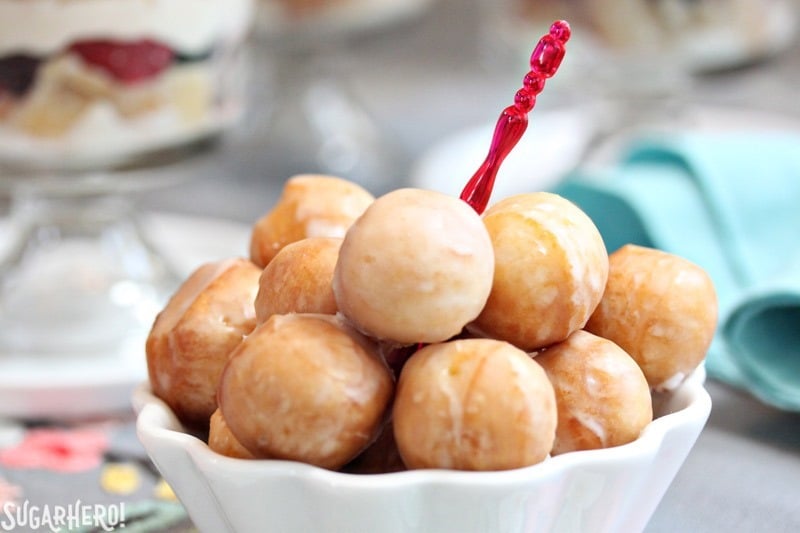 Hopefully I've sold you on this concept already, but if not, consider this: doughnut trifles are also a great way to use up doughnuts that are stale, old, or just plain underwhelming. For instance, let's say you buy a bunch of glazed doughnuts because you want to get your grill on. (Good choice, by the way!) You grill a few, and after stuffing your face, you're still left with a bunch of boring glazed doughnuts. Snooooooze. What's a doughnut-lover to do?
Here's what you do: chop up those babies. Don't worry if they're stale –that's actually even better. Layer the doughnut cubes with a luscious, tangy combination of lemon curd and whipped cream. Add a lot of fresh berries—the juicier, the better! Really squish everything together. Then repeat and repeat until you've filled your trifle cup with all of these layers of deliciousness!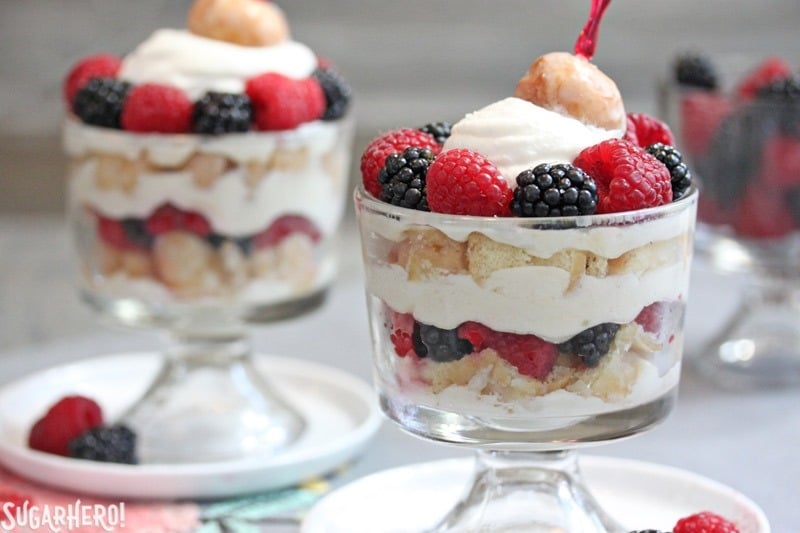 Chill the trifles, so the doughnuts get soft and the flavors meld together. Then add a few decorations on top (I'm partial to fresh berries and cute lil doughnut holes!) and serve!
Trifles are the ultimate make-ahead desserts, so you can whip these up a day–or even several days–before you're going to serve them, and they only get better the longer they sit. So there's really no excuse NOT to make these for your next dinner party or brunch. (Since they have doughnuts, I'm claiming these as a brunch/breakfast recipe as well.) Enjoy!
🍓 More Fabulous Fruit Recipes
Doughnut Strawberry Shortcakes
These Doughnut Strawberry Shortcakes have a combination of sweetly glazed yeasted doughnuts, juicy berries, and softly whipped cream, pretty much perfect, right? The doughnuts don't have the crunchy exterior of traditional shortcakes, but I actually love that they stay soft and pillowy.
Get the recipe!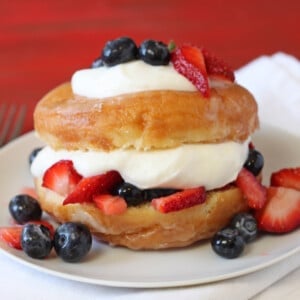 Doughnut Ice Cream Sundaes
If you're ready to take your ice cream up a notch, try this Doughnut Ice Cream Sundae! It's a giant sundae with all the fixings, served on top of a crispy doughnut!
Get the recipe!
Doughnut Trifles
It's official–Doughnut Trifles are the BEST way to make a trifle! Layer doughnuts, cream, and fresh berries for a quick, easy, and delicious treat!
Ingredients
6

large

glazed doughnuts

2

cups

heavy cream

,

divided use

6

oz

prepared lemon curd

, (

2/3 cup

)

24

oz

fresh berries

,

I used a mix of raspberries and blackberries

1

oz

powdered sugar

, (

1/4 cup

)

½

tsp

vanilla extract

6

doughnut holes

,

for decoration, optional
Instructions
Cut the doughnuts up into small pieces, between ½-1 inch. Place 1 ¼ cups heavy cream in a mixing bowl, and whip it until firm peaks form. Add the lemon curd to the whipped cream, and gently fold them together until they're combined.

Spread a thin layer of the lemon cream on the bottom of 6 individual trifle cups (8-10 oz in size). Arrange a layer of doughnuts on top of the cream, then add a layer of fresh berries on top of the doughnuts. Scoop more lemon cream on top of the berries, spreading it into an even layer, then repeat the doughnuts-berries-cream pattern one more time. (Depending on the exact size of your trifle cups, you may need to adjust the layers and add more or fewer layers to make everything fit neatly.) Make sure you finish with a layer of whipped cream, so that the doughnuts are completely covered and are not exposed to air. Refrigerate the trifles for at least 3-4 hours (overnight is optimal) to give the doughnuts time to soften and the flavors time to meld together.

Shortly before serving the trifles, combine the remaining ¾ cup heavy cream, powdered sugar, and vanilla extract, and whip to medium peaks. Spoon a big dollop of cream on top of each trifle, and put a ring of fresh berries around the cream. (While you can decorate them before refrigerating overnight, I think they look and taste the best when they're freshly decorated.) Finish each trifle with a doughnut hole on top, if desired.
Recipe Notes
This recipe makes 6 individual trifles (about 8 oz each). If you don't have individual trifle dishes, you can make it in one medium trifle dish, or even a glass bowl! Note that there is a 3-4 hour chill time before serving for optimal taste and texture.
MEASURING TIPS
Our recipes are developed using weight measurements, and we highly recommend using a kitchen scale for baking whenever possible. However, if you prefer to use cups, volume measurements are provided as well. PLEASE NOTE: the adage "8 oz = 1 cup" is NOT true when speaking about weight, so don't be concerned if the measurements don't fit this formula.
Click here to learn more about baking measurements and conversion.
Nutrition
Calories:
645
kcal
|
Carbohydrates:
37
g
|
Protein:
2
g
|
Fat:
32
g
|
Saturated Fat:
20
g
|
Cholesterol:
108
mg
|
Sodium:
116
mg
|
Potassium:
120
mg
|
Fiber:
3
g
|
Sugar:
31
g
|
Vitamin A:
1220
IU
|
Vitamin C:
3.3
mg
|
Calcium:
61
mg
|
Iron:
0.2
mg
Share by Email
Share on Facebook
Share on Pinterest