This post may contain affiliate links. As an Amazon Associate I earn from qualifying purchases. Please see my disclosure policy for more information.
As a child I hated camping. I hated the claustrophobia of stuffy tents and sleeping bags, I hated being away from warm showers, I hated hiking, and I especially hated pit toilets. In fact, the only element of camping I remotely enjoyed was the food. Camping was a great excuse to indulge in foods that we normally didn't eat, like biscuits smothered in sausage gravy, bacon in every single meal, and gooey S'mores around the campfire.
As an adult I have grown to love hiking and being around nature, although I still dislike pit toilets. However, my S'mores consumption has sadly diminished from my younger years. A recent surplus of homemade marshmallows led me to crave S'mores, so I decided to do what my childhood self never imagined: make S'mores from scratch.
There are three basic elements to S'mores: the marshmallows, the graham crackers, and the chocolate. I began by making my own graham crackers, which was a revelation. Although I've made all sorts of baked goods, it had never occurred to me to make crackers. They just didn't seem very exciting or necessary to make. Some things will obviously taste better homemade. But crackers? I had my doubts.
Turns out homemade graham crackers are good! This recipe uses brown sugar, honey, and a sprinkling of cinnamon-cloves to give the crackers a warm, homey taste. I found that I preferred the crackers very well done, so that they had a satisfying snap and crunched all the way through. This recipe is from Michael Recchiuti's Chocolate Obsession, an excellent cookbook for the chocophile.
Now that the grahams are taken care of, what about the marshmallows? Well, you lucky people, I happened to put together a photo tutorial showing how to make marshmallows in ten easy steps! This recipe's not hard, but you will need a candy thermometer and a large mixer with a whisk attachment. The marshmallows should be made a day before you use them, so I guess you also need a little foresight.
And finally, the chocolate. I have big plans to make my own chocolate from scratch, and have bought cacao beans for that very purpose. However, I haven't quite gotten there yet, so for the time being I contented myself with a Trader Joe's bittersweet Pound Plus bar. (Aside: they've gone up in price! $4.00 each now. I suspect rising oil costs are to blame somehow.)

The actual baking of the S'mores is child's play, assuming you would let children anywhere near an oven set to broil at 500 degrees. (I might, which is why I don't have children yet.) Turn your oven to broil on its highest setting. Line a baking sheet with foil or parchment, and place several graham crackers on the sheet face-down. Top the cracker with chocolate. I opted to chop my chocolate, since the bars were almost an inch thick and I didn't think they'd melt enough for my taste. Place a marshmallow or two on top of the chocolate, and remember that they will puff up–dont' be greedy and smother it with mallows, as that will only result in an abominable snowman of a S'more that is impossible to control and eat properly.

Place the open-faced S'mores in the oven and watch them like a hawk. Do you know the phrase "a watched pot never boils"? I am here to tell you that an unwatched S'more will overbroil in a second. It took about 20-30 seconds in my oven to get them to the point I liked–melted and gooey, with a crisp golden brown topping. If I waited much longer, the inside was liquified and the top was a crunchy, chewy mess.
Once your S'mores are cooked, top with a second cracker and attempt to eat gracefully. I recommend bibs, tarps, and a garden hose for clean-up. Eat your heart out, childhood me!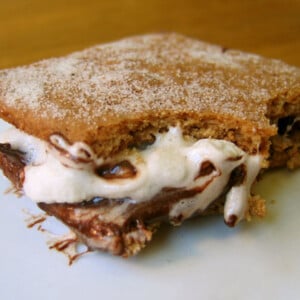 Homemade S'mores
These Homemade S'mores have three basic elements to S'mores: the marshmallows, the graham crackers, and the chocolate. Pretty simple as you know, but have you tried making the marshmallows and graham crackers homemade?!
Instructions
Whisk together the milk, vanilla, and honey in a small bowl and set aside.

Place the flours, salt, and baking soda in the bowl of a large stand mixer and turn it to low to mix. Add the butter and turn the mixer to medium, mixing until it looks like coarse meal. Add the sugar and mix until no sugar lumps remain.

With the mixer on medium, slowly stream in the milk mixture and beat until a smooth dough forms, 2-3 minutes.

Scrape the dough onto a length of cling wrap, pat it into a thin square, and wrap it tightly. Refrigerate overnight to firm the dough.

When you are ready to make your crackers, preheat the oven to 350. Line two baking sheets with parchment. Lay out a strip of waxed paper and sprinkle it generously with flour. Place your dough on the prepared surface and sprinkle the top with more flour. Lay another sheet of waxed paper on top, and roll the dough between the floured paper. My dough was really, really sticky. Obviously it's best if you don't work too much extra flour into the dough, but I added quite a bit more because it was so wet. Keep lifting the waxed paper, flouring the dough, and flipping it over and repeating the process as necessary, until you have rolled it to 1/8" thick.

Recchiuti recommends using a ruler to score the dough and cutting the crackers into 2.5" squares. Doubtless this would produce gorgeously identical crackers, but I didn't have the patience for that, so I eyeballed it and used a pizza cutter to make square-ish cuts. Carefully transfer your crackers to the baking sheet, leaving 1/2" in between them. Sprinkle the tops with the topping mixture, and bake for 15-18 minutes--I found I liked mine quite brown and crisp!

Allow to cool completely, and store uneaten crackers in an airtight container for up to two weeks. (This is his recommendation--I found mine started tasting stale after about 3-4 days. No preservatives, dontcha know.)
Recipe Notes
*I highly recommend measuring by weight, not volume. Sheer sloth caused me to use cups instead of ounces, and I think I shortchanged the flour on mine. It was sooo sticky and moist. If you have a scale, definitely use it!
MEASURING TIPS
Our recipes are developed using weight measurements, and we highly recommend using a kitchen scale for baking whenever possible. However, if you prefer to use cups, volume measurements are provided as well. PLEASE NOTE: the adage "8 oz = 1 cup" is NOT true when speaking about weight, so don't be concerned if the measurements don't fit this formula.
Click here to learn more about baking measurements and conversion.
Nutrition
Calories:
220
kcal
|
Carbohydrates:
41
g
|
Protein:
2
g
|
Fat:
5
g
|
Saturated Fat:
3
g
|
Cholesterol:
13
mg
|
Sodium:
132
mg
|
Potassium:
84
mg
|
Fiber:
1
g
|
Sugar:
26
g
|
Vitamin A:
160
IU
|
Vitamin C:
0
mg
|
Calcium:
30
mg
|
Iron:
1
mg
Share by Email
Share on Facebook
Share on Pinterest