CANDY /DEEP FRY THERMOMETER
If you want to make candy, you need a candy thermometer. Fortunately, it's a small investment with a big payoff! This handy kitchen gadget is invaluable for making candies like lollipops, fudge, caramels, toffee, and much more. It also doubles as a deep-fry thermometer, so you can use it to make doughnuts and other delicious deep-fried desserts. If you want to make tempered chocolate, though, you'll want to pick up a chocolate thermometer–candy thermometers aren't sensitive enough for the task of measuring chocolate. For all other candy uses, though, this is your tool!
Price: $8.52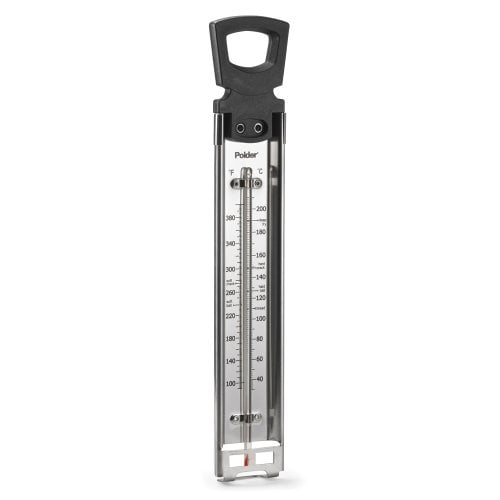 RECIPES THAT USE THIS ITEM
Polder has been offering everyday products with extraordinary design since its launch. The company was established in 1976, delivering better quality European-styled housewares to the U.S. market. Throughout the years, Polder has built an eclectic collection of core home categories, including kitchen timers and thermometers, laundry and ironing products, kitchen scales, and a variety of other storage solutions. Polder products are tested and certified for their consistent high quality by independent standards labs. This thermometer is a perfect example of the high standard product.