This rich and decadent Almond Coconut Fudge Ripple Ice Cream has swirls of marzipan, gooey coconut, fudge sauce and chunks of chocolate covered almonds.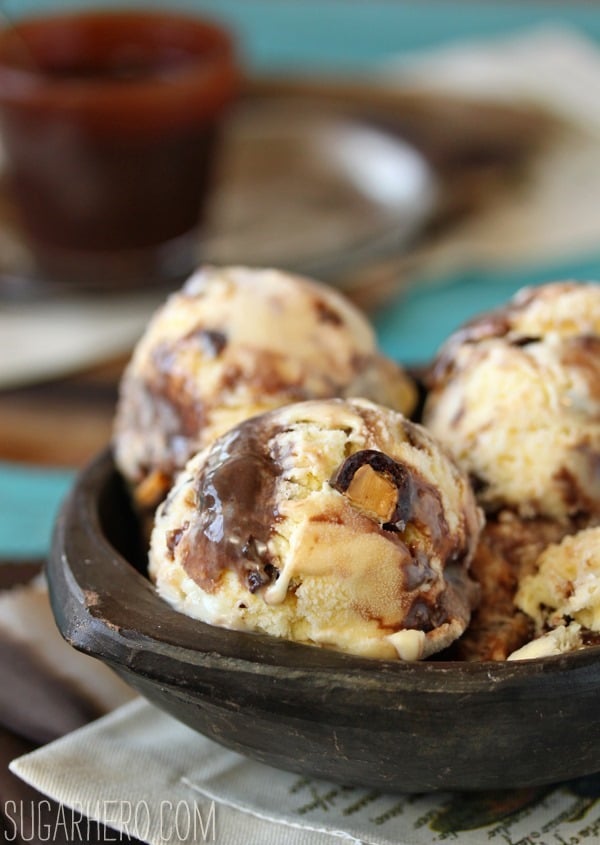 I was channeling Ben & Jerry when I came up with this ice cream. It starts with an almond ice cream base, then has swirls of marzipan, gooey coconut, and fudge sauce, and big chunks of chocolate-covered almonds. It's kind of a big deal. When I beheld my masterpiece, I said to myself, "Self, what would Ben and/or Jerry call this concoction? Think. Think!"
I racked my brain for any sort of cheesy pun, tortured word play, or hippie references I could come up with. After some agonizing brain storming, the best I could do is Almond Brothers Band. Um…yeah. Anyone have any better suggestions? I'm open!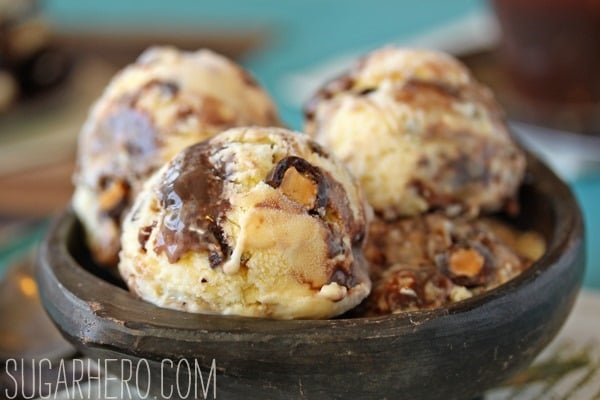 I guess I'm not ready to play with the big boys yet. But at least this ice cream is!
This is another ice cream that got its start on the SugarHero facebook page. Someone suggested a marzipan flavored ice cream, and as soon as I read that, it was like I was punched in the brain. Of course. I needed to make this happen immediately.
I never really "got" marzipan when I was younger, but now that I'm older and wiser, I'm actually a little obsessed with this old-fashioned almond-flavored paste. Either I'm eating better marzipan than I was before, or I'm a marzipan late bloomer, but whatever the reason, I love the so-sweet-it's-almost-bitter, intensely nutty flavor.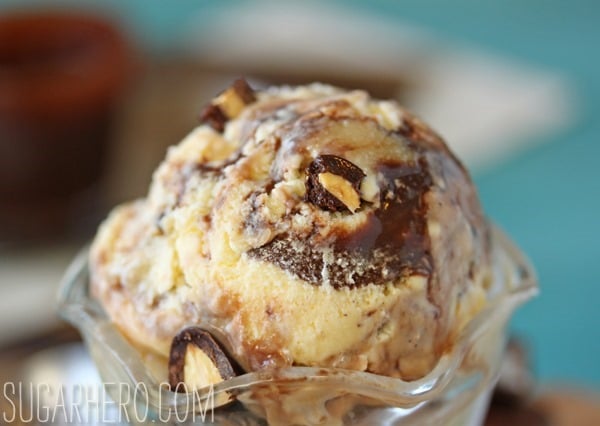 If you're thinking this sounds like an Almond Joy candy bar, you're not wrong. But in another sense, you're totally wrong, because this freshly churned almond ice cream, with 3 different mix-ins and chunks of chocolate-covered almonds? Is waaaaaay better than a little coconut and almond candy bar. It's rich and decadent and is definitely an ice cream to be savored and served in sensible portions…ahem…pay no attention to the picture of the bowl overflowing with ice cream below.
So when I decided to make a marzipan-inspired ice cream, I knew I had to go all in. No wussy half measures—I needed big almond flavor or nothing at all. I started with my usual ice cream base, then added a big hit of almond extract. Instead of keeping the ice cream pure almond, though, I swerved and took a detour to CandyBarville. I mixed in big fat swirls of almond paste, soft ribbons of coconut, and ripples of dark chocolate fudge. Finally, chunks of chocolate-dipped almonds were thrown in the mix for good measure.
This is an ice cream for the almond lover in your life. Or the coconut lover. Or the candy bar lover. Or the ice cream lover. Okay, it's an ice cream for everyone, but once you taste it, you probably won't want to share.
And hey, have a suggestion for an ice cream flavor you'd like to see on SugarHero? Leave a note in the comments! Since I can't seem to stop myself from making it on a weekly basis, I'll embrace it instead and call this the Summer of Ice Cream. Let's do this.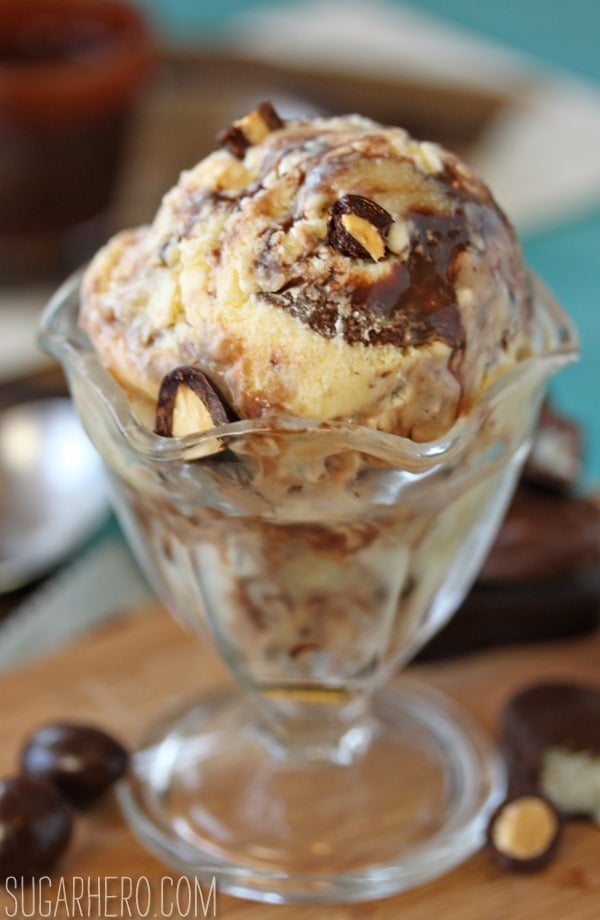 🍨More Ice Cream Recipes
Almond Coconut Fudge Ripple Ice Cream
This rich and decadent Almond Coconut Fudge Ripple Ice Cream has swirls of marzipan, gooey coconut, fudge sauce and chunks of chocolate covered almonds.
Ingredients
Instructions
To make the ice cream, combine the cream, milk, sugar, and salt in a medium saucepan over medium heat. Put the egg yolks in a medium bowl nearby and whisk them gently. Bring the milk/cream mixture to a simmer, then when it just starts to come to a boil, remove the pan from the heat. Whisk the egg yolks while you slowly pour in about a third of the hot cream mixture, whisking constantly so the eggs heat up but don't cook during the process.

Now return the saucepan to the heat and start whisking the cream while you pour in the hot egg mixture. Continue to whisk as the custard cooks, and cook it until it thickens slightly and coats the back of a spoon. If you want to use a candy thermometer, you're shooting for 175 F (80C).

Take the pan from the heat and strain the ice cream custard through a fine mesh strainer into a bowl. Whisk in the vanilla extract and almond extract, then continue to whisk occasionally as it cools. Once at room temperature, press a layer of cling wrap on top of the custard and refrigerate it until it's completely chilled. (To speed up the process, you can place the bowl over an ice bath and whisk it as it cools down.)

While the custard chills, prepare the mix-ins. Make the Almond Swirl by grating the almond paste on a cheese grater, then combining the grated almond paste and sweetened condensed milk in a bowl. Microwave them together, stirring after every 20 seconds, until you have a soft paste. (You may need to add more milk if the almond paste you use is on the old or hard side.) Make the Coconut Swirl by stirring together all ingredients. Make the Fudge Swirl by combining all ingredients in a bowl and microwaving in 30 second intervals, and stirring until melted and smooth. The swirls can be made in advance and kept in the refrigerator until ready to use.

When the custard is chilled and the swirls are ready, place a 9×5 loaf pan in the freezer. Churn the ice cream according to your ice cream maker's instructions. Once finished, scrape about a third of the ice cream into the cold loaf pan and smooth it into an even layer. Drizzle/spoon half of each of the three different swirl mixtures on top in a haphazard pattern, and scatter half the chopped chocolate-covered almonds on top. Top with half of the remaining ice cream, and top with the remaining mix-ins. Finish off by adding a final layer of ice cream, and smoothing it into an even layer. Cover the ice cream with cling wrap, and return to the freezer to firm up completely.
Recipe Notes
Since the ice cream is already sweet, I tried to eliminate excess sweetness where I could. The almond layer calls for almond paste, which can typically be found near the marzipan in the baking section of the supermarket. If you can only find marzipan, you can substitute that instead on an equal basis, but the resulting mixture will be sweeter. Similarly, sweetened coconut can be used in place of unsweetened, if that is what you have available to you.
Measuring Tips
Our recipes are developed using weight measurements, and we highly recommend using a kitchen scale for baking whenever possible. However, if you prefer to use cups, volume measurements are provided as well. PLEASE NOTE: the adage "8 oz = 1 cup" is NOT true when speaking about weight, so don't be concerned if the measurements don't fit this formula.
Want to learn more about baking measurements and conversion?
Nutrition
Calories:
5691
kcal
|
Carbohydrates:
573
g
|
Protein:
89
g
|
Fat:
349
g
|
Saturated Fat:
188
g
|
Cholesterol:
1823
mg
|
Sodium:
1790
mg
|
Potassium:
3173
mg
|
Fiber:
14
g
|
Sugar:
527
g
|
Vitamin A:
10390
IU
|
Vitamin C:
13.4
mg
|
Calcium:
2348
mg
|
Iron:
8.7
mg
Tried this recipe?
Snap a pic and hashtag it #SugarHero. We love to see your creations on our Instagram @elabau.