Now you can enjoy your favorite Ben & Jerry's flavor at home! This homemade Phish Food ice cream tastes just like the store-bought version: rich chocolate ice cream is swirled with caramel sauce, marshmallow cream, and a bunch of chocolate fish!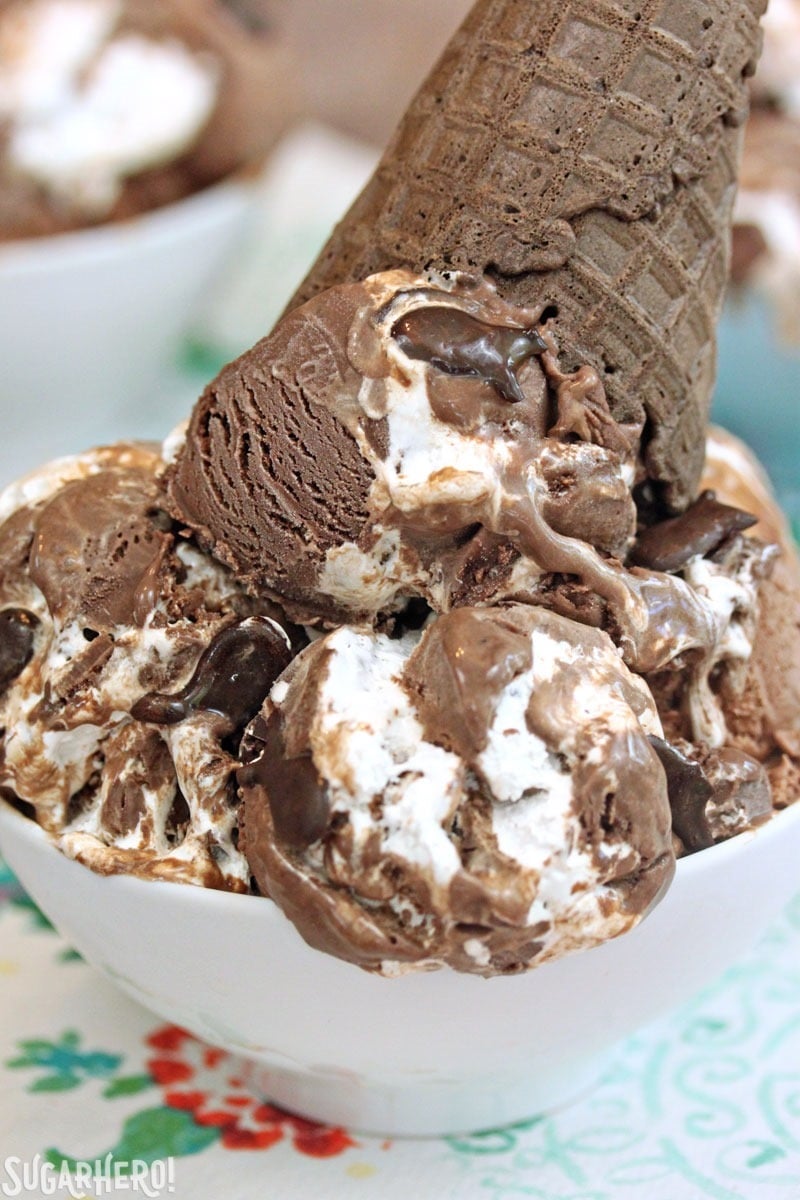 Move over, Ben. Hit the road, Jerry. We don't need you no mo'. We're making our OWN Phish Food Ice Cream today!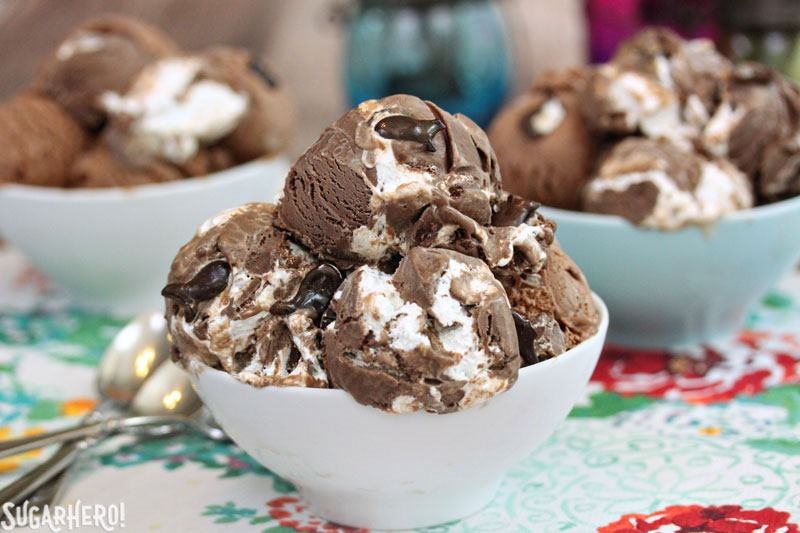 Now, I haven't tasted EVERY Ben & Jerry's flavor, so I guess I can't say with certainty that Phish Food is the best one they offer. But it's gotta be in the Top 5, right?! Look at what's included: rich chocolate ice cream, chewy caramel swirls, sweet marshmallow cream, and crunchy chocolate fish! It's all my favorite parts of an ice cream sundae, swirled together and topped with some adorable wordplay. (Plus, my former teenage self who used to be a jam band addict is tickled by the Phish reference.)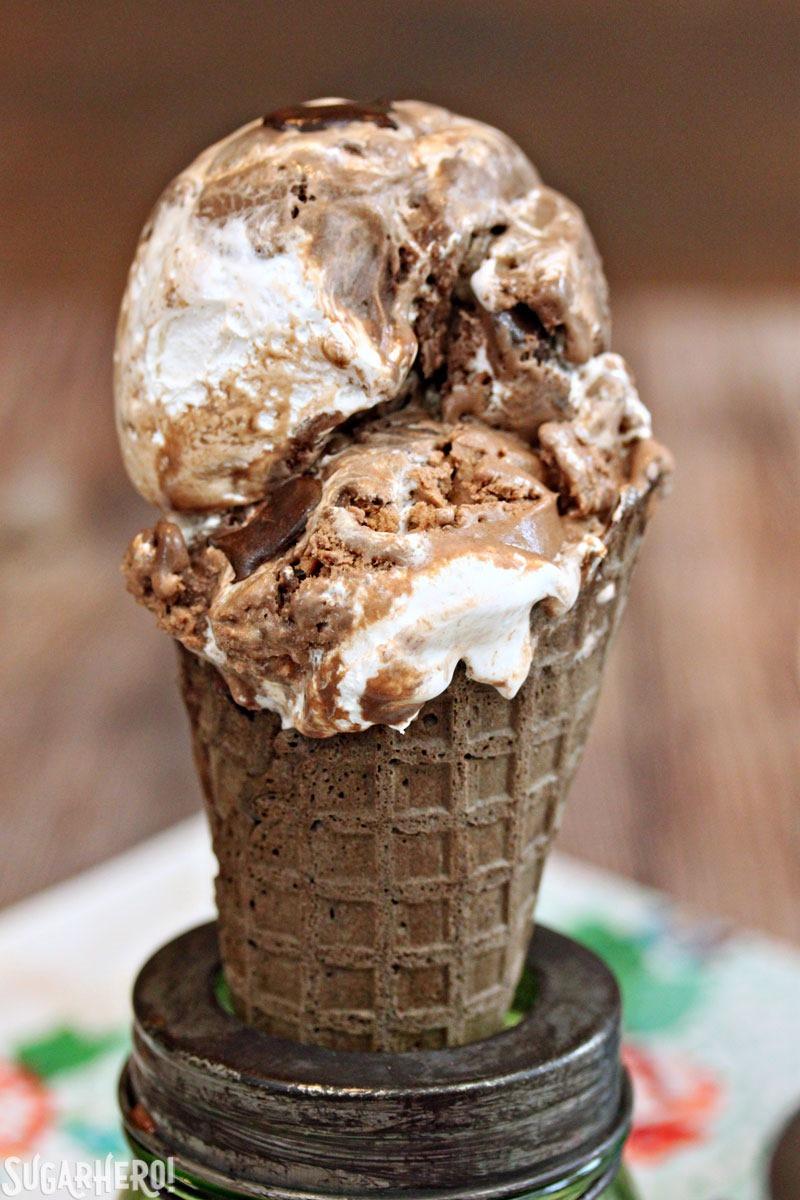 I made homemade marshmallow cream for this recipe, because I wanted to see if it would be noticeably better. Homemade marshmallow cream is similar to making regular marshmallows, but easier, because you don't have to add any gelatin. It's basically whipped egg white and hot sugar syrup, beaten together until light and fluffy, like a big vanilla-scented cloud.
I found it helpful to use a candy thermometer when making the homemade marshmallow cream. If you are new to using a thermometer, check out my guides for how to use a thermometer and how to test and calibrate a thermometer correctly.
The verdict: homemade marshmallow cream is REALLY good on its own—it has a noticeable vanilla flavor and the perfect soft, plush texture. It's a clear winner when doing a spoon-to-spoon taste test versus the store bought stuff. However, in the context of this ice cream, there is so much else going on, flavor- and texture-wise, that I think you could easily swap in store bought marshmallow cream and no one would be the wiser. I've included the recipe for the homemade version below, but if you're low on time, there's no shame in substituting Marshmallow Crème or Fluff.
I really feel like the chocolate fishies are mandatory, though. Even though the ice cream would technically TASTE the same if you just used chocolate chunks, could you really make Phish Food and in good conscience NOT include chocolate fish?! I mean really now…don't be a monster. It takes a few minutes to pipe out the fish, but when you see the reaction you get, serving big scoops of this ice cream with chocolate fish poking out willy-nilly, I promise it is worth it. The fish made people laugh in delight. LAUGH IN DELIGHT, I tell you.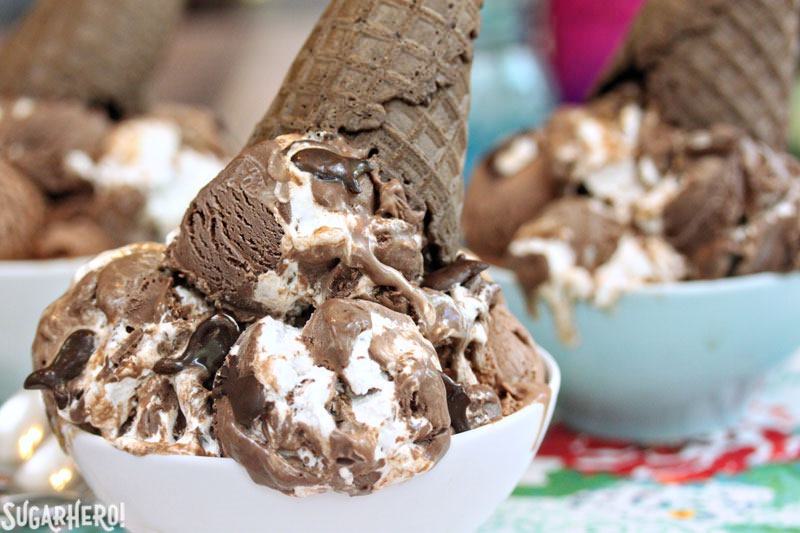 What's your favorite Ben & Jerry's flavor? What should I recreate next? Ice cream obsessed minds want to know!
Peanut Butter Cup Ice Cream
This Peanut Butter Cup Ice Cream is for peanut butter lovers only! The ice cream is deliciously rich and creamy, with a strong peanut butter flavor, stuffed with peanut butter cups.
View Recipe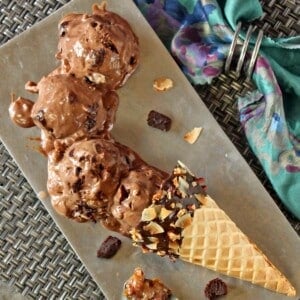 German Chocolate Brownie Ice Cream
If you like German chocolate cake, you'll love this rich and luxurious German Chocolate Brownie Ice Cream! Dark chocolate ice cream is swirled with a coconut-pecan frosting and studded with chunks of moist brownies.
View Recipe
Homemade Phish Food Ice Cream
Now you can enjoy your favorite Ben & Jerry's flavor at home! This homemade Phish Food ice cream tastes just like the store-bought version: rich chocolate ice cream is swirled with caramel sauce, marshmallow cream, and a bunch of chocolate fish!
Ingredients
For the Chocolate Ice Cream:
For the Marshmallow Swirl:
Instructions
To Make the Chocolate Ice Cream:
Combine the milk, cream, sugar, cocoa powder, and salt in a medium saucepan, and place the pan over medium heat. Whisk occasionally as the milk heats up. While you're waiting for the milk to come to a simmer, place the yolks in a medium bowl and whisk them to break them up.

Once the milk comes to a simmer, remove the pan from the heat and whisk the egg yolks while you slowly pour in about a third of the hot milk mixture, whisking constantly so the eggs heat up but don't cook during the process.

Now return the saucepan to the heat and start whisking the milk while you pour in the hot egg mixture. Continue to whisk as the custard cooks, and cook it until it thickens slightly and coats the back of a spoon. If you want to use a candy/deep fry thermometer, you're shooting for 175 F (80C).

Take the pan from the heat and strain the ice cream custard through a fine mesh strainer into a large bowl or container. Continue to whisk occasionally as it cools, and once at room temperature, press a layer of cling wrap on top of the custard and refrigerate it until it's completely chilled. (To speed up the process, you can place the bowl over an ice bath and whisk it as it cools down.) The custard can be made several days in advance and kept in the refrigerator until you're ready to churn it.
To Make the Marshmallow Swirl:
Combine the corn syrup, sugar, and water in a small saucepan. Place the pan over medium heat and stir while the sugar dissolves. Brush down the sides of the pan with a wet pastry brush to remove any stray sugar crystals.

Once the sugar syrup comes to a boil, insert a candy thermometer. Continue to cook the syrup, monitoring the temperature closely, until it reaches 240 F on your candy thermometer.

While the sugar syrup is boiling, prepare the egg white. Place it in the clean, dry bowl of a stand mixer fitted with a whisk attachment. When the syrup reaches 230 F, start beating the egg white. Once it becomes foamy, add the cream of tartar and continue beating until stiff peaks form.

Once your egg white is at stiff peaks and your syrup is at 240 F, turn the mixer to medium-low and slowly stream the hot syrup into the egg. Once all of the syrup is in, turn the mixer to medium-high and whip until the mixture becomes shiny, white, triples in size, and holds stiff peaks. Add the salt and vanilla and mix it in.

Put the marshmallow cream in an airtight container and refrigerate until chilled. It can be used right away or kept in the refrigerator for several weeks.
To Assemble:
If you want to be really authentic and include chocolate fish, melt the chocolate chunks and transfer them to a disposable piping bag or zip-top plastic bag. Cut a hole in the corner, and pipe small chocolate fish onto a baking sheet covered with waxed paper. Refrigerate the sheet until the fish are firm. Alternately, you can just use chocolate chunks as a time-saving substitute.

Line a 9×5-inch loaf pan with cling wrap. Churn the chocolate ice cream according to your ice cream maker's directions. When the chocolate is finished churning, stop the ice cream maker and add the chocolate fish. Stir them in gently.

Place 1/3 of the chocolate ice cream in the loaf pan and spread it in an even layer. Spread the prepared caramel sauce on top. Add half of the remaining ice cream, then spread a thick layer of marshmallow cream on top of that—you might not need to use all of the marshmallow cream. Add the final layer of chocolate ice cream on top and smooth it into an even layer. Press a piece of cling wrap on top and freeze the loaf pan for at least 2 hours, until the ice cream is firm.
Recipe Notes
If pressed for time, you can always substitute store-bought marshmallow cream for the homemade version in the recipe. About 2/3 cup should be enough!
Measuring Tips
Our recipes are developed using weight measurements, and we highly recommend using a kitchen scale for baking whenever possible. However, if you prefer to use cups, volume measurements are provided as well. PLEASE NOTE: the adage "8 oz = 1 cup" is NOT true when speaking about weight, so don't be concerned if the measurements don't fit this formula.
Want to learn more about baking measurements and conversion?
Nutrition
Calories:
337
kcal
|
Carbohydrates:
43
g
|
Protein:
3
g
|
Fat:
17
g
|
Saturated Fat:
10
g
|
Cholesterol:
140
mg
|
Sodium:
106
mg
|
Potassium:
141
mg
|
Fiber:
0
g
|
Sugar:
32
g
|
Vitamin A:
610
IU
|
Vitamin C:
0.2
mg
|
Calcium:
76
mg
|
Iron:
0.9
mg
Tried this recipe?
Snap a pic and hashtag it #SugarHero. We love to see your creations on our Instagram @elabau.