This post may contain affiliate links. Please see my disclosure policy for more information.
Even before I'd ever tasted passion fruit, I fell in love with the name. Growing up surrounded by boring, utilitarian fruit names (are you listening, orange?), learning that there was a fruit that broke this mold was a revelation. It belongs on a soap opera! Of course I was intensely curious about its flavor. Did it taste like joy? Lust? REVENGE?
By the time I finally tasted passion fruit, my expectations were high, but fortunately they were met with equal passion. This fruit, with its distinctive floral tropical taste and sweet-sour bite, is one of my favorite flavors. I'm sure it's much more common in other cultures, but in my experience it's still relatively rare, making passion fruit desserts that much more interesting to me.

My local grocery store carries lots of Mexican brands, and for years I've seen Goya passion fruit puree in the frozen food aisle. I've tried making smoothies with it, but–spoiler alert–it doesn't play well with protein powder. Recently I decided to give it the respect it deserves and create a dessert that showcases passion fruit's best qualities, so I came up with these passion fruit truffles for the candy site.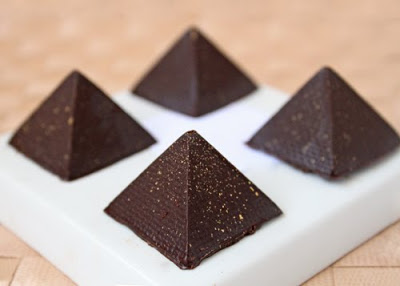 Passion fruit, at least in my experience, is pretty tart. If you're eating the whole fruit, you need to let it sit and really ripen for awhile, until it wrinkles and all those starches turn to sugar and its natural sweetness comes out. Frozen fruit puree doesn't have the benefit of sitting for a week on the kitchen counter, so it needs some outside assistance to mellow the harsh edges of the passion fruit.
I used the puree to make a white chocolate ganache. The remarkable thing about this ganache is that almost all of the liquid is fruit juice–only a little bit is cream. Of course there's plenty of fat from the white chocolate, but the high juice ratio still makes it float a little bit lighter on the tongue, and glide down the throat a little easier than some heavier ganaches.
When you're making these truffles, you'll want to use good chocolate, the kind you buy in bars and chop up, the kind that you want to snack on while you're chopping. White chocolate chips have other additives that make them resistant to melting, and they don't taste like much of anything, so avoid them if you can.
The resulting passion fruit ganache is rich and creamy, with a light fruity taste that whispers of warm afternoons and island vacations, but with a white chocolate finish that brings your feet back down to the ground. The ganache sets somewhat loose, so you'll want to mold these truffles, instead of hand rolling them. Dusted with a sprinkling of gold luster dust, they look–and taste–like a million bucks. The full passion fruit truffle recipe is here.
But this passion fruit party is only starting. Because the other thing I didn't tell you about the ganache is that it makes a lot. A LOT. A-maybe-we-should-invite-the-neighbors-over-to-help-eat-all-these-truffles-lot. So if you're like me, and the thought of molding five dozen truffles doesn't appeal to you, you'll try to find other ways to use your extra ganache.
Solution #1: Chocolate Passion Fruit Tarts
The ganache was poured into miniature chocolate tart shells and topped with bittersweet chocolate shavings. That is the full extent of this recipe. Ganache. Tart shell. Bliss.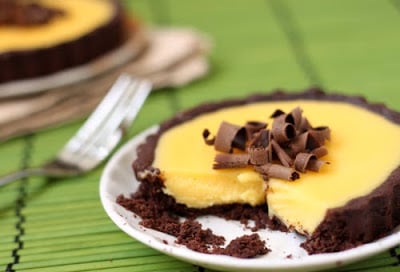 The shell is barely sweetened, and the crunch of the savory cocoa shell contrasting with the sweet-tart creamy ganache is heavenly. This is one of those showstopping desserts you want to keep up your sleeve to impress company, so after you receive all of their compliments, you can say–with the blush of honesty but with a twinkle in your eye–"It really was nothing."
My second attempt at reworking the passion fruit ganache was a little more elaborate but equally delicious:
Passion Fruit-White Chocolate Ice Cream

I incorporated some of the ganache into a custard ice cream base and churned it to produce an ice cream that had the signature passion fruit taste, tempered by the addition of more milk, more cream, and more sugar. This is a perfect introduction to the fruit for skeptics, and it paired beautifully with small cookies made from tart dough scraps.
Looks like my passion for passion fruit yielded the world's longest blog post. If you're still with me, and looking for recipes, see below.
Print Recipe
Passion Fruit Tarts
These Passion Fruit Tarts is rich and creamy, with a light fruity taste that whispers of warm afternoons and island vacations, but with a white chocolate finish that brings your feet back down to the ground.
Ingredients
Passion Fruit Ganache
2

tbsp

heavy cream

2

tsp

light corn syrup

2/3

cup

passion fruit juice

(or puree)

9

oz

white chocolate

(good quality, not chips)
Dark Chocolate Tart Dough
1 1/4

cups

plain flour

1/4

cup

unsweetened cocoa powder

1/4

cup

powdered sugar

1/4

tsp

sea salt

135

g

unsalted butter

(very cold, cut into small pieces)

1

large egg yolk
Instructions
Making the Passion Fruit Ganache
If you are using passion fruit puree, pass it through a mesh strainer to remove the solids from the juice, and discard the solids. Place the 2/3 cup of juice in a small saucepan with the light corn syrup and the heavy cream over medium-high heat. Bring this mixture to a boil.

Finely chop the white chocolate and put it in a heat-safe bowl. Once at a boil, pour the hot liquid over the white chocolate and immediately begin gently whisking to melt the white chocolate and emulsify the mixture. If you have a handheld immersion blender, use it to blend the passion fruit ganache together. Otherwise, just continue whisking until you have a silky smooth mixture with no bits of white chocolate remaining.

Press some cling wrap over the top of the ganache and refrigerate the bowl until the ganache has cooled, about 2 hours. Alternately, you can refrigerate it overnight, and then take the bowl out of the refrigerator the following day and let it sit at room temperature until it loosens up.
Making the Dark Chocolate Tart Dough
Put the flour, cocoa powder, sugar and salt in a food processor and pulse a few times to combine.

Scatter the pieces of butter over the dry mixture and pulse until you have butter pieces the size of oatmeal.

Stir the yolk with a fork and add it a little at a time, pulsing after each addition.

Process in long pulses (10 seconds each) until the dough comes together in clumps and curds.

Turn the dough to a lightly floured surface a knead briefly in order to incorporate the dry ingredients that might have escaped the mixing.

Press into tart shells and freeze before baking at 350 for 10-12 minutes.
Notes
There is a 2 hour chill time for the ganache, so plan accordingly.
Nutrition
Calories:
844
kcal
|
Carbohydrates:
88
g
|
Protein:
10
g
|
Fat:
52
g
|
Saturated Fat:
32
g
|
Cholesterol:
145
mg
|
Sodium:
219
mg
|
Potassium:
420
mg
|
Fiber:
3
g
|
Sugar:
54
g
|
Vitamin A:
1335
IU
|
Vitamin C:
12.6
mg
|
Calcium:
158
mg
|
Iron:
2.9
mg
Print Recipe
Passion Fruit Ice Cream
Ingredients
1 1/2

cups

passion fruit ganache

loose, at room temperature (recipe below)

3/4

cup

heavy cream

1

cup

of whole milk

4

large egg yolks

1/2

cup

sugar
Instructions
Bring the milk and the cream to a boil in a medium heavy bottomed saucepan.

Meanwhile, in a medium bowl, whisk the yolks and sugar together until well blended and just slightly thickened. Still whisking, drizzle in about one third of the hot liquid-this will temper, or warm, the yolks so they won't curdle.

Whisking all the while, slowly pour in the remaining liquid. Pour the custard back into the pan and cook over medium heat, stirring without stopping, until the custard thickens slightly and coats the back of a spoon. I always use a thermometer and shoot for 175 degrees F.

Immediately remove the pan from the heat and slowly and gently stir the custard into the ganache. Cover the ice cream base with cling wrap and refrigerate until completely cool. Churn in your ice cream maker according to the manufacturer's directions.