What could be better than a gingerbread house? How about an entire rainbow gingerbread village?! Get tips, tricks, and tons of decorating inspo to make an AMAZING gingerbread house this year!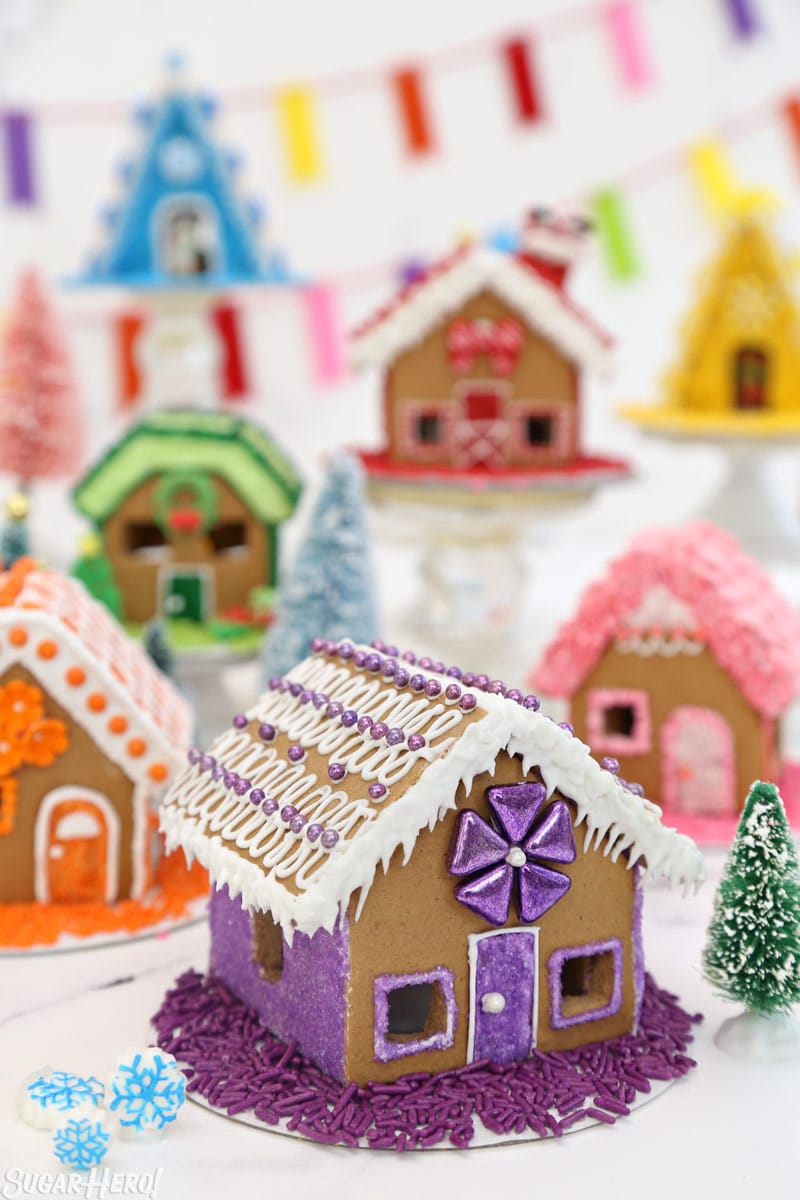 This post is sponsored by Wilton, a longtime SugarHero favorite!
Creative Gingerbread House Ideas
It's hard to go wrong with a classic gingerbread house. There is something sweetly festive and cozy about the simple act of combining slabs of gingerbread and decorating them with royal icing and seasonal candies.
But if you're ready to move beyond the typical gingerbread house decorations and try something new, you've got to try this rainbow gingerbread house village! I've teamed up with Wilton to bring you this modern twist on the traditional gingerbread house.
Read on to find all of the how-tos, decorating details, supplies, and style inspiration you'll need to get started!
Gingerbread House Supplies
To make this eye-popping rainbow gingerbread village, I used two Wilton Gingerbread Mini Village Decorating Kits. These kits come with everything you'll need to make and decorating four darling mini houses. In each box, you get:
Four gingerbread panels, to yield four houses. The panels are pre-scored for easy cutting.
Cardboard bases to set the houses on
Red and white royal icing, ready to use
Two piping bags and piping tips
Green fondant, ready to use
Assorted candies: gumdrops, colored pearls, and Christmas light sprinkles
Baking the gingerbread houses and assembling the supplies is the most time-consuming (and least rewarding!) part of the gingerbread house process, so it's awesome that this kit lets you get right to the good stuff–the decorating!
Of course, making a whole rainbow village requires a lot of different colors, so I also supplemented with additional Wilton sprinkles (and some fun royal icing decorations!) to support the rainbow theme. You'll find a full list of supplies with links at the bottom of the post, and feel free to ask questions in the comments if you're not sure where to find something!
Cutting Out the Gingerbread House
The first step is to assemble the houses, so start by cutting apart the gingerbread panels on the pre-scored lines. You can use a sharp knife to do this, but I would actually recommend a razor if you have one—it'll give you the most precise, clean cuts.
Once cut, check to be sure that the matching pieces from each house are the same size (all roof panels line up, etc). Trim any pieces necessary. If you accidentally break anything, the pieces can be glued together with royal icing during the assembly process, then covered with decorations.
I wanted to put LED tea lights inside the houses, so when I was cutting the panels I cut out most of the windows as well, to let the light shine through. This is optional, and if you're not adding lights you can leave them intact to act as a guide when decorating your houses.
Gingerbread House Tip

To easily cut the small windows out of the sturdy gingerbread, try this trick: place a gingerbread wall on a plate, cover it with a damp paper towel, and microwave for 15 seconds. Adding moist heat makes the gingerbread more pliable temporarily, and it's much easier to remove the small windows without breaking the gingerbread wall.
Putting the Gingerbread House Together
Assembly time! Use the provided royal icing to glue the house pieces together. Don't worry if they're not perfectly lined up, or if there is icing visible on the outside—the candy decorations will hide a lot of sins! If the royal icing is too stiff to easily work with, you can add a bit of water and stir well to loosen it up. Don't add much, because you will still want a stiff texture for decorating.
Royal Icing Tip

Whenever you're not using the icing, make sure that the bag is tightly closed so it doesn't start to dry out. I like to wrap a bit of damp paper towel around the tip of my piping bag so the tip doesn't get dry and clogged too.
Decorating the Gingerbread Houses to Perfection
Let the houses sit for at least an hour, to be sure the icing is hard and the houses are stable, and then start decorating! The icing will start to set after only a few minutes, so it's best to work in small sections and only pipe a bit at a time.
You can use the icing like glue to affix sprinkles, sparkling sugar, candy pearls, and royal icing decorations, and you can also use it on its own to pipe flourishes, patterns, and borders.
Once your decorations are added, let the house sit undisturbed for a few hours, to be sure everything is completely set. And voila—you've made a gingerbread house!
Gingerbread House Decorating Ideas
Now that the basics are out of the way, here's the fun part—style inspo and close-up pics! I wanted to give you lots of options and ideas, so each house is decorated differently, and each has a few fun and unique touches. Hopefully these will inspire you and spark some creative ideas of your own!
The roofs were probably my favorite part to decorate, and it was fun brainstorming unique ideas for each of them. Which one is your favorite?
The red farmhouse has a barn-inspired front door, a royal icing bow on the front, and Santa going down the chimney! Santa is from this Santa and Helpers Decorating Kit.
The orange house features a gumdrop chimney and royal icing Mini Daisies.
The A-frame houses (blue and yellow) couldn't fit a tea light inside, so instead, they got some fun friends peeking out! This yellow house is hiding a sweet little elf from the Santa and Helpers Decorating Kit.
The pink house has one of my favorite roofs, made from overlapping large round sprinkles. Like all the other houses, it's on a cardboard base with coordinating jimmies on it. I used the Assorted Jimmies Decorating Set for all of the bases, and it worked perfectly! Just spread a very thin layer of royal icing on the board, and lightly pressed the sprinkles down on top to affix them.
To cover a wall of your gingerbread house with sparkling sugar, like you see on the purple house, spread a very thin layer of royal icing on it. The thinner the better, since you don't want any white color to show through.
Then hold the house over a bowl, and pour Wilton sparkling sugar on the wet icing. Really douse it, so every bit is covered, and let the extra sugar fall into the bowl. Then tap off any excess sugar that doesn't stick to the icing, and you're done—you have a beautiful, sparkling wall or roof!
The green house might just be my favorite of them all. It's so sweet and simple, it just FEELS cozy, you know? (And the flickering tea light shining from inside doesn't hurt, either!) The royal icing wreath, tree, and presents are all from the Wilton Gingerbread Icing Decorations Kit, and I think they add the perfect finishing touch!
Ready to make your own rainbow gingerbread house village? I hope so! You can visit the Wilton Christmas page to get all the supplies you need, as well as see tons of other decorating ideas as well.
Gingerbread House Supplies You'll Need: