Looking for a knockout Easter cake? Try this Sugar Easter Egg Cake! The look is based on old-fashioned panoramic sugar eggs, but it's made out of CAKE! And unlike those classic sugar eggs, this dessert is entirely edible!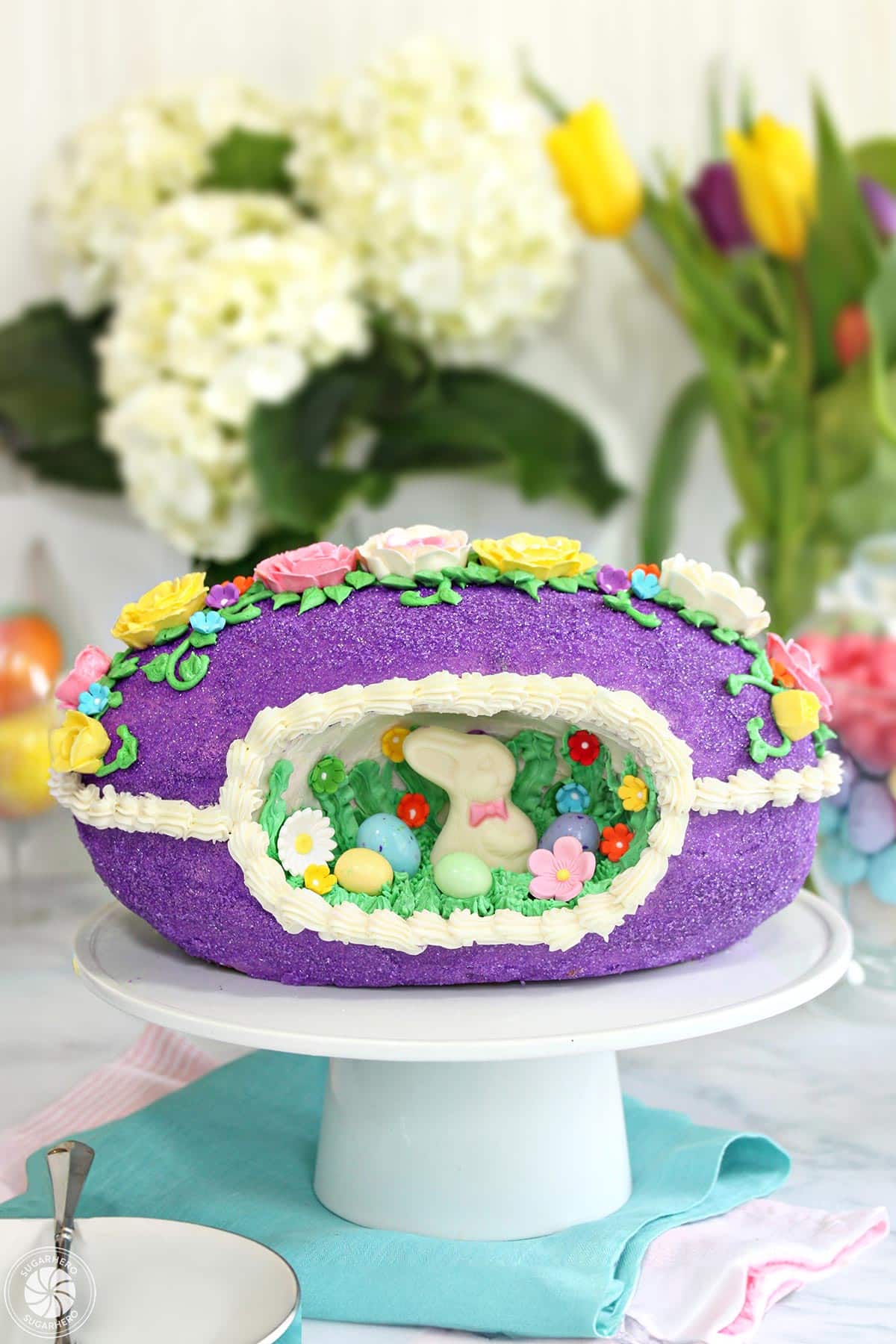 It's a Panoramic Sugar Easter Egg…Cake!
Growing up, my parents had a set of panoramic sugar Easter eggs they would pull out every Easter. You might be familiar with the type of eggs I'm talking about. They're large eggs made of hard-packed sugar, usually in pastel colors, decorated with royal icing flourishes and candy accents. They're delicate, beautiful…and to childhood me, they were complete torture.
Think about it. These gorgeous, colorful eggs were made out of SUGAR! Nectar of the gods! What more could our young sugar-obsessed heroine want? And yet, they were completely inedible, never intended to be eaten at all. They were brought out as decorations year after year, then painstakingly wrapped up after Easter with the rest of the decor. It was a cruel trick.
I obviously still harbor a little bit of a grudge against those delicious-but-forbidden sugar eggs. Now that I'm an adult, I'm here to get my revenge, by recreating those panoramic sugar Easter eggs…in cake form.
A Beautiful, Unexpected Easter Cake
I like to have fun with my Easter desserts, from sculpting Nest Cakes to making Chick Cupcakes to turning truffles into Marbled Pastel Easter Eggs! But this Sugar Easter Egg Cake, with its intentional retro design and hollow candy scene inside, takes things one step further. It's whimsical, beautiful, and definitely a show-stopper on the Easter table!
Here's what goes into this Sugar Easter Egg Cake:
Pound Cake–we need a sturdy base cake for this design!
Swiss meringue buttercream
Sparkling sugar
Royal icing decorations
Chocolate bunnies
Chocolate eggs and other Easter candies
How to Make A Sugar Easter Egg Cake
This cake takes a bit of planning, mostly because it requires some extensive chilling times. So be sure to read the recipe and leave yourself plenty of time to work with the cake! Here's how it all come together:
The pound cake batter is baked in a football cake mold–this will help us achieve that signature egg shape!
The cake is layered with buttercream, then chilled well
It's trimmed into an egg shape, and a hollow is carved into the center of the cake
The cake gets a thin crumb coat of frosting, and another chill in the fridge
The cake is frosted again, with a thicker layer of buttercream this time
Sparkling sugar is pressed all over the outside of the cake
Time for decorating! Add the frosting leaves, candy accents, flowers, and any other flourishes. Yesssss!
Decorating A Sugar Easter Egg Cake
Decorating this cake is the most fun part! To come up with my design, I browsed the Internet, looking at lots of different panoramic sugar egg designs to get inspiration. They ranged from simple to quite ornate, and I think my final design ended up somewhere in the middle of the spectrum. You can go as big or as restrained as you want.
One thing all sugar eggs have in common is the central panoramic scene. They almost always include Easter figures like chicks, bunnies, ducks, or geese, along with Easter eggs and flowers. For my cake, I first filled in the cake's center with some buttercream grass and leaves, then added a white chocolate rabbit with chocolate eggs and royal icing flowers.
Then along the outside and top of the cake, I added a shell border, green vines and leaves, and some buttercream roses. Over the top, or just the right amount of extra? You decide!
Other things you can add to your sugar egg cake:
Coconut grass
Jelly beans
Candy carrots
Marshmallow flowers
Fondant ribbon
Sprinkles and other small decor
Custom frosting messages
Common Questions About Sugar Easter Egg Cake
Can I Use A Cake Mix For This Cake?
No. This cake design requires a sturdy, stable cake recipe, and cake mixes produce a cake that is quite soft. If you have a favorite homemade cake recipe that you know is sturdy, you can swap that in, but I do not recommend using a boxed mix for this one. (Sorry!)
Can I Use Canned Frosting?
Again, no. Canned frosting won't give you enough stability or support. You need either a good Swiss meringue buttercream or American buttercream for this recipe. I've provided a Swiss meringue that I love, but you can use American if you prefer. Just don't bring out the jars of frosting!
Do I Have to Use A Football Cake Mold?
No, but I do recommend it. I chose the football cake mold because it will produce the least amount of waste. You'll have to do very little trimming of the cake to achieve an egg shape. But if you have a different cake pan that you think will also work to create an egg shape, of course you can use that instead. The football pan is 12 x 8 x 3 inches, if you use a different pan that's a different size, you may need to adjust baking time and the amount of batter you use.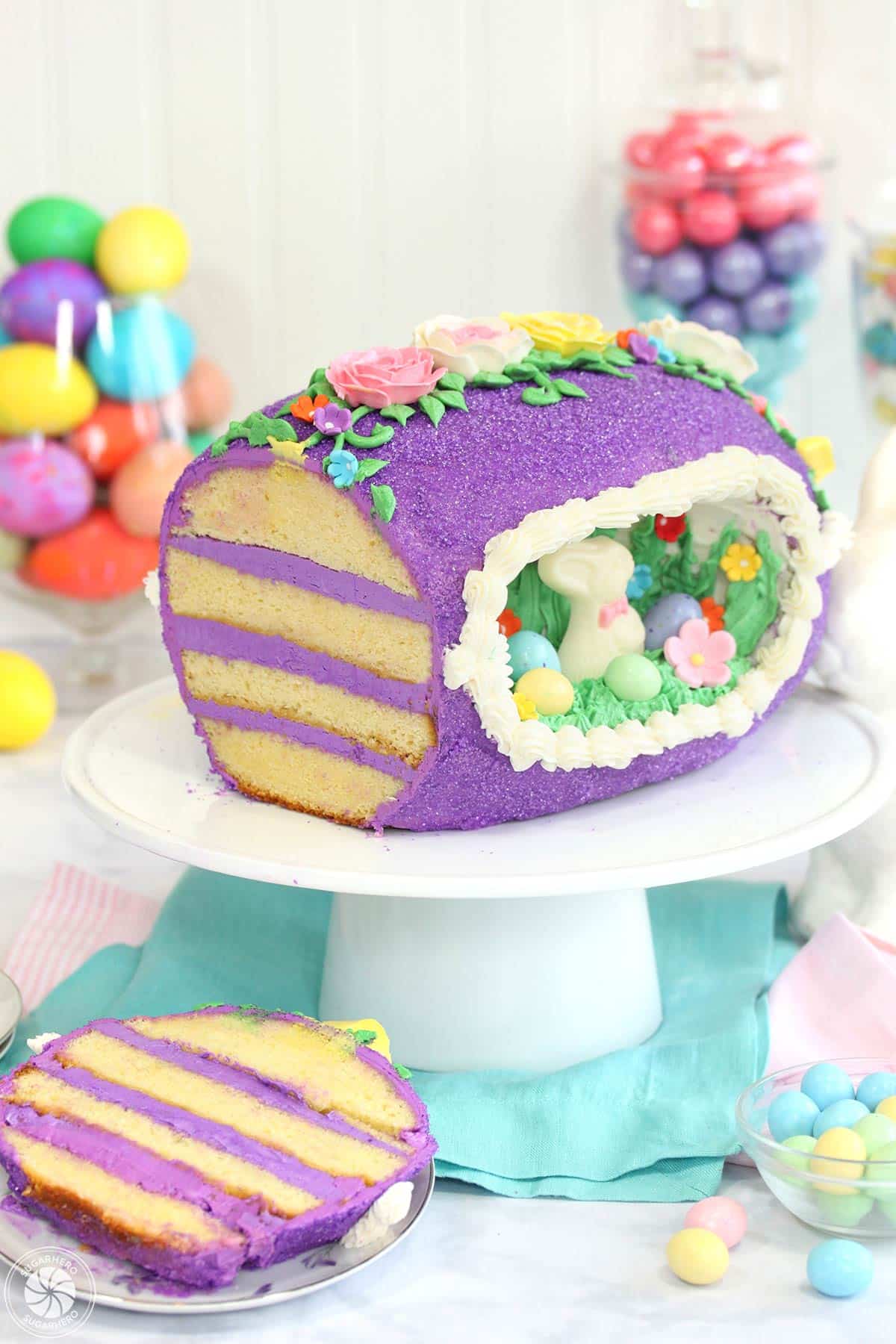 🐣More Easter Egg Desserts To Try:
Sugar Easter Egg Cake
Looking for a knockout Easter cake? Try this Sugar Easter Egg Cake! The look is based on old-fashioned panoramic sugar eggs, but it's made out of CAKE! And unlike those classic sugar eggs, this dessert is entirely edible!
Ingredients
For the Cake- Make this recipe TWICE:
For the Decorations:
16

oz

purple sanding sugar

not all will be used on the cake

Chocolate Easter figurines

Jelly beans

or chocolate eggs

Other Easter candies as desired
Instructions
To Make the Cake:
Preheat the oven to 350 degrees Fahrenheit. Spray a 12x8x3-inch football cake pan with nonstick cooking spray, and place it on a baking sheet.

In the bowl of a large stand mixer, combine the softened butter, cream cheese, and sugar. Mix on medium speed until light and fluffy, about 3-4 minutes. Add the eggs one at a time, mixing well after each addition. Add the vanilla and mix it in. The batter might appear a little broken at this point—that's okay.

In a small bowl, whisk together the flour, baking powder, and salt. Add the dry ingredients to the wet ingredient and mix just until they're combined. Finish stirring everything together with a spatula, scraping down the bottom and sides of the bowl.

Pour the batter into the prepared pan and smooth it into an even layer.

Bake the cake for about 65-70 minutes, until a toothpick inserted into the center comes out with just a few moist crumbs attached. If the top starts to get too dark while baking, loosely tent the top with foil to prevent overbrowning.

Once the cake is baked, let it cool at room temperature for 15-20 minutes, then turn it out onto a wire rack to finish cooling completely.

Repeat this process to make a second football cake. The cakes need to be completely cool before assembly. They can be made in advance, wrapped in plastic, and stored in the freezer until ready to use. Partially defrost them before assembly.
To Make the Frosting:
Combine the egg whites and the granulated sugar in the bowl of a large stand mixer, and whisk them together. Choose a small saucepan that lets you fit the base of the stand mixer snugly into the top of the saucepan—this is your makeshift hot water bath. Add 1-2 inches of water to the bottom of the saucepan, and bring the water to a simmer.

Place the mixing bowl on top of the saucepan, making sure that the bottom isn't in contact with the water, and heat the egg white mixture. Whisk frequently so that the egg whites don't cook. Continue to heat the whites until they are hot to the touch, and when you rub a bit between your fingers, you don't feel any grittiness from the sugar. Once the whites are hot, transfer the mixing bowl to your mixer and fit it with a whisk attachment.

Beat the whites on medium-high speed until they are a shiny, stiff, voluminous meringue, and are no longer warm to the touch—feel the outside of the bowl, and make sure that it is around room temperature. Depending on your mixer and the temperature of your environment, this may take 15-20 minutes, or more. Reduce the speed to medium-low and add the softened but cool butter in small chunks, a tablespoon at a time, making sure to wait in between additions. It may separate or look a little gloopy at this point—this is normal!

Once all of the butter is added, increase the speed again and whip until it comes together and is light and fluffy. If, after 5 minutes, it hasn't come together, refrigerate the mixing bowl for 5-7 minutes, to cool the mixture down, and whip it again until it has thickened and is smooth and silky. Add the vanilla extract and salt.

The buttercream can be made in advance and kept at room temperature if you're going to use it the same day, or refrigerated. If it has been chilled, let it sit at room temperature until completely soft, then re-whip it to get the smooth texture back before you use it.

Remove 2-1/2 cups of frosting from the bowl. Color 1 cup of this frosting green, and place it in a piping bag. Leave the other 1 ½ cups white, and place it in a separate piping bag. Color all of the remaining frosting purple.
To Assemble And Decorate:
Trim the rounded bottom of one of the football cakes, and cut out a stiff piece of cake board to be the approximate shape of the bottom of your football cake. Flip the cake over so the flat bottom rests on the cake board.

Trim the tops of both cakes until they are even, and slice both cakes into two layers, giving you four cake layers total—two smaller rounded ones, and two wide tops.

Spread an even layer of purple buttercream onto the bottom cake layer, about 1/4-inch thick. Top with a second, wider cake layer, and spread more frosting on top. When you add the third wide cake layer, make sure you position it so that it's wider at the base and narrower at the top.

Add buttercream to the third cake layer, and add the final rounded cake layer on top. You should have a vaguely egg shaped cake now! Chill the cake well, until the buttercream is firm.

Use a serrated knife to trim around the edges of the cake to make it round like an egg. Shave off any protruding edges, and shave down the pointy sides.

Once you're happy with the shape, use a knife and a spoon to carve out a hollow in the center of the cake for the panoramic scene. Carve out the outline with the knife, and scoop out the insides with the spoon. The exact size is up to you, but be sure to leave enough of a margin around the top and sides to make the cake stable (and leave enough cake to eat!) Look at the size of the candies you want to use in the scene and use those to help you determine the size of the hollow.

Spread a thin layer of purple frosting all along the outside of the cake to lock in crumbs, and spread a thin layer of white frosting on the inside of the hollow. Refrigerate the cake again until the frosting is firm.

Spread a thicker layer of purple frosting along the outside of the cake and smooth it out. Pour the purple sparkling sugar into a bowl set on a rimmed baking sheet. Hold the cake on a cake board in one hand, and use your other hand to grab handfuls of sparkling sugar. Pour the sugar over the frosted cake and press gently to adhere it to the frosting. Let the excess sparkling sugar fall onto the baking sheet for easy clean-up later. Make sure you cover the whole outside of the cake with sparkling sugar.

To decorate the inside, fit the green frosting bag with a leaf tip, and pipe leaves trailing up the walls of the hollow. Switch to a grass tip, and pipe grass on the bottom. Now add your candy decorations! Flowers, candy eggs, and chocolate animals are all great choices, but use whatever you have available.

Finish by piping a white shell border around the outside of the panoramic scene to make it look more polished. You can pipe more shells around the entire cake, if you'd like.

Finally, switch to a small round tip for the green piping bag and pipe swirly vines on top of the egg. Add flowers, either purchased royal icing flowers or homemade buttercream roses, and finish it off with small leaves here and there. You can also write a customized Easter message on your egg if you'd like.

For the best taste and texture, serve this cake at room temperature. It can be kept, well-wrapped, at room temperature for several days, or in the refrigerator for 4-5 days.
Video
Recipe Notes
You will need to make the cake recipe TWICE in the football pan to make this Easter egg cake!
Measuring Tips
Our recipes are developed using weight measurements, and we highly recommend using a kitchen scale for baking whenever possible. However, if you prefer to use cups, volume measurements are provided as well. PLEASE NOTE: the adage "8 oz = 1 cup" is NOT true when speaking about weight, so don't be concerned if the measurements don't fit this formula.
Want to learn more about baking measurements and conversion?
Nutrition
Calories:
726
kcal
|
Carbohydrates:
68
g
|
Protein:
6
g
|
Fat:
48
g
|
Saturated Fat:
29
g
|
Cholesterol:
168
mg
|
Sodium:
314
mg
|
Potassium:
149
mg
|
Fiber:
0
g
|
Sugar:
55
g
|
Vitamin A:
1550
IU
|
Calcium:
57
mg
|
Iron:
1.1
mg
Tried this recipe?
Snap a pic and hashtag it #SugarHero. We love to see your creations on our Instagram @elabau.