This Easy Zucchini Bread recipe is the best way to enjoy zucchini! It's a simple one-bowl recipe that's fast to make, and it tastes great with cream cheese frosting or on its own.
Easy Homemade Zucchini Bread
Zucchini bread is a beloved baking classic for a reason — it's easy, it's delicious, it keeps beautifully, and it's a darn good way to use up any extra zucchs you might have lying around.
Given all this, I'm a firm believer that everyone should have a failsafe zucchini bread recipe in their baking arsenal. Here's why this particular recipe has won a place in my heart:
You can't taste the zucchini. Pinky swear! This recipe has 2 cups of shredded veggies, but it tastes absolutely indulgent. (And 2 cups basically makes it a salad, right??)
All that zucchini makes the bread seriously moist. It also keeps it from drying out quickly, so this is a great make-ahead recipe.
It's got a secret ingredient: lime zest! Lime and zucchini might sound like an odd pairing at first, but the zest really brightens the flavor and makes the bread irresistible. There are some subtle differences between regular limes and key limes. Check out my detailed blog post to learn more about different types of limes!
It's versatile. This exact same recipe can be used to make Zucchini Cupcakes. Give both a try and see which way is your favorite!
I love to top my bread with a sweet & tangy Lime Cream Cheese Frosting, but you can also leave it plain, or add a light dusting of powdered sugar. Don't miss these other great quick breads as well: Pumpkin Chocolate Chip Bread, The Best Banana Bread, and my favorite, Banana Coconut Macadamia Nut Bread!
Table of Contents
🧾 What You'll Need
Ingredients
This delicious sweet bread is packed with ingredients you probably already have around, plus some sneaky hidden veggies! Here's what you'll need. (Links are affiliate links and I earn a small commission from qualifying purchases.)
Zucchini: yep. We're hiding 2 cups of zucchini (which is roughly 1 medium zucchini) in this delicious treat. The zucchini adds tons of moisture to the bread too, for an amazingly soft texture!
Lime zest: this ingredient might come as a surprise, but I love adding the bright pop of lime flavor to my zucchini bread. If you don't have limes, you can swap in lemon or orange zest, or omit it entirely.

All-purpose flour:

"Regular" flour, aka all-purpose, is what we're using to give the bread its structure. I recommend actually weighing the flour (and all of your ingredients!) for a more accurate result, but you can also spoon it into the measuring cup and gently level it off.
Baking soda and baking powder: you need both leavening agents to create a perfectly light yet moist texture.
Oil neutral canola oil keeps the flavor focus on the zucchini and lime.
Brown sugar: brown sugar gives the cake a deeper flavor and helps keep it moist. You can use dark or light brown sugar.
Eggs: the eggs should be at room temperature. Either let them sit out for 20-30 minutes, or submerge them in a bowl of warm water for a few minutes to warm them up quickly.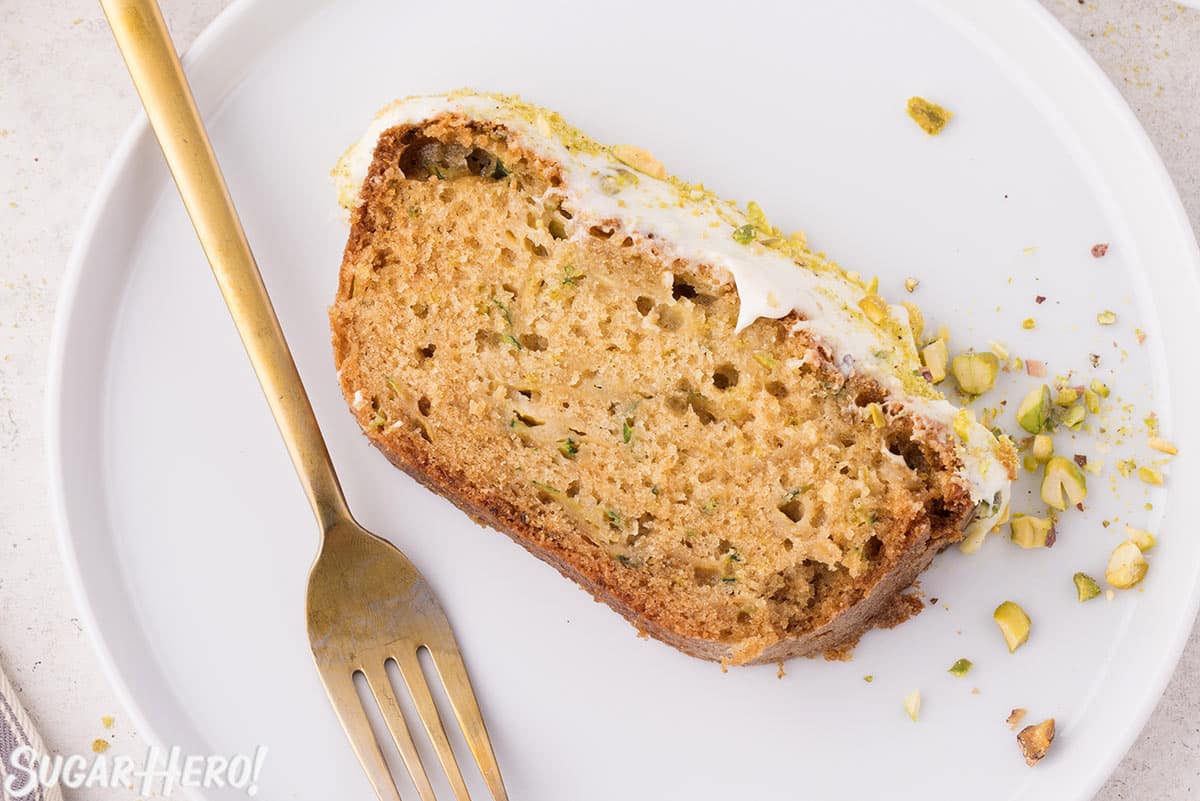 Equipment
You just need a few kitchen tools to put together this zucchini bread recipe! (Links are affiliate links and I earn a small commission from qualifying purchases.)
📋 Instructions
This homemade zucchini bread takes just 15 minutes of prep! Get the full printable instructions in the recipe card below.
Make the Zucchini Bread
Using a hand mixer or stand mixer, beat together the brown sugar, eggs, and canola oil. In a separate bowl, whisk together the flour, baking soda, baking powder, and salt.
With the mixer on low, slowly add the dry ingredients to the batter, and mix until just combined.
Use a grater to grate the zucchini into small shreds, then add that into the batter, along with the lime zest.
Gently fold in the zucchini and lime zest, until everything is well-mixed.
Transfer the batter to a 2 lb loaf pan lined with parchment paper, then bake until a toothpick comes out of the center clean.
While the bread is baking, you can make your frosting–it's optional but delicious.
When the bread is done, remove it from the oven and cool completely. Once cooled, top it off with the prepared frosting, and devour!
💭 Variations
I love this recipe as-is, but if you're looking to switch things up, here are some other ideas!
Leave it unfrosted. It tastes great on its own, or you can add a light dusting of powdered sugar or a thin glaze on top.
Add nuts. Mix some crushed nuts directly into the batter for a bit of crunch. Try walnuts, pistachios, pecans, or almonds.
Switch up the zest. This bread is also amazing with lemon or orange zest in place of the lime.
Add fall flavors. To make this the perfect autumn treat, leave out the zest and add 2 tsp cinnamon. You can also add ginger, cloves, or allspice to increase the coziness factor.
Make it chocolate-y. Add in a cup of mini chocolate chips for some extra sweetness.
💡 Tips and Notes
Zucchini Bread Notes
Don't worry. This bread doesn't taste like zucchini! It's supremely moist and packed full of sweet flavor. The zucchini is totally hidden!
Use neutral oil. We've used oil in place of butter as this results in an even lighter crumb. You can use any flavorless oil (something like olive oil would not work here as you would be able to taste it).
Don't over-mix the batter. Over-mixed bread batter can become too dense and gummy. Mix until just combined for the perfect texture.
Don't dry the zucchini! Do NOT squeeze the water from the zucchini. The high water content of zucchini is what makes this bread so supremely moist. Not watery – soft, light, and moist (for days!).
Cool completely before frosting. If you frost a warm zucchini bread loaf, the frosting will just melt and run off.
Baking time: Note that this recipe calls for a 2 lb loaf pan (approx 5×10″). If you are using a smaller pan, such as a 4.5×9″ pan, your loaf will be taller, and the baking time will most likely be longer. Start with the recommended time, and check frequently until a toothpick inserted into the center comes out clean.
Avoid an overbaked top. If the top of the loaf is getting too dark before the center is done, place a piece of foil lightly tented over the top, to prevent overcooking.
Frosting Notes
Frosting is optional. The loaf can also be finished off with a sprinkle of powdered sugar, or nothing at all.
Use full-fat cream cheese. If you are using the frosting, it's important to use full-fat cream cheese or the frosting will be too runny.
Bring the butter and cream cheese to room temp. Before you begin, bring the butter and cream cheese to room temperature. This ensures a silky smooth frosting with no lumps.
Adjust the texture if needed. The consistency of this frosting is a little thinner for sweet breads than you would want for cupcakes. If it looks too soft, just add more powdered sugar (1/4 cup at a time). You can also refrigerate for half an hour or so which will help the frosting to set up.
FAQs
❤️ More Sweet Bread Recipes You'll Love
If you love muffins and sweet breads as much as I do, you'll love these other recipes!
Pumpkin Chocolate Chip Bread
Pumpkin bread gets an upgrade with the addition of LOTS of chocolate! It's moist, perfectly dense, and loaded with pumpkin puree and pumpkin pie spice.
View Recipe
Banana Bread
This Banana Bread is the BEST! It has a wonderfully moist texture, big banana flavor, a hint of cinnamon, and lots of melty chocolate chunks.
View Recipe
Don't miss the step-by-step tutorial showing how to make Zucchini Bread – check out the web story here!
Easy Zucchini Bread
This Easy Zucchini Bread recipe is the best way to enjoy zucchini! It's a simple one-bowl recipe that's fast to make, and it tastes great with cream cheese frosting, or on its own.
Ingredients
For the bread:
7.5

oz

light brown sugar (

1

cup, lightly packed)

2

large eggs

room temperature

4

fl oz

canola oil

(1/2 cup)

5.3

oz

all purpose flour (

1 1/4

cup)

1/2

tsp

baking soda

1/2

tsp

baking powder

1/2

tsp

salt

2

cups

grated zucchini

(approx

1

medium zucchini)

1.5

TBSP

lime zest

(from

1

large lime)
For the frosting:
2

oz

unsalted butter

(

1/4

cup), softened

4

oz

cream cheese

(

1/2

block), full fat

1

TBSP

fresh lime juice

1.5

TBSP

lime zest

(from

1

large lime)

10

oz

powdered sugar

(

2.5

cups)

1

handful

pistachio nuts

roughly chopped, optional
Instructions
For the bread
Preheat the oven to 350 degrees. Line a 2lb loaf pan with parchment paper and spray with nonstick cooking spray.

Put the brown sugar, eggs, and canola oil into a mixing bowl. Use an electric mixer to beat them together until smooth.

In a separate bowl, whisk together the flour, baking soda, baking powder, and salt.

With the mixer running on low, slowly add the dry ingredients, and mix just until combined. Stop mixing when you can no longer see the streaks of flour.

Add the grated zucchini and lime zest, and fold into the batter gently by hand.

Transfer the mixture to the prepared loaf pan.

Put the loaf pan in the center of the preheated oven and bake for 40 minutes. Then add a layer of foil on top and bake for a further 15 minutes. The zucchini bread is baked when it is golden on top and a toothpick inserted into the center comes out clean.

Remove from the oven and allow to completely cool before frosting.
For the frosting:
Put the room temperature butter into the bowl of a hand mixer. Use the paddle attachment to beat until creamy.

Add the cream cheese and mix again until combined.

Add the powdered sugar, one cup at a time, beating well between each addition.

When all the powdered sugar has been incorporated, add the lime zest and lime juice, and beat until combined. You may need to add more powdered sugar until you reach the desired consistency.

To frost the zucchini bread, dollop the cream cheese on top of the loaf and use a palette knife to smooth out the frosting.

Finish it off with a handful of chopped pistachios on top, if desired.

Unfrosted zucchini bread can be stored in an airtight container at room temperature for around 4 days. It can also be stored in the freezer for up to 1 month. Frosted zucchini bread will last for up to a week in the fridge.
Measuring Tips
Our recipes are developed using weight measurements, and we highly recommend using a kitchen scale for baking whenever possible. However, if you prefer to use cups, volume measurements are provided as well. PLEASE NOTE: the adage "8 oz = 1 cup" is NOT true when speaking about weight, so don't be concerned if the measurements don't fit this formula.
Want to learn more about baking measurements and conversion?
Nutrition
Calories:
374
kcal
|
Carbohydrates:
52
g
|
Protein:
3
g
|
Fat:
18
g
|
Saturated Fat:
5
g
|
Polyunsaturated Fat:
3
g
|
Monounsaturated Fat:
8
g
|
Trans Fat:
0.2
g
|
Cholesterol:
47
mg
|
Sodium:
191
mg
|
Potassium:
135
mg
|
Fiber:
1
g
|
Sugar:
41
g
|
Vitamin A:
327
IU
|
Vitamin C:
4
mg
|
Calcium:
42
mg
|
Iron:
1
mg
Tried this recipe?
Snap a pic and hashtag it #SugarHero. We love to see your creations on our Instagram @elabau.
About Elizabeth LaBau
I'm Elizabeth, but you can call me SugarHero! I'm a former pastry chef turned blogger, cookbook author, and baking instructor, and I consider myself sugar's #1 fan. Learn more from my About page, or connect with me on social media: