These light, spongy Strawberry Cupcakes are topped with a full-bodied, to-die-for Strawberry Italian Meringue Buttercream Frosting! It's the perfect topping for this perfectly strawberry dessert!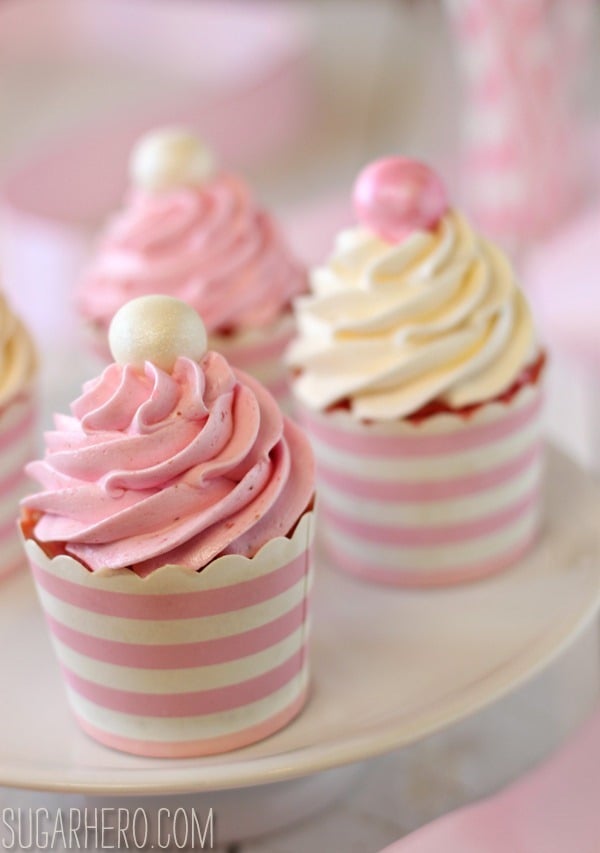 Okay, I know I was just waxing rhapsodic about fall and fall flavors, but you can't expect me to quit all berry desserts cold turkey, just because it's October.
Besides, these strawberry cupcakes were for a baby shower, and I'm pretty sure there's a Cute Baby Exclusion Clause in the Big Book O' Seasonal Produce Rules. Look it up. I'll wait.
I'm not usually a frilly pink person, but I saw these cupcake wrappers at TJ Maxx (yes, really) and although I didn't know what I wanted to use them for, they were too cute to pass up. A few weeks later, I volunteered to make desserts for a baby girl shower, and I knew the wrappers had to make an appearance. And what better to fill them with than moist strawberry cake?
The cupcakes were topped with either vanilla or strawberry Italian meringue buttercream—my absolute favorite, because it's so light, with the perfect melting texture and a flavor that's full-bodied but not too sweet.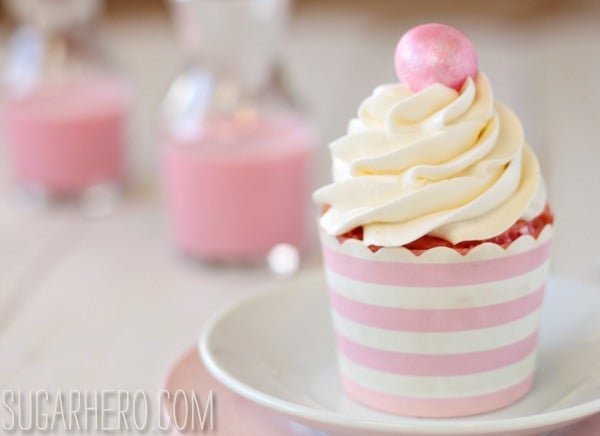 I was obsessed with the idea of topping these cupcakes with Strawberry Whoppers. I just knew it would be the cutest touch, so I went to multiple stores trying to track them down. Turns out they're an endangered species—I couldn't find them anywhere! I settled for making balls out of fondant and dusting them with luster dust, which I think turned out even cuter than the Whoppers would have been. Wish I thought of that before starting my wild goose chase!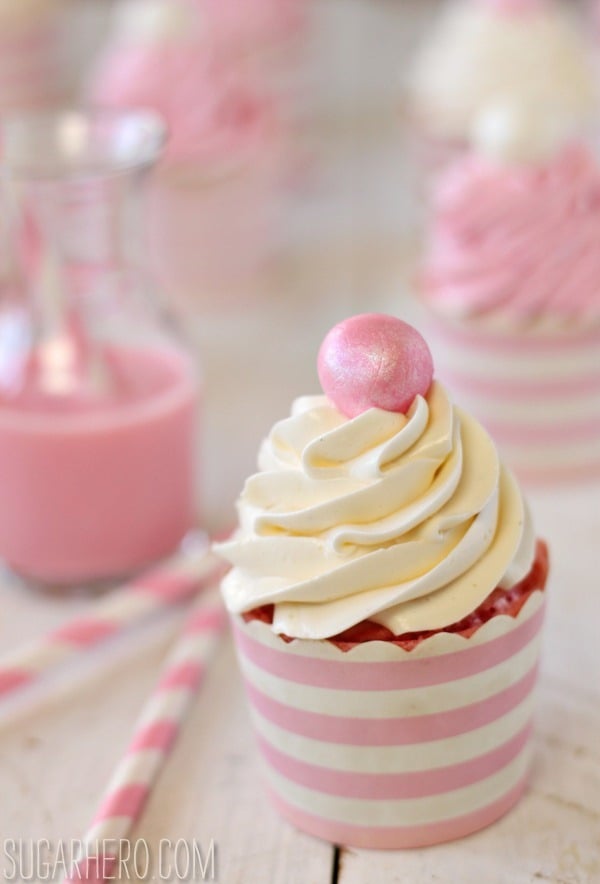 This isn't directly cupcake-related, but at the shower I served the dessert with strawberry milk and pink and white striped straws, and folks nearly died from the cuteness of it all. I think it's time strawberry milk made a comeback. I know it's nutritionally dreadful. It's 50% food dye, 49% sugar, and 1% artificial flavoring, but man is it a cute addition to a shower buffet. Let's overlook the health problems in favor of taking fun photos. Deal?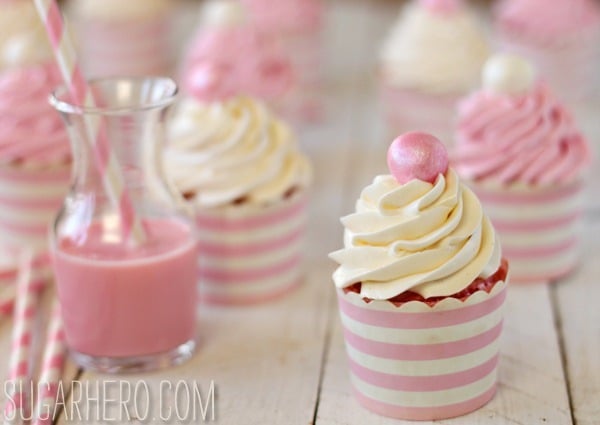 I had some problems with the cupcakes shrinking and pulling away from the wrappers once they'd cooled. It was actually fine, since I baked them in these extra-sturdy, extra-tall cups and covered them with frosting, but I think it might have been a disaster had I just used regular wrappers. If you're going the regular wrapper route, I suggest omitting the puree from the cupcakes and having just the Jell-O provide the berry taste. They won't be as flavorful, but I think by having a less moist batter you'll avoid some of the shrinking problems. You could always fill them with strawberry jam, post-baking, to add back some of that authentic strawberry flavor.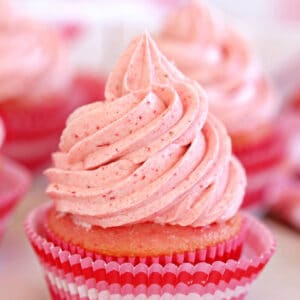 Strawberry Buttercream
This Strawberry Buttercream is incredible! With a smooth, creamy texture and bright fresh strawberry flavor, it's going to be your new favorite frosting to put on everything!
View Recipe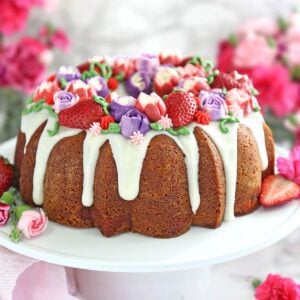 Strawberry Swirl Bundt Cake
Looking for the perfect bundt cake? Try this Strawberry Swirl Bundt Cake – a moist vanilla cake with a strawberry swirl inside, topped with fresh berries and beautiful buttercream flowers!
View Recipe
Strawberry Cupcakes With Vanilla and Strawberry Italian Meringue Buttercream
These light, spongy Strawberry Cupcakes are topped with a full-bodied, to-die-for Vanilla and Strawberry Italian Meringue Buttercream Frosting! It's the perfect topping for this perfectly strawberry dessert!
Ingredients
For the Italian Meringue Buttercream:
Instructions
For the Cupcakes:
Preheat your oven to 350 degrees Fahrenheit. Line muffin tins with 24 papers.

In a small bowl, whisk together the flour, baking powder, and salt.

In a mixing bowl, combine the granulated sugar, gelatin, and butter. Cream on medium-high speed with a paddle attachment until light and fluffy. Add the eggs one at a time, beating for a minute after each addition. Mix the vanilla and milk together.

With the mixer running on low, add a third of the dry ingredients. When that's mostly incorporated, add half of the liquid ingredients, and let it become absorbed before you add more drys. Continue in this alternate pattern until all the flour and milk mixtures have been added, ending with the drys. Add the strawberry puree and mix it in just until it's combined.

Fill the muffin cups 2/3 full and bake for 20-25 minutes, until they're puffed and the tops spring back when gently pressed with a finger.

Allow to cool at room temperature completely before frosting.
For the Italian Meringue Buttercream:
Place the room temperature egg whites in the very clean bowl of a large stand mixer fitted with the whisk attachment. Place the water and sugar in a small saucepan over medium-high heat and stir until the sugar dissolves. Insert a candy thermometer and cook until it reaches 245 degrees Fahrenheit.

While you are waiting for the sugar syrup to reach the proper temperature, begin beating the egg whites. (I usually start beating them when the temperature is around 230 degrees F.) Turn the mixer to medium speed and beat until the whites look foamy. Stop the mixer briefly and add the cream of tartar. Turn the mixer back on and begin to beat on medium-high speed until the whites are stiff but not crumbly. You can turn the mixer off if the egg whites are finished before the syrup is ready.

When the whites are stiff and the sugar syrup is 245 degrees, turn the mixer back on to medium-high and pour the syrup into a cup or pitcher with a spout. Slowly and carefully pour the hot syrup down the sides of the bowl into the egg whites while the mixer is running. The whites will rise in volume. After all of the syrup is added, let the mixer run on medium speed until the sides of the bowl feels barely warm, which may take anywhere from 20-30 minutes.

Once the egg white mixture has cooled, gradually add the softened butter bit by bit until it is all incorporated. Scrape down the sides of the bowl with a spatula. The egg white mixture will deflate and might look soupy. If it looks soupy or broken, continue to beat the mixer on low or medium speed until it comes back together. Eventually it will become a beautiful, smooth frosting. This is why it's important to use butter that's soft but cool: butter that is too warm will just liquefy and make soupy buttercream. If it resists coming together, refrigerate the bowl briefly, for about 10 minutes, then continue beating until it smooths out.

Once the frosting is finished, add the vanilla extract and mix it in. If you want to flavor the whole batch strawberry, add all of the puree and a drop or two of pink food coloring, if using. If you only want to flavor a portion of the frosting, divide it up and slowly add some of the puree, tasting consistently, until you get a texture and flavor of strawberry buttercream that you enjoy.

The frosting can be stored at room temperature for a few days, or up to a week or two in the refrigerator or several months in the freezer. If refrigerated, allow it to come to room temperature, then re-beat to get the proper texture.
Measuring Tips
Our recipes are developed using weight measurements, and we highly recommend using a kitchen scale for baking whenever possible. However, if you prefer to use cups, volume measurements are provided as well. PLEASE NOTE: the adage "8 oz = 1 cup" is NOT true when speaking about weight, so don't be concerned if the measurements don't fit this formula.
Want to learn more about baking measurements and conversion?
Nutrition
Calories:
380
kcal
|
Carbohydrates:
46
g
|
Protein:
3
g
|
Fat:
20
g
|
Saturated Fat:
12
g
|
Cholesterol:
79
mg
|
Sodium:
292
mg
|
Potassium:
133
mg
|
Fiber:
0
g
|
Sugar:
34
g
|
Vitamin A:
645
IU
|
Vitamin C:
5.7
mg
|
Calcium:
48
mg
|
Iron:
1
mg
Tried this recipe?
Snap a pic and hashtag it #SugarHero. We love to see your creations on our Instagram @elabau.