Heat up your summer with these cool Flamingo Cupcakes! They're pink lemonade cupcakes with pink lemonade frosting, and are decorated to look like pink flamingos. Perfect for summer birthdays, pool parties, BBQs, or any fun occasion!


🦩 Cute Pink Flamingo Cupcakes
If there's one dessert trend I find inexplicable but awesome, it is the rise of flamingo everything. I don't know quite how it happens—do shadowy representatives from Big Cupcake and Big Macaron and Big Cake get together in a secret cave room hidden in a mountaintop, and decide on quarterly dessert trends? I have no idea, so I'm going to say probably.
Mysterious dessert lair or not, somehow we've all collectively decided that pink flamingos are cool and trendy instead of kitchy and cheesy, and I am here.for.it! Let's get our Flamingo Cupcakes on!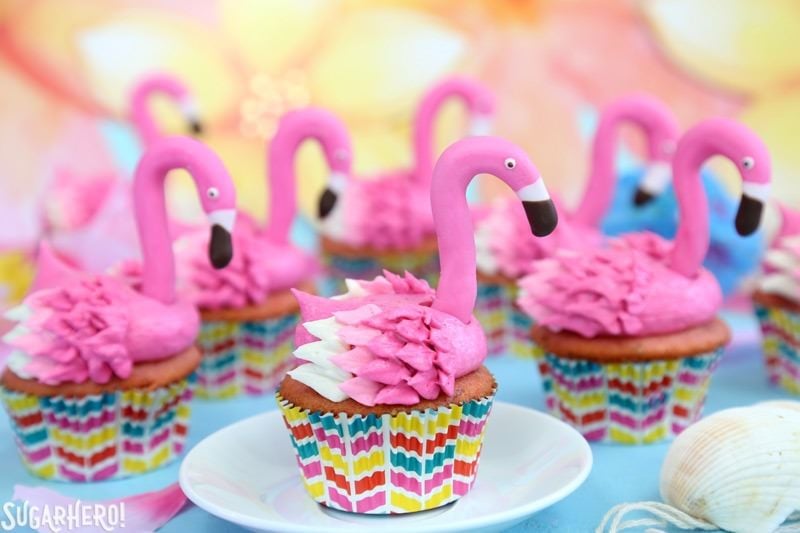 [lwptoc depth="1″]
These Flamingo Cupcakes are my attempt to jump on that pink flamingo train, and at the risk of tooting my own horn, I'm kind of obsessed with them! They're a bit silly looking, with their long, drooping necks (much like the real birds), but their bright pink color and ombre feathered buttercream wings are so whimsical, so cheerful, they make me smile like a goofball whenever I look at them.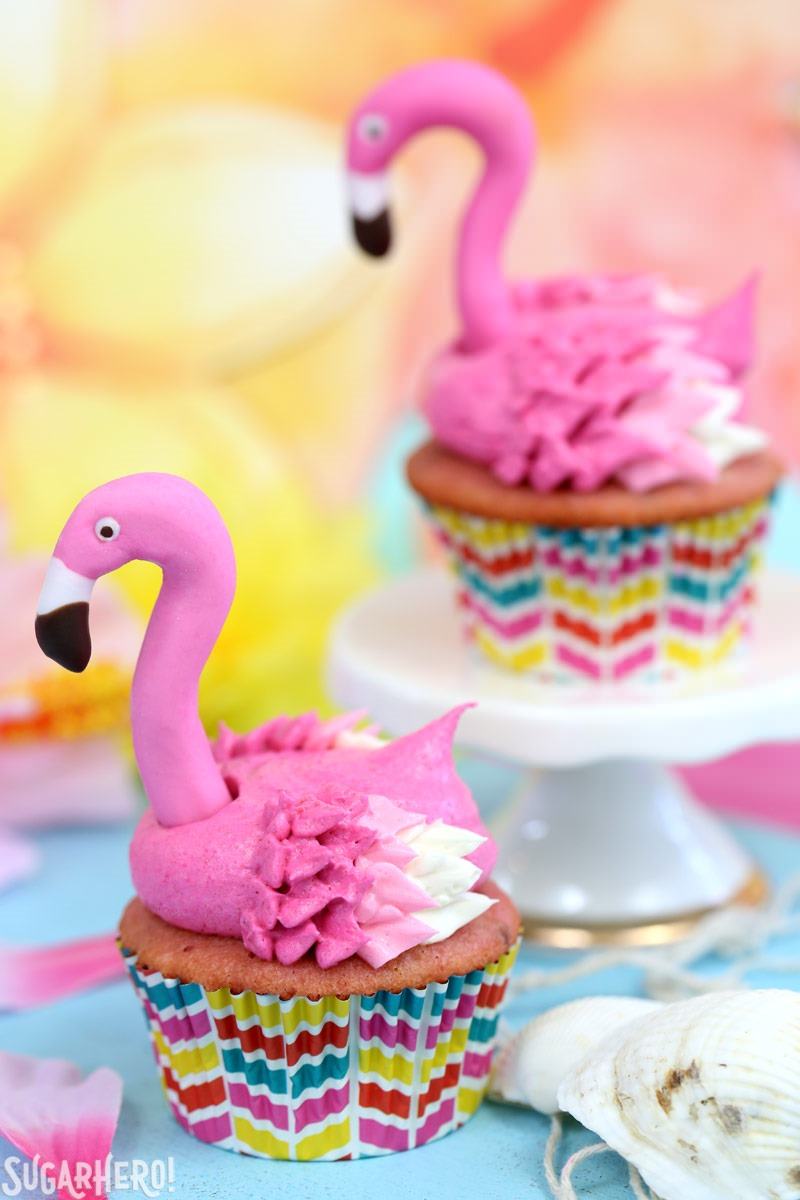 Would it be weird to put a flock of these out on my front lawn? Asking for a friend.
🧾 Ingredients
These cupcakes taste like summer, thanks in large part to the vibrant pink lemonade flavor. The cakes are made with real strawberry puree, so they're moist and a bit denser than your standard vanilla cupcake, and full of tangy strawberry-lemon flavor.
The frosting uses freeze-dried strawberries to give it a REALLY vibrant fresh strawberry taste that will make you think you're actually eating a strawberry. If you have trouble getting your hands on freeze-dried strawberries, I've included a few suggestions for substitutions in the recipe. Find more tips and tricks for in this recipe for strawberry buttercream here!
You will also need pink fondant. Buying pink fondant will save you a bit more time, but if you already have white, you can just color it the same color as your buttercream.
🥄 Equipment
You don't need much in the way of specialty equipment to make these flamingo cupcakes at home! All you need to pipe the flamingos are piping bags, a coupler (this is also used to make the flamingo body!), and a #352 leaf tip.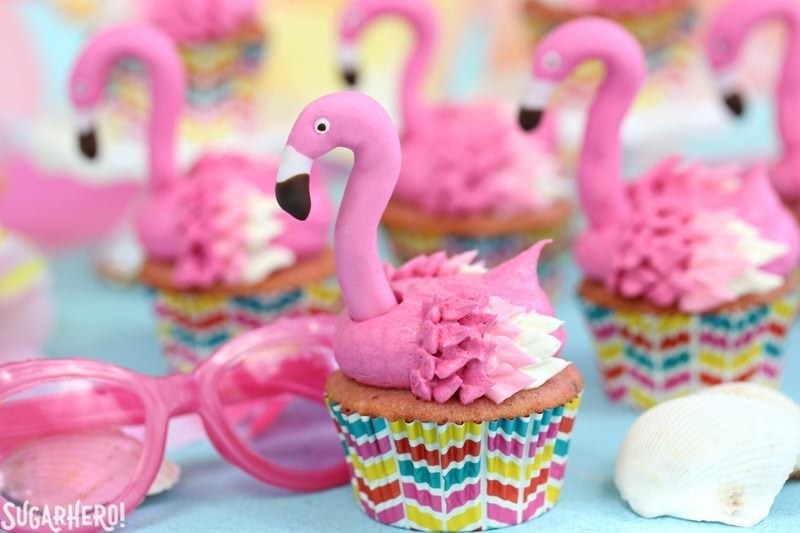 📋 Procedure
The decorating falls into two stages: the fondant flamingo heads, and the piped buttercream flamingo bodies. (And yes, I've got your back with a video tutorial! Scroll down to watch my hands work this magic.) Neither step is too hard, but the heads will need some time to dry, so you need to prepare a few days in advance for this project, otherwise you'll have SERIOUSLY droopy flamingos. Not cute!
The fondant flamingo heads are shaped, skewered with toothpicks, and left to dry until firm. Once dry, you just dip them into white candy coating, then chocolate candy coating, and dab an eye on there—easy!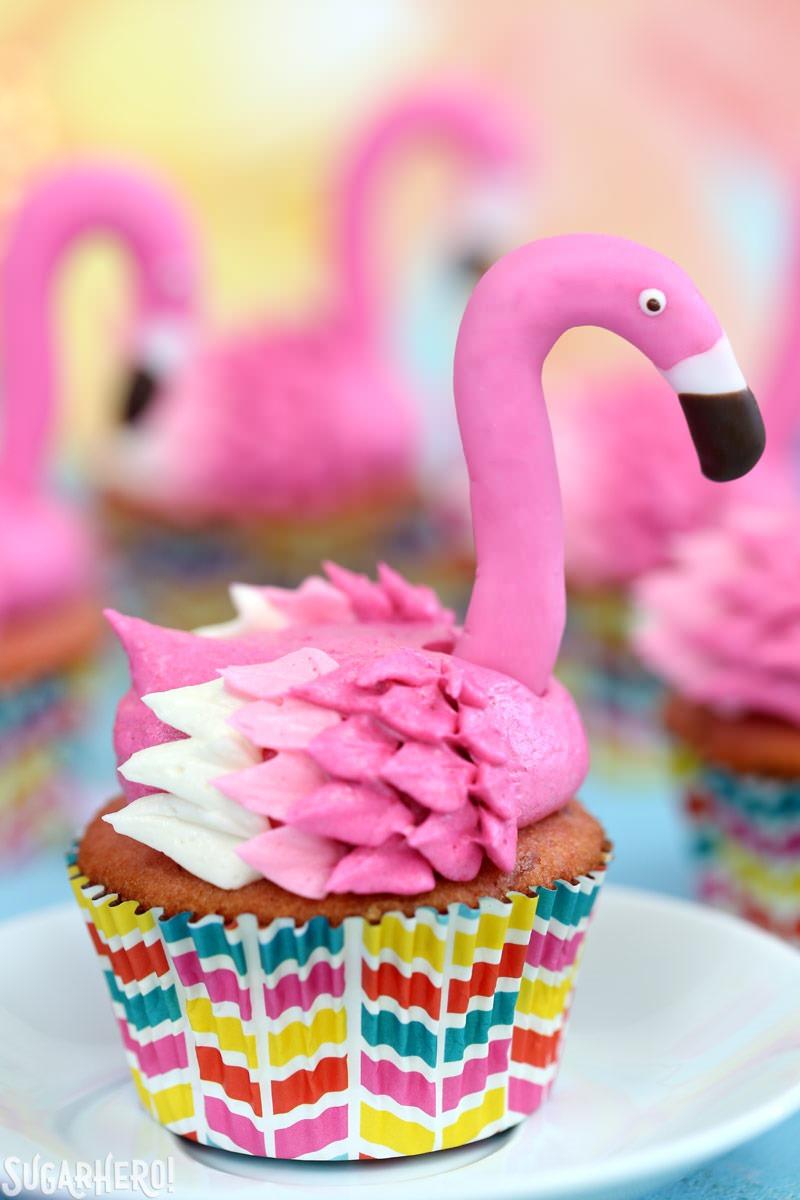 💡 Tips and Substitutions
If you want to use a cake mix instead of going homemade, I recommend buying a strawberry cake mix, and adding the zest of 1 lemon and 1-2 tsp lemon extract, to taste, until you get a nice pink lemonade flavor.
The fondant heads will need at least 24-48 hours to dry before adding the final decorating touches and putting them on the cupcakes. (The exact time depends on your fondant, humidity, etc). You can speed up this process by kneading in some gum paste or CMC powder to the fondant before you shape the heads—this helps fondant dry faster.
Don't have candy melts? No worries! Melted white chocolate chips and dark chocolate chips are a fine substitute.
💖More Fun Cupcake Recipes:
Don't miss the step-by-step tutorial showing how to make Flamingo Cupcakes – check out the web story here!
Flamingo Cupcakes
Flamingo Cupcakes – everyone loves these pink lemonade cupcakes decorated to look like pink flamingos! They're easy, cute, and perfect for summer!
Instructions
To Make the Decorations:
The fondant decorations will require at least 24-48 oz to dry, so you'll want to make those first. Knead the pink fondant until it is smooth and supple. Break off a walnut-sized ball of fondant, and roll it between your hands until it is a long snake about 4 inches long. Roll one end between your fingers to thin it out like a beak.

Shape the fondant snake into a flamingo neck shape—think of a question mark, with the bottom of the question mark curving away from the head, or an elongated "S" shape. Gently insert a toothpick into the bottom of the flamingo neck, going up about an inch and leaving the rest of the toothpick sticking out.

Cover a baking sheet with parchment or waxed paper, and dust it lightly with powdered sugar. Transfer the flamingo head to the baking sheet to dry. Repeat with the remaining fondant until you have 24 flamingo heads (consider making a few extras in case of breakage). Let the fondant dry completely, flipping the heads over after about 12 hours to let the bottom side dry as well.

When the flamingo heads are dry, melt the white and dark candy coating in separate bowls. You'll want the coating to form a thin layer on the flamingo beaks, so if it seems thick and clumpy when melted,

add a teaspoon of oil or shortening to thin it out. Use a spoon to pour white coating over a flamingo beak, covering the whole beak, then insert it into a Styrofoam block to dry upright. Repeat with all of the flamingo heads, and let them harden completely.

Dip a flamingo beak halfway into the dark chocolate, letting some of the white chocolate peak through above. Set the head upright to dry again, and repeat with all of them.

Finally, add eyes to each flamingo head by dipping the flat bottom of a skewer or toothpick into the white coating, and dotting it on the flamingo head, then putting the tip of a toothpick into the dark coating and dotting it into the middle of the white eye. Repeat on both sides of each head, and let dry completely before using.

The flamingo heads can be made in advance and stored in an airtight container at room temperature for several weeks, until ready to use.
To Make the Cupcakes:
Line 24 muffin tins with cupcake papers and preheat the oven to 350 F. In a small bowl, sift together the flour, baking powder, and salt, and set aside for a moment. In a separate small bowl, combine the milk and strawberry puree.

In a large mixing bowl, combine the sugar and lemon zest. Work the zest into the sugar with your hands, rubbing them together until the lemon releases its oils and the sugar is damp and fragrant. Add the room temperature butter to the lemon sugar, and beat them together on medium speed until light and fluffy, for 3-5 minutes.

Add the eggs, one at a time, beating well after each addition, then add the lemon extract and mix it in.

Add a third of the flour mixture to the mixing bowl, and mix it in until just a few streaks of flour remain. Add half of the strawberry-milk mixture, and when it's incorporated, continue to alternate adding the dry and wet ingredients until everything is added.

Scrape down the bottom and sides of the mixing bowl with a spatula. If desired, add a few drops of pink food coloring to give the cupcakes a brighter pink hue.

Spoon the batter into the cupcake liners, filling about 3/4 full. Bake at 350° F for 20-22 minutes. Let cool completely before decorating.
To Make the Buttercream:
Combine the whites, powdered sugar, and salt in the bowl of a large stand mixer fitted with a paddle attachment. Mix everything together on low speed, until the sugar is moistened and no dry patches remain. Turn off the mixer, scrape down the sides and bottom of the bowl with a spatula, then turn the mixer to medium speed. Beat on medium for 5 minutes.

After 5 minutes, turn the mixer to medium-low and start adding the softened room temperature butter, 1-2 tablespoons at a time. Once all of the butter is incorporated, add the lemon extract and mix it in. Stop the mixer and scrape down the bottom and sides once more. Turn the speed to medium and beat the buttercream for 10 minutes. At the end, you'll have a frosting with a wonderfully light and creamy texture.

Separate out 1 ½ cups of buttercream. Keep ¾ cup white, and place it in a piping bag fitted with a #352 leaf tip. Tint the remaining ¾ cup a light pink, and put it in a piping bag with a #352 tip as well.

Process the freeze-dried strawberries in a food processor until they are a fine powder. Sift the powder over the remaining buttercream in the mixing bowl, sifting out the strawberry seeds and any big clumps of berries that didn't get pulverized. Mix the strawberry powder into the buttercream, then add more pink food coloring until you get a bright flamingo pink that matches your flamingo fondant heads.

Place the bright pink strawberry buttercream into a piping bag fitted with a coupler.
To Assemble:
Hold the bright pink frosting bag perpendicular to the top of a cupcake, about 1 inch above the surface. Squeeze the bag until the frosting comes out and starts forming a round blob on top of the cupcake. Continue to apply even pressure, making the blob grow bigger, until it reaches the edges of the cupcake. Continue to squeeze as you slide the piping bag back toward one side of the cupcake, then stop squeezing and pull the bag away from the cupcake, forming a little tail at the back. Repeat until all of the cupcakes have flamingo bodies, then fit the bright pink frosting with tip #352.

Take the white buttercream, and squeeze eand pull 3 times on each side of a cupcake, to form the back feathers. Add a layer of light pink feathers slightly overlapping the white. Finally, add 2-3 layers of dark pink feathers overlapping the light pink.

Finish the cupcakes by inserting a flamingo head into the front of each cupcake, between the wings, making sure that the toothpick is firmly embedded into the cupcake. For the best taste and texture, serve these Flamingo Cupcakes at room temperature.
Video
Recipe Notes
I love using freeze-dried strawberries to give my buttercream a really intense strawberry flavor. If you can't find it, you can use strawberry extract instead. The extract is a little weaker and tastes more artificial to me, so it's not my first choice. Another good substitution is Strawberry Kool-Aid, which adds a strong strawberry flavor. The downside of using Kool-Aid is that it also adds color, so you can't have as much control over the final color of your buttercream.
Measuring Tips
Our recipes are developed using weight measurements, and we highly recommend using a kitchen scale for baking whenever possible. However, if you prefer to use cups, volume measurements are provided as well. PLEASE NOTE: the adage "8 oz = 1 cup" is NOT true when speaking about weight, so don't be concerned if the measurements don't fit this formula.
Want to learn more about baking measurements and conversion?
Nutrition
Calories:
350
kcal
|
Carbohydrates:
33
g
|
Protein:
3
g
|
Fat:
24
g
|
Saturated Fat:
15
g
|
Cholesterol:
88
mg
|
Sodium:
96
mg
|
Potassium:
72
mg
|
Fiber:
0
g
|
Sugar:
21
g
|
Vitamin A:
750
IU
|
Vitamin C:
28.9
mg
|
Calcium:
14
mg
|
Iron:
1.3
mg
Tried this recipe?
Snap a pic and hashtag it #SugarHero. We love to see your creations on our Instagram @elabau.