This post may contain affiliate links. As an Amazon Associate I earn from qualifying purchases. Please see my disclosure policy for more information.
These Pineapple Cupcakes are fun and tropical! Pineapple-flavored cupcakes are filled with fresh pineapple and topped with coconut buttercream and toasted coconut. Best of all, they're finished with an adorable buttercream pineapple on top!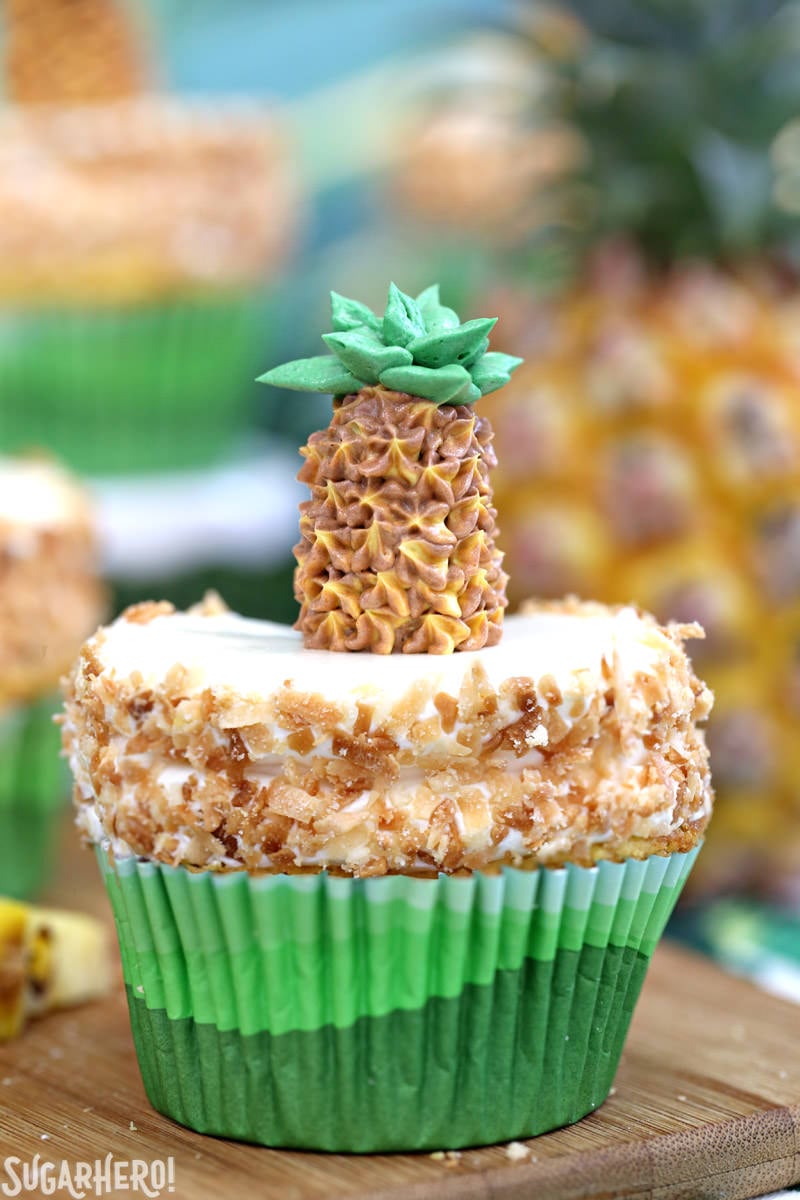 I know, I know, I have GOT to calm down with the summer cupcakes. It's gotten a little out of control. (Flamingo Cupcakes and Mermaid Cupcakes, I'm looking in your direction.) But are you seriously going to look at a wee little pineapple made out of buttercream and tell me, stone cold, that you'd rather have pumpkin or apple desserts right now? I THOUGHT NOT.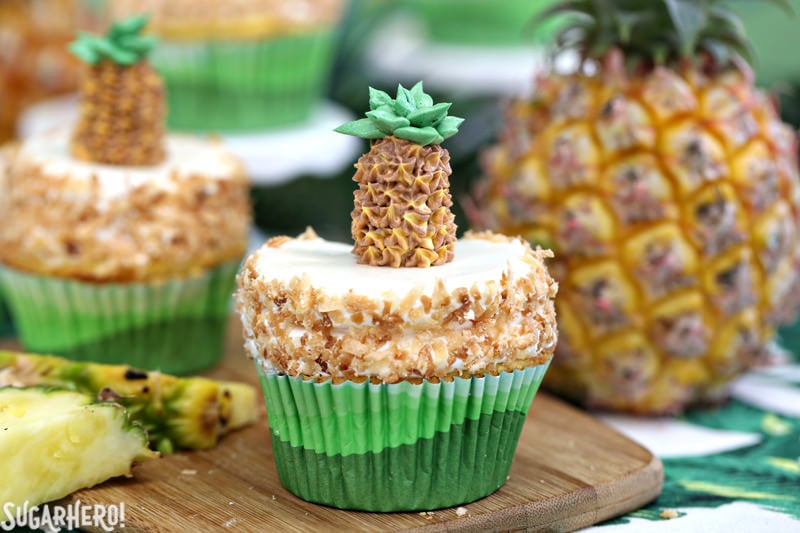 So yes! We are doing this pineapple cupcake thing, and we are topping them with buttercream pineapples because we CAN, and we SHOULD, and they're maybe the cutest things I've ever seen in my life. Isn't that a good enough reason?!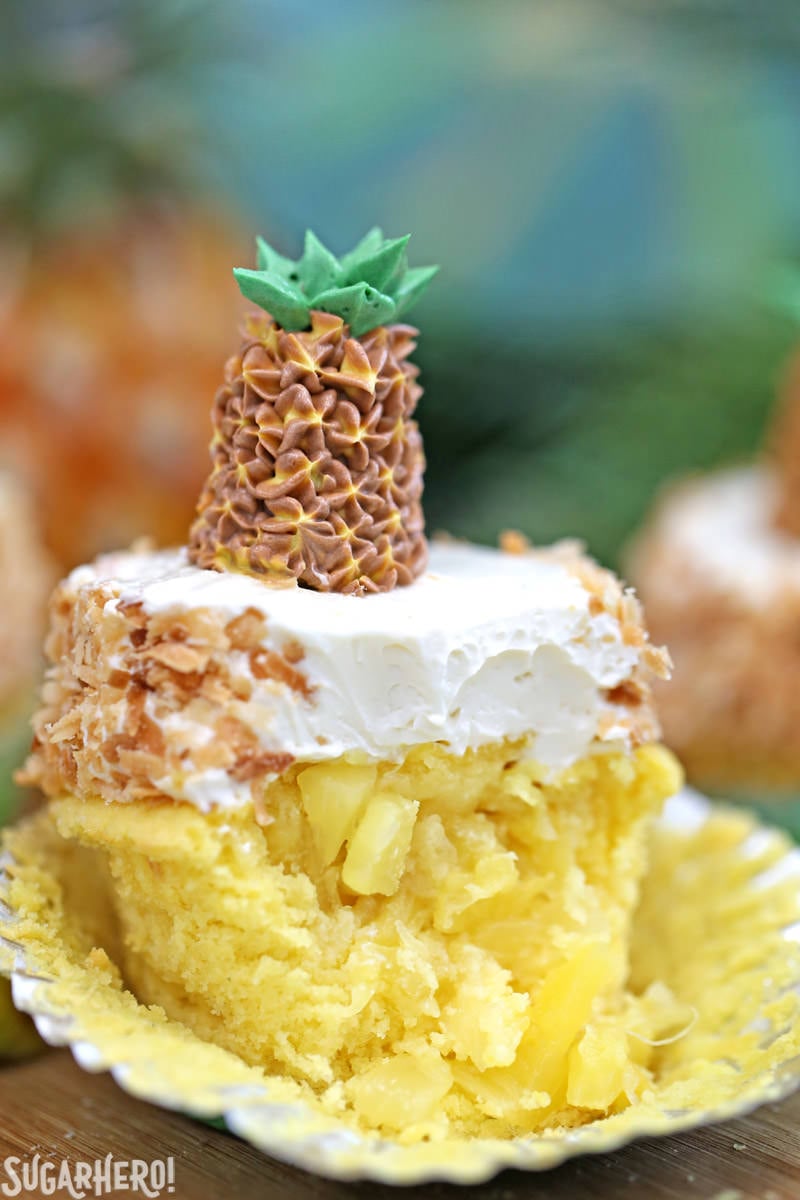 But let's rewind for a minute. These cupcakes are flavored like pineapple, and to get that flava, I used a very exclusive and expensive ingredient called pineapple Kool-Aid. Yes, I'm talking about those same drink packets you can buy for a quarter in the grocery store that your mother never let you have because she cared about your health and also hated fun. (Just me? Okay then.)
If you're not familiar with Kool-Aid, it's basically powdered flavoring that you mix with water and sugar, and it makes a fruity drink. It's kind of a treat only children can love, but I've found that the powdered form is a cheater's way to get strong flavor in a small package. I chose this because it's readily available in most grocery stores in my area, but please, feel free to use whatever pineapple flavoring you can get your hands on! (Extracts, baking emulsions, etc.) Or just make vanilla cupcakes and trust that the fresh pineapple filling–because OF COURSE there's a fresh pineapple filling–will do the job for you.
So we've got pineapple cupcakes filled with fresh pineapple. They're topped with coconut buttercream, rolled in a little toasted coconut around the edges. The pineapple-coconut combination is so classic, I didn't want to mess with it, but if you're a coconut hater you can keep it simple and use vanilla frosting instead.
And finally, the piece that elevates these cupcakes from merely "good" to "sweet Moses those are so adorable"… a small buttercream pineapple on top of each one!
The pineapples are deceptively easy to make! You'll want to create a multi-colored frosting bag with yellow and brown frosting (similar to the technique I used in these Hydrangea Cakes) so that the pineapples look realistic–well, as realistic as frosting fruit can look, that is. Pipe a 1-inch tube of frosting on top of each cupcake, then use a small star tip to pipe stars all over the outside of it to make a pineapple shape. A few green leaves on top, and boom! Your buttercream masterpiece is finished.
These are perfect for outdoor parties, barbecues, luaus, or any occasion where you need a little tropical treat. Enjoy!
Pineapple Cupcakes
These Pineapple Cupcakes are fun and tropical! Pineapple-flavored cupcakes are filled with fresh pineapple and topped with coconut buttercream and toasted coconut. Best of all, they're finished with an adorable buttercream pineapple on top!
Ingredients
For the Buttercream:
6

fl oz

pasteurized liquid egg whites

,

(3/4 cup)

24

oz

powdered sugar

,

(6 cups)

1/2

tsp

salt

24

oz

unsalted butter

,

at room temperature (6 sticks)

1

TBSP

coconut extract
To Assemble:
1

cup

pineapple chunks

1

cup

toasted shredded coconut

,

see Note below
Instructions
To Make the Cupcakes:
Line 24 muffin tins with cupcake papers and preheat the oven to 350 F. In a small bowl, sift together the flour, baking powder, and salt, and set aside for a moment.

In a large mixing bowl, combine the sugar, room temperature butter, and pineapple Kool-Aid powder, and beat them together on medium speed until light and fluffy, for 3-5 minutes.

Add the eggs, one at a time, beating well after each addition, then add the vanilla extract and mix it in.

Add a third of the flour mixture to the mixing bowl, and mix it in until just a few streaks of flour remain. Add half of the milk, and when it's incorporated, continue to alternate adding the dry and wet ingredients until everything is added.

Scrape down the bottom and sides of the mixing bowl with a spatula. Spoon the batter into the cupcake liners, filling about 3/4 full. Bake at 350° F for 20-22 minutes. Let cool completely before filling and decorating.
To Make the Buttercream:
Combine the whites, powdered sugar, and salt in the bowl of a large stand mixer fitted with a paddle attachment. Mix everything together on low speed, until the sugar is moistened and no dry patches remain. Turn off the mixer, scrape down the sides and bottom of the bowl with a spatula, then turn the mixer to medium speed. Beat on medium for 5 minutes.

After 5 minutes, turn the mixer to medium-low and start adding the softened room temperature butter, 1-2 tablespoons at a time. Once all of the butter is incorporated, add the coconut extract and mix it in. Stop the mixer and scrape down the bottom and sides once more. Turn the speed to medium and beat the buttercream for 10 minutes. At the end, you'll have a frosting with a wonderfully light and creamy texture.

Place a few cups of buttercream into a piping bag fitted with a coupler.
To Assemble:
Use a sharp paring knife to cut a cone-shaped hole out of the top of the cupcakes. Finely chop the pineapple chunks into small pieces, and scoop a spoonful of pineapple into each hole, almost all the way to the top. Cut the bottom off of the cupcake cones, and replace the top of each cupcake.

Pipe a big swirl of coconut frosting on top of each cupcake. Place a metal spatula in a pitcher of very hot water, to heat the metal, and dry it off so it's hot but not wet. Press the spatula on top of the buttercream and gently slide it back and forth, using even pressure, so that you flatten out the top of the frosting, creating a round and completely flat frosting surface. Repeat with all of the cupcakes.

Roll the sides of each cupcake in the toasted coconut, keeping the flat tops of the cupcakes clear.

Divide and color the remaining buttercream: color about 1 of the frosting green, and place it in a piping bag with a small leaf tip. Color half of the remaining frosting yellow, and half brown. Lay out a piece of plastic wrap about 16 inches long. Spread a rectangle of brown frosting on the plastic wrap, about 10 inches by 6 inches. Spread the yellow frosting right on top of the brown. Roll the frosting over itself to make a cylinder. Grasp the ends of the plastic wrap in each hand, and twirl it quickly so the frosting is burrito-shaped and the ends of the plastic are tightly twisted. Snip off one of the plastic wrap "tails" and insert the frosting cylinder into a piping bag fitted with a round coupler, snipped-side down.

Hold the piping bag perpendicular to the top of the cupcake, and squeeze with even pressure to pipe a cylinder of frosting in the center of the cupcake, about 1-inch tall. After each cupcake has a cylinder, fit the piping bag with a small star tip (I used Ateco #15) and squeeze mini stars all over the frosting cylinder, going all the way around, so that it looks like a pineapple.

Finish by adding green leaves on top of each pineapple. These Pineapple Cupcakes can be kept in an airtight container in the refrigerator for 3-4 days, but for the best taste and texture, serve them at room temperature.
Recipe Notes
This recipe uses pineapple Kool-Aid to flavor the cupcakes, but if you can find pineapple extract or flavoring, you can substitute 1.5 tsp of that instead. 
To toast coconut, spread it out on a baking sheet and toast it in a 350-degree oven, stirring well every 3-4 minutes. Exact time will depend on the moisture level of the coconut, but it usually takes about 2-4 cycles of stirring for my coconut to reach a golden brown color.
MEASURING TIPS
Our recipes are developed using weight measurements, and we highly recommend using a kitchen scale for baking whenever possible. However, if you prefer to use cups, volume measurements are provided as well. PLEASE NOTE: the adage "8 oz = 1 cup" is NOT true when speaking about weight, so don't be concerned if the measurements don't fit this formula.
Click here to learn more about baking measurements and conversion.
Nutrition
Calories:
450
kcal
|
Carbohydrates:
43
g
|
Protein:
3
g
|
Fat:
31
g
|
Saturated Fat:
19
g
|
Cholesterol:
109
mg
|
Sodium:
129
mg
|
Potassium:
89
mg
|
Sugar:
31
g
|
Vitamin A:
1010
IU
|
Vitamin C:
2.2
mg
|
Calcium:
31
mg
|
Iron:
0.9
mg
Share by Email
Share on Facebook
Share on Pinterest