This post may contain affiliate links. As an Amazon Associate I earn from qualifying purchases. Please see my disclosure policy for more information.
I hope this doesn't make you uncomfortable, but I have to share. In January, we went to New York City, and I had a spiritual experience.
I went here, and my life was changed forever:


Prior to my trip to the Doughnut Plant, I was lukewarm on the question of doughnuts. Sure, I'd been known to eat them, but usually under conditions of extreme hunger or boredom or to win a bet.*
*That never actually happened. But how great would it be to win money for eating doughnuts?
Point being, I'd had a lot of mediocre doughnuts, and didn't think, in general, assembly-line fried dough was anything special. But then.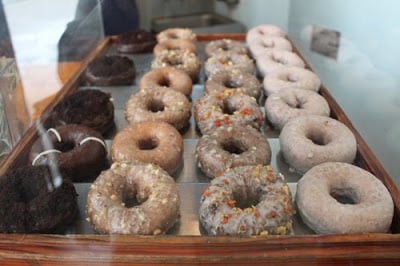 These doughnuts, at the Doughnut Plant? They are something special.
We actually made two trips to the shop, because the first time we went it looked like this: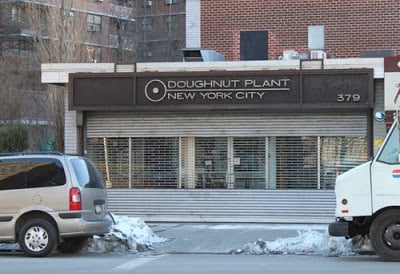 MAYDAY MAYDAY. Doughnut Plant is closed on Mondays. Save yourself the heartbreak we experienced and check the days/hours before you go!
So after making two trips to the Lower East Side to try these doughnuts, we decided to go big and get a half-dozen flavors. Among those, we tried…

The distinctive square PB&J, filled with fresh raspberry jam and glazed with a chunky peanut butter glaze, which made Jason moan like this: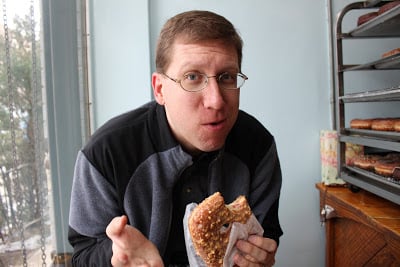 The Valhrona chocolate doughnut, full of chocolate pastry cream, which made me grin like this: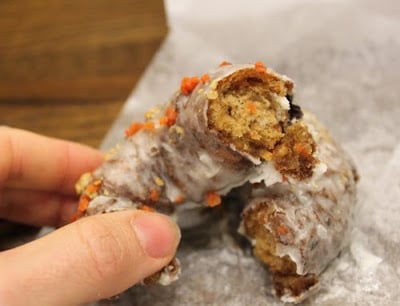 The carrot cake doughnut, packed with carrots, walnuts, raisins, and actual cream cheese frosting in the middle of the doughnut,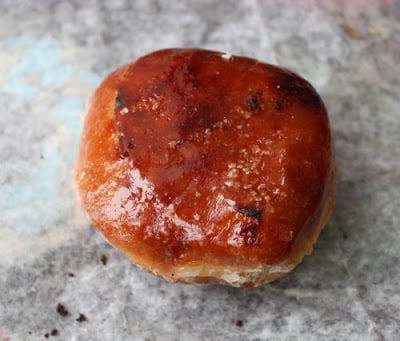 and the signature creme brulee doughnut, with a crackly, caramelized sugar top and a filling of vanilla pastry cream.
The Doughnut Plant's gotten a lot of buzz and I'm sure there's going to be a huge backlash soon (Magnolia Bakery anyone?) but for what it's worth, all of our doughnuts were excellent and we seriously considered making the hike across town the next day to pig out on more doughnuts.So after my transformative doughnut experience, I was much more open to doughnuts in my life. And when I was at Sur La Table and saw this adorable mini doughnut pan, well…it had to be mine.
To be sure, the doughnuts you make with this pan aren't "real" doughnuts. They're cake-style, not yeast, and they're baked instead of fried. In taste and texture, they're really more like a doughnut-shaped chocolate cupcake. But what a cute doughnut shape they have!

These mini doughnuts have an intense chocolate taste that's enhanced by the chocolate ganache glaze on top. They're good for two (or possibly three, if you're dainty) bites, and we can say from firsthand experience that they're the perfect sweets for munching on during game or movie nights.
Okay, so they're not Doughnut Plant doughnuts. But they're still tasty, and they bake in five minutes, and they're a good excuse to go crazy with my sprinkle collection. And isn't that enough?
Mini Chocolate Doughnuts
These Mini Chocolate Doughnuts have an intense chocolate taste that's enhanced by the chocolate ganache glaze on top. They're good for two or three bites and will disappear off the plate!
Ingredients
For the ganache glaze
1/2

cup

heavy cream

1/2

cup

chocolate

,

chopped
Instructions
To make the donuts
Preheat oven to 400 degrees. Spray a mini doughnut pan with nonstick cooking spray.

In a bowl, whisk together the flour, cocoa powder, baking powder, and salt.

In a separate small bowl, whisk together the eggs, sugar, buttermilk, and melted butter.

Stir the wet ingredients into the dry. Use a pastry bag fitted with a round 1/2" tip to pipe the batter into a thin layer in each doughnut mold. (It will rise a great deal, don't add too much or your doughnuts will puff out of the mold.)

Bake for 4-6 minutes, until they spring back when lightly pressed. Allow to cool in the mold for 5 minutes, then gently remove and cool completely.
To make the ganache glaze and to the donuts
Heat cream to a simmer in a small saucepan. Pour hot cream over the chopped chocolate, and gently whisk to combine. Let ganache cool slightly so that it gets a bit thicker, then dip the tops of the doughnuts in the glaze. If it's getting too cool and thick, you can microwave it briefly to thin it out again. Sprinkle the tops of the doughnuts with sprinkles while the ganache is still wet.
MEASURING TIPS
Our recipes are developed using weight measurements, and we highly recommend using a kitchen scale for baking whenever possible. However, if you prefer to use cups, volume measurements are provided as well. PLEASE NOTE: the adage "8 oz = 1 cup" is NOT true when speaking about weight, so don't be concerned if the measurements don't fit this formula.
Click here to learn more about baking measurements and conversion.
Nutrition
Calories:
41
kcal
|
Carbohydrates:
5
g
|
Protein:
0
g
|
Fat:
2
g
|
Saturated Fat:
1
g
|
Cholesterol:
11
mg
|
Sodium:
33
mg
|
Potassium:
33
mg
|
Fiber:
0
g
|
Sugar:
4
g
|
Vitamin A:
60
IU
|
Vitamin C:
0
mg
|
Calcium:
10
mg
|
Iron:
0.3
mg
Share by Text
Share by Email
Share on Facebook
Share on Pinterest