Doughnut Dippers are doughnuts and coffee like you've never had them before! Super easy homemade doughnuts are dipped in a warm mocha sauce for the ultimate comfort dessert!
These Doughnut Dippers combine all of my loves in one gorgeous, sprinkle-covered package.
Warm, melty chocolate? Check
Freshly made doughnuts? Check
Pastel colors so pretty you almost don't want to eat them? Check
Dessert masquerading as breakfast food? Checkity-check-check!
I've been wanting to get back into the doughnut game for awhile now—it's been too long since I've made a batch of fluffy homemade doughnuts! I'm an indiscriminate doughnut lover, and I admit that I'll even eat (gasp) supermarket doughnuts when things get really desperate.
But those sorry grocery store specimens have nothing on freshly made doughnuts, especially when they're covered in pretty pastel glaze and dipped in a glossy warm mocha sauce. Say hello to my new favorite treat, Doughnut Dippers!
So here's how things went down: I had a wicked doughnut craving. I also had a full cup of coffee. And suddenly I couldn't stop thinking about doughnuts and coffee, the original BFFs of the breakfast game.
These Dippers were inspired by that time-honored pairing—but instead of dunking a plain glazed doughnut into a boring cup of coffee, we're dunking slim doughnut fingers into a warm chocolate-coffee bath. Yesssssssss.
Time-Saving Doughnut Hack
Let's tackle the doughnuts first. I love a good from-scratch doughnut recipe, but sometimes I just don't have the time or energy to make yeast doughnuts. The kneading! The rising! The impatience of it all! So these doughnuts are actually a cheater's version, made with refrigerated biscuit dough. I know. I KNOW. But hear me out!
Once the biscuit dough is rolled, fried, and glazed, it's unrecognizable. Pinky promise. It puffs up beautifully once fried, and is delightfully light and fluffy, just like a doughnut should be. It's not very sweet, so I always like to finish my biscuit doughnuts with either a powdered sugar glaze, or in the case, a glaze made from cream and candy coating. (You can use your glaze of choice. I wanted a more opaque glaze, to really make the doughnuts pop, so I went with candy coating. But you do you!)
I cut the dough into slim fingers, for easiest dip-ability, but small round doughnuts would also be really cute. You'll want to roll the dough T-H-I-N—if it's too thick, you'll have a dense doughnut. Aim for less than 1/4-inch and you will be amazed at how light and airy they turn out! You'll also want to make sure you have a good candy thermometer to monitor the temperature of the oil. If you are new to using a thermometer, check out my guides for how to use a thermometer and how to test and calibrate a thermometer correctly.
And if you just can't stomach the idea of biscuit doughnuts, feel free to use this idea with your favorite recipe instead! Or, feel to use one of mine: Chocolate Blackout Doughnuts, Crème Brûlée Donuts or Easter Egg Doughnuts.
Simple Mocha Dipping Sauce
Now let's talk about my favorite part, the mocha dipping sauce, aka the sauce I want to drink by the gallon, aka What Dreams Are Made Of. This sauce is SUPER simple too—you need just 3 or 4 ingredients and about a minute in the microwave. You'll combine chopped semi-sweet chocolate, some heavy cream and a little coffee liqueur. If you're feeling sleepy, throw in a spoonful of instant espresso powder for a bigger buzz.
After a brief stint in the microwave and some whisking, you'll have a beautiful shiny sauce that's thin enough for dipping, but thick enough to coat your doughnuts with just the right amount of chocolate-coffee goodness.
The only downside to this recipe is that the doughnuts don't have much staying power. Like most homemade doughnuts, they're best the day they're made, and are ideally enjoyed within a few hours of making them. But considering how fast and easy they are to whip up, you're never more than an hour away from dipping doughnuts in mocha sauce, and that's good enough for me.
💗More Doughnut Inspired Recipes
💗More Chocolate Covered Desserts
Cinnamon Puff Pastry Twists
These Cinnamon Puff Pastry Twists are an admittance that sometimes thing should just be kept simple. A little rolling, a little twisting, a little baking and you're done!
View Recipe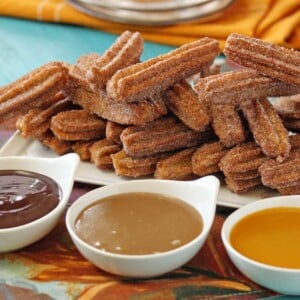 Homemade Churros
These Homemade Churros are just like what I remember from the churro carts of my childhood, extra-crispy and coated with cinnamon-sugar on the outside, and soft, pillowy goodness on the inside. Dip them in spicy chocolate sauce, dulce de leche sauce, and mango sauce with a hint of lime!
View Recipe
Doughnut Dippers
Doughnut Dippers are doughnuts and coffee like you've never had them before! Super easy doughnuts are dipped in a warm mocha sauce for the ultimate comfort dessert!
Ingredients
For the Mocha Dipping Sauce:
12

oz

semi-sweet chocolate,

chopped

12

fl oz

heavy cream

,

(1 1/2 cups)

1

TBSP

coffee liqueur

,

optional
Instructions
To Make the Doughnuts:
Dust your work surface with flour, and separate the biscuits. Roll each biscuit out until it is a thin oval, less than ¼-inch thick. Trim the sides so that each oval is a rectangle, and cut each rectangle in half so you have two long, thin pieces of dough about 1" wide and 5-6" long.

Pour the vegetable oil into a wide skillet, and add enough so you have at least ½-inch of oil in the pan. Insert a candy/deep fry thermometer, turn the heat to medium, and heat it until the oil is 350 degrees F.

Add 3-4 pieces of dough and cook them for about 45 seconds per side, or until the doughnuts are puffed and golden brown on both sides.

Use a slotted spoon or spatula to remove the doughnuts from the oil and set them on a baking sheet covered in paper towels. Repeat until all of the doughnuts are cooked. Watch the oil's heat carefully, and raise or lower the stove's temperature as necessary to keep the oil around 350 F.

Let the doughnuts cool completely before glazing. While you wait for them to cool, prepare the glaze. Combine the candy coating and heavy cream in a medium bowl, and microwave for 1 minute. Whisk them together, and if any lumps of candy remain, return the bowl to the microwave for an additional 15-20 seconds. Different cream brands have different percentages of fat, which can impact the final texture of the glaze, so you may need to add a bit more liquid to get it to a nice spread-able consistency. It should have some body and hold its shape for a few seconds when you drizzle a spoonful back into the bowl.

Spread the glaze on top of the cooled doughnuts, and add a pinch of sprinkles on top while the doughnuts are still wet. Let sit for about 10-15 minutes to allow the glaze to set. For the best taste and texture, these doughnuts are best enjoyed on the same day they are made.
To Make the Mocha Dipping Sauce:
Combine the chopped chocolate, heavy cream, and (optional) coffee liqueur in a large bowl. Microwave for 1 minute, then whisk well. If lumps of chocolate remain, return to the microwave for an additional 15-20 seconds, then whisk again. Your dipping sauce should be smooth and glossy. Divide into small bowls, and serve warm with the freshly made doughnuts for dipping!

The sauce can be made several days in advance. Keep it in a airtight container in the refrigerator, then microwave in 20-30 second increments, whisking well after each session, until it is again warm, shiny, and smooth.
Video
Recipe Notes
This recipe has been updated from when it was originally published. You can find the original version of the recipe here.
These doughnuts are coated with a quick glaze made from colorful candy coating and heavy cream. If you want to make several different colors of glaze, I recommend using 4 oz coating + 2 TBSP heavy cream, and doing several different colored batches with this ratio. Or if you prefer, you can use a more traditional powdered sugar glaze instead.
Measuring Tips
Our recipes are developed using weight measurements, and we highly recommend using a kitchen scale for baking whenever possible. However, if you prefer to use cups, volume measurements are provided as well. PLEASE NOTE: the adage "8 oz = 1 cup" is NOT true when speaking about weight, so don't be concerned if the measurements don't fit this formula.
Want to learn more about baking measurements and conversion?
Nutrition
Calories:
295
kcal
|
Carbohydrates:
22
g
|
Protein:
2
g
|
Fat:
22
g
|
Saturated Fat:
15
g
|
Polyunsaturated Fat:
1
g
|
Monounsaturated Fat:
5
g
|
Trans Fat:
0.02
g
|
Cholesterol:
31
mg
|
Sodium:
13
mg
|
Potassium:
145
mg
|
Fiber:
2
g
|
Sugar:
19
g
|
Vitamin A:
392
IU
|
Vitamin C:
0.2
mg
|
Calcium:
30
mg
|
Iron:
1
mg
Tried this recipe?
Snap a pic and hashtag it #SugarHero. We love to see your creations on our Instagram @elabau.