This post may contain affiliate links. As an Amazon Associate I earn from qualifying purchases. Please see my disclosure policy for more information.
It's November. It's the week before (American) Thanksgiving. It's so cold here in Los Angeles, I actually wore a long-sleeved shirt today. In FoodBlogLand, it's pumpkin this and pecan pie that and cranberries up the wazoo.
What better time to post about fresh strawberry-passion fruit cake?
Actually, this out-of-season cake is less about me sticking it to the man, and more about having a backlog of posts from several months ago. But no matter! Passion fruit is so good, it should be a year-round flavor anyhow. Passion fruit pie for Thanksgiving, passion fruit cookies for Christmas, and passion fruit cake the rest of the year.
Let's do this thing.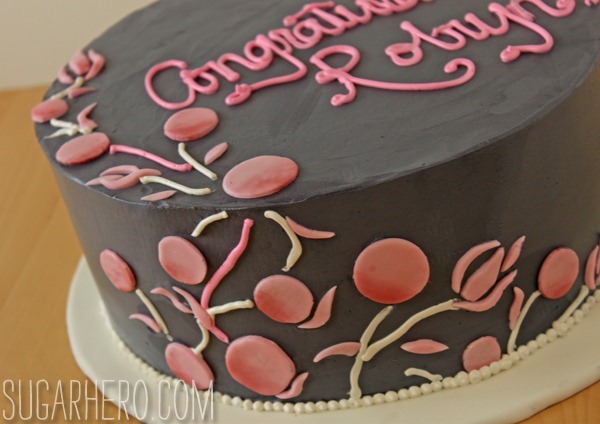 This cake was for my friend Robyn's bridal shower. Our friend Barbara threw the shower, and I loved loved loved the design of the invitations she sent out:
The colors don't show up well in this picture, but basically it was light pink flowers with white stems on a slate gray background. It was simple and classy and modern (just like Robyn!) so I decided to mimic the design on the cake.
The gray frosting is vanilla buttercream colored with black (and a hint of blue) food coloring. The flowers are fondant—for the circles I used round cutters and the other flowers I hand-cut with a paring knife. I used a little rose-colored luster dust on the bottom edge of the flowers to give them some dimension and make them look less flat.
The cake recipe isn't mine—I used the white velvet recipe from Rose Levy Berenbaum's The Cake Bible
basically word for word. (Her recipes are so consistently awesome, I've learned never to mess with them.) The white cake was layered with fresh strawberries, whipped cream, and passion fruit curd. This is a fun play on strawberry shortcake and a great cake for those who, like Robyn, don't like chocolate or other heavy cake flavors.
The best part of making any cake? The scraps! Y'all know I'm a trifle obsessed with trifle, so of course I had to use the cake and curd scraps to make a little baby trifle for us to eat at home.
Fortunately I had extra of everything, so I was able to cram lots of cake, curd, cream, and berries in this little bowl.
Oh yeah, and I got a little excited about decorating the top, too. By the end I was so pleased with myself I was tempted to bring this to the shower instead of the cake.
Speaking of excited…SOMEONE could barely control himself while I was making the trifle. I gently suggested that maybe he shouldn't eat the whole thing in one sitting, portion control yadda yadda, spoiling your dinner etc. He asked how much he should eat, and I suggested maybe half of the trifle was a more-than-generous serving. So this is what he brings me a few minutes later:
I swear that boy got out a protractor and ruler and did some advanced geometry to determine exactly how much of this trifle to eat. Let it never be said he's not precise! I can't blame him, though…it was pretty killer.
As I mentioned above, the cake recipe isn't mine so I won't reproduce it (and I highly recommend picking up a copy of The Cake Bible
if you have the chance) but this cake and trifle can be re-created with your favorite white or yellow cake, or even a box mix, along with some whipped cream, strawberries, and of course the passion fruit curd.
I am most definitely going to share my recipe for passion fruit curd, though, because everyone deserves to have passion fruit curd in their lives. It's a lot like lemon curd, with the same tangy blend of sweet and sour, but it has a lovely tropical note that makes it more interesting.
I use Goya passion fruit pulp to make this curd. It's a lot easier for me to find than actual passion fruits, but if you have the fruit available you can also use fresh. I find this pulp in the freezer section by other Mexican foods and brands—hopefully you have a Mexican market near you that carries it! It needs to be defrosted, then you can use it just like lemon or lime juice in lots of recipes.
Passion Fruit Curd
This Passion Fruit Curd is a lot like lemon curd, with the same tangy blend of sweet and sour, but it has a lovely tropical note that makes it more interesting.
Ingredients
3

ounces

unsalted butter

,

at room temperature

1

cup

granulated sugar

2

large eggs

2

large egg yolks

2/3

cup

passion fruit juice

,

or strained pulp
Instructions
Fill the bottom of a double boiler (or a regular saucepan) with about an inch of water and bring it to a simmer on the stovetop.

In a large mixing bowl, cream together the butter and the sugar with a handheld or stand mixer until the mixture is light and fluffy.

Slowly add the eggs and yolks, and beat for 1 minute more. Add the passion fruit juice and mix—at this point the mixture will look curdled.

Pour the liquid into the top of a double boiler or a bowl that fits snugly over your saucepan. (I actually like to use the metal mixing bowl that goes on my stand mixer so I'm not dirtying too many dishes.) Cook the mixture over the simmering water, whisking frequently, until it thickens enough to coat the back of a spoon. If you want to use a candy thermometer, cook the curd until it reaches 175 degrees F.

Once the curd thickens, remove the pan from the heat and pour it through a fine mesh strainer to remove any bits of cooked egg. Press a layer of cling wrap directly on top of the curd, and refrigerate it until it is chilled and thick.
MEASURING TIPS
Our recipes are developed using weight measurements, and we highly recommend using a kitchen scale for baking whenever possible. However, if you prefer to use cups, volume measurements are provided as well. PLEASE NOTE: the adage "8 oz = 1 cup" is NOT true when speaking about weight, so don't be concerned if the measurements don't fit this formula.
Click here to learn more about baking measurements and conversion.
Nutrition
Calories:
427
kcal
|
Carbohydrates:
56
g
|
Protein:
4
g
|
Fat:
21
g
|
Saturated Fat:
12
g
|
Cholesterol:
225
mg
|
Sodium:
40
mg
|
Potassium:
154
mg
|
Fiber:
0
g
|
Sugar:
55
g
|
Vitamin A:
1075
IU
|
Vitamin C:
12.3
mg
|
Calcium:
29
mg
|
Iron:
0.7
mg
Share by Text
Share by Email
Share on Facebook
Share on Pinterest