This chocolate orange cake is the perfect blend of citrus flavors and dark chocolate. It features four layers of chocolate cake filled with tangy orange buttercream, topped with a shiny chocolate glaze and chocolate orange slices.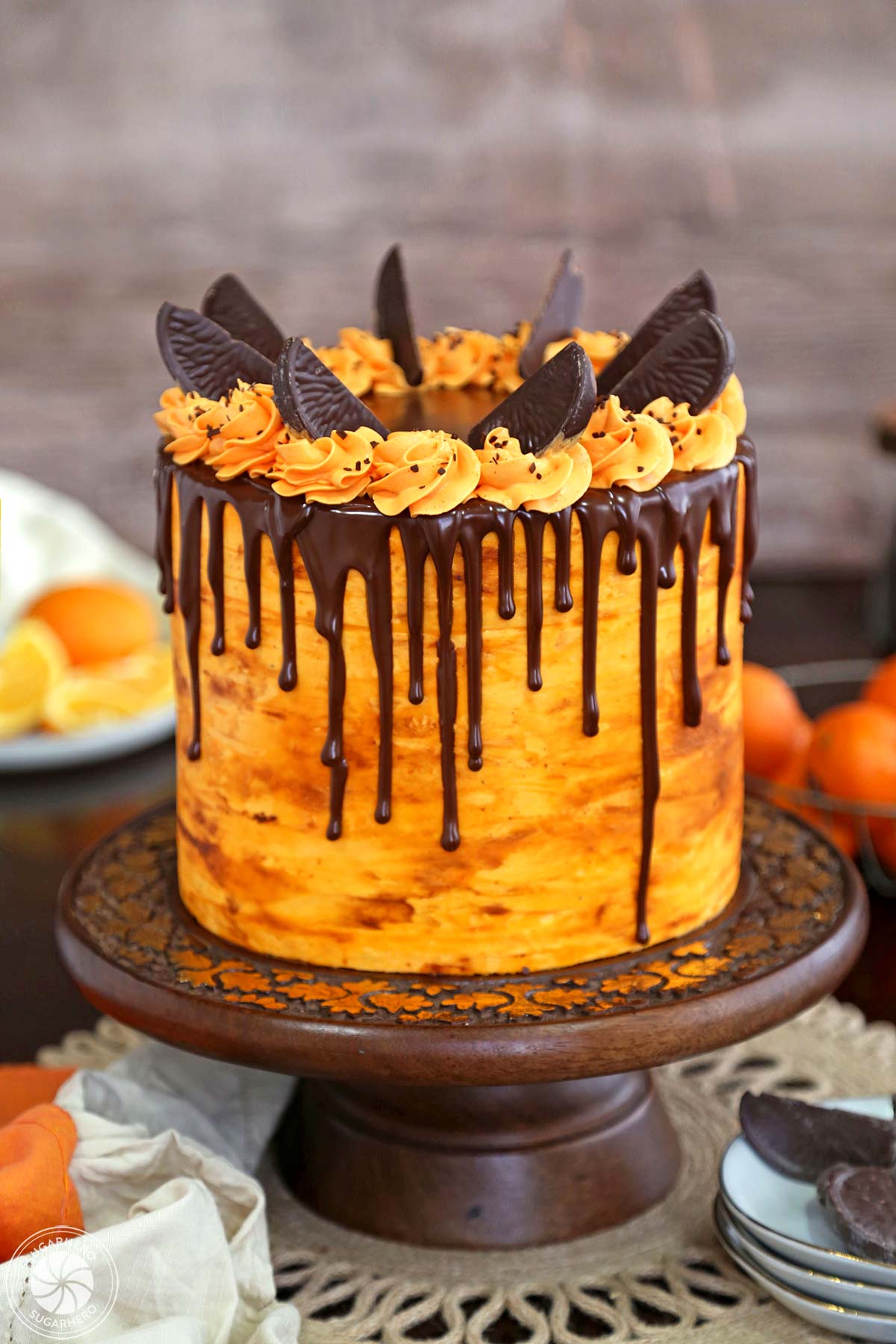 🍊 A Beautiful Chocolate Orange Dessert
I've loved the combination of chocolate and orange ever since I first discovered a chocolate orange in my Christmas stocking as a child. Something about the contrast between rich, dark chocolate and bright, zesty orange flavor just hits all the right notes for my taste buds.
I've already shared a few chocolate-orange desserts in the past (if you haven't tried this orange hot chocolate yet, run don't walk to the kitchen to make it!!) but never a cake with those flavors. Time to fix that!
This towering Chocolate Orange Cake features 4 thick layers of chocolate cake, brushed with orange simple syrup for extra flavor and moisture. It's stacked with zesty orange buttercream, and decorated with glossy chocolate ganache and–as tribute to those Christmas stocking treasures from long ago–finished with chocolate orange slices.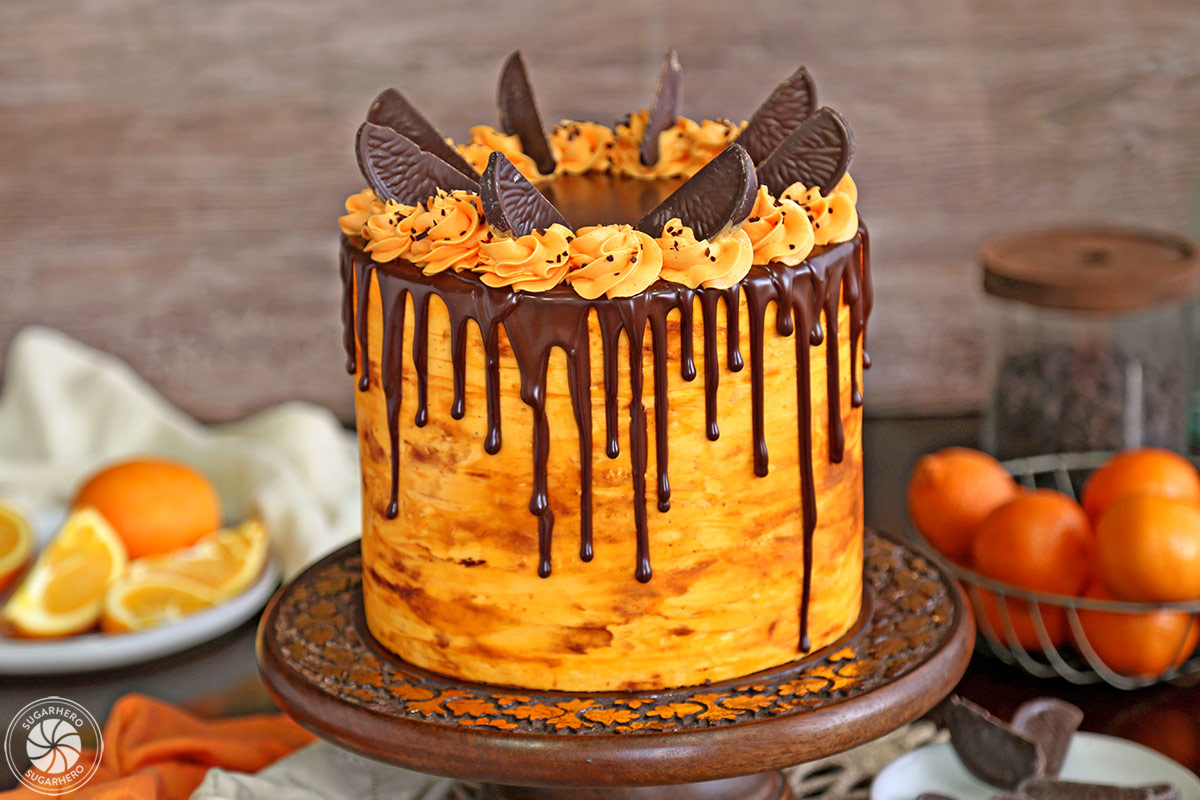 There are a lot of components to this cake, but also a lot of flexibility. I would say that the cake and the buttercream are the only must-make parts, and for the rest, you can adjust the recipe depending on the ingredients and time you have. And like always, you are encouraged to decorate it however you'd like, with whatever you have on hand!
If you like the sound of this orange chocolate cake, you will love my chocolate orange panna cotta, orange white chocolate bars, and pistachio orange cake.
🧾 What You'll Need
Ingredients
Because there are several different components, the ingredient list is a bit long. Fortunately, most of the ingredients are baking staples you probably already have. Here are a few tips & recommendations to keep in mind when gathering ingredients. (Links are affiliate links and I earn a small commission from qualifying purchases.)
For the chocolate cake
Unsweetened Cocoa Powder:

Since this cake gets all of its chocolate flavor from cocoa powder, I recommend using a high-quality cocoa powder. Cheap cocoa powders can be nearly flavorless, or worse, impart a bitter, dusty, or stale flavor. My personal favorite is Cacao Barry Extra Brute – it hits that sweet spot between very high quality but also pretty affordable since it is sold in bulk. Whatever you use, make sure that it is dutch-processed (also known as alkalized), because that will make a huge difference in the final taste and texture of the cake!

Butter:

Use unsalted butter, and leave it at room temperature before you start baking. This is an all-butter cake, which is my favorite type of chocolate cake to make. Using butter instead of oil gives the cake more flavor, makes it less prone to a greasy texture, and also makes the cake sturdy enough for layering into tall cakes. Chocolate butter cakes can also be turned into great cupcakes, and if you're looking for a no-fail cupcake, check out my Chocolate Cupcake recipe.
For the frosting:
Pasteurized Egg Whites: This frosting recipe is a little different, in that it uses pasteurized egg whites from a carton. They are usually sold right next to the eggs in the refrigerated section. YES, it is safe to consume uncooked egg whites as long as they have been pasteurized! If you can't find pasteurized egg whites in a carton, buy some pasteurized eggs from the store and separate them yourself – you'll need about 6 egg whites for this recipe.
Orange Oil: Note this is NOT orange essential oil–it's a flavoring oil specifically meant for food. I love it because it provides a big POP of orange flavor with just a few drops! Lor-Ann is my favorite brand of orange oil. You can substitute orange extract if you don't have the oil, but you might need to adjust the amount since extract is less potent.
Orange zest: Use a microplane zester on an orange to get delicate orange zest.
Citric Acid: This is optional, since it will probably need to be purchased online, but if you can track it down, I HIGHLY recommend it! Citric acid is my secret ingredient for making extremely realistic fruit desserts. It's a granular white powder (similar in texture to salt) and is SUPER sour. Just a pinch will add a realistic tangy flavor to any fruit dessert. You can get a whole pound of it for about $9 here, and that amount will last forever!
For the ganache & decorations:
The shiny chocolate ganache on top of the cake is requires just two ingredients! You'll also want a few decorations to provide that perfect finishing touch.
Heavy cream:

I like heavy cream best for the rich texture it gives to ganache, but you can use whipping cream if that's what's available to you.
Semi-sweet chocolate: Chopping up a chocolate bar will give you the best results–I'm a big proponent of Trader Joe's pound plus bars, if those are available to you. Otherwise, go for high-quality chocolate chips like Guittard–they'll give you the best flavor.
Chocolate oranges: Optional but fun! They can be hard to track down in non-winter months, but you can always get chocolate oranges online if you're committed to the theme.
Chocolate sprinkles: Whenever I use these particular chocolate flakes, people ask about them! They are real chocolate and are made by Cacao Barry.
📋 Recipe Tips
Cake Tips
This chocolate cake recipe is pretty straight-forward and forgiving. Even if it's slightly overbaked, it still turns out moist and delicious! Don't forget to prep your pan with parchment circles, and a generous layer of pan release or nonstick spray.
Even though the cake is moist, I like to add a little extra insurance–and flavor!–by brushing it with an orange simple syrup. This easy recipe is just orange juice and sugar, heated until the sugar dissolves. Once cool, use a pastry brush to spread the syrup on each layer. Bam! Your cakes are now extra-moist and tinged with orange flavor!
Frosting Tips
The frosting is a variation of my Easiest Swiss Meringue Buttercream. There are full instructions in the recipe card below, but if you want to learn more in-depth about the recipe, please check out my stand-alone buttercream recipe post–it has lots of step-by-step pictures, tips, and tricks for frosting perfection! There's also a troubleshooting section below if the frosting gives you any problems!
Decorating Tips
Here's a quick rundown of how to finish the cake:
Once the cake is covered with orange buttercream, chill it well. Then take the chocolate buttercream and spread it in little dabs around the sides of the cake.
Use a metal spatula or bench scraper to blend out the buttercream and create a smooth surface.
Put the chocolate glaze in a squeeze bottle, and squeeze drips around the edge of the cake. Add some glaze in the center of the cake, and smooth it into an even layer that joins the outer ring.
Add your final decorations! I piped buttercream rosettes along the outside edge, then added chocolate orange slices and chocolate sprinkles.
💡 FAQs
Before you scroll down to grab the full list of ingredients and instructions from the recipe card, here are a couple of questions I normally get about this cake recipe.
What if I don't have chocolate orange slices?
If you don't have any chocolate orange slices, no worries! They can be hard to find at times. Just use anything that is chocolate or orange-themed: chocolate sprinkles, orange Sixlets, mini chocolate chips, or slices of candied orange rind would all be great decorations too!
Help, my frosting looks weird!
It is extremely common for the frosting to go through an "ugly" period before it's done. Your frosting may look soupy, curdled, chunky, or downright gross. This is normal!
This frosting needs to be beaten for an extended amount of time so that the fat in the butter emulsifies with the egg whites and creates that gorgeous frosting texture. If it looks soupy or curdled, there is a 95% chance that it has not been beaten long enough, and you just need to keep whipping in order for it to come together. I promise.
The other common cause of frosting failure is butter that is too warm. "Room temperature" does not mean greasy, slightly melted around the edges, or warm. It is better to have the butter be slightly too cool than too warm. If your butter is too warm, the frosting might remain liquidy. Refrigerate the frosting for 5-10 minutes and try beating again until it comes together.
Make-ahead tips
It's always a good idea to give yourself plenty of time to make the components and assemble a layer cake. Whenever possible, I like to do it over the course of several days so I'm not rushed or stressed. Fortunately, all the parts of this cake can be made in advance!
The cake can be baked and then wrapped well in plastic wrap. Store it in the freezer until you're ready to assemble–the freezer does a better job of keeping cakes moist than the refrigerator. Cake can be stored for up to 3 months in the freezer.
The frosting can be made and stored in an airtight container in the refrigerator for up to 2 weeks. Let it come completely to room temperature, then whip well to restore the smooth texture.
The ganache can be made and stored in an airtight container in the refrigerator for up to a week. Warm it up very gently in the microwave in short bursts, stirring frequently, just until it's fluid.
How do I store chocolate orange cake leftovers?
You can store any cake leftovers (if you have any) in a covered cake stand for 3-4 days. It can be refrigerated for up to a week, but it will become more dry due to refrigeration after about 3-4 days. For the best taste and texture, bring it to room temperature before serving.
I hope you love this recipe as much as my family does! It's an ultra-decadent cake that's just bursting with chocolate and orange flavor. It's a wonderful cure to the drab winter blues, but I can honestly eat it year-round!
🧡 More Chocolate Cakes You'll Love
Chocolate Orange Cake
This chocolate orange cake is the perfect blend of citrus flavors and dark chocolate. It features four layers of chocolate cake filled with tangy orange buttercream, topped with a shiny chocolate glaze and chocolate orange slices.
Ingredients
For the Buttercream:
1

oz

unsweetened chocolate

finely chopped

6

fl oz

pasteurized liquid egg whites

(3/4 cup, see Note below)

24

oz

powdered sugar

(6 cups)

1/2

tsp

salt

24

oz

unsalted butter

at room temperature (6 sticks)

2

TBSP

vanilla extract

1

tsp

orange oil

or 2 tsp orange extract

Zest of 2 oranges

¼

tsp

citric acid

optional
Instructions
To Make the Chocolate Cake:
Preheat the oven to 350 F. Line four 8-inch cake pans with sides at least 2" high with parchment rounds, and spray the insides with nonstick cooking spray.

Pour the water into a medium bowl and microwave until it starts to boil, 3-4 minutes. Add the cocoa powder and whisk well, until all of the dry cocoa dissolves. Cover the bowl with plastic wrap to prevent water from evaporating, and let it sit until the paste is warm but not burning hot.

In a large bowl, sift together the flour, baking soda, baking powder, and salt, and set aside.

Combine the butter and sugar in the bowl of a mixer fitted with a paddle attachment, and beat on medium speed for 8-10 minutes, until very light and fluffy. Add the eggs two at a time, beating for about a minute between each addition, then mix in the vanilla.

Alternate adding the dry ingredients and the cocoa mmixture in batches, beginning and ending with the dry ingredients. Finish by scraping the bottom and sides of the bowl with a rubber spatula to mix the cake batter well.

Divide the batter between the prepared pans—if you have a kitchen scale, each pan should get about 22-23 oz of batter. Bake at 350 F for 55-60 minutes, until the cakes spring back when lightly pressed with a fingertip and a toothpick inserted into the center comes out with just a few moist crumbs attached.

Cool the cakes completely before using them. They can be made in advance and kept, well-wrapped, in the refrigerator for a week or in the freezer for several weeks. Allow them to partially defrost before assembling.
To Make the Buttercream:
Place the unsweetened chocolate in a small bowl and microwave for 30 seconds. Stir, and microwave in smaller increments if necessary until melted and smooth. Set aside until the melted chocolate is no longer hot.

Meanwhile, combine the whites, powdered sugar, and salt in the bowl of a large stand mixer fitted with a paddle attachment. Mix everything together on low speed, until the sugar is moistened and no dry patches remain. Turn off the mixer, scrape down the sides and bottom of the bowl with a spatula, then turn the mixer to medium speed. Beat on medium for 5 minutes.

After 5 minutes, turn the mixer to medium-low and start adding the softened room temperature butter, 1-2 tablespoons at a time. Once all of the butter is incorporated, add the vanilla extract and mix it in. Stop the mixer and scrape down the bottom and sides once more. Turn the speed to medium and beat the buttercream for 10 minutes. At the end, you'll have a frosting with a wonderfully light and creamy texture.

Separate out approximately 1/2 cup of frosting, and mix the melted chocolate into the frosting to make a deep, rich chocolate color.

To the rest of the frosting, add several drops of orange gel food coloring, the orange zest, the orange oil or extract, and the citric acid (if using). Mix well, and adjust the color and flavoring until you're satisfied.

At this point, the frostings can be used right away, or transferred to an airtight container. If you'll be using them within a day they can be left out on the counter, or stored in the refrigerator for up to 2 weeks. If you have chilled the frosting, let it come to room temperature COMPLETELY and then beat it for several minutes to smooth it out and restore its texture before using it.
To Assemble and Decorate:
Combine the orange juice and granulated sugar in a small saucepan over medium heat. Stir frequently while the mixture heats up and comes to a simmer. Once simmering, remove it from the heat and allow it to cool to room temperature.

Place the cake rounds on 8-inch cardboard cake circles. Place one layer on a cake turntable. Take a pastry brush, and generously brush the top of the chocolate cake with the orange syrup.

Place a big dollop of orange frosting on the cake layer—about 1 generous cup—and use a metal spatula to spread the frosting into an even layer going all the way out to the edges of the cake.

Top the cake round with a second cake layer, and repeat the syrup and frosting process again. Do it with a third layer, and finally, add the last cake layer. Brush the top of the cake with the orange syrup, then cover the top and sides of the cake with a very thin layer of frosting—this is the crumb coat, which locks crumbs into the frosting and also provides some stability to the cake. Refrigerate the cake for 45-60 minutes, until the crumb coat is set and the cake feels firm and stable.

If the orange buttercream has started to get spongy, re-whip it briefly until it is smooth and silky. Cover the top and sides of the chilled cake with a thicker layer of frosting. Use a bench scraper or metal spatula to smooth out the sides and top of the cake as much as possible. Chill for 30-45 minutes, until firm.

Take a small metal spatula and dab the chocolate buttercream in small spots all around the sides of the cake. Use a bench scraper or large metal spatula to smooth out the buttercream and create a smooth surface with subtle chocolate streaks. (You can add more orange frosting or chocolate frosting until you get an effect you love.)

Combine the chopped semi-sweet chocolate and the cream in a medium bowl, and microwave for 1 minute. Whisk well, and if any chunks of chocolate remain, whisk again briefly until it is completely melted and smooth. The chocolate glaze should have a fairly thin texture, and if you dip a spoon in and let excess drip out, it should almost immediately blend back into the glaze in the bowl.

Transfer the chocolate to a squeeze bottle with a narrow tip. Squeeze a dime-sized amount of glaze along the top edge of the cake, and nudge it gently so it starts to slide down the side. Repeat right next to the first drip, and continue around all the edges of the cake. Squeeze the remaining glaze into the center of the cake, and use a small spatula to smooth it into an even layer that joins with the outer ring. Let the glaze set for 10 minutes in the refrigerator, or about minutes at room temperature, so that it's not completely soft and liquid when adding the decorations on top.

Transfer the remaining orange buttercream to a piping bag fitted with a large star tip, and pipe frosting rosettes all along the edges of the cake. Top the rosettes with chocolate sprinkles, chocolate orange slices, or any other decorations you'd like.

For the best taste and texture, serve this cake at room temperature. Leftovers keep well, and can be stored in an airtight container in the refrigerator for up to a week, but will taste best when eaten within 3-4 days.
Recipe Notes
This recipe calls for pasteurized egg whites. It is safe to consume egg whites without cooking them, as long as you make sure that the whites you buy are pasteurized. To save time, I buy them in a carton–look for 100% egg whites, not liquid egg substitute. If you cannot find them in a carton, you can buy pasteurized eggs and separate them yourself. You'll need about 5-6 large eggs to get the ¾ cup called for in the recipe.
Measuring Tips
Our recipes are developed using weight measurements, and we highly recommend using a kitchen scale for baking whenever possible. However, if you prefer to use cups, volume measurements are provided as well. PLEASE NOTE: the adage "8 oz = 1 cup" is NOT true when speaking about weight, so don't be concerned if the measurements don't fit this formula.
Want to learn more about baking measurements and conversion?
Nutrition
Calories:
778
kcal
|
Carbohydrates:
117
g
|
Protein:
8
g
|
Fat:
55
g
|
Saturated Fat:
34
g
|
Cholesterol:
190
mg
|
Sodium:
301
mg
|
Potassium:
287
mg
|
Fiber:
3
g
|
Sugar:
89
g
|
Vitamin A:
1665
IU
|
Vitamin C:
4.4
mg
|
Calcium:
59
mg
|
Iron:
3.3
mg
Tried this recipe?
Snap a pic and hashtag it #SugarHero. We love to see your creations on our Instagram @elabau.