This easy homemade blueberry sauce recipe is made using fresh or frozen blueberries and has a hint of lemon. Use it as a topping on your favorite dessert for a delicious burst of berry flavor!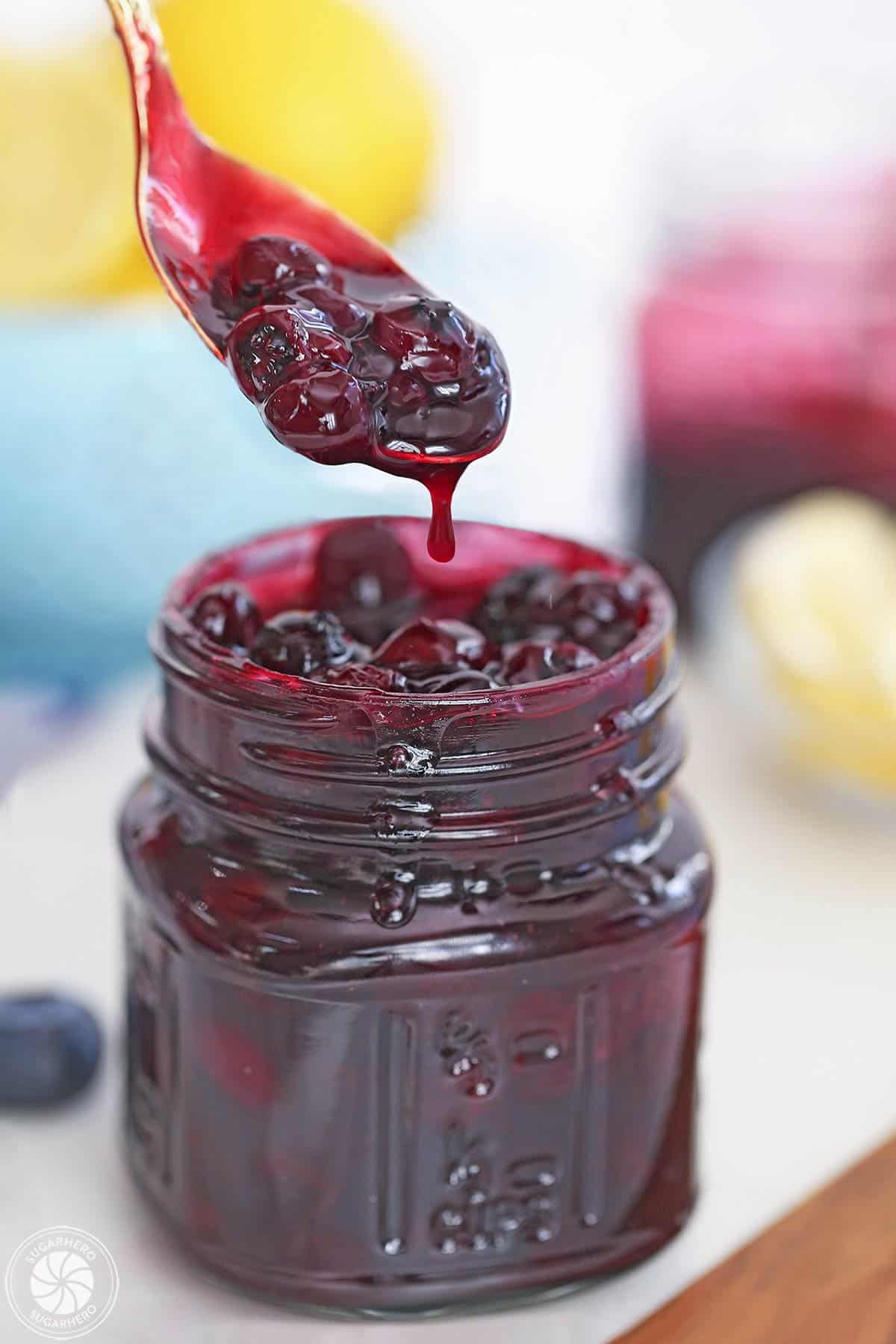 Blueberry Topping for Cheesecake and Ice Cream
In the course of working on this blueberry topping recipe and post, I came up with a…saying? Poem? Witty bon mot? You be the judge:
It's hard to top fresh blueberries
but fresh blueberry sauce is not a hard topping to make.
Okay, maybe it's not a poem, so much as awkward wordplay. BUT it is also true! Fresh blueberries, when you get a perfectly ripe and sweet batch, are one of the purest joys of summer. I can eat pints and pints of them when they are at their seasonal best. It is, in fact, hard to top fresh blueberries! I mean you just can't go wrong with a warm slice of Blueberry Crumble Pie or a delightful bite of a Blueberry Coconut Tart. And don't forget to take a look at this incredible Blueberry Layer Cake, you won't regret it!
But equally true is the fact that this gorgeous, flavorful, syrupy, deep purple blueberry topping is not hard to make. You throw a few things together in a pot, let it heat up on the stove, give it the occasional stir, and in less time than it takes to submit a hypothetical blueberry sauce poem to a hypothetical poetry anthology (that is, under 10 minutes) it is ready!
Just like my strawberry sauce, it can be served over breakfast foods like waffles or pancakes, mixed into your favorite ice cream, or used as a frosting, filling, or topping for cake or cheesecake. Versatile and delicious? Yeah, I'm into that! Here's everything you need to know make this homemade blueberry sauce!
Table of Contents
🧾 What You'll Need
Ingredients
This recipe is made up of just a handful of simple ingredients, most of which you probably have in your kitchen already: (Links are affiliate links and I earn a small commission from qualifying purchases.)
Blueberries:

you can use frozen or fresh blueberries for this recipe. While I think super sweet and ripe fresh berries will always give you the best flavor, sometimes out-of-season fresh berries can be too hard, sour, or expensive. If you can't find great fresh berries, then frozen berries are a better alternative. You might notice that the pictures in this post show several different types/sizes of blueberries–I've made this with a range of blueberries, from standard supermarket berries to tiny frozen Maine berries, and they all work wonderfully well.
Vanilla Extract: I use Madagascar Bourbon Pure Vanilla Extract to give the sauce sweetness and flavor depth.
Lemon: I use both lemon juice and zest in this recipe. The lemon juice is necessary to keep the sauce from being too sweet. (And it also tastes delicious with the blueberry.) If you want less lemon flavor, you can omit the zest or try orange juice/zest instead. I do recommend leaving in some type of acidic citrus juice, to keep the sauce from being too one-note and cloying.
Cinnamon: Cinnamon adds a subtle but lovely background flavor. I definitely recommend trying it! If you really don't want to use cinnamon, it can be omitted and the sauce will still be delicious.
Corn starch: Corn starch, also called corn flour, is used to thicken the sauce as it cooks. It can be omitted, but your sauce might have a thinner consistency and not be as thick/syrupy as you'd like. Corn starch can be a little temperamental, so be sure to follow the recipe instructions as to when/how to add it to avoid any lumps in your sauce.
Equipment
You don't need much to achieve this delicious blueberry sauce. Just a saucepan and a couple simple tools! (Links are affiliate links and I earn a small commission from qualifying purchases.)
Mason Jars:

Mason jars are the perfect way to store the blueberry sauce.

Microplane:

A microplane makes it super easy to zest the lemon.
Juicer: I like to use a juicer to squeeze fresh lemon juice. It's so much easier than trying to juice by hand.
📋 Instructions
Here's a quick photo tutorial showing how fast and easy it is to make this blueberry topping. Want a printable version? Click print in the recipe card down below!
Zest and juice your lemon, and set aside for a moment. Assemble the rest of your ingredients.
In a saucepan, combine sugar, cornstarch, and salt. Whisk in water and stir until the sugar dissolves, and there are no lumps of corn starch.
Add in the lemon zest and juice, 2 cups of blueberries, vanilla, and cinnamon. Stir everything together.
Place the pan on the stove over medium heat and bring it to a low boil. Cook until thickened, stirring occasionally, for about 2-3 minutes.
Remove the pan from the heat and stir in another cup of blueberries.
Cool until warm but not hot, then serve or store in the fridge.
💭 Variations
I love this blueberry sauce recipe just the way it is, but feel free to play around with it to suit your tastes or to use up ingredients you already have!
Use another berry. The magic of this recipe is that you can sub in any berry you have on hand. Try blackberries, raspberries, cherries, or even a mixture for a mixed berry sauce.
Play with texture. Feel free to play around with the texture of your sauce. Prefer a thicker sauce? Simmer it longer. Like it more runny? Simmer it less or add less cornstarch. You can even blend it up if you prefer a completely smooth sauce.
Swap the citrus. Orange zest and juice taste delicious as well!
💡 FAQs
❤️What to serve with homemade Blueberry Sauce
If you're not shoveling this incredible sauce into your mouth with a spoon, there are a number of different ways you can serve it!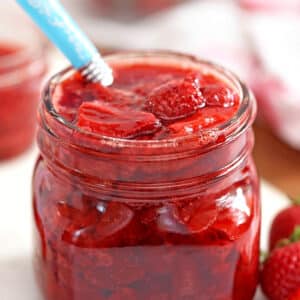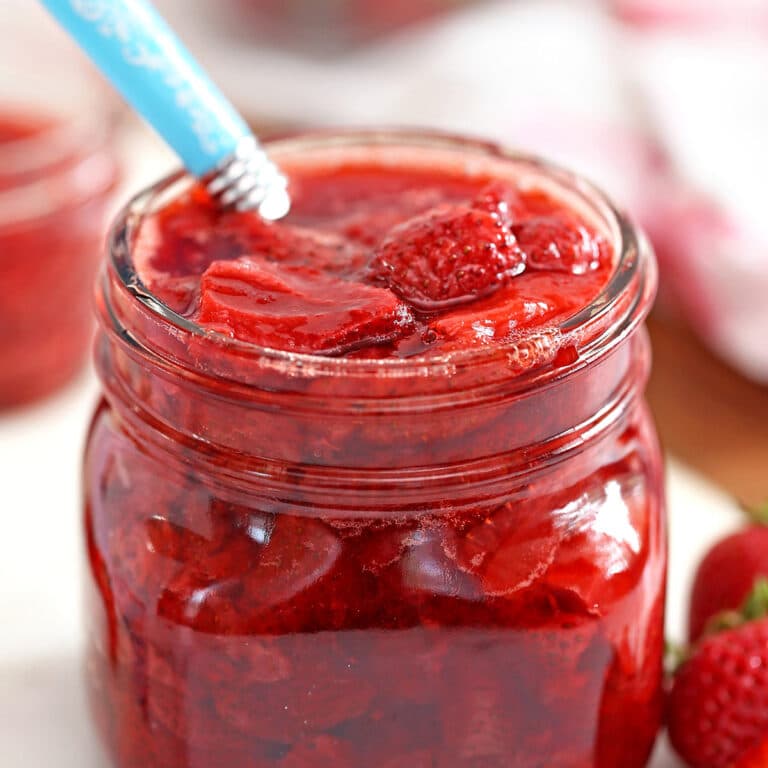 Strawberry Sauce
This homemade strawberry sauce couldn't be easier–or more delicious! This three-ingredient recipe is bursting with fresh strawberry flavor, and is perfect on cheesecake, pound cake, ice cream, and much more!
View Recipe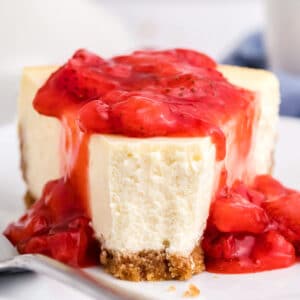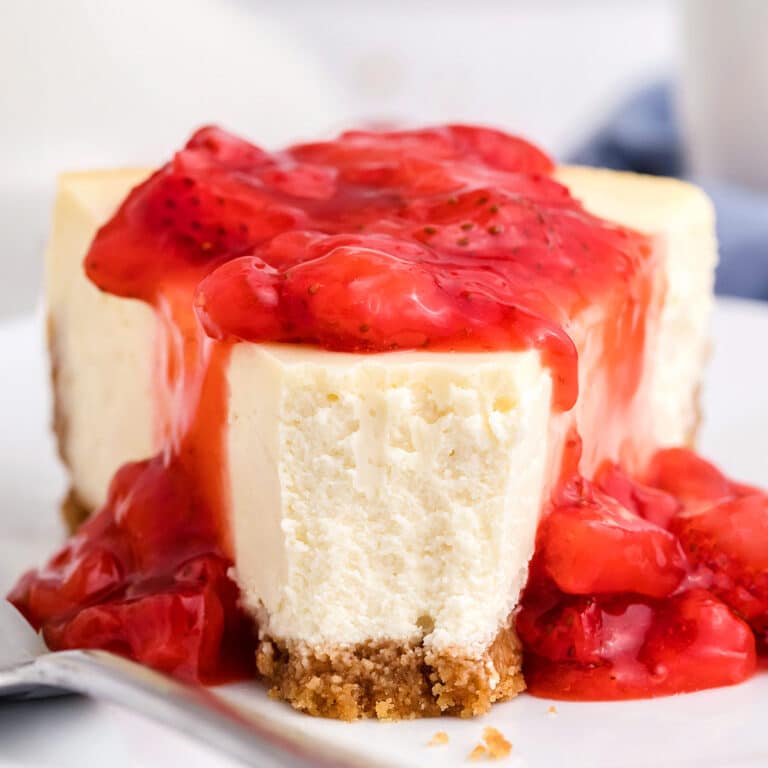 New York Style Cheesecake
This rich and creamy New York-Style Cheesecake recipe is what classic cheesecake should be! With a buttery graham cracker crust and a lightly sweetened cream cheese filling, it's perfect on its own, or topped with your favorite dessert sauce.
View Recipe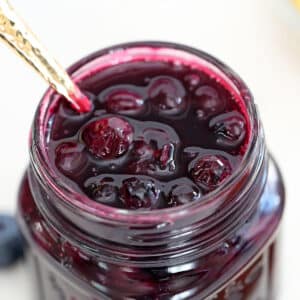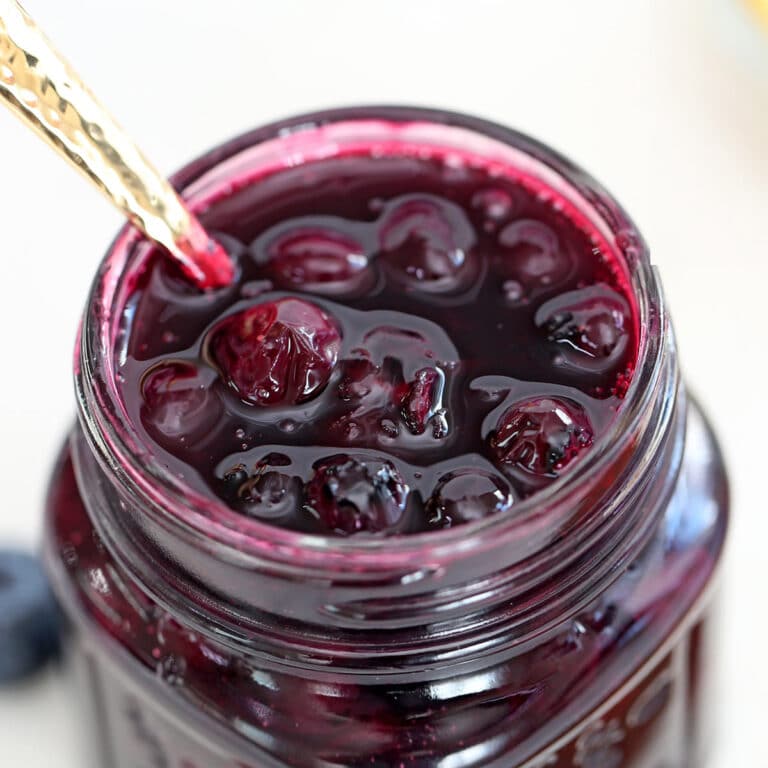 Blueberry Sauce
This blueberry sauce is made using fresh or frozen berries and has a hint of lemon. Use it on your favorite dessert for a burst of berry flavor!
Instructions
Combine the sugar, corn starch, and salt in a medium (3-4 quart) saucepan, and whisk to combine. Gradually whisk in the water, and stir until everything is dissolved and there are no clumps.

Add the lemon zest, juice, 2 cups of blueberries, vanilla extract, and cinnamon, if using. Stir everything together.

Place the pan over medium heat and bring it to a low boil. Allow it to boil for 2-3 minutes, stirring occasionally, until the sauce has thickened.

Remove the pan from the heat and stir in the last cup of blueberries. Allow it to cool until warm but not hot, then serve on top of cheesecake, ice cream pound cake, or breakfast dishes like waffles or French toast. It can also be refrigerated for up t a week, and served cold or reheated until warm.
Measuring Tips
Our recipes are developed using weight measurements, and we highly recommend using a kitchen scale for baking whenever possible. However, if you prefer to use cups, volume measurements are provided as well. PLEASE NOTE: the adage "8 oz = 1 cup" is NOT true when speaking about weight, so don't be concerned if the measurements don't fit this formula.
Want to learn more about baking measurements and conversion?
Nutrition
Calories:
37
kcal
|
Carbohydrates:
9
g
|
Protein:
1
g
|
Fat:
1
g
|
Saturated Fat:
1
g
|
Polyunsaturated Fat:
1
g
|
Monounsaturated Fat:
1
g
|
Sodium:
25
mg
|
Potassium:
16
mg
|
Fiber:
1
g
|
Sugar:
8
g
|
Vitamin A:
10
IU
|
Vitamin C:
2
mg
|
Calcium:
2
mg
|
Iron:
1
mg
Tried this recipe?
Snap a pic and hashtag it #SugarHero. We love to see your creations on our Instagram @elabau.
About Elizabeth LaBau
I'm Elizabeth, but you can call me SugarHero! I'm a former pastry chef turned blogger, cookbook author, and baking instructor, and I consider myself sugar's #1 fan. Learn more from my About page, or connect with me on social media: