This Raspberry-Pistachio Turkish Delight is worlds better than anything you can buy in stores! It's got this amazing fresh raspberry puree and toasted pistachios that wonderfully balances the taste!
Can you guess what our family's costume theme was for Halloween this year?
Yes, we were The Lion, The Witch, and the Wardrobe. And you'd better believe that the wardrobe was fully functional and opened to reveal a beautiful view of Narnia. "Hi, my name is Elizabeth and I am ridiculous. And also obsessive. And a total cheeseball. High five!"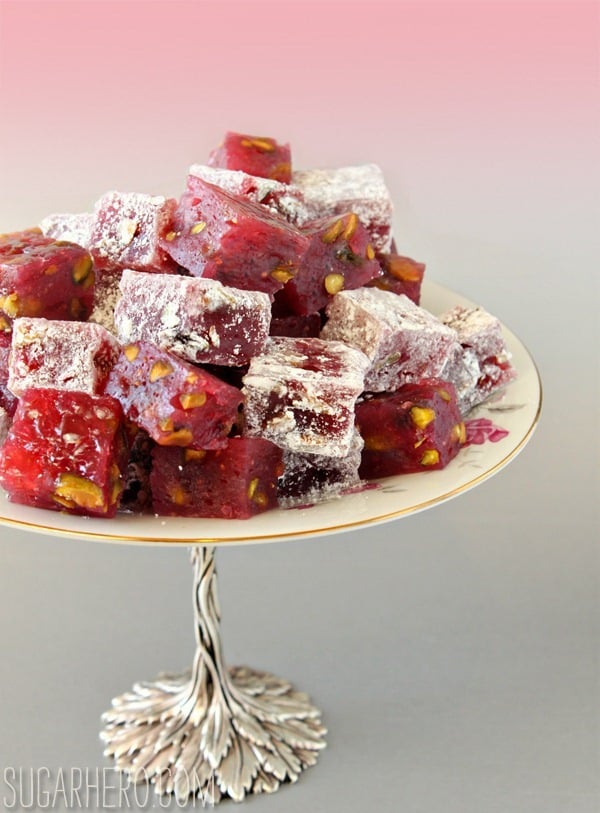 We didn't go trick or treating, but we did participate in our church's Trunk or Treat night. (As candy givers, not receivers. The sugarbaby is too young to be used as a shameless excuse for parental candy gathering…sigh.)
We kitted out our trunk with a Narnia theme, complete with twinkling lights, snowflake garlands, and flocked tree branches. In addition to the purchased candy we handed out, I made a special batch of Turkish Delight to share with the trick or treaters.
If you're not familiar with the Narnia books or movies, all you need to know is that one of the characters makes a life-altering decision because someone offered him some Turkish Delight, and he couldn't refuse. If you were to read it without knowing what Turkish Delight was, you would think that it must be the world's greatest candy, to cause such devotion and poor judgment.
However, if you've had Turkish Delight, you might well think differently. One of my friends described it as "a candy of last resort, which people only liked back in the day because they didn't know what real candy should taste like."
It's true that there's a lot of bad Turkish Delight out there. For one thing, it's commonly flavored with rosewater, which is somewhat unusual to most taste buds. If it's used improperly, it can make your candies taste like soap or lotion, which isn't one of the more desirable outcomes.
For another, it has a bit of a strange texture. It's sort of a gummy candy, but it's made with cornstarch instead of gelatin, so it doesn't sproing so much as have a soft, subtle chew. I actually really enjoy the texture, but it can get weird as it ages, so if you have some less-than-fresh stuff, you might wonder how anyone could get excited about eating a squeaky sponge.
Now that I've told you all the bad stuff, here's the good news! Turkish Delight that you make at home is worlds better than anything you can buy in the stores. I've added fresh raspberry puree and toasted pistachios to this recipe, to mellow the rose flavor and give the squares a bit of textural interest. The result is a candy that's chewy but not sticky, fruity and nutty with a hint of floral flavor, entirely unique, and weirdly addictive.
I wasn't sure how the Turkish Delight would go over with the Trunk or Treaters, but it was a hit! The kids were mostly baffled and reached for the Snickers instead, but the adults were curious to try it, and many of them copped to liking these odd little squares! Give it a try and see what you think—would you, like Edmund in The Lion, the Witch, and the Wardrobe, make a deal with the evil queen just to have some Turkish Delight?
Raspberry-Pistachio Turkish Delight
This Raspberry-Pistachio Turkish Delight is worlds better than anything you can buy in stores! It's got this amazing fresh raspberry puree and toasted pistachios that wonderfully balances the taste!
Ingredients
8

ounces

raspberries

to yield 1/2 cup raspberry puree

4

cups

granulated sugar

4

cups

water

divided use

2

tsp

lemon juice

1 1/4

cups

cornstarch

1

tsp

cream of tartar

2

tbsp

rosewater

1/2

tsp

raspberry extract

optional

1

cup

toasted pistachios

coarsely chopped

1

cup

powdered sugar
Instructions
Line a 9×9-inch pan with foil and spray the foil with cooking spray. Set aside for now.

If using frozen raspberries, thaw them completely first. Puree the raspberries in a blender, then strain through a fine mesh strainer to remove most of the seeds. You should have about 1/2 cup of raspberry puree—the exact quantity doesn't matter. Add enough water to equal 3 cups of liquid (probably around 2 1/2 cups), and set aside for now.

Combine the sugar, lemon juice, and 1 1/2 cups of water in a medium saucepan over medium heat. Stir until the sugar dissolves, then brush down the sides of the saucepan with a wet pastry brush to prevent sugar crystals from forming. Bring the candy to a boil, then insert a candy thermometer. Cook the sugar syrup until it reaches 240 degrees Fahrenheit on the thermometer.

When the sugar syrup reaches about 225 F, start preparing the rest of the ingredients. Combine the 3 cups of raspberry puree/water from earlier with the cornstarch and cream of tartar in a larger (at least 4 quart) saucepan. Place the pan over medium heat, and whisk everything together until there are no lumps. Bring the mixture to a boil, whisking constantly. It will become very thick and pasty.

Once the sugar syrup is at 240, slowly stream it into the cornstarch mixture, whisking the entire time so that it doesn't clump up. Once all the sugar syrup is in, continue to whisk until the mixture is smooth and thick.

Turn the heat to low and simmer the candy, whisking every 5-10 minutes, for 45 minutes. It will scorch on the bottom if you're not careful, so do make sure to whisk it regularly. By the end, it will be very thick and gluey.

When it's finished cooking remove it from the heat and stir in the raspberry extract (if using), the rosewater, and the chopped pistachios. Scrape it into the prepared pan and smooth it into an even layer. Let the Turkish Delight rest until set, for at least 4 hours or overnight.

Once set, use a large sharp knife to cut it into small squares. Roll the squares in powdered sugar to prevent them from sticking together. Store Turkish Delight in an airtight container with waxed paper between the layers.
Recipe Notes
You will need a candy thermometer for this recipe. Rosewater is commonly found with the middle eastern ingredients at large grocery stores or specialty markets, or it can be ordered online. It can be omitted from this recipe with fine results, but your Turkish Delight will be less authentic.
Measuring Tips
Our recipes are developed using weight measurements, and we highly recommend using a kitchen scale for baking whenever possible. However, if you prefer to use cups, volume measurements are provided as well. PLEASE NOTE: the adage "8 oz = 1 cup" is NOT true when speaking about weight, so don't be concerned if the measurements don't fit this formula.
Want to learn more about baking measurements and conversion?
Nutrition
Calories:
499
kcal
|
Carbohydrates:
112
g
|
Protein:
2
g
|
Fat:
5
g
|
Saturated Fat:
0
g
|
Cholesterol:
0
mg
|
Sodium:
7
mg
|
Potassium:
209
mg
|
Fiber:
2
g
|
Sugar:
93
g
|
Vitamin A:
60
IU
|
Vitamin C:
7
mg
|
Calcium:
22
mg
|
Iron:
0.8
mg
Tried this recipe?
Snap a pic and hashtag it #SugarHero. We love to see your creations on our Instagram @elabau.