These Frosted Easter Brownies are ultra-fudgy brownies, packed with malted milk Easter egg candies and topped with chocolate frosting and LOTS of fun sprinkles and candies! They're perfect for Easter, showers, and springtime birthday parties.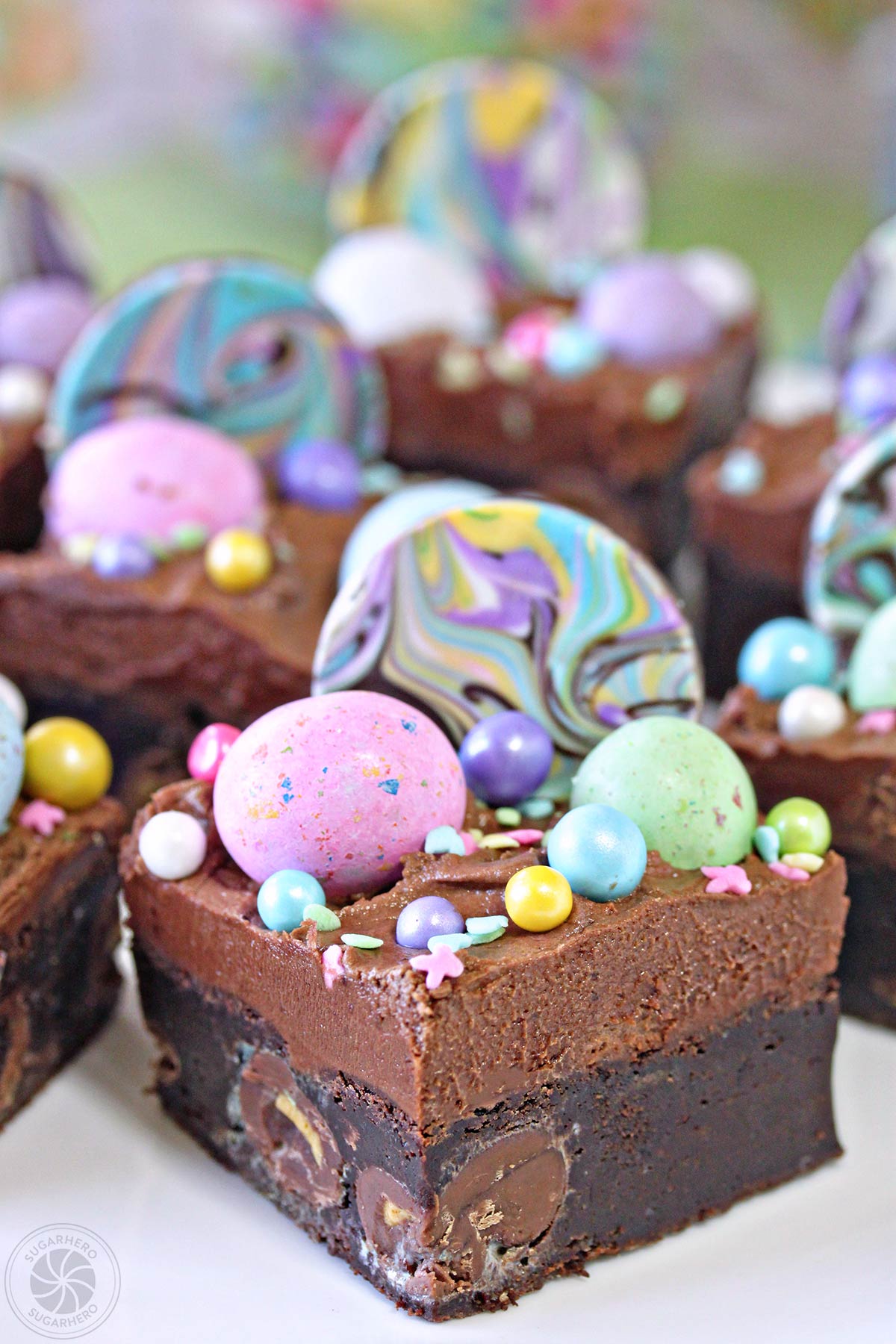 🥚 Pastel Easter Brownies
It's hard to argue with classic brownies. There's something about the crisp top, soft interior, and rich, decadent chocolate flavor that is pretty hard to beat. But sometimes classic brownies need a colorful twist–and these Frosted Easter Egg Brownies do just that!
These brownies started off innocently enough. I had a big bag of malted milk Easter eggs (a family favorite!) and decided to chop them up and add them to brownie batter. Then I decided to add malted milk chocolate frosting, to tie in that malty flavor, and because chocolate desserts always need more chocolate, right? One thing lead to another, and pretty soon I was loading them up with sprinkles and whatever Easter candy I could find laying around: Sixlets, sugar pearls, swirled chocolate bark, and more.
These springtime brownies are sweet and fudgy, colorful and festive, and incredibly delicious! They're also really flexible, so you can use whatever candy and sprinkles you have on hand. Read on to learn how to make them! And if you like ultra-chocolatey desserts like this, you'll LOVE our Salted Fudge Brownies, Ultimate Fudgy Chocolate Brownies, and Cosmic Brownie Mini Cakes!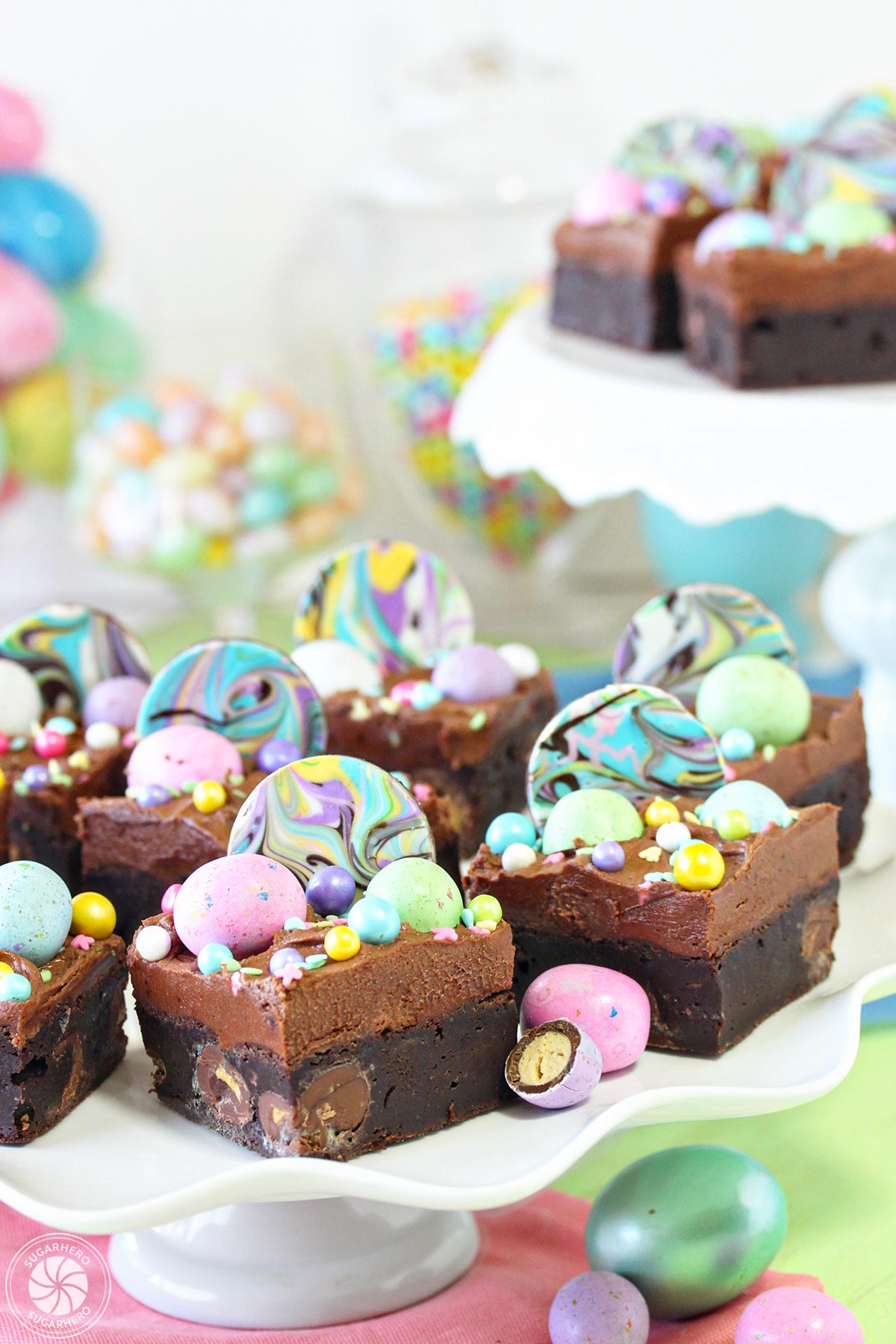 Table of Contents
🧾 What You'll Need
Ingredients
Most of the ingredients for these Easter candy brownies can probably be found in your fridge or pantry. Just a couple specialty ingredients needed to make these brownies springy and festive! (Links are affiliate links and I earn a small commission from qualifying purchases.)
Chocolate Malted Milk Powder:

chocolate malted milk powder adds even more chocolate-y flavor and ties in the flavor of the malted milk eggs used in the brownies. We're using it in both the brownie batter and the chocolate frosting!
Semi-Sweet Chocolate: I use PoundPlus 54% Cocoa Dark Chocolate from Trader Joes which melts deliciously and adds just the right amount of extra sweetness to the brownies.
Butter: use unsalted butter cubed into chunks. We'll melt the cubes right into the chocolate.
Unsweetened Chocolate: since chocolate is arguably the most important component of chocolate brownies, use the good stuff! For the unsweetened chocolate, I use Ghirardelli 100% Cacao Unsweetened Chocolate Bar.
Vanilla Extract: use pure vanilla extract for the best flavor.

Candy Toppings:

I top the brownies off with pastel candy eggs, Sixlets, sugar pearls, sprinkles, and/or chocolate bark. Feel free to swap in your personal favorites instead!
🍫 Swirled Chocolate Bark Decorations
The little discs of swirled pastel chocolate on top of the brownies are completely optional–and completely adorable! If you want to give them a try, you'll need:
5 oz chocolate candy coating (like Wilton's Candy Melts)
4-5 different colors of pastel candy coating, about 1 oz of each color
Line a baking sheet with waxed paper or aluminum foil. Melt each color of candy coating in its own bowl in the microwave.
Pour the chocolate coating onto the prepared baking sheet. Spread it into a layer less than ¼-inch thick.
Drizzle the other colors on top of the chocolate in a random pattern. No need to be precise—just dip a spoon in the color and fling it around over the chocolate! Repeat until the chocolate is covered with a web of different colors.
Take a toothpick and swirl it through the bark, creating swirls of chocolate and pastel colors. Stop while you still have distinct swirls so the colors don't get muddy.
Refrigerate the tray to set the coating, for about 15 minutes. Once set, remove it from the refrigerator and allow it to come to room temperature.
Use small cookie cutters to cut shapes out the swirled bark, or just break them into shards by hand. The bark can be made several weeks in advance.
💭 Variations
Now, I'm a big fan of these brownies just as they are. However, brownies are incredibly customizable. Feel free to have a little fun and play around with the recipe!
Add nuts. Mix some chopped walnuts or pecans into the batter or layer them on top for a little extra crunch.
Add marshmallows. Mini marshmallows are an excellent addition to the brownies or they can be used as another topping.
Use other candies. Top these brownies off with any candies your heart desires. You can use other Easter candies like Jordan Almonds or Peeps OR you can venture into any other type of candy. Try M&Ms, mini Reese's peanut butter cups, or your favorite chopped up candy bars.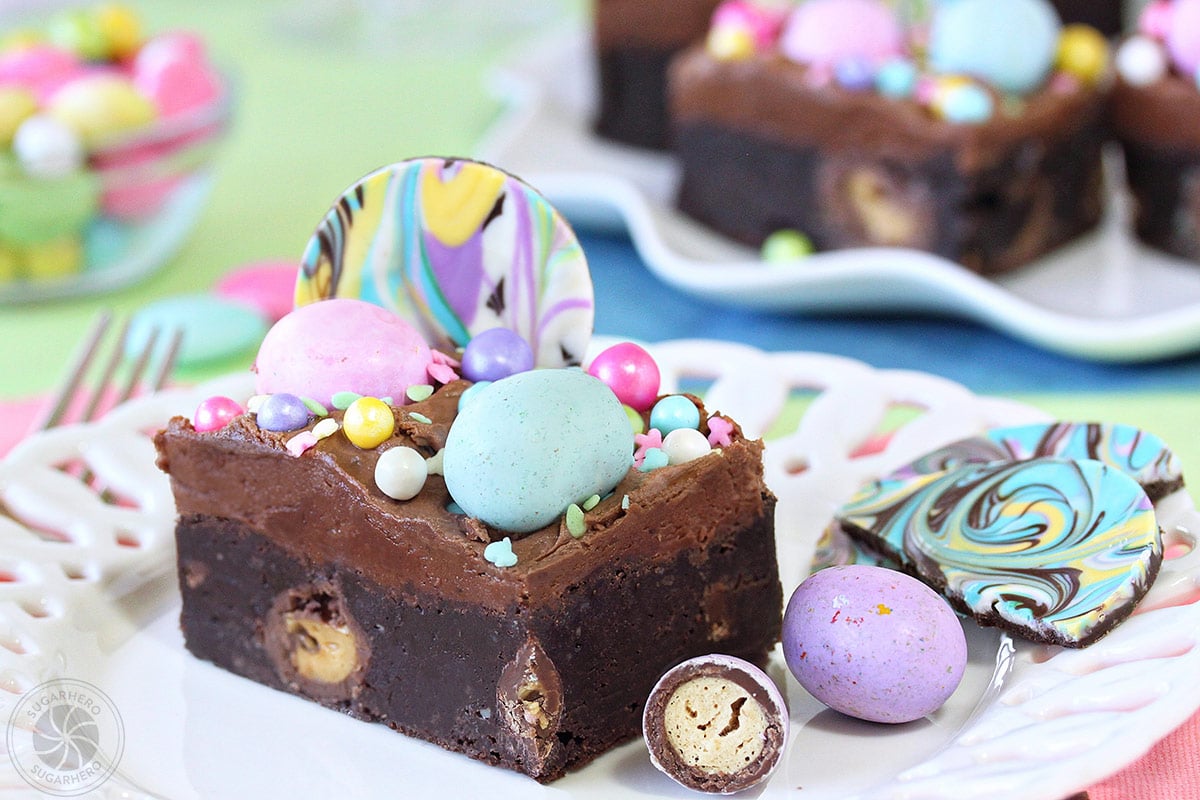 💡 Tips for Frosted Easter Brownies
Whisk well. When you mix together the chocolate, sugar, eggs, and vanilla, you may need to whisk for several minutes to achieve the right texture. It should feel thick almost like chocolate pudding by the time you're done whisking. This gives the final product a better texture!
Rotate the pan. I recommend rotating the pan in the oven halfway through the cooking time to ensure the brownies cook evenly.
Cool completely. Make sure you let the brownies cool completely before you add the frosting. If they're still warm, the frosting will just melt.
Chill the brownies. After the brownies are frosted, pop them in the fridge for a while before you slice them. Chilled brownies are easier to slice with a clean cut.
Serve at room temp. You can enjoy these brownies cold but I like to set them out at room temperature for a little bit before serving so they can get extra soft and gooey.
FAQs
💜 More Easter Desserts
These Easter candy brownies are just the beginning–here are a few more of my favorites Easter recipes.
Easter Bird's Nest Cupcakes
With these Easter Basket Cupcakes, you can transform plain cupcakes into adorable miniature Easter baskets!
View Recipe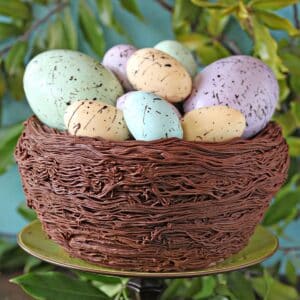 Easter Nest Cake
This Easter Nest Cake is a cute and easy Easter dessert recipe! It's baked right in a bowl–no special pan required–and is decorated with chocolate frosting to look like a sweet little bird's nest, complete with your favorite Easter egg candies.
View Recipe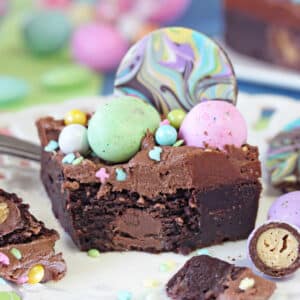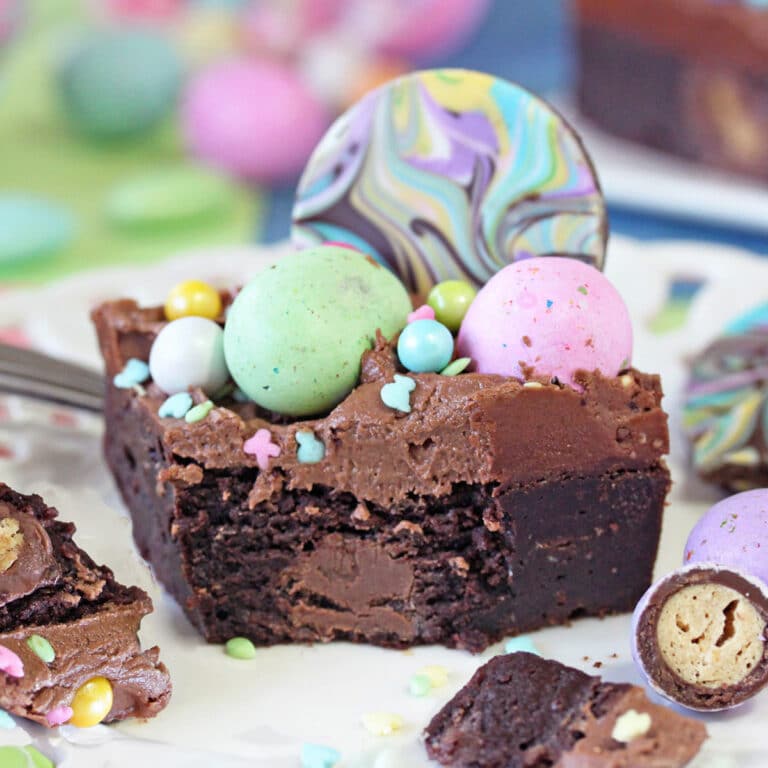 Frosted Easter Brownies
These Frosted Easter Candy Brownies are ultra-fudgy brownies, packed with malted Easter egg candies and topped with chocolate frosting and LOTS of fun sprinkles and candies! They're perfect for Easter, showers, and birthday parties.
Ingredients
For the Frosting and Assembly:
For the Toppings (optional):
Candy eggs

pastel colored

Sixlets

pastel colored

Chocolate bark
Instructions
To Make the Brownies:
Preheat the oven to 350 F. Line a 9×13-inch pan with foil, extending the foil up and over the sides, and spray the foil with nonstick cooking spray.

Place the finely chopped chocolate in a large saucepan, and gently heat it over low heat, stirring often, until it is nearly melted. Add the cubed butter and stir it in until the butter is melted. Remove the pan from the heat.

Add the granulated sugar and stir it into the chocolate—it will become grainy. Add the eggs one at a time, whisking well after each addition. Add the vanilla extract, and continue to whisk until the batter loses its grainy texture and becomes smoother and thicker—it will start to clump together and feel thick like chocolate pudding. This may take several minutes of whisking, but this process gives the brownies a better final texture.

Finally, add the flour, malted milk powder, and salt, and stir it together with a spatula. Add the malted milk eggs and chocolate chunks, scrape the batter into the prepared pan, and smooth it into an even layer. Bake the brownies at 350 F for 30-35 minutes, rotating halfway through. Bake until a toothpick inserted into the center is no longer gooey but still has moist crumbs attached. Cool completely before adding the frosting.
To Make the Malted Milk Chocolate Frosting:
Place the chopped chocolate in a microwave-safe bowl and melt it in 30-second increments, stirring after every 30 seconds until melted and smooth. Set aside to cool to room temperature.

Place the remaining ingredients (sugar through salt) in the bowl of a large stand mixer fitted with a paddle attachment. Mix on low speed until the sugar is thoroughly moistened, then raise the speed to medium and beat for 1-2 minutes, until light and fluffy.

Turn the mixer speed back to low, and add the chocolate. Once the chocolate is mixed in, raise the speed back to medium and beat for one minute more. If the frosting seems too stiff, add a bit more milk until you get a texture you like. Use immediately, or place in an airtight container with plastic wrap pressed on top. The frosting can be made several days in advance and kept in the refrigerator. Allow to come to room temperature before using.
To Decorate:
To finish the brownies, spread the frosting all over the top of the cooked brownies, and create swirls with the back of a spoon. Sprinkle your toppings all over the top: use a variety of shapes and colors for maximum fun! Press down gently on the larger items to embed them in the frosting.

If you have time, chill the brownies before cutting them—having the brownies and frosting firm will give you really clean cuts. Before serving, top each brownie with a piece of swirled chocolate bark (optional but fun!). For the best taste and texture, enjoy these brownies at room temperature. They will keep for up to two weeks in a container in the refrigerator.
Measuring Tips
Our recipes are developed using weight measurements, and we highly recommend using a kitchen scale for baking whenever possible. However, if you prefer to use cups, volume measurements are provided as well. PLEASE NOTE: the adage "8 oz = 1 cup" is NOT true when speaking about weight, so don't be concerned if the measurements don't fit this formula.
Want to learn more about baking measurements and conversion?
Nutrition
Calories:
616
kcal
|
Carbohydrates:
67
g
|
Protein:
7
g
|
Fat:
38
g
|
Saturated Fat:
23
g
|
Polyunsaturated Fat:
1
g
|
Monounsaturated Fat:
10
g
|
Trans Fat:
1
g
|
Cholesterol:
90
mg
|
Sodium:
135
mg
|
Potassium:
316
mg
|
Fiber:
3
g
|
Sugar:
55
g
|
Vitamin A:
706
IU
|
Vitamin C:
1
mg
|
Calcium:
105
mg
|
Iron:
3
mg
Tried this recipe?
Snap a pic and hashtag it #SugarHero. We love to see your creations on our Instagram @elabau.