This simple Rice Pudding Brûlée is cozy and comforting with its aromatic blend of cinnamon, cardamom, vanilla, and lemon. It's rich and creamy texture will make you feel right at home.
We had our first fall storm this week.
This may not seem like a big deal to those of you who have been enjoying cool temperature and changing leaves for the past month or two, but here in Los Angeles, October is more commonly known as Summer's Revenge: Hotter Than Hades Edition.
Summer is a wily minx in southern California. May and June are downright cool, with overcast skies thanks for a persistent marine layer. I imagine there must be happy merchants making a good living and putting their kids through college selling wooly sweaters to disappointed tourists who packed only bikinis and short-shorts for their much-anticipated beach trip. Suckers.
July heats up but is still fairly bearable, and by August we're lulled into thinking it's going to be a really mild summer. "We're at the home stretch now!" we think, like idiots who haven't lived through this saga every single year. "Fall's just around the corner!"
Then—BAM—September hits and the temperatures climb. Suddenly it's hot and muggy from 5am to 11pm without a break in sight. Come October, the rest of my friends around the country are talking about boots this and pumpkin spice lattes that, while LA is just starting to get good and sweaty, settling into the role of the devil's sauna. 105, 106 degree days, weeks of oppressive heat, punishing winds that stir the hot air around like a clothes drier and fuel brush fires. Every year I manage to forget the grind of October, and every year I'm newly hot and bothered about it.
This week, finally, we got some relief. Temperatures dropped, clouds rolled in, and on Thursday we had the most marvelous thunderstorm. There was lightening! And hail! And big, booming thunder that seemed to shake the walls. (It's coming from inside the apartment!) We wore slippers, put on Christmas music (yes, I admit it), burned candles, and took Asher outside to show him his first ever rainstorm.
And when it was over, we saw the most amazing rainbow I've ever seen. It stretched across the whole sky, with every color visible across the spectrum, seeming to originate from just a few blocks away, dividing my vision in half and pushing out any thoughts other than the marvelous beauty of this creation.
So hello, fall. Hello to cooler mornings and cloudy days and (yes!) those boots that everyone else has been wearing for a month and candles and cider and thunderstorms and rainbows that stretch across my skies. I'm glad you're here.
Hello also to rice pudding, a warm, homey dish that is the culinary equivalent of a pair of perfectly worn-in slippers. It's not fancy, but with its aromatic blend of cinnamon, cardamom, vanilla, and lemon, it's comforting and cozy.
I wanted to do something a little different, so I brûlée-d the top of the rice pudding, sprinkling on a fine layer of sugar and giving it the once-over with my trusty blowtorch, then repeating the process once and sometimes twice more, until I had a crackling amber layer of caramelized sugar over the rich, creamy rice pudding.
There were a few spots where the rice poked up out of the custard, and in these cases it would get a little toasty and look like black spots amidst the caramel. I didn't mind it, but if you do, I recommend making this dish in a deeper container—I seemed to have the most blackened rice with the shallower dishes.
Action shot!
This rice pudding is a lovely after-dinner treat, or if you're like me, a mid-afternoon-and-maybe-a-bit-before-dinner treat. It's good rainy day food and I hope to have lots of occasions to enjoy it in the months to come.*
* I wrote this a few days ago and now, when I'm ready to publish it, I took a peek at the upcoming weather forecast and we're expecting temperatures in the high 90's again this week. I guess I'll be enjoying the rest of my rice pudding chilled, as a hot weather snack. Sigh.

More Dessert Recipes You'll Love 💖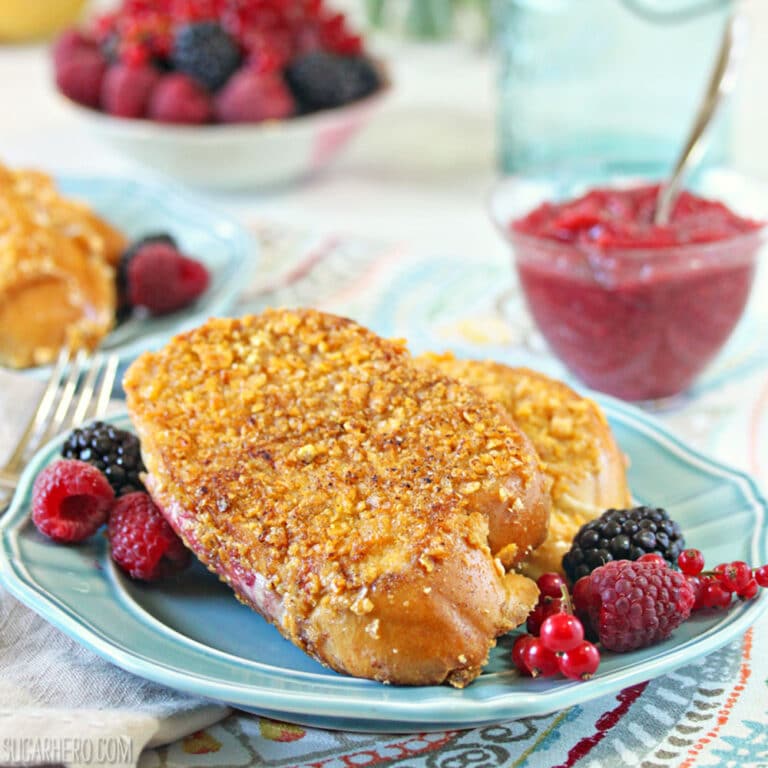 Mascarpone Rhubarb Stuffed French Toast
This Mascarpone Rhubarb Stuffed French Toast is the what breakfast dreams are made of! The contrast between the sweet, rich mascarpone filling, tart rhubarb jam, and crunchy outer crust of the French toast is heavenly.
View Recipe
Nutella Croissant Bread Pudding
This Nutella Croissant Bread Pudding makes a perfect breakfast or brunch! Packed with croissants, Nutella, and fresh berries, everyone will love it!
View Recipe
Rice Pudding Brûlée
This Rice Pudding Brulee isn't fancy, but with its aromatic blend of cinnamon, cardamom, vanilla, and lemon, it's comforting and cozy.
Ingredients
3

cups

whole milk

or half and half

3

cinnamon sticks

roughly broken

5

cardamom pods

crushed

1

vanilla bean

split

2

one-inch strips of lemon peel

3

large egg yolks

1

large egg

1/2

cup

brown sugar

packed

2 1/2

cups

white rice

cooked

1/2

tsp

salt

granulated sugar

for topping
Instructions
Pour the milk into a medium saucepan. Add the cinnamon sticks, cardamom pods, and lemon peel. Scrape the seeds out of the vanilla bean and add the seeds and the bean to the milk. Put the pan over medium heat and bring the milk to a simmer. Right before it starts to boil, remove the pan from the heat, cover it with a lid, and let it sit for 30-45 minutes, so the milk becomes infused with the flavors.

Preheat the oven to 350 degrees F, and spray your ramekins or large baking dish with nonstick cooking spray.

In a large bowl, whisk together the egg yolks, egg, and brown sugar. Pour the milk through a fine mesh strainer into the egg mixture, straining out all of the spices. Whisk everything well. Add the cooked rice and the salt and stir well, until everything is combined—make sure the rice is separated into individual grains and isn't clumped together.

Ladle the rice pudding into the ramekins or baking dish. Place the ramekins or dish in a larger baking pan and fill the pan with water that comes halfway up the sides of the rice pudding dishes. Bake at 350 F for about 30-35 minutes for small, shallow dishes, or up to an hour for large, deep dishes. The pudding should look brown around the edges and feel set, with just a slight jiggle, when you lightly tap it.

Carefully remove the dishes from the water bath and let them cool at room temperature until they are no longer hot. (If desired, the pudding can now be refrigerated until you are ready to eat it.)

To add the brûlée effect, sprinkle the tops with a thin layer of granulated sugar. If you have a kitchen torch, light it up and gently pass the flame over the surface of the pudding in smooth, even strokes, until the sugar melts and caramelizes. If you want a deeper, thicker caramel layer, repeat this process a second time. It's better to do two thin layers than to try and caramelize a thick layer of sugar—it will cook unevenly, leaving you with burnt or undercooked spots.

If you don't have a kitchen torch, place the sugared ramekins on a baking sheet and set them under the broiler, until the sugar melts and caramelizes. Watch them closely, as it's easy to burn the tops with this method. Let the sugar cool and harden, then enjoy immediately.
Measuring Tips
Our recipes are developed using weight measurements, and we highly recommend using a kitchen scale for baking whenever possible. However, if you prefer to use cups, volume measurements are provided as well. PLEASE NOTE: the adage "8 oz = 1 cup" is NOT true when speaking about weight, so don't be concerned if the measurements don't fit this formula.
Want to learn more about baking measurements and conversion?
Nutrition
Serving:
12
g
|
Calories:
238
kcal
|
Carbohydrates:
44
g
|
Protein:
5
g
|
Fat:
3
g
|
Saturated Fat:
1
g
|
Cholesterol:
68
mg
|
Sodium:
135
mg
|
Potassium:
160
mg
|
Fiber:
1
g
|
Sugar:
12
g
|
Vitamin A:
185
IU
|
Vitamin C:
0.2
mg
|
Calcium:
107
mg
|
Iron:
0.8
mg
Tried this recipe?
Snap a pic and hashtag it #SugarHero. We love to see your creations on our Instagram @elabau.