This Mascarpone Rhubarb Stuffed French Toast is the what breakfast dreams are made of! The contrast between the sweet, rich mascarpone filling, tart rhubarb jam, and crunchy outer crust of the French toast is heavenly.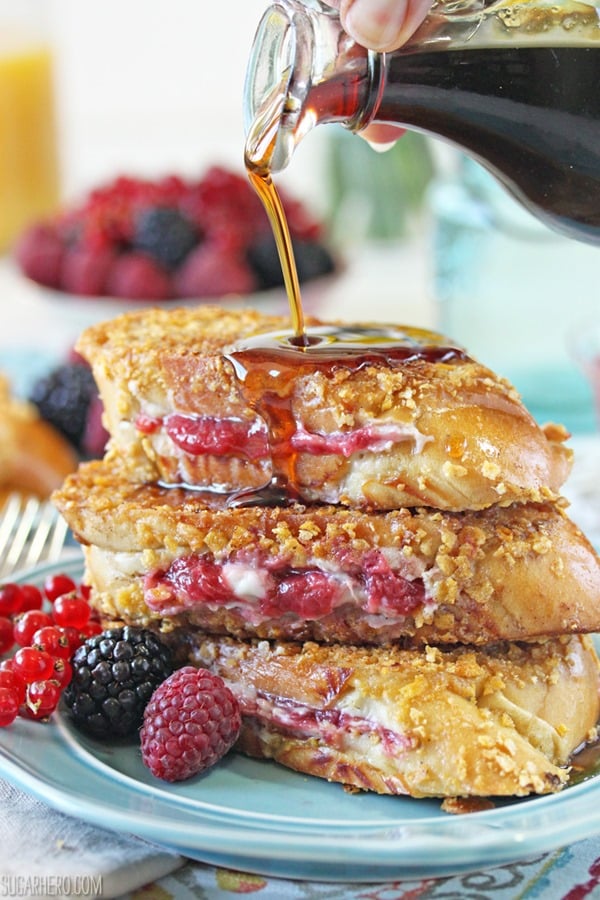 Oh Friday, it's so good to see you. It's been a rough week. My son—overachiever that he is—is apparently getting an A in Germ Theory at preschool, because he managed to contract both Scarlet Fever and one of those weird toddler viruses at the same time. He's been a coughing, congested, rashy, hive-y, fevery mess for most of the week, and I've been a human sofa/nose-blower/doctor-driver/hug-dispenser. I haven't had much kitchen or computer time, but I can recite every episode of Curious George from memory now, so I wouldn't say this week has been a total bust.
The good news is that he's feeling much better, which means I'm feeling much better, which means I'm finally back with a new post! I'd say a healthy Friday deserves epic Mascarpone Rhubarb Stuffed French Toast, wouldn't you?
I actually tackled a version of this recipe a year ago, and had a resounding failure. (Insta-evidence of my disaster here.) The flavors were good, but the execution was a mess, with the mascarpone breaking down in the oven and the bread becoming gross and soggy. Solid thumbs down.
When recipes don't work out, I have a few different responses. Sometimes I seize onto them like a tenacious terrier, making them over and over again until they do work. Sometimes I ruthlessly cut them out of my life and pretend like the whole thing never happened at all (Maple Candy-Glazed Waffle Cookies, I'm looking at you). And sometimes I just need a month…or twelve…to simmer on it and approach the recipe in a different way.
In this case, I was still excited about the idea of stuffing big pieces of French toast with mascarpone and rhubarb compote, but I knew I needed a better method.
This time around, I actually stuffed the French toast instead of trying to sandwich two slices of bread together. I cooked everything on the stovetop, because extended baking periods and mascarpone filling just don't mix. And I added a layer of cornflakes on the outside, to bring some serious crunch and add a necessary contrast to the creamy mascarpone-and-rhubarb filling.
Success! It was worth a 12-month wait, because this is what breakfast dreams are made of. The sweet, dense French toast doesn't even need any toppings, since it packs so much flavor into the filling. And the options! Oh, my breakfast-loving friends, you have so many options. Not a rhubarb fan? Swap out any other thick jam, or even sliced berries instead. Can't find mascarpone? Cream cheese has got your back! (Maybe up the sugar content a little, though.) Does the hunt for challah makes you holla? Try brioche or any soft, dense sweet bread. Whatever you choose, I hope you enjoy, and I'm wishing you a delicious weekend ahead!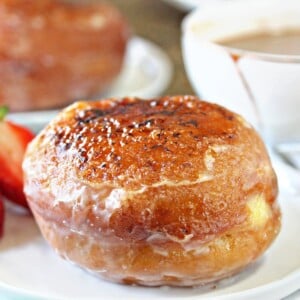 Crème Brûlée Donuts
Breakfast meets dessert in these amazing Crème Brûlée Donuts! These gourmet doughnuts feature a soft, tender homemade doughnut, a vanilla bean pastry cream filling, and a delicious crackly caramelized sugar topping.
View Recipe
French Toast Cake
This French Toast Cake will make all of your brunch dreams come true! This gorgeous layer cake is equally at home on the breakfast or dessert table. Dress it up or dress it down—no matter how you serve it, you'll be craving it all the time! 
View Recipe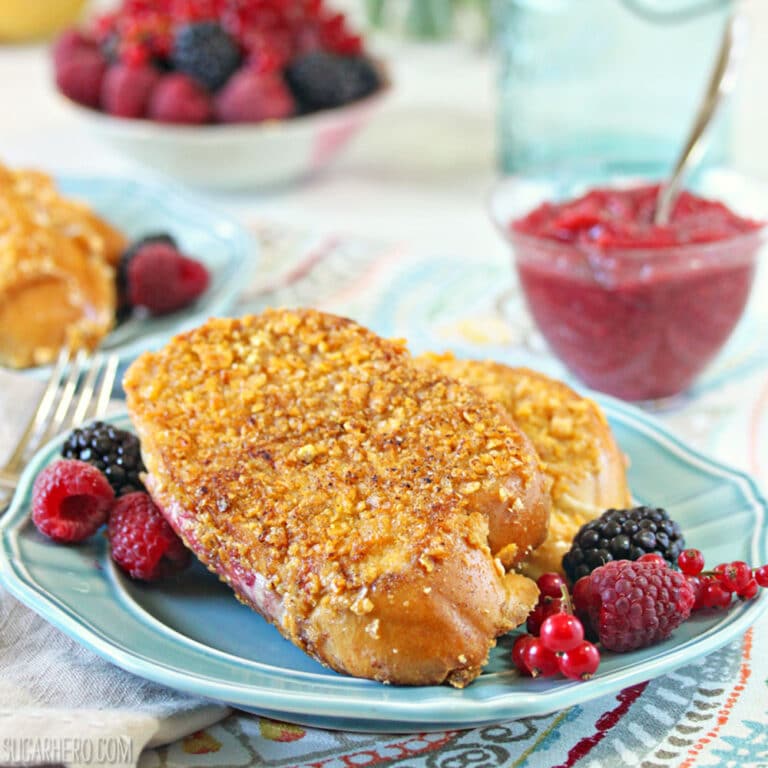 Mascarpone Rhubarb Stuffed French Toast
This Mascarpone Rhubarb Stuffed French Toast is the what breakfast dreams are made of! The contrast between the sweet, rich mascarpone filling, tart rhubarb jam, and crunchy outer crust of the French toast is heavenly.
Ingredients
For the Mascarpone Filling:
6

oz

mascarpone

2

TBSP

powdered sugar

1

tsp

vanilla extract

Zest of 1 lemon

(about 1 TBSP)
Instructions
To Make the Rhubarb Jam:
Combine the rhubarb, 1/2 cup sugar, vanilla, lemon juice, and cinnamon in a medium saucepan over medium heat. Stir while the sugar melts and the rhubarb lets off some of its juice. Bring the pan to a boil and once boiling, turn down the heat and simmer the rhubarb on medium-low heat. While it's cooking, carefully taste it and add more sugar if necessary, to suit your taste.

The rhubarb will become soft and eventually disintegrate as it cooks. Continue to cook it until it thickens and a bunch of the liquid boils off, about 15-20 minutes. It should have a loose jammy texture at this point—it will get thicker as it cools.

Remove the pan from the heat and pour it into a storage container. Refrigerate until cool. The jam can be made up to a week ahead of time and stored in the refrigerator.
For the Mascarpone Filling:
Combine all of the ingredients in a medium bowl, and stir until everything is well-mixed and there aren't any lumps of mascarpone. Taste the filling, and add more sugar if necessary.
To Make the French Toast:
Place the rhubarb jam in a pastry bag fitted with a round tip, and place the mascarpone filling in a separate pastry bag with a round tip. Set aside for now.

In a large bowl, whisk together the cinnamon, milk, eggs, vanilla, brown sugar, and salt. Cut the challah loaf into slices about 1 1/4-inch thick. For my loaf, this means I got 8 good-sized slices out of it, and two bread heels I reserved for another use. Pour the cornflakes into a large zip-top bag and roll over them with a rolling pin until they're crushed into fine crumbs. Pour them into a pie tin or wide shallow bowl.

Use a sharp knife to cut a slit in the bottom of each slice of bread. Cut almost across the length of the bread, and try to work the knife as far toward the top of the slice as possible, without cutting through the sides or top of the slice.

Stick the pastry bag with the mascarpone into the slit of one of the bread slices, and squeeze so that the mascarpone comes out and fills some of the space in the bread—leave a little room for the jam you're about to add, too. If you have trouble, try holding the bread along the sides and gently squeezing them together so that the bread pocket gapes open a little bit. Next, stick the rhubarb jam bag in the slit, and squeeze the jam into the center of the bread. It's okay if the bread is bumpy and gaps open a little bit. Repeat with the remaining bread slices.

Place a large sauté pan over medium heat, and melt 2 tbsp butter in the pan. (You may want to try medium-low heat if your stovetop tends to run hot.) Dip a slice of bread into the custard mixture, turning it so that it soaks both sides. Press the bread into the cornflakes, flipping it so that both sides are coated in cornflakes. Put it in the pan and repeat with more slices. Cook the bread for about 2 minutes on each side, until golden brown and crispy.

Take the bread out, add more butter, and repeat the process until all of the slices are cooked. Serve immediately with fresh fruit, powdered sugar, or syrup. For the best taste and texture, this French toast should be enjoyed right after it's made.
Recipe Notes
 I've written the recipe to include homemade rhubarb jam, but you can always substitute store-bought or swap it with another kind of jam entirely. If you make the homemade version, chances are you'll have some jam left over, which is perfect for spreading on top of your freshly cooked French toast!
Measuring Tips
Our recipes are developed using weight measurements, and we highly recommend using a kitchen scale for baking whenever possible. However, if you prefer to use cups, volume measurements are provided as well. PLEASE NOTE: the adage "8 oz = 1 cup" is NOT true when speaking about weight, so don't be concerned if the measurements don't fit this formula.
Want to learn more about baking measurements and conversion?
Nutrition
Calories:
237
kcal
|
Carbohydrates:
14
g
|
Protein:
5
g
|
Fat:
11
g
|
Saturated Fat:
6
g
|
Cholesterol:
84
mg
|
Sodium:
135
mg
|
Potassium:
187
mg
|
Fiber:
1
g
|
Sugar:
7
g
|
Vitamin A:
590
IU
|
Vitamin C:
5.4
mg
|
Calcium:
106
mg
|
Iron:
2.4
mg
Tried this recipe?
Snap a pic and hashtag it #SugarHero. We love to see your creations on our Instagram @elabau.