Spice up your life with this Cinnamon Syrup recipe! Brown sugar and cinnamon sticks give this homemade syrup a deep, rich cinnamon flavor. It's delicious on pancakes and waffles, or add a splash to your favorite drink.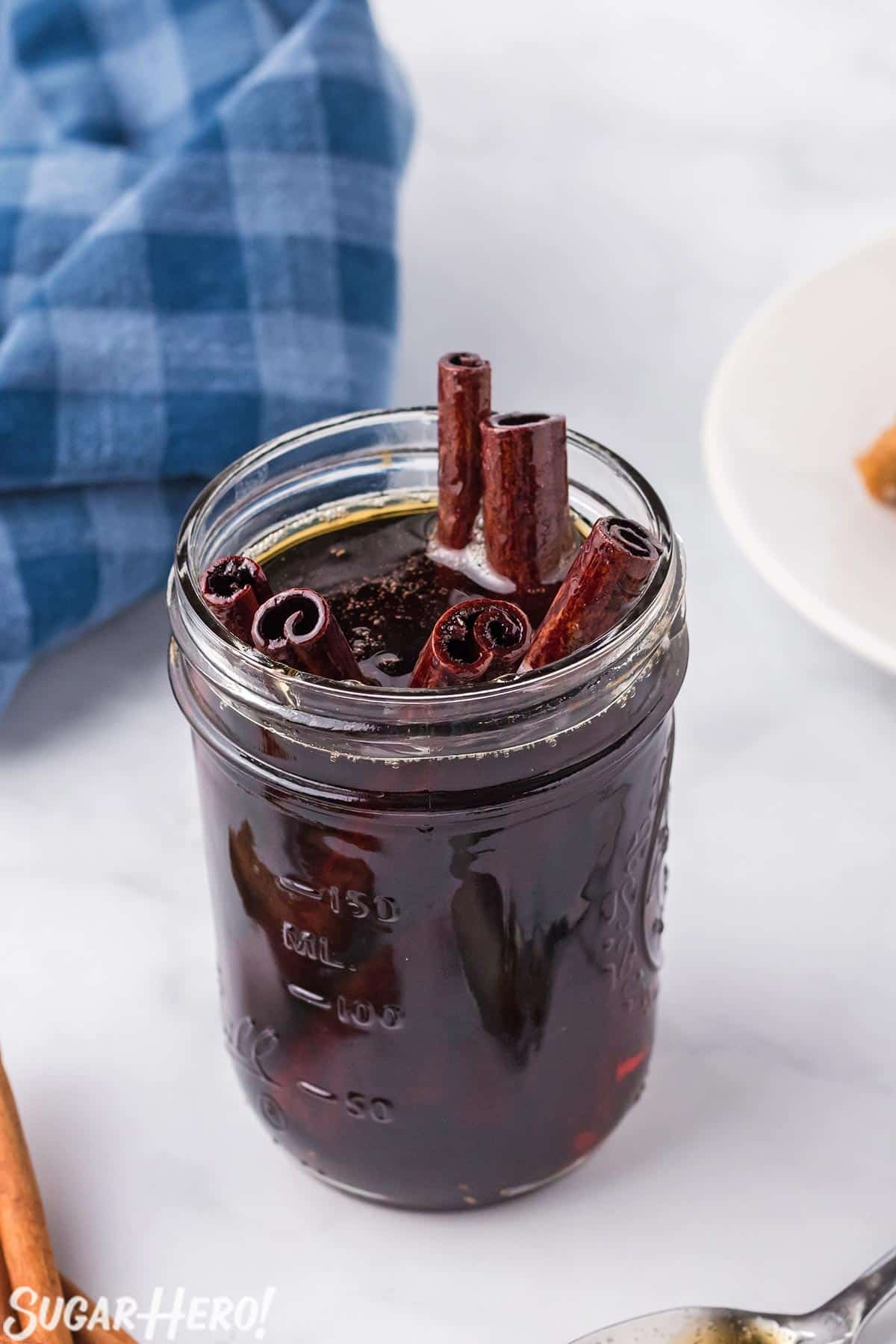 How to Make Brown Sugar Cinnamon Syrup
If your primary experience with syrup is that it comes in a squeezy bottle and rhymes with "Shmrs. Shmutterworths," then this recipe is going to knock your socks off.
Today we're making this easy homemade Cinnamon Syrup, and to pre-emptively answer a few questions, YES you can make syrup at home and YES you're going to want to eat it on absolutely everything! And no, this isn't maple-flavored pancake syrup. This is a warm and cozy brown-sugar based syrup, infused with pure cinnamon flavor.
What can you do with Cinnamon Syrup?
There are so many ways you can enjoy this simple syrup variation! Here are a few ideas:
Use it in place of maple syrup on breakfast dishes like pancakes, waffles, and French toast.
Drizzle it on top of pound cake, bundt cake, or bread pudding.
Brush it on cake layers to keep them moist and add extra flavor.
Add a splash to your favorite coffee, tea, or apple cider.
This syrup is phenomenal on top of fall desserts like my Pumpkin Bread Pudding, but don't let that limit you! Try it on Pannetone Bread Pudding, Nutella Croissant Casserole, Cinnamon Bun Bread Pudding, or Orange Bundt Cake!
Table of Contents
🧾 What You'll Need
Ingredients

& Equipment

Here's what you need to make this syrup at home: (Links are affiliate links and I earn a small commission from qualifying purchases.)
Cinnamon sticks:

Cinnamon sticks are the secret to great cinnamon flavor. Unlike ground cinnamon, they impart a strong, vibrant taste without impacting the texture of the syrup. Your cinnamon sticks should be 2-3 inches long, and noticeably fragrant. Although cinnamon sticks don't go bad, they definitely lose their potency over time, so if you have old, dusty cinnamon sticks that have been kicking around your kitchen for more than a few years, it's worth it to buy fresh ones.
Brown sugar: This recipe uses equal parts brown and granulated sugar. I don't recommend skipping the brown sugar — it gives the syrup a deep, caramelized flavor that goes perfectly with cinnamon.
Granulated sugar: I like the balance between brown and white sugar, but if you love the taste of brown sugar, you can use all brown sugar in this recipe.

Saucepan:

You'll want to use a saucepan that's large enough so the syrup doesn't bubble over when cooking. A 3-quart saucepan or 4-quart saucepan is perfect for this recipe.
📋 Instructions
This syrup barely requires instructions–don't you love a super simple recipe?! Here's how it all comes together:
Combine the water, both sugars, and cinnamon sticks in a saucepan over medium heat.
Stir while the sugars dissolve, and bring the syrup to a boil.
Reduce the heat, and let it simmer for 10-15 minutes, until thick and very fragrant.
Let it cool before using — it will continue to thicken as it cools.
Enjoy!
💡 Tips and Ideas
Storage: once cool, transfer the syrup to a glass jar or container, and refrigerate it for about 3-4 weeks.
Keeping the cinnamon sticks in the jar with the syrup will enhance the flavor over time.
This makes a wonderful edible gift! Pair decorative jars of syrup with gourmet waffle or pancake mix for a fun gift for teachers and friends.
Add other spices: In addition to cinnamon sticks, you can include other spices like whole cloves or star anise to build more complex flavors.
Add citrus: add lemon or orange peels to the mix when making the syrup. Both of these pair very well with cinnamon and the resulting syrups are delicious.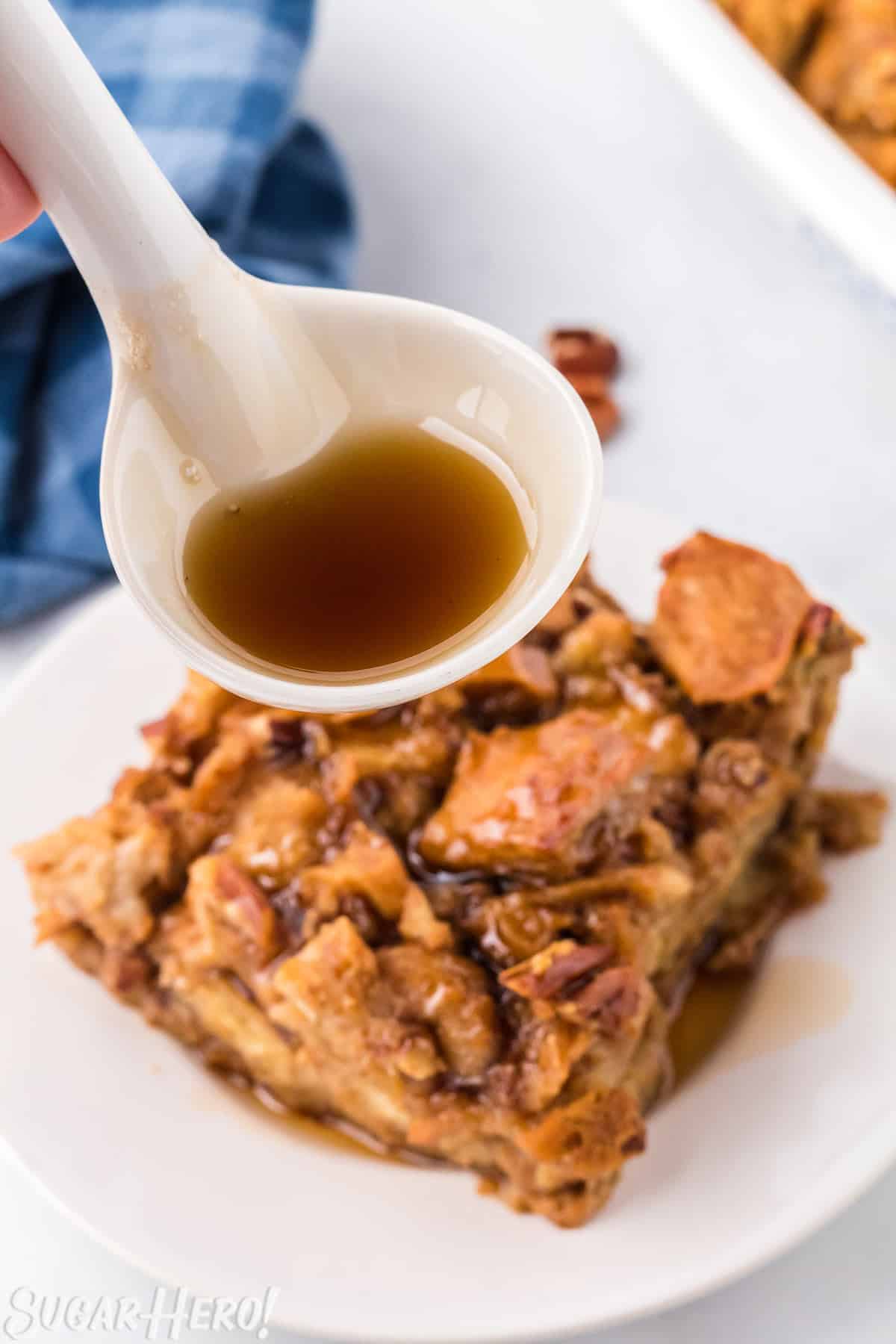 🤎 Try this syrup with:
Pumpkin Bread Pudding
Get your pumpkin fix with this cozy, comforting pumpkin bread pudding recipe. Eat it plain, add a drizzle of cinnamon syrup, or dress it up with whipped cream–however you serve it, this bread pudding is sure to become a family favorite.
View Recipe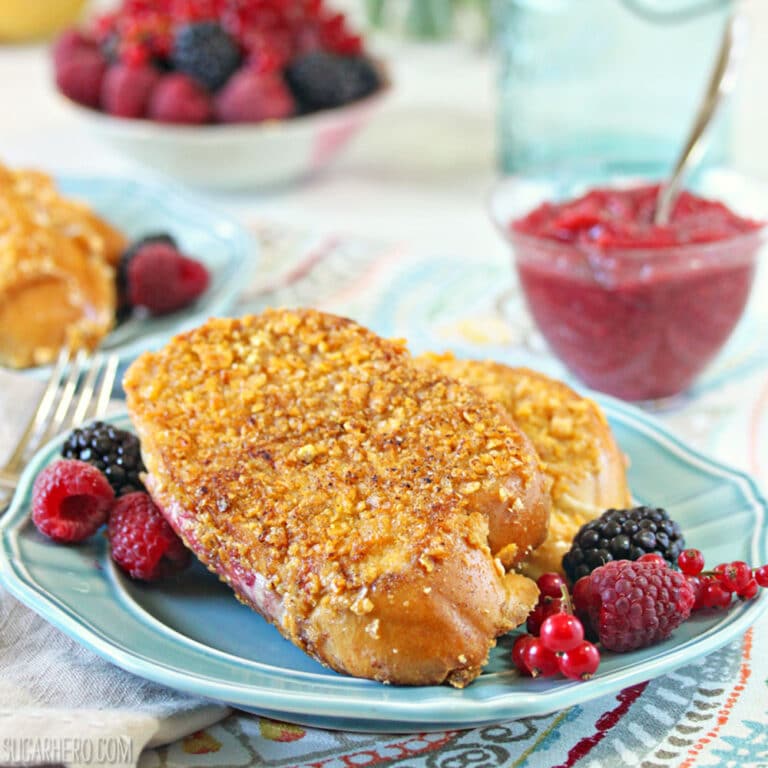 Mascarpone Rhubarb Stuffed French Toast
This Mascarpone Rhubarb Stuffed French Toast is the what breakfast dreams are made of! The contrast between the sweet, rich mascarpone filling, tart rhubarb jam, and crunchy outer crust of the French toast is heavenly.
View Recipe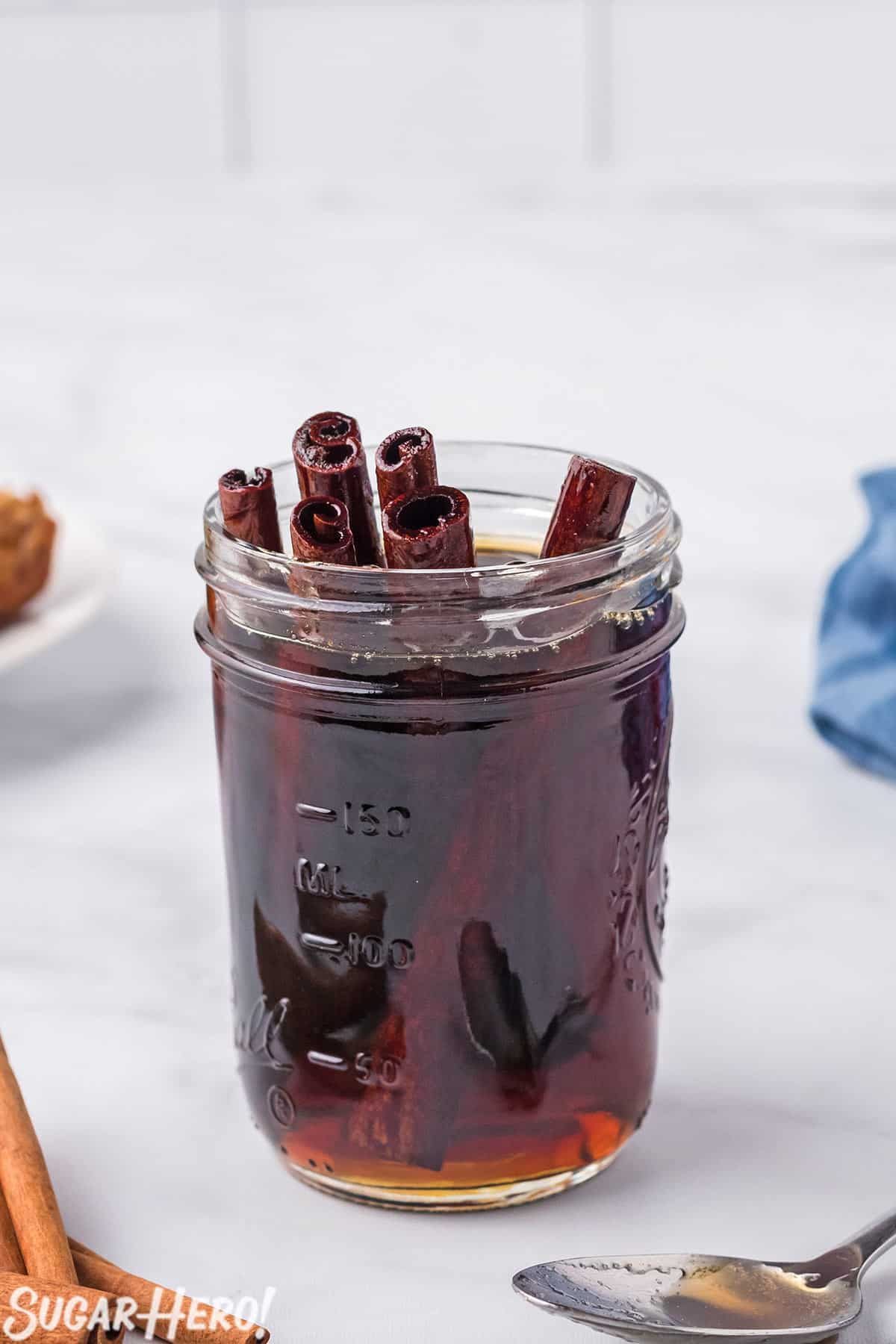 Don't miss the step-by-step tutorial showing how to make Cinnamon Syrup – check out the web story here!
Cinnamon Syrup
Spice up your life with this Cinnamon Syrup recipe! Brown sugar and cinnamon sticks give this homemade syrup a deep, rich cinnamon flavor. It's delicious on pancakes and waffles, or add a splash to your favorite drink.
Instructions
Combine the water, both sugars, and cinnamon sticks in a medium (3-4 quart) saucepan.

Place the pan over medium heat, and stir while the sugars dissolve. Continue to heat the syrup until it comes to a boil.

Reduce the heat so the syrup stays at a simmer and cook for about 10-15 minutes, until the sauce thickens and has a fragrant cinnamon aroma.

Remove the pan from the heat and let the syrup cool for 10-15 minutes before serving. The cinnamon syrup will thicken more as it cools.

Cinnamon Syrup can be stored in the refrigerator for about 3 weeks.
Recipe Notes
This recipe yields about 1.5 cups of syrup. We estimated a "serving" to be 2 TBSP for the purposes of nutritional calculation.
Measuring Tips
Our recipes are developed using weight measurements, and we highly recommend using a kitchen scale for baking whenever possible. However, if you prefer to use cups, volume measurements are provided as well. PLEASE NOTE: the adage "8 oz = 1 cup" is NOT true when speaking about weight, so don't be concerned if the measurements don't fit this formula.
Want to learn more about baking measurements and conversion?
Nutrition
Calories:
103
kcal
|
Carbohydrates:
27
g
|
Protein:
0.1
g
|
Fat:
0.1
g
|
Saturated Fat:
0.01
g
|
Polyunsaturated Fat:
0.001
g
|
Monounsaturated Fat:
0.004
g
|
Sodium:
4
mg
|
Potassium:
25
mg
|
Fiber:
1
g
|
Sugar:
25
g
|
Vitamin A:
5
IU
|
Vitamin C:
0.1
mg
|
Calcium:
29
mg
|
Iron:
0.2
mg
Tried this recipe?
Snap a pic and hashtag it #SugarHero. We love to see your creations on our Instagram @elabau.