This Brownie Bread Pudding is a chocoholic's dream come true. It is decadently rich and tantalizing. Dress it with fresh whipped cream and berries for a smooth bite of ecstasy.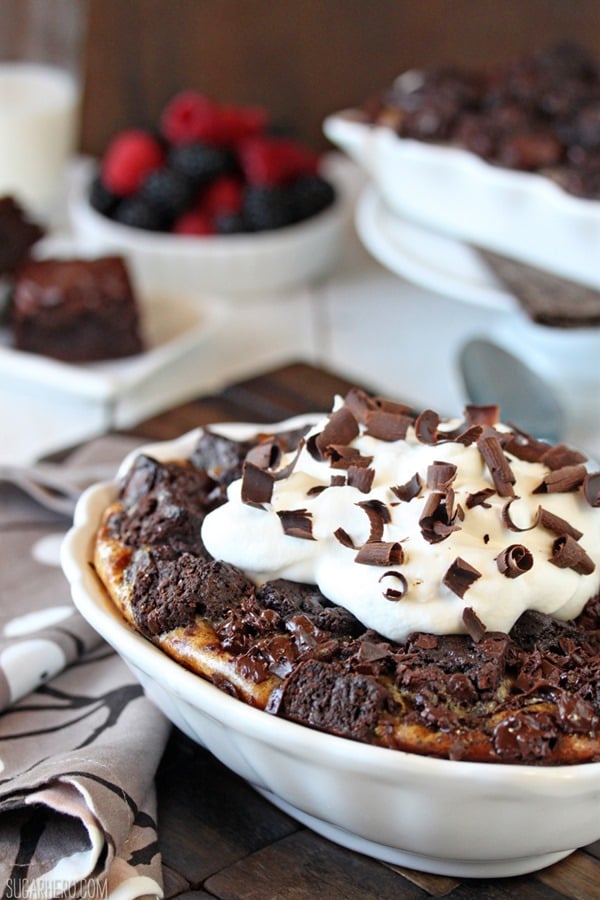 There are two kinds of people in the world: the kind of people who aren't sure if they have extra cookies or brownies just lying around their house, all shrugged shoulders and devil-may-care about it, and the kind of people who know with pinpoint accuracy the location of every item of sugary value within a 50-foot radius.
Any guesses as to which one I am?
I am (obviously) the second type of person, but I have known the first sort, and I'll be frank—they baffle me. How can you forget that you have ice cream in your freezer? How can you not be sure about the status of your candy drawer? Look at your life, look at your choices. Don't you think a little more care should be taken when dealing with such important matters?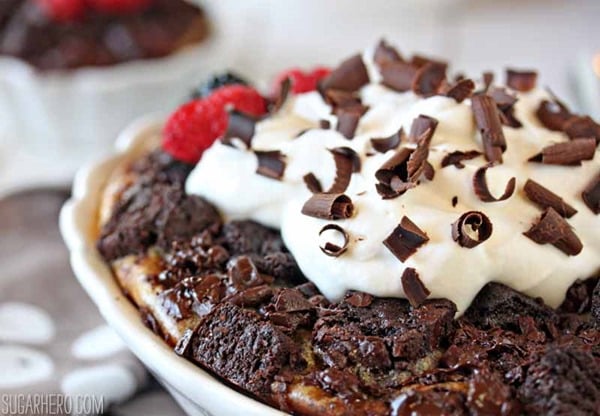 I've been thinking about this because this brownie bread pudding recipe is probably best suited for those perplexing folks in the first camp—the kind of people who can just let a batch of brownies sit, forgotten and undisturbed, in their kitchen until they're a little past their prime. Bread pudding is the savior of the stale baked good, making old things new again and turning mediocre bread into a truly fabulous dessert.
This brownie bread pudding is based on the same concept—old, leftover brownie chunks are combined with an almond-scented custard, tossed with chocolate chunks, and then baked into a fabulously rich, intensely chocolatey dish. The perfect repurposing of stale brownies, right?
But let's be real. Never has a brownie been allowed to stale in my kitchen. NOT ON MY WATCH. So I made a whole batch of brownies just to turn them into brownie bread pudding. And I regret nothing.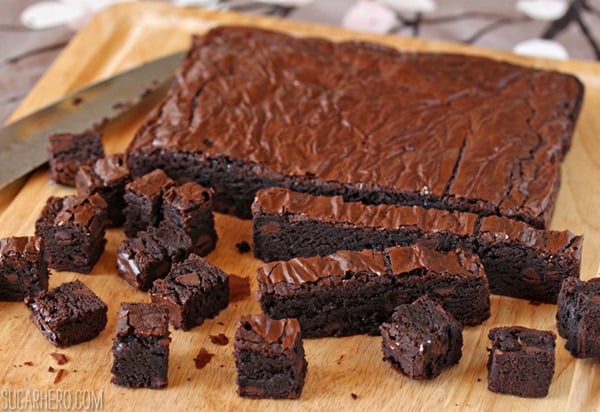 Now, if you are one of those dessert-neglecting weirdos, you can definitely make this with whatever leftover brownies are inexplicably not being eaten at your house. However, I must suggest that you avoid any brownies that are super dense or fudgy. This bread pudding is really rich as it is, and using an ultra-truffley brownie will only compound that fact, and might also lead to a really heavy texture. I used a brownie that straddles the line between cakey and fudgy (the always-reliable King Arthur Flour recipe) and it was perfect. Light enough to not produce a gut bomb, but tender and full of enough chocolate flavor to give the dish a really wonderful taste and texture.
Oh, and did I mention that brownie bread pudding looks like a horrific accident when you bake it? Because it does. Mark my words, you don't want to skip out on garnishing this thing. Cover that sucker up with whipped cream or ice cream, stat!
Aaaah, much better.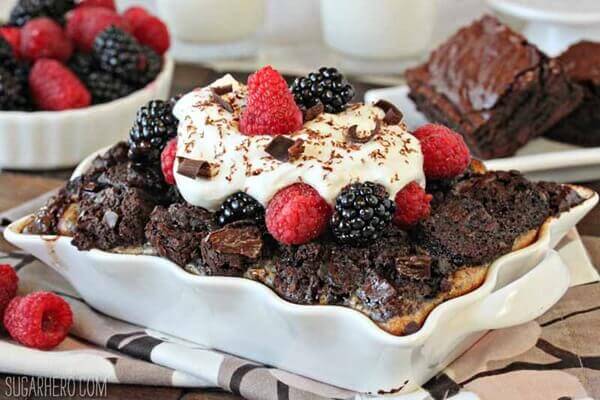 Also, this brownie bread pudding is rich. It is Kimye's wedding-style rich. You'll want to serve it in small portions, maybe with some fresh berries to cut through all the chocolate goodness. You can either bake it in a large 9×13-inch pan, and scoop individual portions into bowls, or bake them in miniature ramekins so everyone gets their own single-size serving. I split the difference and baked it in a variety of smaller containers. I love the look of a larger serving dish, but I think for any sort of dinner party situation, I'd go with individual ramekins—it's just a little neater and cuter.
This is definitely a dessert for serious chocoholics only, but if you fall into that category? Oh, mama. You will love it. You're welcome, and I'm sorry.
So tell me—do you share my impeccable sugar radar, or are you mysteriously immune to the lure of sugar in the house? And if you are, what is your secret?
🍮More Dessert Recipes
Banana Bread Tiramisu
Banana Bread Tiramisu has a hint of dulce de leche in the bread and layers of soft, sweet mascarpone cheese and caramelized bananas that really boost the banana flavor. Plus, the entire dessert is wrapped in an edible chocolate wrapper!
View Recipe
Ultimate Fudgy Chocolate Brownies
Meet your new favorite brownie recipe! These Ultimate Fudgy Chocolate Brownies are moist, ultra-chocolatey, and have the perfect crackly crust on top. You'll never want to use a boxed mix again!
View Recipe
Brownie Bread Pudding
This Brownie Bread Pudding is a chocoholic's dream come true. It is decadently rich and tantalizing. Dress it with fresh whipped cream and berries for a smooth bite of ecstasy.
Ingredients
For the Garnish:
1

cup

heavy cream

1/4

cup

powdered sugar

Fresh berries

,

optional

Chocolate shavings

,

or other garnishes, optional
Instructions
To Make the Brownies:
Preheat the oven to 350 F. Line a 9×13-inch baking pan with foil so that it extends up the sides, and spray the foil with nonstick cooking spray.

Combine the eggs, cocoa, salt, baking powder, espresso, and vanilla in the bowl of a large stand mixer fitted with the paddle attachment. Beat everything together on medium-low speed until combined, then raise the speed to medium and beat until smooth.

Combine the butter and both sugars in a medium saucepan over medium heat. Stir while the butter melts and the sugar dissolves. Continue to heat and stir until it is shiny, and bubbles start to appear along the sides of the pan, but don't bring it to a boil.

Pour the hot butter/sugar mixture into the mixing bowl with the eggs and cocoa, and mix until well-combined. Finally, add the flour and mix it in on medium speed until just a few streaks remain. Add the chocolate chips and finish stirring them in by hand, scraping the bottom and sides of the bowl with a spatula to make sure everything is well-incorporated.

Scrape the brownie batter into the prepared pan and smooth it into an even layer. Bake at 350 F for 27-30 minutes, until a toothpick inserted into the center comes out with just a few moist crumbs attached. Let the brownies cool completely before proceeding with the bread pudding recipe. Brownies can be made in advance and kept at room temperature, well-wrapped, for several days, or frozen for several weeks.
To Make the Bread Pudding:
Cut the brownies into small cubes (less than 1″ is ideal) and place them in a large bowl. Preheat the oven to 350 F, and spray a 9x-13-inch pan with nonstick cooking spray. (You can also use a combination of smaller pans, just be prepared to watch them carefully while baking.)

Crack the eggs into the large bowl of a stand mixer fitted with a whisk attachment, and whisk on low speed until the eggs are broken up. Add the vanilla and almond extracts, the cinnamon, salt, sugar, milk, and cream, and mix on low until everything is well-mixed.

Pour the custard over the brownie pieces in the bowl, tossing gently to coat. Add the chopped chocolate to the bowl and toss everything together a few times so it's well-mixed. Scoop the brownie bread pudding into the prepared pan and arrange it into an even layer.

Bake the bread pudding at 350 F for 30-45 minutes, depending on the size of the pan(s) you use. The bread pudding is done when it's golden around the edges, crunchy on top, and the pudding barely jiggles in the center of the pan—it should feel almost set.

Let the bread pudding cool at room temperature until it is warm but no longer hot. If made in advance, try to reheat it before serving, because this is one dessert that really shines when eaten warm.
To Finish:
Whip together the cream and powdered sugar until they form medium peaks. Top the still-warm brownie bread pudding with a big spoonful of whipped cream and any other garnishes of your choice, like chocolate curls or fresh berries. This bread pudding is also excellent with ice cream or crème anglaise!
Recipe Notes
The brownie recipe is adapted from King Arthur Flour. You can substitute your favorite brownie recipe that yields a 9×13-inch pan of brownies, but I would recommend against using any recipe that produces very dense, fudgy brownies. This recipe works best with brownies with a lighter, more cake-like texture. If you're using your own brownies, you'll want to use about 2 lbs 12 oz of brownie cubes, or 12-14 cups, to get the same amount of brownies this recipe makes.
Measuring Tips
Our recipes are developed using weight measurements, and we highly recommend using a kitchen scale for baking whenever possible. However, if you prefer to use cups, volume measurements are provided as well. PLEASE NOTE: the adage "8 oz = 1 cup" is NOT true when speaking about weight, so don't be concerned if the measurements don't fit this formula.
Want to learn more about baking measurements and conversion?
Nutrition
Calories:
1161
kcal
|
Carbohydrates:
124
g
|
Protein:
17
g
|
Fat:
69
g
|
Saturated Fat:
40
g
|
Cholesterol:
338
mg
|
Sodium:
499
mg
|
Potassium:
818
mg
|
Fiber:
9
g
|
Sugar:
89
g
|
Vitamin A:
1840
IU
|
Vitamin C:
0.3
mg
|
Calcium:
229
mg
|
Iron:
7.5
mg
Tried this recipe?
Snap a pic and hashtag it #SugarHero. We love to see your creations on our Instagram @elabau.