These unique Brownie Raspberry Swirl Ice Cream Sandwiches start with rich chocolate brownies stuffed with vanilla ice cream and a tart raspberry swirl! You'll fall in love with their refreshing flavors.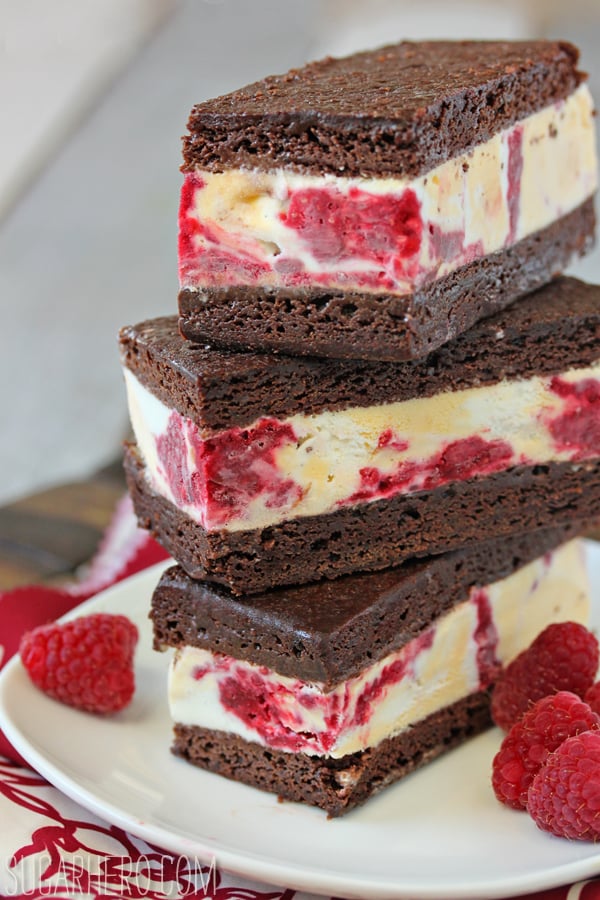 Arrested Development Anticipation week continues, aka that week where 10th Kitchen and I post recipes and obscure in-jokes about a tv show that went off the air 7 years ago. As a blogging strategy to not alienate any readers, it's pure genius!
So far, we've had an Elderflower Collins (with a side of toast), Bluth's Original Chocolate-Dipped Frozen Bananas, and Hot Ham Water-inspired Ham and Spring Vegetable Soup. Today I bring you Brownie Raspberry Swirl Ice Cream Sandwiches:
There's a running joke in Arrested Development about ice cream sandwiches. It first starts when Michael visited his father, George Sr, in prison. Michael's concerned about George, but George insists that he's happy, and instead of simply doing time, he's "doing the time…of my life!" Michael continues to try to talk business, but George is too distracted by the delicious ice cream sandwich he got from the jail vending machine: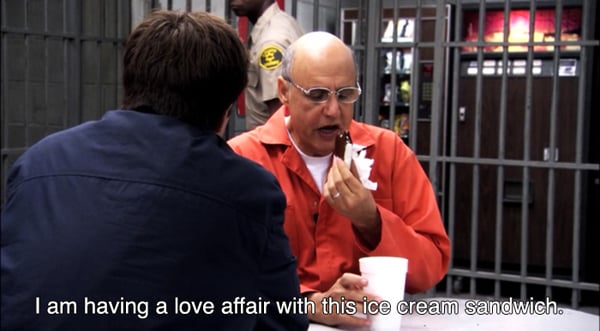 Source: everythingrandom.net
My goal, then, was to make an ice cream sandwich worthy of a love affair. I wanted it to be a little different, a little unique, and a lot delicious. Fortunately, the combination of rich chocolate brownies, vanilla ice cream, and a tart raspberry swirl delivered on all accounts.
These sandwiches can be enjoyed like traditional ice cream sandwiches and eaten by hand, or because they're so substantial, you can cut them and plate them and serve them all fancy-like with a knife and a fork. Give them a drizzle of chocolate sauce or a dollop of whipped cream, and you have one gorgeous dessert! After about 5 minutes out of the freezer, they're the perfect texture–still solid, but softened a bit, with just a hint of melty ice cream around the edges.
I added a little alcohol to the raspberry swirl, which helps brighten the flavor and keep it from being hard and icy. (Nobody needs icy raspberries mucking up their otherwise-dreamy ice cream sandwich.) You can get creative by substituting your favorite flavor of ice cream, or changing out the raspberries for another berry. Might I suggest blueberries, in honor of Tobias's obsession with the Blue Man Group?
We were pretty obsessed with these at my house, and often found ourselves shaving off an edge to have just a taste more. I would definitely make like George Sr and have a love affair with these, and I might just take Lucille's advice and marry an ice cream sandwich, too.
And finally, I had to share this picture. I made and photographed these during a big heat wave in Los Angeles, and for long and boring reasons our air conditioning was not working at the time. It was a race against the clock to get any good pictures before the ice cream totally melted. Sweat was pouring down my face, and I actually looked a lot like the ice cream sandwich below. I have major respect for anyone who photographs ice cream on a regular basis–it's crazy tricky! (But so worth it, when you finally get to eat the finished product.)
Just coming to the Arrested Development party? Here's what we've done so far, and a taste of what's to come:
Elderflower Collins (with toast)
Chocolate-Dipped Frozen Bananas
Hot Ham Water
(Ham & Spring Vegetable Soup)

Tomorrow: "I Just Blue Myself" Waffles
💕More Dessert Recipes to Try
Brownie Raspberry Swirl Ice Cream Sandwiches
These unique Brownie Raspberry Swirl Ice Cream Sandwiches start with rich chocolate brownies stuffed with vanilla ice cream and a tart raspberry swirl! You'll fall in love with their refreshing flavors.
Ingredients
For the Raspberry Swirl Ice Cream:
12

oz

frozen raspberries

defrosted, you can also use fresh berries

1/4

cup

granulated sugar

1

tbsp

Chambord

other raspberry liqueur, or vodka (optional)

2

quarts

vanilla ice cream

slightly softened but not melted
Instructions
To Make the Brownies:
Preheat the oven to 350 F (176 C). Line two 9×13-inch pans with foil so that it extends up and over the sides. Spray the foil with nonstick cooking spray, and set aside for a moment.

Crack the eggs into the large bowl of a stand mixer, and add the cocoa powder, salt, baking powder, and vanilla extract. Beat them on medium speed with a paddle attachment until smooth.

Place the butter in a medium saucepan over medium heat, and stir with a rubber spatula as the butter melts. Once melted, add the sugar and continue to stir just until the sugar melts a bit, gets glossy, and small bubbles start to appear on the sides of the pan. Don't let the butter come to a boil.

Take the pan off the heat, and add the hot butter to the egg mixture in the mixing bowl. Mix until smooth. Finally, add the flour and mix again until the flour streaks disappear. Finish by scraping down the bottom and sides of the bowl with a spatula. Divide the batter evenly between the two pans, and spread it into an even layer. (It will be thin.) If you're using a kitchen scale, you'll use 1 lb 3.5 oz for  each pan.

Bake the brownie layers at 350F for 14-15 minutes, until the edges have started pulling away from the sides of the pan, and a toothpick inserted into the center comes out with only a few moist crumbs attached. Let the brownies cool on a wire rack for about 15 minutes, then refrigerate them until chilled.
Ice Cream Sandwich Assembly:
Combine the defrosted raspberries, granulated sugar, and Chambord in a bowl. (The alcohol is optional, but it helps keep the raspberry swirl softer and less icy.) Mash with a potato masher or fork until very juicy, and the berries are broken up into coarse pieces.

Spray a 9×13 pan with nonstick spray, and press a layer of plastic wrap into the pan so that it extends up and over the sides. (The spray helps the plastic wrap stick to the pan.) Scoop the softened ice cream into the pan, and mash it into an even layer. Use a butter knife to scrape deep furrows into the top of the ice cream, then spoon the raspberry puree into the furrows. Swirl the puree and ice cream around a bit with a butter knife, but don't mix too much, otherwise you'll lose the pockets of berries and all the ice cream will turn pink. Smooth the top of the ice cream. Refrigerate the pan of ice cream until firm, at least 1 hour.

When the ice cream is firm and the brownie layers are chilled, remove the ice cream from the pan using the plastic wrap as handles. Flip it upside-down onto one layer of brownie in its pan, and peel off the plastic wrap from the back. Remove the second brownie layer from its pan, peel off the foil, and slide it on top of the ice cream in the pan. Press gently so it adheres. Freeze for at least another 30 minutes, until the brownie layers are firm enough to cut cleanly.

Remove the block of brownies/ice cream sandwiches from the pan using the foil as handles. Use a large sharp knife to cut it into 12 ice cream sandwiches. Store sandwiches in an airtight container in the freezer until ready to eat, and for best taste and texture, let them sit at room temperature for 5 minutes before eating.
Recipe Notes
This recipe requires the use of three 9×13-inch pans. If you don't have three 9×13 pans, disposable foil pans of this size are a fine substitute.
Measuring Tips
Our recipes are developed using weight measurements, and we highly recommend using a kitchen scale for baking whenever possible. However, if you prefer to use cups, volume measurements are provided as well. PLEASE NOTE: the adage "8 oz = 1 cup" is NOT true when speaking about weight, so don't be concerned if the measurements don't fit this formula.
Want to learn more about baking measurements and conversion?
Nutrition
Calories:
739
kcal
|
Carbohydrates:
99
g
|
Protein:
11
g
|
Fat:
35
g
|
Saturated Fat:
21
g
|
Cholesterol:
164
mg
|
Sodium:
346
mg
|
Potassium:
574
mg
|
Fiber:
6
g
|
Sugar:
76
g
|
Vitamin A:
1225
IU
|
Vitamin C:
8.4
mg
|
Calcium:
253
mg
|
Iron:
2.6
mg
Tried this recipe?
Snap a pic and hashtag it #SugarHero. We love to see your creations on our Instagram @elabau.