This post may contain affiliate links. Please see my disclosure policy for more information.
Cannoli Cones are a fun and easy twist on traditional cannoli! No need to make your own dough or deep-fry anything here–ice cream cones take the place of cannoli shells, so all you need to do is make the cream filling and you're good to go. It's all the taste, without all the work! Be sure to check out all the tips to get your filling perfectly rich and smooth.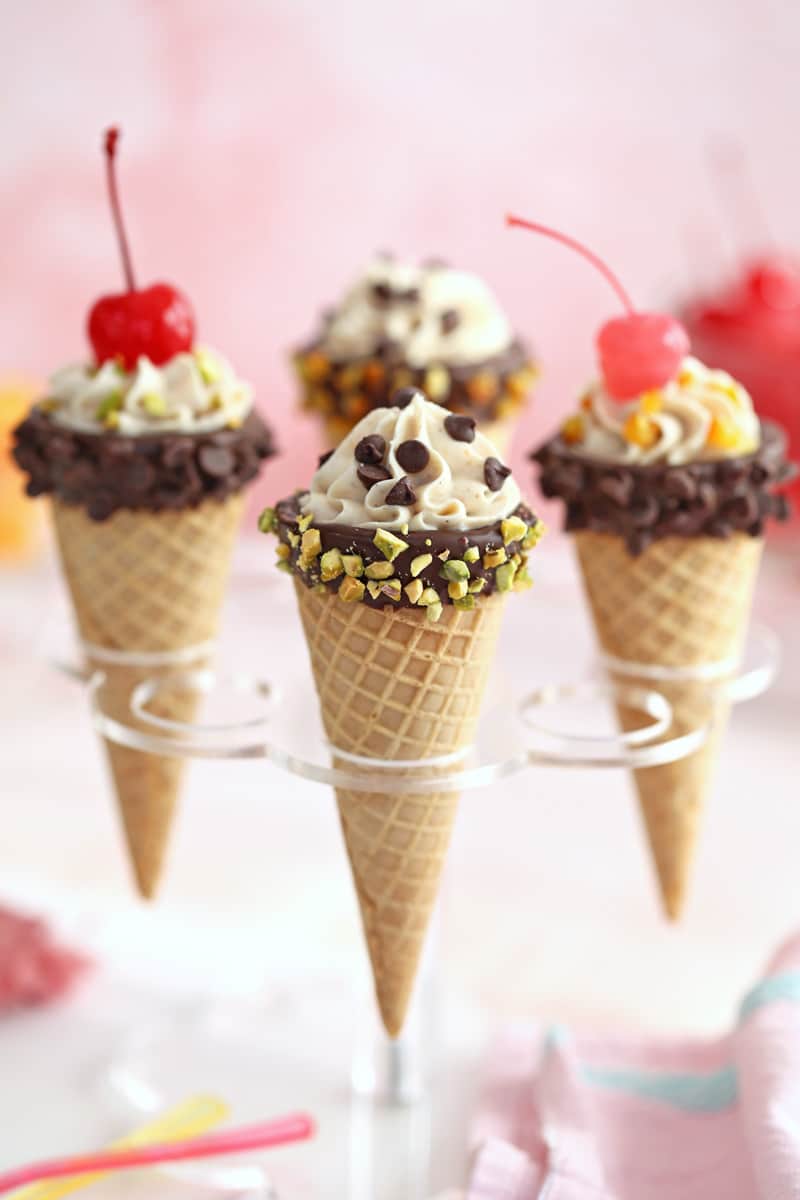 This post is sponsored by International Delight
Homemade cannoli – with a clever shortcut!
The classic cannoli dessert is delicious–who can resist the combination of crispy fried pastry and light, sweet cream filling? If you've ever tried to make them at home, however, you know that the process involves homemade pastry dough, specialized cannoli tubes, and boiling hot frying oil. Not exactly a recipe to casually throw together whenever a craving strikes!
If you want to enjoy the taste and texture of cannoli with a little less work (and a lot more eye appeal), try Cannoli Cones instead! This shortcut recipe stays true to the spirit of cannoli, but instead of using homemade fried pastry, we're swapping in sugar ice cream cones for the crunchy outer shell. It's faster and easier, while still providing the right texture and a neutral, slightly sweet flavor, so the filling can really shine.
Cannoli cone ingredients
There are hundreds, probably thousands, of different ways to make cannoli filling, but they all have one thing in common: ricotta cheese. Ricotta is a soft, creamy cheese with a mild flavor and a grainy texture. It's similar to cottage cheese, but with smaller curds and a sweeter flavor. It can typically be found in the refrigerated dairy section of a grocery store, near the cottage cheese/yogurt/sour cream area.
If you're able to find it, you will want to use whole milk ricotta in this recipe, because this will give you the best texture and flavor. Part-skim ricotta will work but the filling might have a looser, more grainy texture.
Our other secret weapon in this recipe is International Delight's Vanilla Cannoli Creme Latte coffee creamer! This flavor evokes cannoli in the best way possible, and includes hints of warm cinnamon, buttery pastry, and rich, sweet cream. It's the perfect addition to our cannoli filling, adding both flavor and creamy texture to the mix.
Here's what else you'll need for the filling:
Mascarpone cheese: another smooth, creamy cheese. If you can't find this, cream cheese can easily be substituted, but because it has a tangier flavor, you might want to increase the powdered sugar a bit
Powdered sugar
Orange zest
Cinnamon
Vanilla
Salt
The orange, cinnamon, vanilla, and salt can all be adjusted to your taste. I love the bright freshness that citrus zest adds to cannoli, but if you don't like it, feel free to leave it out.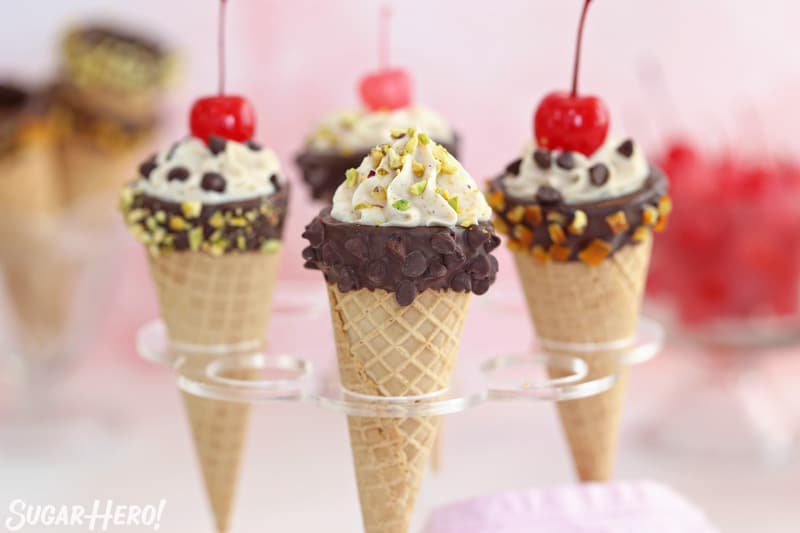 Draining the ricotta for the filling
Ricotta, by nature, is a very moist cheese. If you use it straight from the container, your cannoli filling will be too soggy and soft. To get the perfect texture, you need to drain the ricotta to get rid of all the excess moisture. Draining takes a bit of time, but very little effort, and is definitely worth it when you see the difference in the final product!
To drain the ricotta, set a strainer over a bowl, and place a large square of cheesecloth in the strainer, extending up and over the sides. Place the ricotta in the cheesecloth, then gather it together in a tight bundle and tie the top with a rubber band.
Let the ricotta bundle sit in the strainer in the refrigerator for at least 2 hours, or you can leave it overnight. Over time, liquid will seep out of the cheese and drip into the bowl below, leaving you with firm ricotta to use in the recipe.
The secret to the best cannoli filling ever
Draining the ricotta is one secret, but here's my second trick for the perfect cannoli filling–blending everything together in a blender! True cannoli purists would probably scoff at this, but since we're already using ice cream cones as pastry shells, we're a long way from perfectly authentic cannoli, right?
Blending the filling together gets rid of the graininess that all ricotta has, and produces a much smoother, creamier filling. If you like the graininess of ricotta, then by all means skip this step! If you prefer a texture more similar to a dense whipped cream, then you'll want to blend. (I love my Vitamix blender for getting this job done!)
One note: the mascarpone does not get blended with everything else. It's a delicate cheese that tends to break down when overworked, so it stays out of the blender and gets stirred in at the end.
Preparing your ice cream cones
Cannoli shells are often dipped in chocolate on the ends, so we're going to do the same thing with our sugar cones. You can use regular melted chocolate (or chocolate chips), but my recommendation is to use chocolate candy coating (I like Merckens brand). It's easy to dip, and stays hard and shiny at room temperature.
Whatever you choose, you might also want to roll the sides in traditional cannoli toppings, like mini chocolate chips, chopped pistachios, or candied oranges. You can also mix these toppings into the filling itself, or sprinkle them on top–or a combination of all of the above!
Chopped maraschino cherries are another popular cannoli addition, so you can either use them on the sides of your cones, or put whole cherries on top of your cannoli cones for the perfect finishing touch. Enjoy!
What else to put in ice cream cones?
Too many ice cream cones? No problem! Whip up one of these homemade ice cream recipes and enjoy!
More creamy, dreamy desserts
If you like cannoli, you'll love these recipes too! And don't miss all the creamy dessert recipes here!
Cannoli Cones Recipe
Cannoli Cones are a fun and easy twist on traditional cannoli! No need to make your own dough or deep-fry anything here–ice cream cones take the place of cannoli shells, so all you need to do is make the cream filling and you're good to go!

Ingredients
32

oz

whole milk ricotta cheese

4

fl oz

International Delight Vanilla Cannoli Crème Latte creamer

,

(1/2 cup), can substitute whipping cream

1

TBSP

fresh orange zest

,

from 1 orange

1

tsp

ground cinnamon

1

tsp

vanilla extract

1/8

tsp

salt

2.66

oz

powdered sugar

,

(2/3 cup, or more to taste)

8

oz

mascarpone cheese

,

at room temperature (can substitute cream cheese)

18

sugar cones

8

oz

chocolate candy coating,

or chocolate chips

¼

cup

chopped pistachios

¼

cup

chopped candied oranges
Instructions
Start by draining the ricotta cheese to remove excess moisture. Line a wire strainer with 2 layers of cheesecloth, extending up and over the sides of the strainer, and place the strainer over a bowl. Put the ricotta in the strainer, then gather the edges of the cheesecloth together around the cheese and fasten it with a rubber band, forming a tight bundle.

Let the ricotta sit and drain in the refrigerator for at least 2 hours—overnight will work too. At the end, you should see significant liquid has seeped out of the cheese into the bowl below. Take the bundle of cheese and squeeze it gently to get out any extra moisture. Discard the drained liquid.

Combine the drained ricotta, International Delight Vanilla Cannoli Crème Latte creamer, orange zest, cinnamon, vanilla, salt, and powdered sugar in a blender, and blend just until smooth, 10-15 seconds. Scrape down the mixer as necessary to make sure it all gets blended, but don't overwork it—stop when everything seems nice and smooth.

In a large bowl, stir the mascarpone cheese until smooth, then add about a quarter of the ricotta mixture and gently blend it together. Once mixed, add the rest of the ricotta and gently stir until everything is smooth and uniform. Refrigerate the filling for about 2 hours, until it has firmed up and is well chilled.

While the filling chills, prepare the cones. Melt the chocolate or candy coating. Dip the tops of the cones into the melted chocolate. If desired, sprinkle the melted chocolate with chopped nuts, mini chocolate chips, chopped candied oranges, or other decorations. Set the cones on baking sheets covered in waxed paper, and refrigerate until the chocolate is set.

When you're ready to assemble the cones, place the filling in a piping bag fitted with a large star tip. Start at the bottom of the cone and fill the entire thing with cream filling, then finish with a swirl about an inch above the top of the cone. Sprinkle nuts or mini chips on top, and garnish with a maraschino cherry if you'd like!

These cones are best enjoyed shortly after assembly, because the filling will start to get soft at room temperature and will soften the cone as well. You can prepare both the filling and cones several days in advance, and just put them together before serving.
MEASURING TIPS
Our recipes are developed using weight measurements, and we highly recommend using a kitchen scale for baking whenever possible. However, if you prefer to use cups, volume measurements are provided as well. PLEASE NOTE: the adage "8 oz = 1 cup" is NOT true when speaking about weight, so don't be concerned if the measurements don't fit this formula.
Click here to learn more about baking measurements and conversion.
Nutrition
Calories:
263
kcal
|
Carbohydrates:
20
g
|
Protein:
7
g
|
Fat:
17
g
|
Saturated Fat:
12
g
|
Cholesterol:
39
mg
|
Sodium:
81
mg
|
Potassium:
57
mg
|
Fiber:
1
g
|
Sugar:
15
g
|
Vitamin A:
406
IU
|
Calcium:
127
mg
|
Iron:
1
mg
Share by Email
Share on Facebook
Share on Pinterest
About Elizabeth LaBau
I'm Elizabeth, but you can call me SugarHero! I'm a former pastry chef turned blogger, cookbook author, and baking instructor, and I consider myself sugar's #1 fan. Learn more from my About page, or connect with me on social media: