This post may contain affiliate links. As an Amazon Associate I earn from qualifying purchases. Please see my disclosure policy for more information.
Almost a year ago, I was trawling through my favorite thrift shop, looking for more unnecessary tiny plates to clutter up my kitchen, when I spotted a waffle cone maker for just a few dollars. I did what any self-respecting youngster would do: snapped a pic, posted it to Instagram, and asked whether I should buy it…because I like to let the internet make my life choices.
In the end, I decided I didn't really need another kitchen gadget, so I left without getting it. At home I kept thinking about it. I pondered. I stewed. I convinced myself that my life wouldn't be complete without a $5 waffle cone maker, and pretty soon I was sure that someone else was going to snatch up my bargain of the century if I didn't go back immediately. (Hi, welcome to my weirdly obsessive brain.) I should also note that Instagram totally agreed with me on this. So I made a second trip to the store, grabbed the waffle cone maker and stroked it like Golum, muttering "my precioussssss" all the way to the checkout. That night, I dreamed sweet, triumphant waffle cone dreams.
Aaaaand then the waffle cone maker sat untouched in my kitchen for months afterward. Womp-womp.
I finally decided to put it to good use in recreating one of my favorite childhood treats: Choco Tacos! Do you remember these? And can you believe they're still around? These were my jam back in the day—I would always buy them from the ice cream man during the summertime. If you've never had one, it's basically a sweet shell, similar to a waffle cone, folded into a taco shape and filled with vanilla ice cream. The edges are dipped in chocolate and peanuts, to seal in the ice cream and provide a little crunch. You can see what the originals look like, on the left, compared with my version: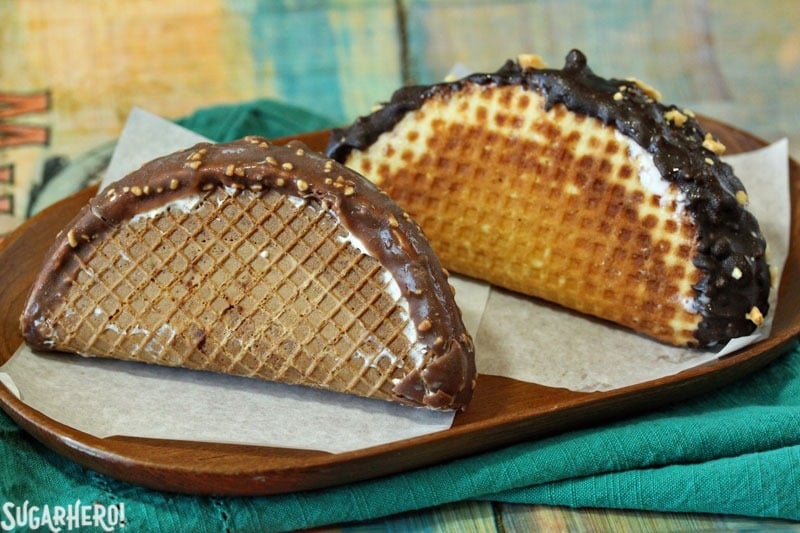 My interpretation starts with homemade waffle cones, of course. If you don't have a waffle cone maker, you can actually still make this recipe! Just spread the batter in very thin circles on parchment-lined baking sheets, and bake until golden brown. It's a little more finnicky, but worth it to have Choco Tacos!
The shells are spread with a very thin layer of chocolate on the inside, to keep them from getting soggy from the ice cream. I filled mine with a chocolate-caramel-pretzel ice cream I bought at the store, but you can fill yours with any homemade or store bought ice cream, gelato, sorbet, or sherbert—you do you! I topped them off with semi-sweet chocolate and lots of salted peanuts. The overall effect is much like eating a regular waffle cone, but there are more bites of cone per ice cream (always a good thing, when you're talking about a fresh homemade cone!) and the thick layer of chocolate around the edge really adds to the experience. Plus, you're eating a taco! For dessert! Life just doesn't get cuter than that.
The hardest part of making these figuring out the temperamental waffle cone maker. Let's just say there might be a reason it was only $5—it was feisty! I had a few over-and under-done victims, but overall it worked well and it was an Abe Lincoln well spent. Totally worth the multiple thrift store trips!
National Ice Cream Day was last week, but we're in luck, because all of July is actually National Ice Cream MONTH. I'm not 100% sure what that means, but I think it means we're all legally obligated to eat ice cream every single day…right? Yeah, that sounds right. We'd better extend it on into August, just to be safe. Choco Tacos all around!
More Fun Frozen Desserts
Homemade Choco Tacos
These Homemade Choco Tacos are spread with a very thin layer of chocolate on the inside, to keep them from getting soggy from the ice cream. I filled mine with a chocolate-caramel-pretzel ice cream I bought at the store, but you can fill yours with any homemade or store bought ice cream!
Ingredients
3

oz

all-purpose flour,

(2/3 cup)

1/4

tsp

salt

2

eggs

,

at room temperature

3.5

oz

granulated sugar,

(1/2 cup)

2

oz

unsalted butter

,

melted (4 tbsp)

2

oz

milk

,

(1/4 cup)

12

oz

chocolate

,

finely chopped

1/2

cup

peanuts

,

salted, chopped

1 1/2

quarts

ice cream
Instructions
Preheat the waffle cone maker according to the manufacturer's instructions.

In a small bowl, whisk together the flour and salt and set aside for now. In a large bowl, whisk together the eggs and sugar for about a minute, until thick and foamy. Add the flour and stir well, then add the melted butter and milk, and whisk until everything is smooth and homogenous.

Pour a generous spoonful of batter in the waffle cone maker (about 3-4 tablespoons) and quickly use a spatula to spread it in an even layer. Close the lid and cook the waffle for 1-2 minutes, until golden brown. For the first few waffles, you might need to tweak the cooking time or temperature until you get a feel for how long your particular appliance takes.

Once the waffle is golden brown, use a spatula to ease it off of the maker. Form it into a taco shape—you can use a taco mold if you happen to have one, or set it in the middle of an actual corn taco shell! Or you can just stand two books upright, fold the waffle in half, and set it between the books to harden. It should only take a minute or two for the shell to harden enough so that you can move it. Repeat until all of your batter is used. You should get 9-10 tacos from this recipe. Cool the shells completely before you proceed.

Get the ice cream out of the freezer, and let it sit and soften for a few minutes, until it is soft but not melted. While waiting for the ice cream to soften, melt the chocolate in a microwave-safe bowl, stirring after every 30 seconds to prevent overheating. Use a pastry brush to brush a very thin layer of chocolate on the inside of the waffle shells—this will keep the shells from getting soggy. Put the waffles in the refrigerator or freezer for 10 minutes to firm up the chocolate.

Scoop the softened ice cream into the waffle shells, packing it in gently and smoothing the top so it's even with the edges of the waffle. Freeze the ice cream-stuffed waffles until very firm, for at least an hour (or longer, depending on your freezer).

Re-melt the remaining chocolate, and stir the chopped peanuts into the chocolate. Make sure the chocolate is warm and fluid, but not hot to the touch. Working quickly, dunk the edges of a taco into the chocolate, turning it so that the ice cream is entirely sealed under a layer of chocolate. Repeat until all of the tacos have a chocolate coating around the edges. You can serve the Choco Tacos once the chocolate hardens, or store them in an airtight bag or container in the freezer until ready to serve.
MEASURING TIPS
Our recipes are developed using weight measurements, and we highly recommend using a kitchen scale for baking whenever possible. However, if you prefer to use cups, volume measurements are provided as well. PLEASE NOTE: the adage "8 oz = 1 cup" is NOT true when speaking about weight, so don't be concerned if the measurements don't fit this formula.
Click here to learn more about baking measurements and conversion.
Nutrition
Calories:
751
kcal
|
Carbohydrates:
101
g
|
Protein:
12
g
|
Fat:
37
g
|
Saturated Fat:
15
g
|
Cholesterol:
83
mg
|
Sodium:
293
mg
|
Potassium:
383
mg
|
Fiber:
3
g
|
Sugar:
60
g
|
Vitamin A:
615
IU
|
Vitamin C:
0
mg
|
Calcium:
159
mg
|
Iron:
2.3
mg
Share by Text
Share by Email
Share on Facebook
Share on Pinterest