This post may contain affiliate links. As an Amazon Associate I earn from qualifying purchases. Please see my disclosure policy for more information.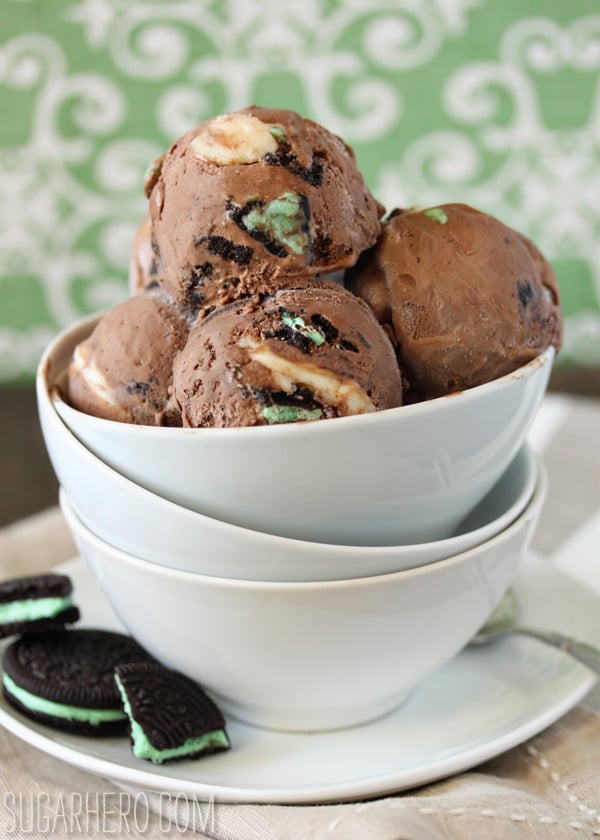 Chocolate. My favorite ingredient, my most beloved flavor, my perennial guilty pleasure, my mother tongue. Light of my life, fire of my loins… oh wait, I stole that last part from Lolita. (Sorry, Nabokov.)
Anyhow, as chocolate's #1 fan, I couldn't let Ice Cream Week pass me by without offering up my own chocolate ice cream variation. But this isn't just plain chocolate ice cream, this is chocolate amped up with triple mint action. The chocolate itself is flavored with mint, and it has a mint-white chocolate swirl running throughout. For a little texture and fun, I added crushed mint Oreos to the ice cream as well. What was that I was saying, about the light and the fire?

I have a notoriously hard time churning most chocolate ice creams. Now, this may be because my ice cream maker cost about $5 and makes an Easy Bake Oven look like a solid piece of kitchen equipment…who can say? At any rate, most chocolate ice creams that use melted chocolate in the base freeze way too quickly and cause my maker to jam and stutter and leave me with a sad mess of partially liquid, partially rock-hard "ice cream." It may be the epitome of a first world problem, but it's still pretty sad when you have a hankering for ice cream and end up with a hot cold mess.
So, I worked extra-hard, and made several trial batches, until I came up with a chocolate ice cream that freezes a little softer than most. It still gets pretty firm in the freezer, but it's extra rich and creamy, and stays soft enough to a) not cause El Cheapo Ice Cream Maker to have a conniption fit and b) remain scoopable and not chip-a-toothable.


And the mint! With three mint components, this is for those who love their chocolate with a big blast of mint flavor. I personally can't get enough of the mint-chocolate combination, and I had to stop myself from adding chopped Andes mints to the ice cream as well. Must!Mint!All!The!Things! (But if you want to try it with the Andes, go for it!) The mint is so refreshing, it totally balances the richness and depth of the chocolate, and makes the ice cream feel downright light, which is both good and bad. (Good because you can eat a lot without feeling stuffed, and bad for the same reasons.)
This is one of my favorite ice cream creations of the summer, and I'm looking forward to trying a "reverse" version with a white chocolate base and a dark chocolate swirl. And if you're thinking I just want to do that to create another excuse to eat chocolate-mint ice cream, well, you're not wrong. You should reward that big juicy brain with some Chocolate Mint Swirl Ice Cream, you smarty pants, you.
Recipe Notes: Because chocolate ice cream has a tendency to get really hard in the freezer, I do a few things to try and minimize this. For one, I don't use much melted chocolate in this recipe–I use mostly cocoa powder, with just a bit of unsweetened chocolate to round out the flavor. For another, I use a lot of egg yolks. My basic ice cream recipe calls for 5 yolks, but for this one I use 7. If you don't want to use that many yolks then you can drop it down to 4 or 5 and the recipe will still work, but it might not be as rich and creamy. Because I have a cheap ice cream maker that's prone to jamming when I churn chocolate, I try not to get the custard too cold–my maker works best when the custard is cool but not straight-from-the-freezer cold. This way, it can churn for a really long time, and whip lots of air into the ice cream, to make it lighter and softer, without jamming like the cheap cheap-o it is. Finally, although the recipe doesn't specify this, adding a spoonful or two of vodka to the custard before chilling will help it to freeze a little bit softer.
Chocolate Mint Swirl Ice Cream
If you're a mint chocolate lover, then this Chocolate Mint Swirl Ice Cream is the ice cream for you. Smooth and creamy homemade chocolate ice cream has a refreshing mint flavor and big chunks of mint Oreo cookie.
Ingredients
For the white chocolate swirl:
2/3

cup

white chocolate

,

4 oz, finely chopped

1/3

cup

heavy cream

1

tbsp

butter

,

at room temperature

pinch

salt

1/2-3/4

tsp

mint extract,

to taste
Instructions
Place the egg yolks in a medium bowl and set aside. Combine the cream and cocoa powder in a medium saucepan over medium heat, and whisk together while the cream heats up. Continue to cook the cream and cocoa, whisking frequently, until the cocoa is blended in and the cream starts to boil. Let the cream simmer and boil for about a minute, whisking constantly. The mixture will start to get thicker.

Remove the pan from the heat and add the chopped unsweetened chocolate,, whisking it in until it's melted and smooth. Pour the cream through a strainer into a large bowl or container.

Combine the milk, sugar, and salt in the same medium saucepan (no need to wash it first.) Bring the milk to a simmer, then when it just starts to come to a boil, remove the pan from the heat. Whisk the egg yolks while you slowly pour in about a third of the hot milk mixture, whisking constantly so the eggs heat up but don't cook during the process.

Now return the saucepan to the heat and start whisking the milk while you pour in the hot egg mixture. Continue to whisk as the custard cooks, and cook it until it thickens slightly and coats the back of a spoon. If you want to use a candy thermometer, you're shooting for 175 F (80C).

Take the pan from the heat and strain the ice cream custard through a fine mesh strainer into the bowl of chocolate cream. Whisk in the vanilla extract and mint extract, then continue to whisk occasionally as it cools. Once at room temperature, press a layer of cling wrap on top of the custard and refrigerate it until it's completely chilled. (To speed up the process, you can place the bowl over an ice bath and whisk it as it cools down.)

While the custard chills, prepare the white chocolate swirl. Combine the cream and white chocolate in a bowl, and microwave in 30 second increments, stirring after every 30 seconds to prevent overheating. Once the white chocolate is melted, add the butter, salt, and 1/2 tsp mint extract, and whisk them in until you have a smooth, shiny mixture. Taste it and add more mint extract, if desired. Press a layer of cling wrap on top and either refrigerate it until it is the texture of peanut butter (about 30-45 minutes) or leave it at room temperature overnight to firm up.

When the custard is chilled and the white chocolate mint swirl is ready, place a 9×5 loaf pan in the freezer. Churn the ice cream according to your ice cream maker's instructions. Gently stir in the chopped Oreos.

Scrape about a third of the ice cream into the cold loaf pan and smooth it into an even layer. Drizzle/spoon a third of the white chocolate swirl on top in a haphazard pattern. Top with half of the remaining ice cream, and continue to layer the ice cream and drizzled white chocolate. Finish off with a swirl of white chocolate, and smooth it into an even layer. Cover the ice cream with cling wrap, and return to the freezer to firm up completely.
MEASURING TIPS
Our recipes are developed using weight measurements, and we highly recommend using a kitchen scale for baking whenever possible. However, if you prefer to use cups, volume measurements are provided as well. PLEASE NOTE: the adage "8 oz = 1 cup" is NOT true when speaking about weight, so don't be concerned if the measurements don't fit this formula.
Click here to learn more about baking measurements and conversion.
Nutrition
Calories:
565
kcal
|
Carbohydrates:
53
g
|
Protein:
7
g
|
Fat:
38
g
|
Saturated Fat:
22
g
|
Cholesterol:
245
mg
|
Sodium:
129
mg
|
Potassium:
288
mg
|
Fiber:
3
g
|
Sugar:
42
g
|
Vitamin A:
1205
IU
|
Vitamin C:
0.3
mg
|
Calcium:
131
mg
|
Iron:
3.3
mg
Share by Email
Share on Facebook
Share on Pinterest