Mint Chocolate Chip Mousse Brownies are a gourmet take on traditional brownies! A dark, fudgy brownie is topped with light and fluffy mint chip mousse, then finished with chocolate glaze and green candies.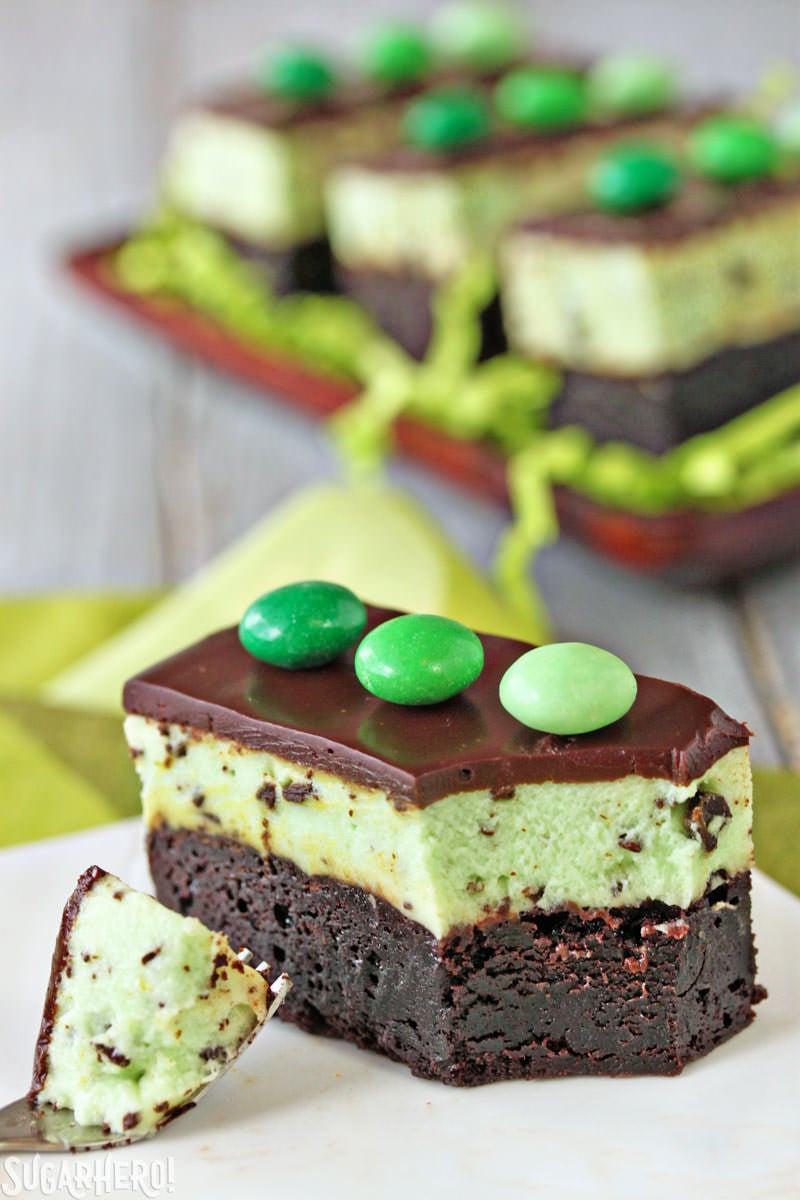 I am always on the hunt for ways to embiggen my brownies. You know, to turn the standard plain jane chocolate squares into something extraordinary. And with these Mint Chocolate Chip Mousse Brownies, I have created my favorite over-the-top brownie creation yet!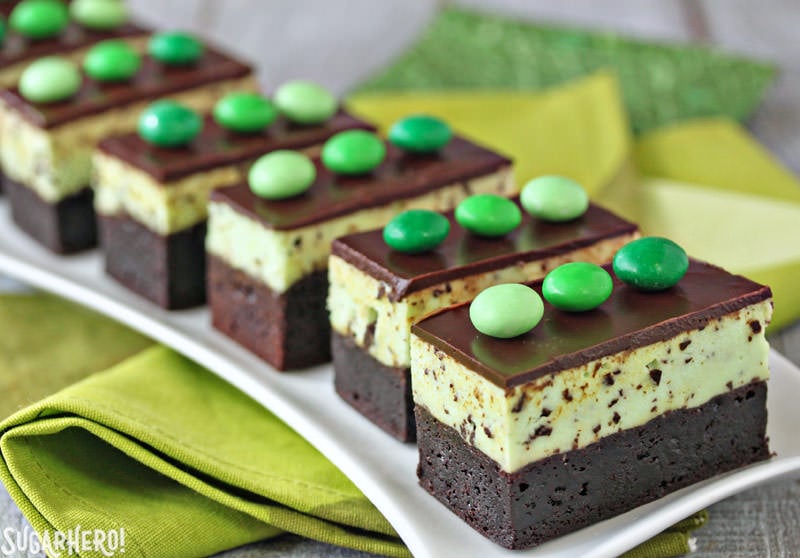 These babies start with a base of dense, chewy mint brownies. I used my favorite cocoa powder-based brownie recipe, but if you want to go the semi-homemade route, you could easily use your favorite brownie mix instead and just add a dash of mint extract…
….because the brownie isn't actually the important part of these Mint Chocolate Chip Mousse Brownies. Nope, the brownie is the supporting player, and the mousse is the star. To put it in pop culture terms that are entirely relevant today, the brownie is Sonny and the mousse is Cher. Too dated? How about: the brownie is Ringo and the mousse is all the rest of the Beatles. (Sorry, Ringo, but you know it's true.)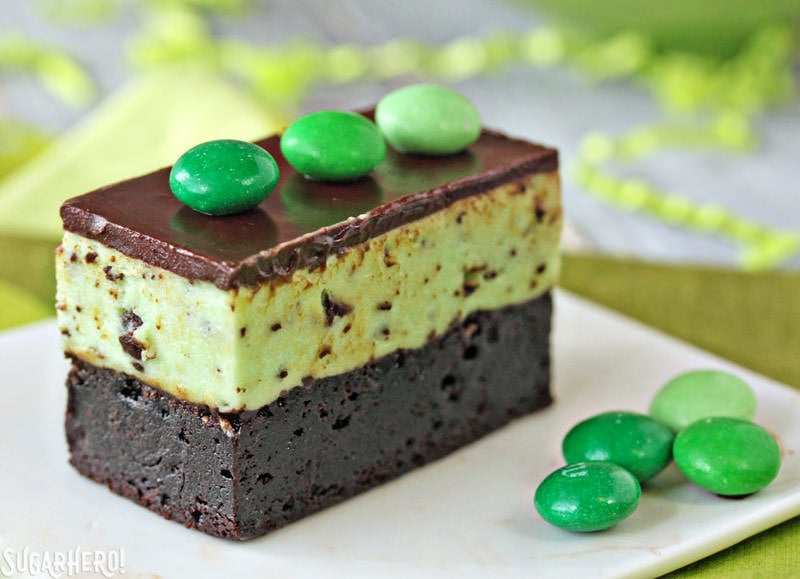 Back to the mousse! It's my favorite part of this dessert–bright and refreshingly minty, light and fluffy and packed with shards of semi-sweet chocolate. It's firm when refrigerated and a little more supple at room temperature, but it still holds its shape nicely so you don't have to worry about it sliding all over the plate. The brownies are finished with a shiny chocolate glaze, and I added a row of mint M&Ms on top—I love how they come in different shades of green to provide a subtle ombre effect!
They store wonderfully well in the refrigerator, so we've been enjoying them as an after-dinner treat for almost a week now.
I loved these so much I'm already thinking of Christmas peppermint variations I can try—I think they would be so cute with a red and white-flecked mousse and some candy cane pieces on top. I'll keep you posted on that one!
Hey, it was almost a year ago that I made this Mint Chocolate Chip Layer Cake. Obviously I have a thing for shamelessly tall mint chocolate chip desserts. (Can you blame me?!) Click the picture below for more mint chip shenanigans:
💚More Mint Desserts
Mint Chocolate Chip Whoopie Pies
These Mint Chocolate Chip Whoopie Pies are a classic! They feature moist, cakey chocolate cookies and a rich mint chocolate chip buttercream filling! They make a perfect dessert for St. Patrick's Day or any day of the year you feel like getting lucky.
View Recipe
Chocolate Profiteroles with Fresh Mint Chip Ice Cream
These Chocolate Profiteroles with Fresh Mint Chip Ice Cream are made by filling crisp-on-the-outside, slightly-tender-on-the-inside chocolate puffs with big scoops of refreshingly herbal minty ice cream. Top them off with hot fudge for maximum enjoyment!
View Recipe
Mint Chocolate Chip Mousse Brownies
Mint Chocolate Chip Mousse Brownies are a gourmet take on traditional brownies! A dark, fudgy brownie is topped with light and fluffy mint chip mousse, then finished with chocolate glaze and green candies.
Ingredients
For the Mint Chocolate Chip Mousse Layer:
Instructions
To make the Brownie Layer:
Preheat the oven to 350 F. Line a 9×13-inch pan with foil, so that foil extends up and over the sides, and spray the foil with nonstick cooking spray.

Place the butter, sugar, cocoa powder, and salt in a large saucepan set over medium-low heat. Warm the mixture, stirring frequently, until the butter melts, the sugar and cocoa powder dissolve, and the mixture is fairly hot. It will be grainy. Take it off the heat and let it cool until it is warm but not hot to the touch.

Add the vanilla extract and mint extract. Add the eggs one at a time, whisking well after each addition. As you add the eggs the mixture will go from being grainy and separated to a shiny, smooth, satiny texture. Finally, add the flour and fold it in gently until no streaks of flour remain.

Scrape the batter into the prepared pan and bake it at 350 F for 25-28 minutes, until a toothpick in the center comes out with a few moist crumbs attached. Let the brownies cool completely on a wire rack. Brownies can be made several days ahead of time and kept, well-wrapped, at room temperature until ready to use.
To Make the Mint Chocolate Chip Mousse Layer:
Combine the white chocolate chips, 3/4 cup of cream, and salt in a microwave-safe bowl. Microwave in 30-second increments, whisking every 30 seconds, until the chocolate has melted and the mixture is smooth. Pour it into a large bowl, and let it cool to room temperature, stirring occasionally.

While you wait for the white chocolate mixture to cool, prepare the gelatin. Whisk together the gelatin and the cold water in a small bowl, and set it aside to let the gelatin absorb the water. When the chocolate is at room temperature, microwave the bowl of gelatin for 15 seconds, until it is melted. Whisk the melted gelatin and chocolate together. Add the peppermint extract, and several drops of green food coloring and one of yellow. The color should be a little more intense than you want the final mousse color to be, because it will lighten as you add the whipped cream in the next step.

Whip the remaining 1 1/4 cups heavy cream to firm peaks. Fold half of the whipped cream into the chocolate, and once it's incorporated, gently fold in the remaining whipped cream. Add the finely chopped chocolate, and stir just until it's mixed. Scrape the mousse out onto the cooled brownie, and spread it into an even layer. Refrigerate for 30 minutes before adding the chocolate glaze.
To Make the Chocolate Glaze:
Place the chopped chocolate in a small bowl, and put the cream into a small saucepan over medium heat. Bring the cream to a simmer, and when it's almost boiling, pour the hot cream over the chopped chocolate and let it sit for a minute to soften the chocolate. Whisk gently until the chocolate melts and the glaze is shiny and smooth. Pour the glaze over the mousse layer and spread it into a thin, even layer.

Refrigerate the tray of brownies to set the mousse and glaze completely, for at least 3 hours. Once set, remove the brownies from the pan using the foil as handles. Cut them into small squares or rectangles—they're substantial, so a little goes a long way! Top them with green candies, if desired. Store Mint Chip Mousse Brownies in an airtight container in the refrigerator. They can be served chilled or left to sit at room temperature for about 15 minutes before serving.
Recipe Notes
You can substitute your favorite boxed mix for the brownie portion. Use a mix that yields a 9×13 pan of brownies, prepare and bake the brownies as directed, and let them cool completely before following the steps for the mint chip mousse below.
Measuring Tips
Our recipes are developed using weight measurements, and we highly recommend using a kitchen scale for baking whenever possible. However, if you prefer to use cups, volume measurements are provided as well. PLEASE NOTE: the adage "8 oz = 1 cup" is NOT true when speaking about weight, so don't be concerned if the measurements don't fit this formula.
Want to learn more about baking measurements and conversion?
Nutrition
Calories:
525
kcal
|
Carbohydrates:
62
g
|
Protein:
6
g
|
Fat:
42
g
|
Saturated Fat:
25
g
|
Cholesterol:
135
mg
|
Sodium:
360
mg
|
Potassium:
328
mg
|
Fiber:
4
g
|
Sugar:
48
g
|
Vitamin A:
1060
IU
|
Vitamin C:
0.2
mg
|
Calcium:
98
mg
|
Iron:
2.7
mg
Tried this recipe?
Snap a pic and hashtag it #SugarHero. We love to see your creations on our Instagram @elabau.