These Chocolate Profiteroles with Fresh Mint Chip Ice Cream are made by filling crisp-on-the-outside, slightly-tender-on-the-inside chocolate puffs with big scoops of refreshingly herbal minty ice cream. Top them off with hot fudge for maximum enjoyment!
I was shopping in my favorite Armenian market a few weeks ago, and I noticed they were having a monster sale on fresh mint. Four big bunches for 99 cents! Beat that, Whole-Foods-That-Sells-A-Tiny-Sprig-For-$3! So of course I snatched up four bunches and then Insta-bragged about the great deal. I was feeling pretty smug with my marvelous bargain shopping abilities, until my friend Meggan pointed out that the supermarket sign said I saved…8 cents. Womp-womp.
Fortunately, fresh mint never goes to waste around my house, so even though I'm not ready for my Extreme Couponing close-up, I was still glad to have bought it all. I like to throw it into my morning smoothies, blend it with grapefruit juice and ice for the best afternoon pick-me-up ever (seriously, try it), and am always excited to shove it into yet another dessert. So I will keep that extra 8 cents, thanks, and these 4 giant bunches of mint too. I'm a winner like that.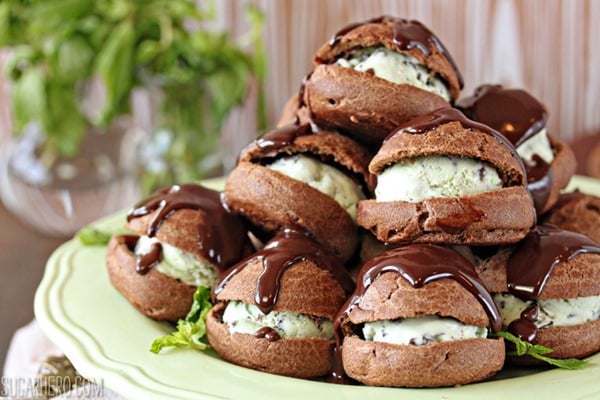 I have been making fresh mint ice cream ever since I read about it on David Lebovitz's blog back in 2010. Up until then, my only experience with mint ice cream involved bright green food coloring and harsh mint extract, so the taste of this ice cream, refreshingly herbal and mildly minty, was a revelation. I fell in love immediately, and have made it several times a year since then. It was also the recipe that inspired many other fresh mint desserts in my life, like fresh mint semifreddo, mousse, crème anglaise, and more.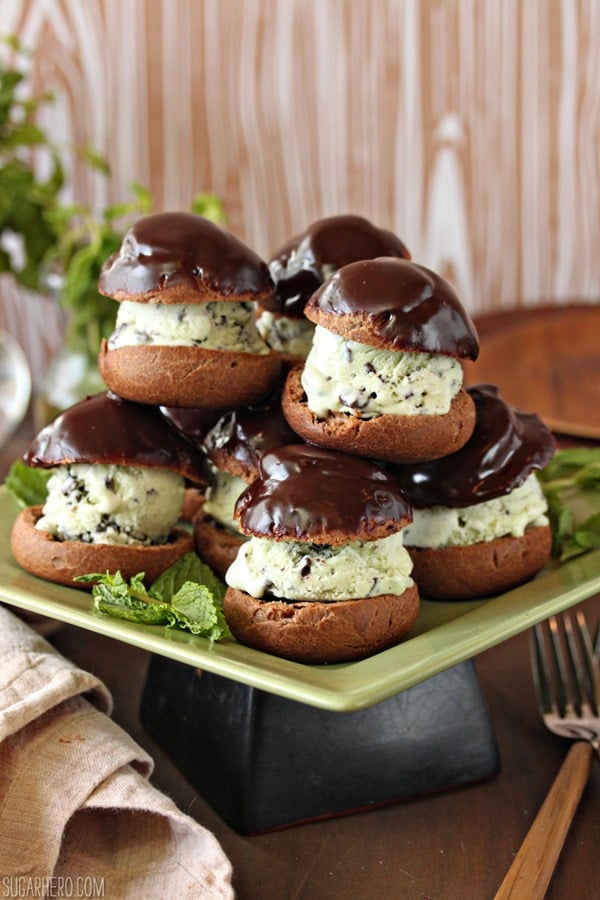 You don't need anything special to enjoy fresh mint ice cream—just you, a bowl, and a spoon. But if you're feeling the urge to spiff it up a little, make a batch of chocolate profiteroles to go along with it! Profiteroles are made from pâte à choux, which is the same dough used for eclairs. I think they have a finnicky reputation—maybe it's the French name?—but it is completely undeserved. As long as you make sure to cook them until they're no longer doughy in the middle, you'll have fantastic crisp-on-the-outside, slightly-tender-on-the-inside chocolate puffs that are waiting, just begging, to be filled with big scoops of ice cream.
Oh, and did I mention that they enjoy a nice warm fudge sauce shower? Because they do. And you will too!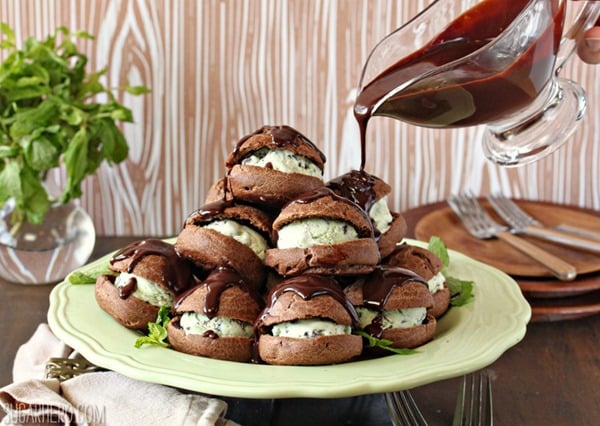 If the dramatic Pouring of the Fudge routine isn't your thing, you can also dip the tops in ganache or fudge sauce and refrigerate them a bit to set the chocolate, then press these jaunty little hats on top of your ice cream right before serving. If you're a real spoil-sport you can skip the extra chocolate step altogether, but I'm pretty sure none of my readers are wet blankets like that. Air kiss! Love you mean it!
Now it's your turn to go score some cheap (or cheap-ish) mint and get to cooking! Can't wait to hear what you all come up with!
💚 More Minty Dessert Recipes You'll Love
Chocolate Mint Swirl Ice Cream
If you're a mint chocolate lover, then this Chocolate Mint Swirl Ice Cream is the ice cream for you. Smooth and creamy homemade chocolate ice cream has a refreshing mint flavor and big chunks of mint Oreo cookie.
View Recipe
Mint Chocolate Chip Whoopie Pies
These Mint Chocolate Chip Whoopie Pies are a classic! They feature moist, cakey chocolate cookies and a rich mint chocolate chip buttercream filling! They make a perfect dessert for St. Patrick's Day or any day of the year you feel like getting lucky.
View Recipe
Chocolate Profiteroles with Fresh Mint Chip Ice Cream
These Chocolate Profiteroles with Fresh Mint Chip Ice Cream are made by filling crisp-on-the-outside, slightly-tender-on-the-inside chocolate puffs with big scoops of refreshingly herbal minty ice cream. Top them off with hot fudge for maximum enjoyment!
Ingredients
For the Fresh Mint Ice Cream:
For the Chocolate Profiteroles:
4.75

oz

bread flour

(1 cup + 2 tbsp)

, can substitute all-purpose flour if necessary

3

tbsp

unsweetened cocoa powder

1

cup

water

4

oz

unsalted butter

3

tbsp

granulated sugar

1/4

tsp

salt

4-5

large eggs

at room temperature
Instructions
To Make the Fresh Mint Ice Cream:
In a medium saucepan, combine the milk, cream, and mint leaves. Place the pan over medium heat, and bring it to a simmer—bubbles should appear around the sides of the pan, but don't let it come to a full boil. Remove the pan from the heat, cover it with a lid, and let it sit at room temperature for one hour, to infuse the dairy with mint flavor. After an hour, taste the milk, and if the mint flavor isn't as strong as you want it, continue to infuse it, checking regularly, until you get a flavor you like.

Strain out the mint leaves from the milk, squeezing them over the pan to extract all of the liquid. Add the sugar and salt to the milk, and place it back over medium heat. Whisk occasionally, and while it heats up, place the yolks in a medium bowl and whisk them to break them up.

Once the milk comes to a simmer, remove the pan from the heat and whisk the egg yolks while you slowly pour in about a third of the hot milk mixture, whisking constantly so the eggs heat up but don't cook during the process.

Now return the saucepan to the heat and start whisking the milk while you pour in the hot egg mixture. Continue to whisk as the custard cooks, and cook it until it thickens slightly and coats the back of a spoon. If you want to use a candy/deep fry thermometer, you're shooting for 175 F (80C).

Take the pan from the heat and strain the ice cream custard through a fine mesh strainer into a large bowl or container. If you want a deeper green color, add a drop or two of food coloring and whisk it in. Continue to whisk occasionally as it cools, and once at room temperature, press a layer of cling wrap on top of the custard and refrigerate it until it's completely chilled. (To speed up the process, you can place the bowl over an ice bath and whisk it as it cools down.) The custard can be made several days in advance and kept in the refrigerator until you're ready to churn it.

Churn the custard according to your ice cream maker's instructions. Once it has reached soft-serve consistency, add the semi-sweet chocolate pieces and mix them in. Scrape the ice cream into a loaf pan or other storage container, press a layer of cling wrap on top, and freeze for 2-3 hours, until the ice cream is firm.
To Make the Chocolate Profiteroles:
Preheat the oven to 425 F (218 C) and line two baking sheets with parchment paper or silicone liners. Sift together the flour and cocoa powder into a small bowl.

In a medium saucepan, combine the water, butter, sugar, and salt. Bring the mixture to a rolling boil, stirring occasionally. Once boiling, remove the pan from the heat and dump the flour/cocoa mixture in all at once. Stir immediately with a wooden spoon until the flour is completely incorporated and there are no dry lumps remaining. Return the pan to the heat and continue to cook, stirring constantly, until the dough comes together in a ball in the center of the pan and a thin film develops on the bottom of the pan.

Scrape the hot dough into the bowl of a stand mixer fitted with a paddle attachment. Begin to beat on low speed to release some of the heat and steam. Add the eggs one at a time, waiting until each one is incorporated completely before adding the next. At first the dough might resist the eggs, but as you continue mixing it will gradually turn into a silky dough. You may not need to add all of the eggs, so after you have added four eggs, check the texture of the dough to see if it's ready. My favorite way to check is to take a pinch of dough between your thumb and forefinger, and spread the fingers apart. If the dough stretches between the fingers instead of immediately snapping, then it is ready. You can also try scooping a little onto a spatula and then shaking it in the air above the bowl. If the dough easily slides from the spatula to the bowl, it is ready, but if it clings to the spatula, then it needs a little more egg. To add the additional egg, crack the fifth egg into a small cup and whisk it gently. Mix in half of the egg and test the dough again, and then add the remaining egg if the dough requires it.

Transfer the dough into a piping bag fitted with a coupler or large round tip. Hold the bag perpendicular to the baking sheet about a half-inch from the surface, and using consistent pressure, pipe out a circle of dough about an inch and a half in diameter. Don't move the bag upward as you pipe—instead, keep it steady and allow the dough to expand around the bag. When finished piping one, stop squeezing the bag and then lift up quickly. Leave some room between each puff because they do expand while baking. You should get about 24-28 puffs from this recipe.

Bake the puffs at 425 F for 12 minutes, then lower the oven temperature to 375 F and bake for an additional 20 minutes. Because the puffs are a dark brown already, it can be difficult to know when they're done. Look for them to feel very light, and sound hollow when you thump on the bottom. Once baked, carefully cut a slit in the side of each profiterole about a half-inch from the bottom to allow steam to escape. Turn the oven off, prop the door open, and let them cool completely in the cooling oven before using.

To assemble, cut the profiteroles in half and fill each with a scoop of ice cream. Serve with warm chocolate sauce drizzled on top, and consume immediately.
Recipe Notes
The Chocolate Profiteroles recipe is adapted from Emeril Lagasse, and the fresh mint ice cream is adapted from (and seriously inspired by!) David Lebovitz.
Measuring Tips
Our recipes are developed using weight measurements, and we highly recommend using a kitchen scale for baking whenever possible. However, if you prefer to use cups, volume measurements are provided as well. PLEASE NOTE: the adage "8 oz = 1 cup" is NOT true when speaking about weight, so don't be concerned if the measurements don't fit this formula.
Want to learn more about baking measurements and conversion?
Nutrition
Serving:
28
g
|
Calories:
218
kcal
|
Carbohydrates:
19
g
|
Protein:
3
g
|
Fat:
14
g
|
Saturated Fat:
8
g
|
Cholesterol:
107
mg
|
Sodium:
63
mg
|
Potassium:
113
mg
|
Fiber:
1
g
|
Sugar:
13
g
|
Vitamin A:
560
IU
|
Vitamin C:
0.8
mg
|
Calcium:
48
mg
|
Iron:
1
mg
Tried this recipe?
Snap a pic and hashtag it #SugarHero. We love to see your creations on our Instagram @elabau.