These Deep Fried S'mores take the traditional s'more to an all new level! If you love melty chocolate and gooey marshmallows inside graham crackers, you'll love these!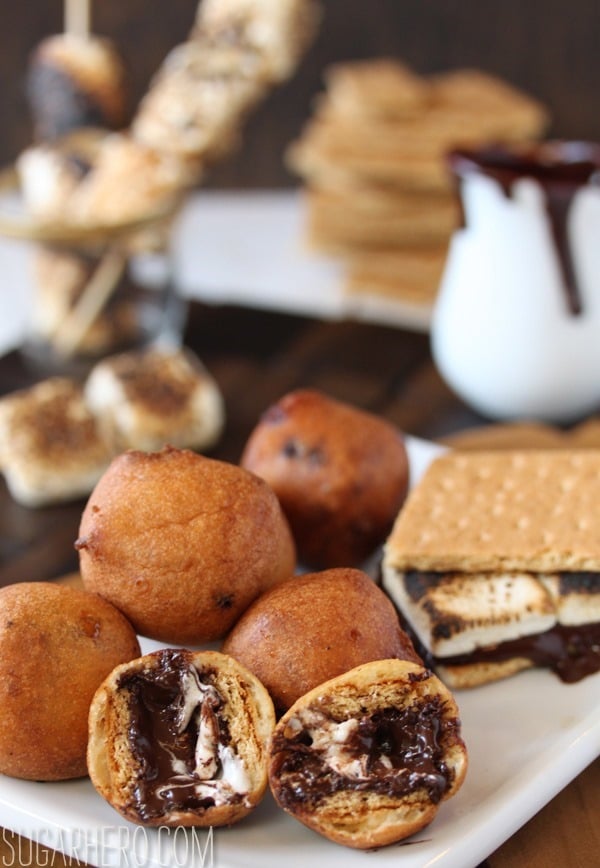 Gather round, everyone, and let's bring it in for a big group hug. This recipe marks the temporary end of a sweet little tradition around here called Fry-Day.* For the past month-plus, I've shared a deep-fried dessert recipe every Friday. It's been an absolute blast, and I may never look at a root beer float the same way again. However, it also feels like it's time to take a frying breather–August is almost over, the end of summer feels near, and frankly, a lady gets tired of feeling judged every time she goes to the store and buys several gallons of cooking oil. What's with the raised eyebrows, checkout clerks?
*I think. Probably. I reserve the right to deep fry everything for the next 3 months if I totally change my mind.
This is definitely not the end of all Fry-Days, and I expect I'll start the tradition up again next summer, once it's fair and carnival season again. I mean, I haven't even deep fried a piece of cake, for crying out loud. This isn't over.
But for now, buck up and dry your tears, because we're going out with a bang. Deep Fried S'mores just might be my best fried dessert yet! If you're a melty chocolate and gooey marshmallow person—and why wouldn't you be?—these are going to blow your mind.
Deep Fried S'mores start off, as so many s'mores do, with the innocent layering of graham crackers, chocolate bars, and marshmallows. Construction begins in an 8×8-inch pan, to create one mega s'more. You might find yourself tempted to toss that baby into the microwave and blissfully dive head-first into the world's largest s'more, but resist.
From there, things take a turn to the dark side, when the mega s'more is cut into small squares, dipped in batter, and fried for a few minutes, just long enough to crisp up the outside and liquefy in the inside.
Totally a reasonable portion size, yes/no?
The short cooking time is key, because a longer, slower cooking time will cause the marshmallows to melt entirely, and leave you will a filling of sweet liquid and molten chocolate. Which isn't bad, per se, but it's not nearly as delicious as a filling of chewy, smooshy, melty, gooey marshmallow and molten chocolate. See the difference?
And if you're wondering about what the graham cracker's up to, it's mostly hanging out with the outer coating. I thought the texture kind of blended in to the crispy batter, and I couldn't distinguish any cracker-y bits in the s'mores. But I did catch some of the graham flavor, which was a great counterpoint to all of the chocolate and marshmallow shenanigans in the center.
Because there's so much gooey goodness in the middle, I didn't think these s'mores bites needed anything else, but I would never stop you if you wanted to add a quick dunk in chocolate or caramel sauce. And if you're thinking that adding a layer of peanut butter in the center, or maybe even some peanut butter cups, sounds like a good idea? You're totally right. Go crazy. This is your Fry-Day too.
🤎More Deep Fried Recipes You'll Love