This post may contain affiliate links. As an Amazon Associate I earn from qualifying purchases. Please see my disclosure policy for more information.
Gather round, everyone, and let's bring it in for a big group hug. This recipe marks the temporary end of a sweet little tradition around here called Fry-Day.* For the past month-plus, I've shared a deep-fried dessert recipe every Friday. It's been an absolute blast, and I may never look at a root beer float the same way again. However, it also feels like it's time to take a frying breather–August is almost over, the end of summer feels near, and frankly, a lady gets tired of feeling judged every time she goes to the store and buys several gallons of cooking oil. What's with the raised eyebrows, checkout clerks?
*I think. Probably. I reserve the right to deep fry everything for the next 3 months if I totally change my mind.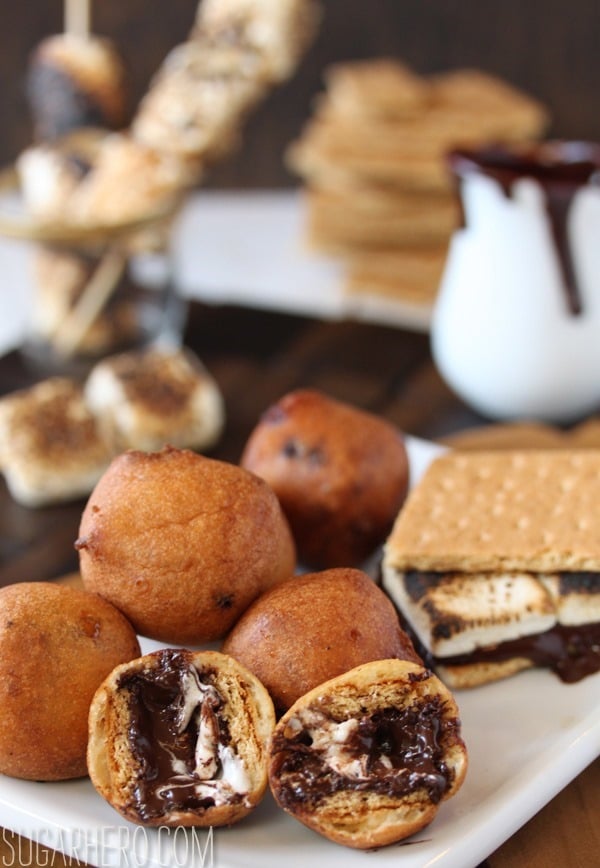 This is definitely not the end of all Fry-Days, and I expect I'll start the tradition up again next summer, once it's fair and carnival season again. I mean, I haven't even deep fried a piece of cake, for crying out loud. This isn't over.
But for now, buck up and dry your tears, because we're going out with a bang. Deep Fried S'mores just might be my best fried dessert yet! If you're a melty chocolate and gooey marshmallow person—and why wouldn't you be?—these are going to blow your mind.
Deep Fried S'mores start off, as so many s'mores do, with the innocent layering of graham crackers, chocolate bars, and marshmallows. Construction begins in an 8×8-inch pan, to create one mega s'more. You might find yourself tempted to toss that baby into the microwave and blissfully dive head-first into the world's largest s'more, but resist.
From there, things take a turn to the dark side, when the mega s'more is cut into small squares, dipped in batter, and fried for a few minutes, just long enough to crisp up the outside and liquefy in the inside.
Totally a reasonable portion size, yes/no?
The short cooking time is key, because a longer, slower cooking time will cause the marshmallows to melt entirely, and leave you will a filling of sweet liquid and molten chocolate. Which isn't bad, per se, but it's not nearly as delicious as a filling of chewy, smooshy, melty, gooey marshmallow and molten chocolate. See the difference?
And if you're wondering about what the graham cracker's up to, it's mostly hanging out with the outer coating. I thought the texture kind of blended in to the crispy batter, and I couldn't distinguish any cracker-y bits in the s'mores. But I did catch some of the graham flavor, which was a great counterpoint to all of the chocolate and marshmallow shenanigans in the center.
Because there's so much gooey goodness in the middle, I didn't think these s'mores bites needed anything else, but I would never stop you if you wanted to add a quick dunk in chocolate or caramel sauce. And if you're thinking that adding a layer of peanut butter in the center, or maybe even some peanut butter cups, sounds like a good idea? You're totally right. Go crazy. This is your Fry-Day too.
Deep Fried S'mores
These Deep Fried S'mores take the traditional s'more to an all new level! If you are a melted chocolate and gooey marshmallow inside a graham cracker you are sure to love these!
Ingredients
2

extra-large chocolate bars

,

I used Hershey's Dark 4.25 oz bars

1/2

cup

chocolate chips,

or an additional chocolate bar

20-24

large marshmallows

,

I used rectangular "Stackers" marshmallows

1

egg

1

tsp

oil

3/4

cup

milk

1

cup

all-purpose flour,

1 cup + 2 tbsp

3

tbsp

granulated sugar

1/2

tsp

baking powder

1/8

tsp

salt

1

quart

oil

,

for frying
Instructions
To make the s'mores, line an 8x8-inch pan with cling wrap. Fit four of the graham cracker sheets into the bottom of the pan, and break up an additional sheet to cover any remaining space in the bottom. Melt the chocolate chips, and spread about 1/3 of the melted chips on top of the graham crackers in a thin layer. Top the crackers with the chocolate bars. If you use the 4.25 oz Hershey's Dark bars like I did, two bars will fit perfectly on top—otherwise, break the bars to fit the pan.

Spread more melted chocolate on the bars, then top with marshmallows. If you're using rectangular "Stackers" marshmallows you can simply put them on the chocolate, but if you're using regular round marshmallows, cut them in half lengthwise so they're not too tall. Finish by spreading a layer of melted chocolate on the marshmallows, then top with the remaining graham crackers. Refrigerate the pan to set the chocolate.

While you wait for the chocolate to set, make the batter. Whisk together the egg, oil, and milk in a small bowl, and in a separate medium bowl, whisk together the flour, sugar, baking powder, and salt. Add the wet ingredients to the dry, and whisk everything together until it's smooth.

When the chocolate is set, carefully cut the giant s'more into 36 small squares. It might be easiest to let it sit at room temperature for 10 minutes before cutting it, so the chocolate isn't quite so cold. If any of the pieces break apart while you're cutting them, glue them back together with melted chocolate—you need your squares to be one piece when you fry them. Keep the s'mores squares in the refrigerator until you're ready to fry.

To fry, pour the frying oil into a medium saucepan so that it's 2 inches deep, and insert the candy thermometer . Heat the oil over medium heat until it reaches 375 F (191 C). Once at 375 F, take a s'more and dip it in the batter, turning it over with your hands until it's completely covered. Let excess batter drip back into the bowl, then gently drop it into the oil. Repeat with 3-4 more pieces, so you're frying 4-5 at a time.

Fry them for about 2 minutes total, until puffed and golden brown. Monitor them and flip them if necessary so they cook evenly on all sides. Remove them from the oil using a frying skimmer or slotted spoon and place them on a paper towel-lined baking sheet to drain. Repeat with the rest of the s'mores and batter. Watch the temperature of the oil and keep it between 375-380 F (191-193 C). For this recipe, it's better to have the oil on the hotter side, so the pieces cook faster. If they take too long, the marshmallow melts away entirely. A short, fast cooking time will crisp up the s'mores and give you melty chocolate and gooey marshmallow inside.

Serve Deep Fried S'mores immediately.
MEASURING TIPS
Our recipes are developed using weight measurements, and we highly recommend using a kitchen scale for baking whenever possible. However, if you prefer to use cups, volume measurements are provided as well. PLEASE NOTE: the adage "8 oz = 1 cup" is NOT true when speaking about weight, so don't be concerned if the measurements don't fit this formula.
Click here to learn more about baking measurements and conversion.
Nutrition
Calories:
336
kcal
|
Carbohydrates:
20
g
|
Protein:
1
g
|
Fat:
28
g
|
Saturated Fat:
2
g
|
Cholesterol:
5
mg
|
Sodium:
48
mg
|
Potassium:
29
mg
|
Fiber:
0
g
|
Sugar:
12
g
|
Vitamin A:
20
IU
|
Calcium:
16
mg
|
Iron:
0.4
mg
Share by Text
Share by Email
Share on Facebook
Share on Pinterest