This homemade Graham Cracker Crust recipe is sweet, buttery, golden-brown, and perfectly crunchy. It's a quick and easy, four-ingredient base for so many different desserts!
The Perfect Graham Cracker Pie Crust
Today we're talking about how to make the perfect graham cracker pie crust. While a graham cracker crust isn't flashy like tall layer cakes, or drool-worthy like chocolate caramel tarts, it is a foundational recipe that every baker should have in their arsenal.
This homemade graham cracker crust is just what you need to make your baking that much easier (and that much better!) No more store-bought graham cracker crust. Just 4 simple ingredients and 20 minutes and you've got a buttery, golden-brown, and perfectly crunchy base for pies and tarts, cheesecakes, and more!
Read on to learn how to make a graham cracker crust, and don't miss the helpful table right above the recipe that tells you how much crust mixture you will need for a wide variety of pan sizes! (The table is condensed by default, so you will have to click the button to open and display it.)
Once you've mastered graham cracker crusts, try pairing one with a graham-based dessert, like tangy key lime pie, decadent seven layer bars, or luscious cheesecakes.
Table of Contents
🧾 What You'll Need
Ingredients
This simple homemade dessert crust requires just 4 ingredients, which you might already have on-hand! (Links are affiliate links and I earn a small commission from qualifying purchases.)
Graham Crackers:

you'll need 10 whole graham crackers to yield the 1.5 cups/6 ounces of crumbs for this recipe.
Butter: I recommend using unsalted butter, but if salted butter is what you have, omit the additional salt in the recipe.
Sugar: I use just a touch of granulated sugar to add a little extra sweetness. You can tweak this to your preference, or try brown sugar for a slightly more caramelized flavor.
Salt: A pinch of salt cuts the sweetness and enhances the flavor of the crust.
Using graham cracker crumbs from a box
Oftentimes, large grocery stores will sell graham cracker crumbs in boxes in the baking aisle. These crumbs can be a convenient time saver. If you prefer to go that route, you will need 1.5 cups to make the crust.
Tip: In my experience the crumbs are a bit coarser than the ones I make myself in my food processor, so be flexible with the amount of butter you use, and increase it slightly if the crust still feels very dry after mixing.
Equipment
Pie pan:

a 9-inch pie plate with 1.5″ sides is the perfect size for this amount of crust. Keep in mind if you're using a different size pan, the thickness of the crust will be affected–see the table below!

Food processor or zip-top bag:

you can use a food processor to blend the graham crackers into a fine crumb. Alternatively, place the crackers into a zip-top bag and use a rolling pin to crush them into crumbs.
📋 Instructions
Here's a quick tutorial showing how to make the best graham cracker crust. Full instructions are included in the recipe card down below.
Crush the graham crackers
You have two options for crushing your graham crackers. Both are super quick and easy! Using boxed crumbs? Skip to the next step!
Option 1: Use a food processor to crush the graham crackers into a fine crumb. I don't even bother to pulse the processor — I just let it go on regular speed until the crackers are in uniform crumbs.
Option 2: Alternatively, you can place the graham crackers into a Ziplock bag and use a rolling pin to crush them until they are in fine crumbs.
Mix the crust ingredients
In a mixing bowl, combine graham cracker crumbs, melted butter, granulated sugar, and salt. I recommend adding most of the butter at first, but reserving a little bit in case you don't need it all.
Stir the mixture together until well-combined. It should be the texture of wet sand and hold together when you squeeze it between your fingers.
If it still feels dry, stir in the reserved butter.
Press into a pie pan and bake (optional!)
Press the crust evenly up the sides and on the bottom of the pie plate. You can use the bottom of a measuring cup or glass to help compact the crumbs and make the crust nice and sturdy.
At this point, you can refrigerate the crust to help it set up, then fill it with whatever you're making.
If you want the crust to be a little crunchier, you can bake it at 350ºF for 12-15 minutes, until it is fragrant and lightly golden. Let the crust cool completely before adding any filling.
💡 Tips for success
Melt the butter. The melted butter is what binds the graham cracker crumbs together so the crust can hold its shape.
Use most, but not all of the butter to start. I recommend adding some of the butter to start and then mixing in more as needed. You want the texture to be similar to wet sand but not too oily. I would reserve a tablespoon or so and only add more if needed.
Bake the crust. Although you can make a no-bake crust, I typically recommend baking it before adding a filling. This gives it a nice golden-brown color and slightly crunchy texture which prevents it from becoming soggy!
Tightly pack the crust. When you're forming the crust in the pie pan, firmly press down so the crumbs are tightly packed together. If it's too loosely packed, the crust will be crumbly.
If making a no-bake crust, I recommend chilling the crust for 1-2 hours in the fridge to allow the butter time to solidify for a firmer crust.
💭 FAQs
Make-Ahead and Storage Instructions
Graham cracker crust will last in the fridge for up to 7 days or in the freezer for 3 months. If you're freezing the crust, I recommend waiting to bake it.
When you're ready to fill it, thaw it in the fridge and bake as directed if frozen, then add whatever filling you like!
🥧 Recipes that Use a Graham Cracker Crust
You can easily use this graham cracker crust in pretty much any pie or tart recipe you like! Here are a few of my favorites:
Key Lime Pie
This authentic Key Lime Pie recipe is easy and delicious! It has a buttery graham cracker crust and a sweet-tart creamy filling, bursting with fresh lime flavor.
View Recipe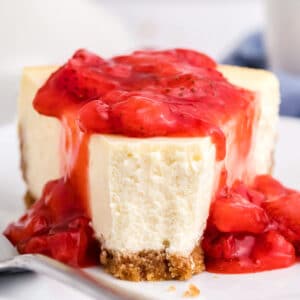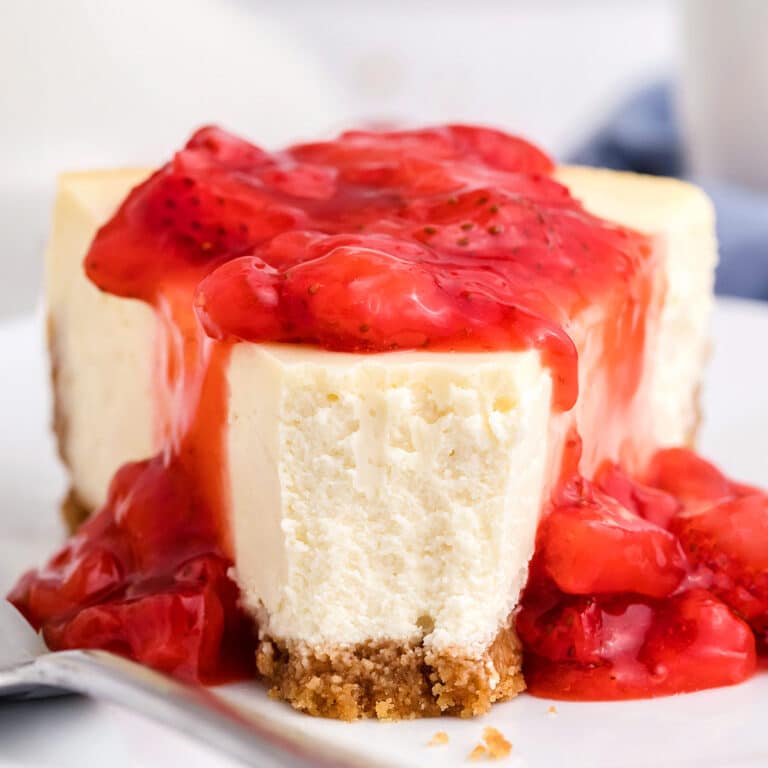 New York Style Cheesecake
This rich and creamy New York-Style Cheesecake recipe is what classic cheesecake should be! With a buttery graham cracker crust and a lightly sweetened cream cheese filling, it's perfect on its own, or topped with your favorite dessert sauce.
View Recipe
❓How much Graham Cracker Crust you need for any pan size
This recipe is written for one 9″ pie pan, since that is an extremely common size and use for graham cracker crusts. But what if you want to make a few mini cheesecakes? Or a large rectangular tart? How much of the graham cracker base will you need then?
I am here for you! I measured all of the most common pan types and sizes and weighed how much graham cracker mix they required. To be clear, this is a general guide, and your mileage may vary depending on your specific pan, how thick you like to make your crust, etc. But I hope you find it helpful as a starting point!
Click Here to Expand the Table!
Mini pie pan
4" w x 1.25" h


9" deep dish pie pan
9" w x 2" h


11" deep dish pie pan
11" w x 1.5" h


3" tart shell
3" w x 1.25" h


4" tart shell
4" w x .75" h


10" deep dish tart shell
10" w x 2" h


11" tart shell
11" w x 1" h


Rectangle tart shell
14" w x 4.5" h


4" springform
(just bottom)
4" w x 3" h


4" springform (bottom + sides)
4" w x 3" h


6" springform
(just bottom)
6" w x 3" h


6" springform (bottom + sides)
6" w x 3" h


8.5" springform (just bottom)
8.5" w x 3" h


8.5" springform (bottom + sides)
8.5" w x 3" h


9.5" springform (just bottom)
9.5" w x 3" h


9.5" springform (bottom + sides)
9.5" w x 3" h


10.5" springform (just bottom)
10.5" w x 3" h


10.5" springform (bottom + sides)
10.5" w x 3" h

How to use this table
Find the pan that most closely resembles the pan you will be using. Images are provided as a general guide, but please check the dimensions to be sure it's a close fit.
Look at the information in the last column, "Recipe Card Amt." This tells you what you need to input in the recipe card to get the perfect amount of crust.
For instance, for an 8″ pie pan, you will need 0.75, or 3/4 of a batch. On the recipe card, just below the ingredients, is a place for you to customize the amount. Input 0.75 in the box. The ingredient amounts you need will be automatically calculated for you!
For miniature pies/tarts, the table will list how many of the mini desserts 1 batch will yield. Depending on the number you want to make, you can double or even triple the recipe to yield that many crusts. Use the customize button as described above, or the 1x / 2x / 3x boxes next to the Ingredients header.
Finally, because cheesecakes can be made with either a crust just on the bottom, or on the bottom and sides, both of those options are listed separately in the table.
Leave a Review!
If you make this recipe, let us know! Leave a ⭐️⭐️⭐️⭐️⭐️ rating on the recipe below, and leave a comment, take a photo and tag me on Instagram @elabau, or use #sugarhero on IG!
Graham Cracker Crust
Making the perfect graham cracker crust at home couldn't be easier! You just need 4 ingredients and 10 minutes to make a homemade graham cracker pie crust.
This crust can be used baked or unbaked. Baking yields a crispier, sturdier crust, but this step is optional, and whether you bake it or not depends on the recipe and your personal preference. If you are not sure, I recommend baking the crust when in doubt.
Instructions
Crush the grahams in a food processor until they are fine crumbs. (Alternatively, place them in a zip-top bag and roll over them with a rolling pin until very finely crushed).

Combine the graham cracker crumbs, about 2.5 TBSP of the melted butter, granulated sugar, and salt in a bowl, and stir until well-combined. The mixture should have the texture of wet sand, and hold together a bit when you squeeze it between your fingers.

If the crust still feels a bit dry, add the remaining butter and stir together to make it the proper texture.

Press the crust evenly on the bottom and up on the sides of a 9 x 1.5" pie plate.

If not baking the crust: refrigerate the crust for an hour before filling, so it is more set before filling it.

If baking the crust: bake at 350 F for 12-15 minutes, until fragrant and lightly golden. Let the crust cool completely before filling.
Video
Measuring Tips
Our recipes are developed using weight measurements, and we highly recommend using a kitchen scale for baking whenever possible. However, if you prefer to use cups, volume measurements are provided as well. PLEASE NOTE: the adage "8 oz = 1 cup" is NOT true when speaking about weight, so don't be concerned if the measurements don't fit this formula.
Want to learn more about baking measurements and conversion?
Nutrition
Calories:
1171
kcal
|
Carbohydrates:
125
g
|
Protein:
10
g
|
Fat:
71
g
|
Saturated Fat:
39
g
|
Polyunsaturated Fat:
3
g
|
Monounsaturated Fat:
20
g
|
Trans Fat:
2
g
|
Cholesterol:
152
mg
|
Sodium:
1512
mg
|
Potassium:
265
mg
|
Fiber:
5
g
|
Sugar:
50
g
|
Vitamin A:
1771
IU
|
Calcium:
128
mg
|
Iron:
6
mg
Tried this recipe?
Snap a pic and hashtag it #SugarHero. We love to see your creations on our Instagram @elabau.