This Lemon Sour Cherry Ice Cream is the perfect blend of rich creamy lemon ice cream and tart sour cherries!
Can we give in and call it Ice Cream Season yet? Sunny weather, cut-offs, flip-flops, ice cream dripping down my arm…I want it all, and I want it now.
I have been an ice cream making machine this past week. Last week when I was making the big cake for my son's birthday party (post still coming!!) I made a ton of Swiss meringue buttercream, meaning I used a lot of egg whites and had a lot of egg yolks left over. Sure, I could have tossed them, or used them to make something moderately healthy, but where's the fun in that?
Instead, I saved them and went on an ice cream making binge. And I'm not sorry about it! I now have 5 ice cream recipes in the can to share with you, and it's only April. This is going to be the summer of ice cream! GET READY. Need to see a few of my new faves, now? Homemade Phish Food Ice Cream, Strawberry Lemonade Ice Cream Pie & Doughnut Funfetti Ice Cream!
For this first recipe, I took inspiration from one of my favorite LA ice cream parlors, Scoops. Scoops started out as a hole-in-the-wall ice cream shop on Heliotrope in the uncool section of Hollywood. It was just one guy, a small one-room shop, and a lot of weirdo flavors. Since I first started going there about 10 years ago, I think they've found a lot of success and expanded to several other locations. But when we first walked in to Scoops, it felt like a hidden gem.
To me, Scoops seemed to be doing artisan flavors and unusual combinations before it was trendy. One of the first ice creams I tried there was a fantastic lemon ice cream with whole sour cherries and cinnamon. The cinnamon addition was really unexpected, but brilliant, and the spiciness tied all of the sweet and sour flavors together. I loved it so much, I bought a few extra pints for a friend….and then proceeded to eat it all myself and buy her something different. That was probably a decade ago, and I still remember the flavor combination like it was yesterday. So I thought it was finally time to try making it myself!
Sour cherries (or tart cherries) can be hard to find fresh. They have a very short season in early summer, and I usually only see them for a few weeks at the market before they disappear again. I don't want this to be an ice cream I can only make one or two weeks a year, so rather than depend on finding fresh sour cherries, I made this recipe with canned cherries. I almost always prefer the taste and texture of fresh, but in this instance, because the cherries are frozen and mixed with rich, smooth ice cream, the canned variety works just fine. Plus it's easier, cheaper, and much more reliable! But of course if you have access to fresh, that is a great substitution too.
I wanted to stay true to my Scoops inspiration, so I simmered the sour cherries with sugar and a bit of cinnamon. They sucked up just enough of the cinnamon flavor to give them a slight spiciness, but if you were not aware of the cinnamon, you might not be able to put your finger on what that extra flavor is.
The lemon ice cream is fabulous. It's smooth and rich without being too heavy, and a great balance of sweet and sour flavors. The pockets of sour cherries pop when you bite into them, and bring out the tartness a little more. It's very refreshing, and perfect for hot summer (or warm spring!) nights. If you're feeling tempted by this recipe, try these: Peanut Butter Cup Ice Cream, Strawberry Shortcake Ice Cream & No-Churn Peach Ice Cream!
Get those ice cream makers ready, because I have so many more ice cream recipes heading your way! Or, check out a few of my no- churn recipes below. Let's do this thing!
💓More Cherry Recipes You'll Love
No-Churn Vanilla Ice Cream
This is the only recipe for homemade Vanilla Ice Cream you will ever need! It's fast and easy, and you don't need any special equipment to make it. Enjoy it plain, or add your favorite mix-ins to create your own custom flavors.
View Recipe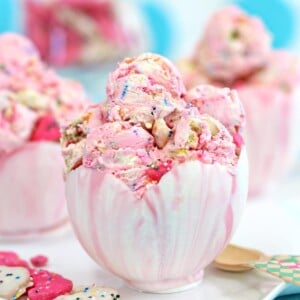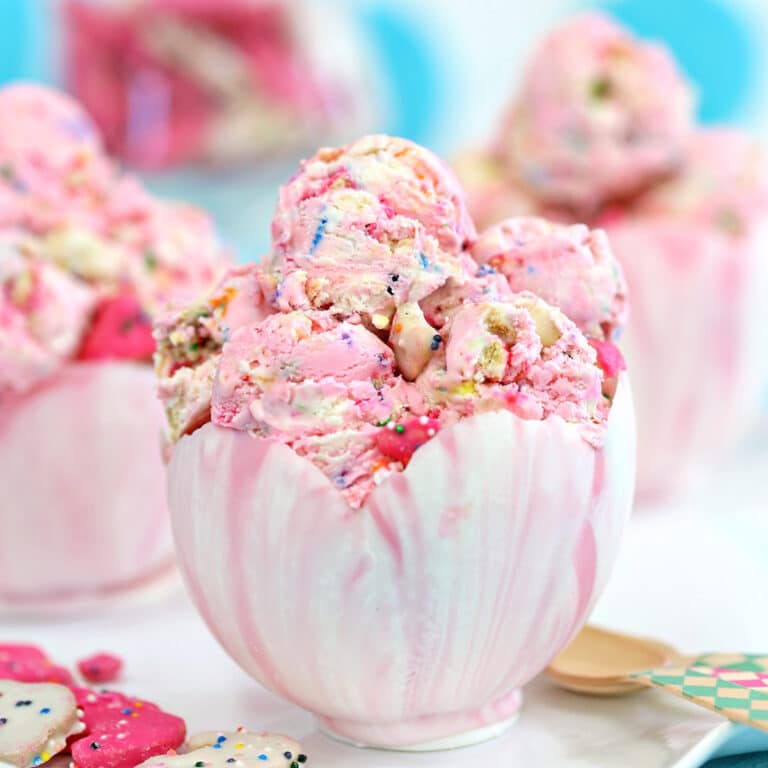 No-Churn Circus Animal Ice Cream
No-Churn Circus Animal Ice Cream is a sweet pink-and-white swirled ice cream, with LOTS of sprinkles and circus animal cookies mixed in! The best part is, you don't need an ice cream maker to make this treat.
View Recipe
Lemon Sour Cherry Ice Cream
This Lemon Sour Cherry Ice Cream is the perfect blend of rich creamy lemon ice cream and tart sour cherries!
Ingredients
For the lemon ice cream:
3

large eggs

7

oz

granulated sugar (

1 cup

)

1/2

cup

fresh lemon juice

(from about

3 medium

lemons)

2 1/2

tbsp

fresh lemon zest

(from

3 medium

lemons)

1

cup

milk

1

cup

heavy cream

or whipping cream

1/2

tsp

lemon extract
For the sour cherries:
27

oz

can sour cherries

I used Oregon Specialty Fruit Red Tart Cherries, you can substitute fresh cherries if available

1/2

cup

granulated sugar

1/2

tsp

ground cinnamon
Instructions
To make the ice cream:
In a medium saucepan, whisk together the eggs, sugar, lemon juice, lemon zest, milk, and cream. Place the pan over medium heat and continue to whisk regularly as it comes to a simmer. Heat and whisk until it thickens and coats the back of a spoon. If you want to use a thermometer, you're looking for it to reach 170-180 F on the thermometer.

Pour the ice cream custard through a strainer into a bowl or container, to remove all the lemon zest and any pieces of cooked egg. Add the lemon extract and whisk it in. Cover and chill the custard until completely cold.

While the custard is chilling, prepare the cherries. Place the cherries and their juice, the sugar, and the cinnamon in a saucepan, and bring to a simmer over medium heat. Simmer for 15-20 minutes, until it is bubbly and a bit thicker. (The cherry juice won't reduce by too much.) Cool to room temperature, then strain the cherries out and chop them coarsely.

Churn the lemon ice cream in your ice cream maker according to the manufacturer's directions. When the ice cream is done churning, add the chopped cherries and stir them in briefly just to get them well-distributed. Chill the ice cream for 30-45 minutes until firm enough to scoop.
Recipe Notes
Lemon ice cream recipe adapted from Gourmet magazine.
Fresh sour cherries have a very short season and can be hard to find, so I've created this recipe with canned sour cherries. If you have fresh available, you can certainly use those instead. You can also swap in sweet cherries, but if you do that, don't add any additional sugar to the cherries.
Measuring Tips
Our recipes are developed using weight measurements, and we highly recommend using a kitchen scale for baking whenever possible. However, if you prefer to use cups, volume measurements are provided as well. PLEASE NOTE: the adage "8 oz = 1 cup" is NOT true when speaking about weight, so don't be concerned if the measurements don't fit this formula.
Want to learn more about baking measurements and conversion?
Nutrition
Calories:
243
kcal
|
Carbohydrates:
39
g
|
Protein:
2
g
|
Fat:
9
g
|
Saturated Fat:
5
g
|
Cholesterol:
70
mg
|
Sodium:
36
mg
|
Potassium:
127
mg
|
Fiber:
0
g
|
Sugar:
26
g
|
Vitamin A:
845
IU
|
Vitamin C:
5.4
mg
|
Calcium:
49
mg
|
Iron:
1
mg
Tried this recipe?
Snap a pic and hashtag it #SugarHero. We love to see your creations on our Instagram @elabau.