This No-Churn Peach Ice Cream is an easy 4-ingredient homemade ice cream recipe that can be made without an ice cream maker! It's rich, creamy, and packed with peaches and cinnamon flavor.
🍑 Homemade Peach Ice Cream
Although peaches can often be found year-round in grocery stores, they are at their absolute best during the summer months–sweeter, riper, and juicer than at any other time of year. And if you're a fan of the peaches and cream combo, it's extra serendipitous that peach season coincides with ice cream season. Sweet and tangy peaches, rich and smooth ice cream, all at peak awesomeness…what's not to love?!
This homemade peach ice cream is another no-churn ice cream I've been loving lately. (Be sure to try our No-Churn Strawberry Shortcake Ice Cream, No-Churn Chocolate Ice Cream, and No-Churn Vanilla Ice Cream if you haven't already!) It's simple to make, is infused with so much peach flavor, and doesn't require an ice cream maker.
Best of all, you can make this recipe with fresh OR canned peaches! I'll be the first to tell you it's absolutely epic with ripe summer peaches, but since they're not available year-round (and since ice cream is definitely a year-round food at my house) canned peaches are a great substitute. It comes together in just 15 minutes, so you can be living your peaches & cream dreams sooner than you think.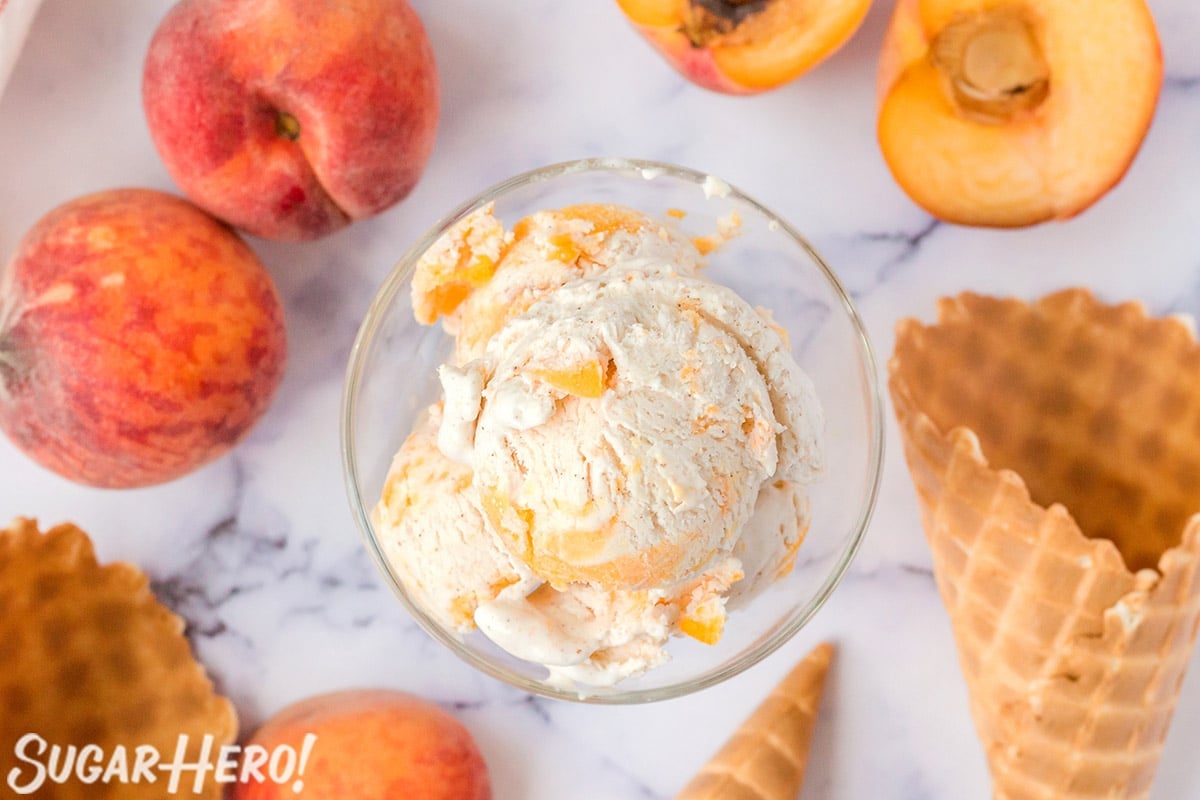 Table of Contents
🧾 What You'll Need
Ingredients
You just need four super basic ingredients to put together this peach homemade ice cream! (Links are affiliate links and I earn a small commission from qualifying purchases.)
Heavy Whipping Cream:

I recommend using heavy cream or manufacturing cream over whipping cream, when possible. Heavy cream and manufacturing cream have the most fat, which produces a better flavor and texture. For best results, make sure the cream is very cold before whipping it.
Sweetened Condensed Milk: This thick and rich sweetener will ensure that your ice cream doesn't freeze too hard and is a perfect scoopable consistency. Make sure you use sweetened condensed milk, NOT evaporated milk. The cans look similar and they're usually in the same section at the grocery store, but they are not the same thing.
Cinnamon: cinnamon adds a nice warm flavor to balance out the sweetness of the other ingredients. This makes the ice cream taste like peach cobbler! You can leave it out if you prefer.
Peaches: you can use canned, sliced peaches to add the peach flavor. If you have sweet, ripe fresh peaches, you can use those instead–check the Tips section below for instructions!
Equipment
My favorite thing about no-churn ice cream? (Aside from the incredible flavor and texture, of course.) The simplicity! You can make it with equipment you probably already have on-hand. Here's what you'll need. (Links are affiliate links and I earn a small commission from qualifying purchases.)
Electric Mixer:

a hand mixer or stand mixer will work to beat the heavy cream.

Ice Cream Scoop:

an ice cream scoop makes it super easy to serve the finished ice cream.
Ice Cream Storage Container:use an ice cream storage container to keep the ice cream perfectly fresh and creamy in the freezer. If you don't have one, you can use a loaf pan tightly wrapped with plastic wrap.
📋 Instructions
This no-churn peach ice cream requires just 15 minutes of hands-on time. Full instructions are included in the recipe card down below.
In a chilled bowl, whip the heavy cream until stiff peaks form.
Add in the condensed milk, cinnamon, and peaches. (Don't forget to drain off the excess juices if you are using canned peaches.) Stir until fully mixed and the peaches are broken up into smaller pieces.
Transfer the mixture to a loaf pan or ice cream storage container and freeze until firm to the touch.
Scoop and enjoy!
💭 Variations
This peach ice cream is about as fresh and delicious as it gets, but if you're looking for ways to switch things up, here are a couple ideas!
Use another stone fruit. Try fresh stone fruit like nectarines, plums, apricots, or cherries. As with all fresh fruit, aim to get the ripest, softest, juiciest fruit you can find!
Try canned fruit. You could also experiment with other canned fruits or even canned pie filling. Be sure to drain any fruit/pie filling you want to use so that it doesn't impact the texture of the ice cream.
Add mix-ins. Make a peach pie ice cream by mixing in crushed graham crackers, shortbread cookies, or crumbled baked pie crust.
💡 Tips and FAQs
Using fresh peaches: You can use fresh peaches in this recipe as well. I recommend dicing the peaches if you do. Fresh peaches can be harder to break up into smaller pieces during the stirring process, and you'll want the peach pieces to be small in the ice cream. You can leave the skins on, or remove them (personal preference).
Check the milk. It's far too easy to grab evaporated milk instead of sweetened condensed milk. The sweetened condensed milk is key!
Chill the bowl and whisk. The colder equipment creates a lighter whipped cream which creates a lighter ice cream.
Don't over mix. When you're mixing the ice cream ingredients, gently fold only until just combined. Over-mixing deflates the cream.
Store in the back of the freezer. The further back the ice cream, the better the temperature is regulated. If the ice cream temperature fluctuates too much, ice crystals can form.
Peach Honey Ice Cream With Lemon Verbena
This Peach Honey Ice Cream With Lemon Verbena has BIG peach flavor with mellow honey and herbal undertones that is the perfect setup for a summer that will be oh so sweet!
View Recipe
Peach Passion Pops
These Peach Passion Pops taste like summer on a stick! You will LOVE the mix of peach and passion fruit flavors. These homemade popsicles are a little bit sweet, a little bit tart, and completely refreshing! Dip them in chocolate for extra indulgence.
View Recipe
🍦 More Ice Creams
We aaaaaallllll scream for ice cream recipes, so satisfy your sweet tooth with one of these:
Don't miss the step-by-step tutorial showing how to make Peach Ice Cream – check out the web story here!
Leave a Review!
If you make this recipe, let us know! Leave a ⭐️⭐️⭐️⭐️⭐️ rating on the recipe below, and leave a comment, take a photo and tag me on Instagram @elabau, or use #sugarhero on IG!
No-Churn Peach Ice Cream
This No-Churn Peach Ice Cream is an easy 4-ingredient homemade ice cream recipe that can be made without an ice cream maker! It's rich, creamy, and packed with peaches and cinnamon flavor.
Instructions
In a chilled bowl, whip the heavy cream with a hand mixer or stand mixer, until firm peaks form.

Add the condensed milk, cinnamon, and sliced, drained peaches to the whipped cream. Stir everything together until it is fully incorporated, and the peaches are broken up into smaller pieces.

Scrape the ice cream mixture into an ice cream storage container, or a 9×5 inch loaf pan. Cover the container firmly with a lid, or plastic wrap if using a loaf pan. Place the pan in the freezer for at least 4-6 hours, or until the top of the ice cream is firm to the touch.

Scoop and enjoy! This ice cream can be stored, well-wrapped, in the freezer for up to a month.
Measuring Tips
Our recipes are developed using weight measurements, and we highly recommend using a kitchen scale for baking whenever possible. However, if you prefer to use cups, volume measurements are provided as well. PLEASE NOTE: the adage "8 oz = 1 cup" is NOT true when speaking about weight, so don't be concerned if the measurements don't fit this formula.
Want to learn more about baking measurements and conversion?
Nutrition
Calories:
386
kcal
|
Carbohydrates:
35
g
|
Protein:
6
g
|
Fat:
26
g
|
Saturated Fat:
16
g
|
Polyunsaturated Fat:
1
g
|
Monounsaturated Fat:
7
g
|
Cholesterol:
84
mg
|
Sodium:
86
mg
|
Potassium:
311
mg
|
Fiber:
1
g
|
Sugar:
33
g
|
Vitamin A:
1193
IU
|
Vitamin C:
4
mg
|
Calcium:
185
mg
|
Iron:
0.4
mg
Tried this recipe?
Snap a pic and hashtag it #SugarHero. We love to see your creations on our Instagram @elabau.