This post may contain affiliate links. Please see my disclosure policy for more information.
Circus Animal No-Churn Ice Cream is a sweet pink-and-white swirled ice cream, with LOTS of sprinkles and circus animal cookies mixed in! For maximum cuteness, serve them in gorgeous, edible white chocolate tulip bowls! Find full recipes and a video tutorial for the ice cream and the white chocolate bowls below.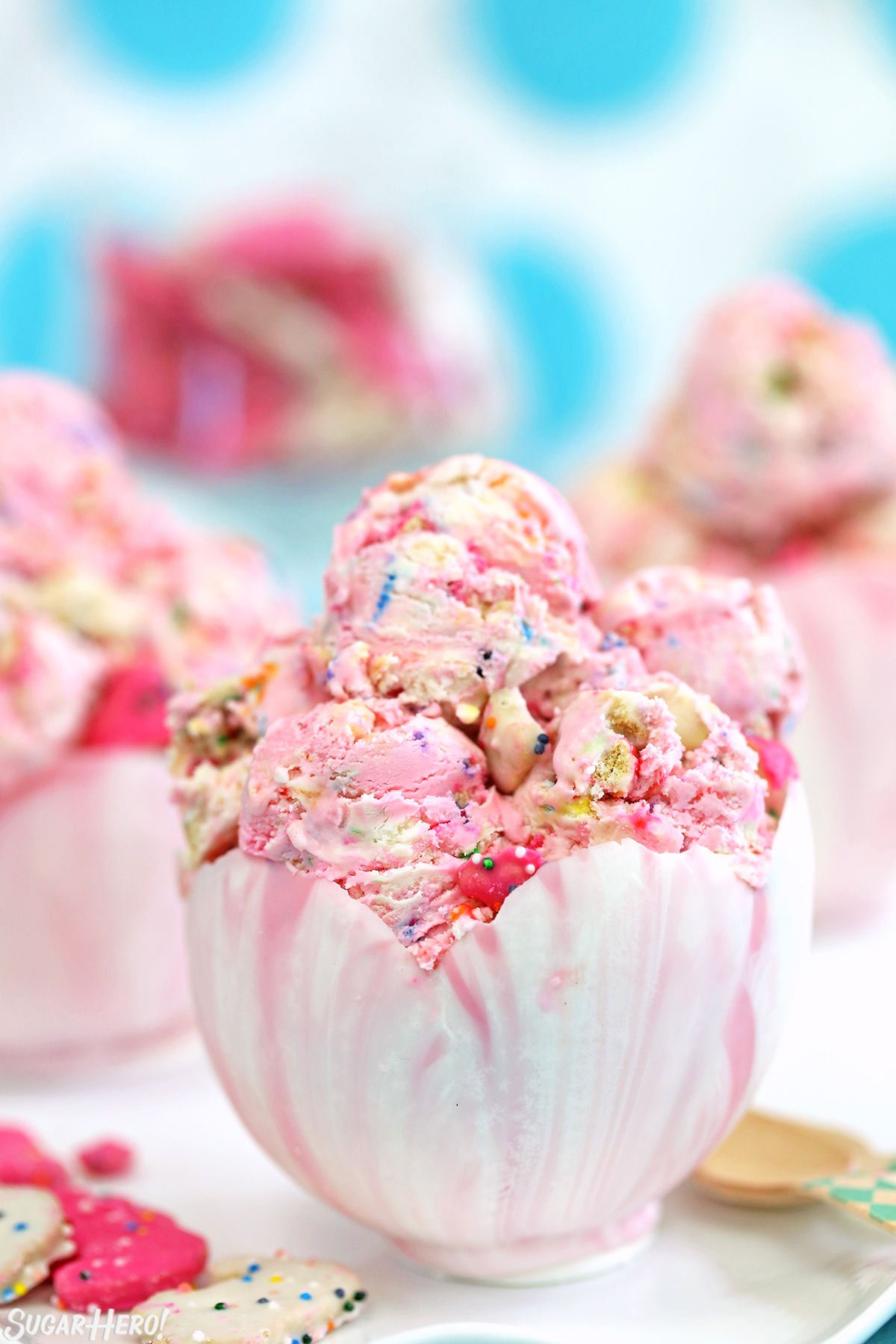 This post is sponsored by International Delight. This year I'm pleased to partner with them to bring you a series of dessert recipes featuring their products.
Watch out, friends, because this Circus Animal No-Churn Ice Cream is a dangerous recipe.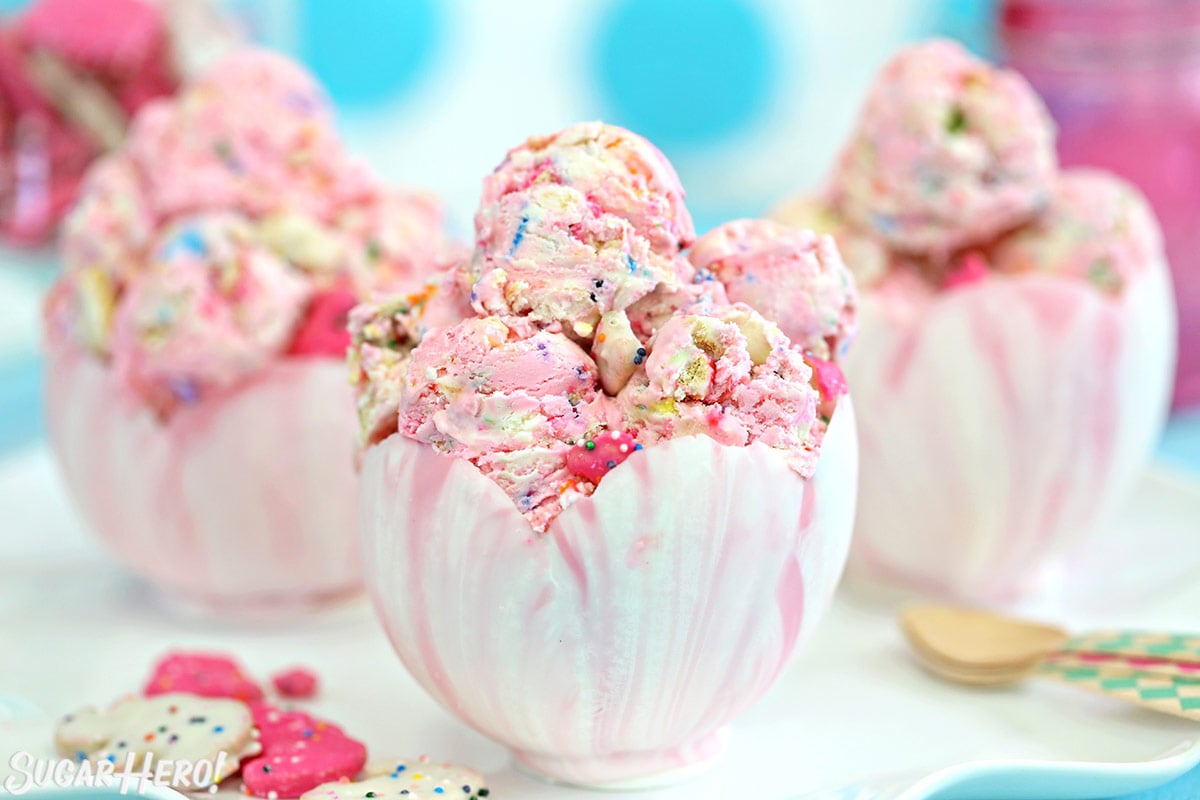 Circus animal cookies are already my kryptonite. I don't know what addictive ingredients they're putting into those things (um…other than sugar… *innocent whistling*) but somehow, if I get my hands on a bag of those pink and white suckers, the entire thing is gone before I know what's happened. They are that addicting.
So when you combine THOSE cookies with THIS ice cream recipe, you're really tempting fate. I recommend making this when you know company is coming over, and you'll have people to help you eat it, otherwise you just might end up gobbling the ice cream out of the container like a feral raccoon raiding the trash can. Not like I'd know anything about that. Ahem.
This is a no-churn ice cream, meaning that you don't need an ice cream maker to make it! *cue confetti and streamers* I actually have an ice cream maker, but what I DON'T have is endless freezer space or advanced planning skills. This means that when the urge for homemade ice cream strikes, I can never fulfill it because my dang ice cream bowl needs to freeze for at least 24 hours, and since when do I have the ability to plan out my desserts 24 hours in advance…grumble grumble…
But no need to grumble any longer! With no-churn ice creams, you just mix together a few ingredients, pop that baby into the freezer, and in 4-6 hours, you have a beautiful, luscious, creamy ice cream all ready for you. It's like magic, only better, because you can eat it. Edible magic, if you will.
This particular no-churn ice cream is made with International Delight Sweet Cream coffee creamer, which gives it the signature taste of Cold Stone sweet cream ice cream (if you've ever had Cold Stone Creamery sweet cream ice cream, then you KNOW that this flavor is good!). So we've got the delicious sweet cream taste, thanks to the creamer. We've got vanilla extract. We've got a bunch of sprinkles, and LOTS of circus animal cookie chunks. Can you see why this ice cream is dangerous yet?? The final touch is to give it pink and white swirls, because it needs to be as cute as it is delicious.
WAIT WAIT. The ACTUAL final touch, if you're me, is to make these darling edible white chocolate tulip cups, because they are gorgeous and a pretty ice cream deserves an equally pretty serving container. Seriously, don't you love the pink swirls and scalloped edges? All you need are pink and white candy coating and some water balloons to make them. I've shown these in the video down below, because there is a bit of a trick to it, and it's easier to show than explain.
Basically, instead of dipping the balloons in the chocolate, you'll sort of place one side on top of the chocolate and drag it through, then rotate the balloon and do another side, until you've gone all the way around. It might take you a few to get the hang of it, but it's not difficult, and if you have a birthday party, shower, or any special occasion coming up, these lovelies would fit right in! Fill them with mousse, whipped cream, candies, or–my personal favorite–this circus animal ice cream!
There is no better way to make it through a blazing hot summer day than a big bowl of this no-churn ice cream. I hope you'll let me know what you think if you give it a try!
Print Recipe
Circus Animal No-Churn Ice Cream
Circus Animal No-Churn Ice Cream is a sweet pink-and-white swirled ice cream, with LOTS of sprinkles and circus animal cookies mixed in! The best part is, you don't need an ice cream maker to make this treat. For maximum cuteness, serve them in gorgeous, edible white chocolate tulip bowls!
Ingredients
2.25

cups

heavy cream

14

oz

sweetened condensed milk

(1 standard can)

1

TBSP

vanilla extract

½

cup

International Delight Sweet Cream creamer

6

oz

chopped circus animal cookies

(about 1 ½ cups)

¼

cup

assorted sprinkles
Instructions
Whip the cream to firm peaks.

In a separate bowl, combine the sweetened condensed milk, vanilla extract, and International Delight Sweet Cream creamer, and stir well.

Gently fold the whipped cream into the milk mixture, working in batches and stirring gently so the cream doesn't deflate. Once combined, divide the mixture in half and color one half a soft pink color, and leave the other half white.

Divide the cookies and sprinkles between the two bowls, reserving a few spoonfuls of each to use as toppings. Gently fold the cookies and sprinkles into both bowls.

Take a 6-cup container, and alternate adding scoops of white and pink cream into the container. Swirl a knife through the cream until the colors are mixed up in pretty swirls. Sprinkle the top of the ice cream with the reserved sprinkles and cookie pieces. Freeze the container for 4-6 hours, until very firm.
Nutrition
Calories:
400
kcal
|
Carbohydrates:
35
g
|
Protein:
5
g
|
Fat:
27
g
|
Saturated Fat:
15
g
|
Cholesterol:
90
mg
|
Sodium:
160
mg
|
Potassium:
204
mg
|
Sugar:
25
g
|
Vitamin A:
910
IU
|
Vitamin C:
1.3
mg
|
Calcium:
153
mg
|
Iron:
0.5
mg
Print Recipe
Edible White Chocolate Tulip Bowls
White Chocolate Tulip Bowls are easy to make, and they never fail to impress! You need just a few ingredients (and a little practice) to make these gorgeous, edible swirled white and pink chocolate bowls with a scalloped edge! Fill them with ice cream, mousse, whipped cream, candies, or anything else you can dream up!
Instructions
Melt the white candy coating and the pink candy coating in separate bowls. Set them aside to cool to room temperature—they should still be melted and fluid, but not at all warm to the touch. (If the chocolate is too warm, the balloons will pop when you dip them!)

Line a baking sheet with parchment or waxed paper. Drop 10 1-inch circles of white coating on the paper, spaced several inches apart, and tap the baking sheet against the counter a few times to level off the circles of chocolate and give them a flat top. These will be the bases for your white chocolate bowls.

Blow up the water balloons and tie them off.

Drizzle a spoonful of pink coating on top of the melted white coating in a random pattern. Hold a balloon by the top near the knot in one hand, and in the other hand hold the bowl of coating, tilted at an angle toward you.

To get visible swirls, you don't dip the balloon so much as place the side of it in the chocolate and then pull it up. Gently set the side of the balloon in chocolate, so that the chocolate comes about half-way up the side of the balloon in a semi-circle shape. Pull the balloon out of the chocolate, then rotate it a bit, and do a second side, slightly overlapping the first, and creating a scalloped edge on top. Repeat, rotating the balloon, until all of the sides are covered with chocolate. I typically did 5 dips per balloon. Let the excess drip back into the bowl, then gently set the balloon down on one of the white chocolate circles you made.

Drizzle another big spoonful of pink coating into the bowl, and repeat with the remaining balloons. If the coating gets too cool to work with, heat it up briefly, in 5-second spurts, just until it is workable again.

Once all of the balloons are dipped, refrigerate the tray to set the white chocolate bowls completely.

Press against the sides of the balloons, gently, to loosen them from the chocolate bowls, then pop the balloons with a sharp pin and pull out any balloons that cling to the white chocolate inside.

Fill the edible bowls with scoops of Circus Animal No-Churn Ice Cream, and once you've eaten the ice cream, devour the bowls!
Nutrition
Calories:
99
kcal
|
Carbohydrates:
12
g
|
Fat:
5
g
|
Saturated Fat:
4
g
|
Sodium:
20
mg
|
Sugar:
12
g