These Peach Passion Pops taste like summer on a stick! You will LOVE the mix of peach and passion fruit flavors. These homemade popsicles are a little bit sweet, a little bit tart, and completely refreshing!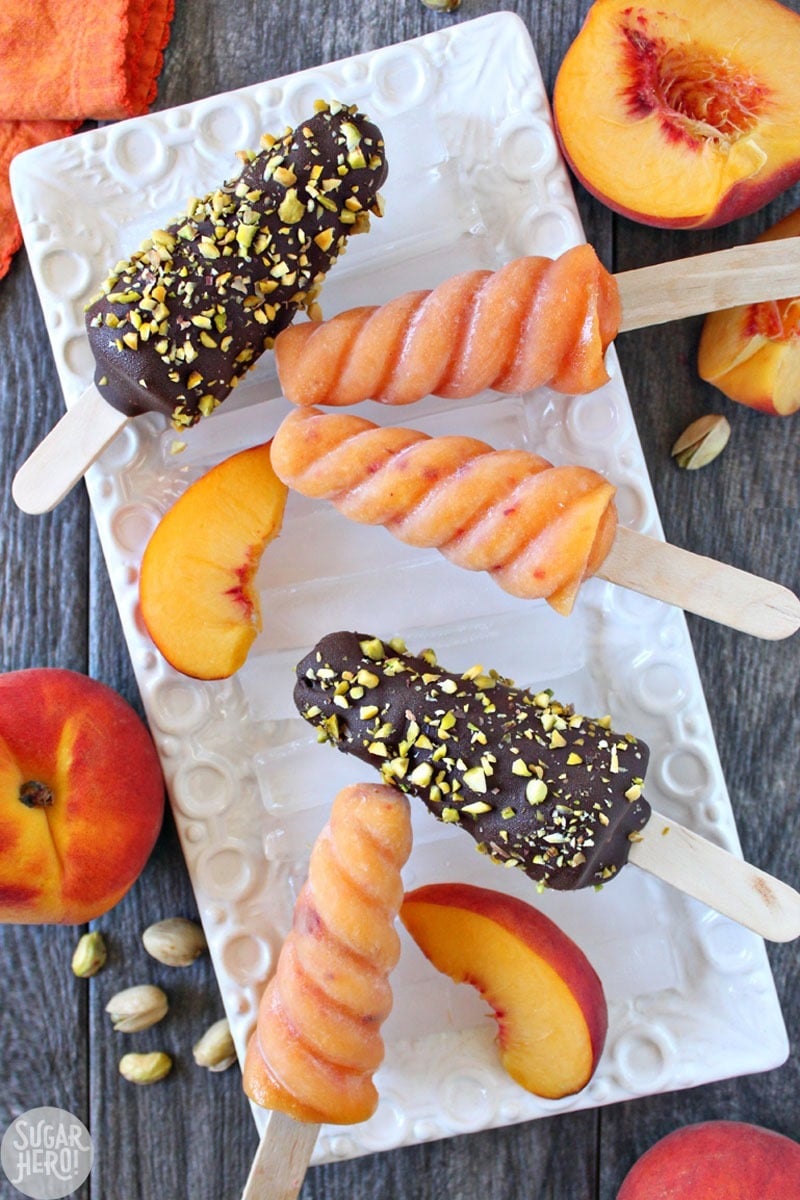 I hardly ever make popsicles, and I don't know why that is. I love frozen desserts. I love food on sticks. I love recipes that require zero cooking and minimal assembly. Popsicles are the perfect summer food, and I think we should all lobby to have them put at the base of the food pyramid, at least while the weather is beastly.
My original intention was to do apricot-pistachio popsicles, because I'm having a love affair with apricots right now and I don't care who knows it. (TM George Bluth). But Trader Joe's was all out of apricots, and rather than drive 5 more minutes out of my way, I switched to peach popsicles instead. (It's possible my apricot love isn't as strong as I'm claiming it is.)
Rather than do straight peach popsicles, I blended the peaches with passion fruit puree, to make a sweet-tart popsicle with a tropical flavor and lots of great texture from little chunks of peaches. If you're more of a smooth popsicle person you can definitely blend them until silky smooth, but I like a little bit of chew in my pops, so the peach chunks were the perfect addition for me.
And hey, this wouldn't be SugarHero without some gratuitous chocolate, right? I dipped a few of the popsicles in dark chocolate and covered them with a generous sprinkling of chopped pistachios. It changed the nature of the popsicles from "mostly healthy, with a bit o' sugar" to "full-on dessert," but that isn't exactly an insult, right? You could dip just a few of the pops, and have an option for everyone! I also think this would be great with white chocolate—one of the few times I've uttered that sentence. Something about tart peach-passion fruit and really sweet white chocolate sounds so dreamy!
More Fun Frozen Desserts
Peach Upside-Down Cakes
Move over, pineapple—there's a new fruit cake in town! These Peach Upside-Down Cakes are a delicious twist on the usual recipe. They feature fresh, juicy peaches, drenched in caramel, on top of a spiced buttermilk-pecan cake.
View Recipe
Grilled Pound Cake and Peaches
Grilled Pound Cake and Peaches are the ultimate summer dessert! Crisp, butter-brushed pound cake and honey-glazed peaches are grilled to perfection, then served with ice cream and honey-cinnamon caramel sauce. They're perfect end to a summer's barbecue!
View Recipe
Peach Passion Pops
These Peach Passion Pops taste like summer on a stick! You will LOVE the mix of peach and passion fruit flavors. These homemade popsicles are a little bit sweet, a little bit tart, and completely refreshing! Dip them in chocolate for extra indulgence.
Instructions
Wash the peaches well, then cut them in half and remove the pits. Place the peaches in a large food processor and pulse in short bursts until the peaches are in chunky pieces.

Remove 1/2 cup of the peaches, and add the passion fruit puree and sugar to the remaining peaches in the food processor. Blend until very smooth. Taste the mixture, and add additional sugar if desired. (The amount of sugar you'll need depends on your taste and the sweetness of your peaches.) Add the chunky peaches back to the peach puree, and stir it in.

Pour the popsicle mix into your molds and freeze for 30 minutes, until the pops have begun to set. Insert popsicle sticks into each pop, and freeze for another 2-3 hours, until frozen completely.

If you want to cover them with chocolate, combine the finely chopped chocolate and coconut oil in a bowl, and melt it in the microwave, stirring after every 30 seconds to prevent overheating. The chocolate should flow freely and be fairly thin—if it still seems thick and gloopy, add more coconut oil, a small spoonful at a time, until it's thin.

Unmold the popsicles. Hold one over the bowl of chocolate, and with a large spoon, pour chocolate over the popsicle, rotating it as you pour so that the whole thing is covered. Immediately sprinkle a big pinch of chopped pistachios on top, while the chocolate is still wet. Repeat with the remaining popsicles, until they're all covered with chocolate. Serve immediately, or keep frozen until ready to serve.
Recipe Notes
I always leave the skins on my peaches when I make these pops—they're a little chunky anyhow, so I don't mind a little extra texture, and I love the spots of color too. If you want your pops perfectly smooth, remove the peach skins by bringing a large pot of water to a boil, and cut an X through the skin on the bottom of each peach. Drop the peaches in the water for 1 minute, then drain and cool slightly. The skins should now slip right off, and you're ready to make the popsicles. This recipe yields 8 small (1/4 cup) popsicles.
Measuring Tips
Our recipes are developed using weight measurements, and we highly recommend using a kitchen scale for baking whenever possible. However, if you prefer to use cups, volume measurements are provided as well. PLEASE NOTE: the adage "8 oz = 1 cup" is NOT true when speaking about weight, so don't be concerned if the measurements don't fit this formula.
Want to learn more about baking measurements and conversion?
Nutrition
Calories:
342
kcal
|
Carbohydrates:
38
g
|
Protein:
3
g
|
Fat:
19
g
|
Saturated Fat:
11
g
|
Cholesterol:
2
mg
|
Sodium:
4
mg
|
Potassium:
387
mg
|
Fiber:
4
g
|
Sugar:
30
g
|
Vitamin A:
390
IU
|
Vitamin C:
10.4
mg
|
Calcium:
35
mg
|
Iron:
3
mg
Tried this recipe?
Snap a pic and hashtag it #SugarHero. We love to see your creations on our Instagram @elabau.