Grilled Pound Cake and Peaches are the ultimate summer dessert! Crisp, butter-brushed pound cake and honey-glazed peaches are grilled to perfection, then served with ice cream and a honey-cinnamon caramel sauce. They're the perfect end to a summer's barbecue!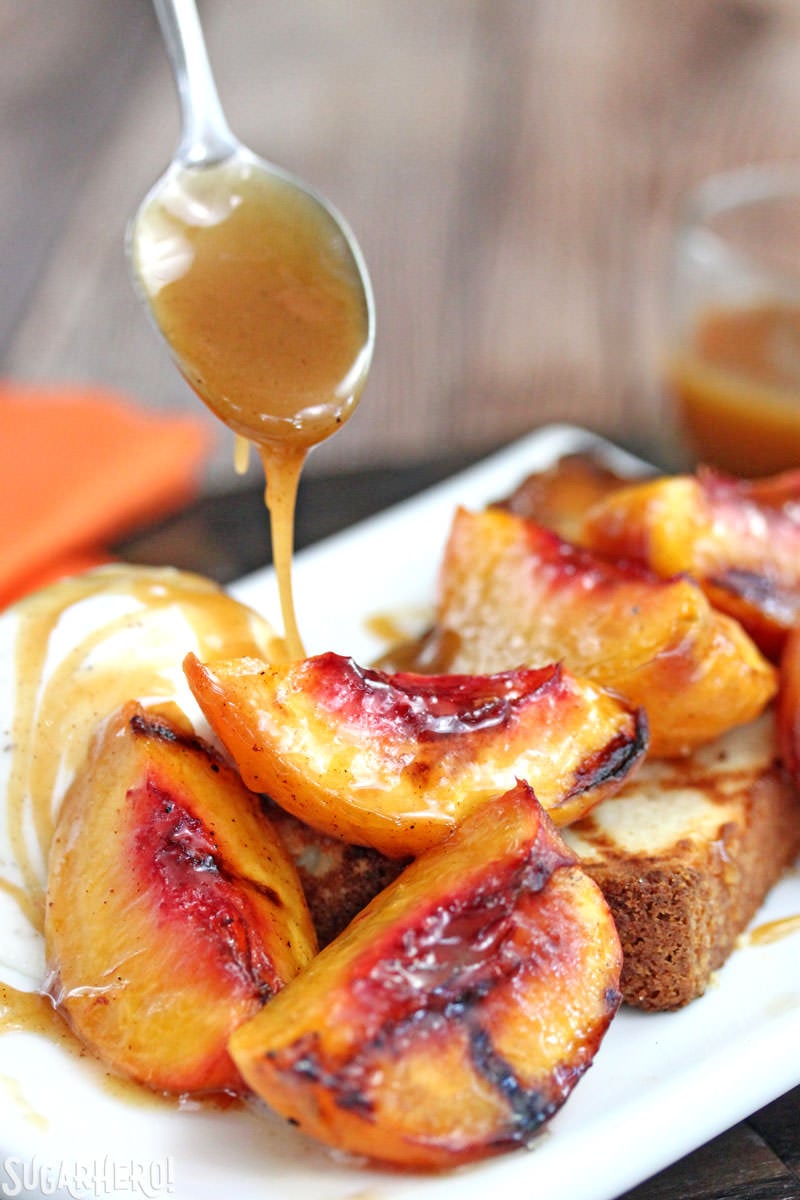 Today we are kicking it OLD SCHOOL! I'm sharing a recipe that I first posted to my blog back in 2010. (If this recipe were a person, it would be reading and doing arithmetic right now!) This actually pre-dates SugarHero–it was posted on an old blogspot blog I used to have. I'm really excited to revive it and share it with you today, because it's one of my very favorite summer desserts, and I think you are going to love it too.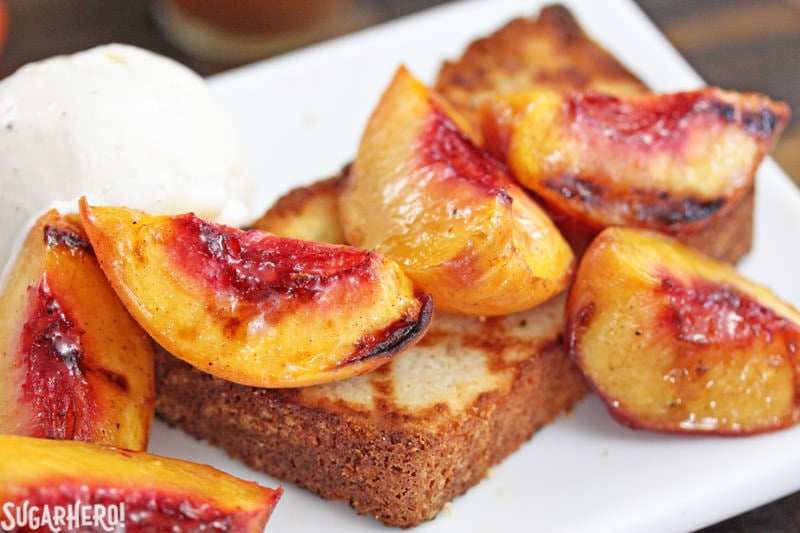 The best thing about this recipe is its simplicity. Now, you know I love a good, complex baking project. My tombstone is going to be in the shape of a giant layer cake and will read "Here lies Elizabeth. She died doing what she loved–whisking pastry cream at 2 am while running 5 mixers and baking 3 different things at once."
But in the summer, when it's too hot to think and turning on the oven seems like a cruel joke, and the most I can do for dinner is throw some burgers on the grill, there is nothing better than this quick and easy dessert.
Here's what we have going on: thick slices of pound cake, brushed with melted butter and tossed on the grill until the outsides are golden and crisp, with lovely char lines and just a hint of smoky flavor.
Next, there's a quick dessert sauce made from butter, honey and cinnamon. Ripe peaches are given a quick dip in this sauce, then grilled until caramelized, their juices practically bursting out of them when you take them off the grill.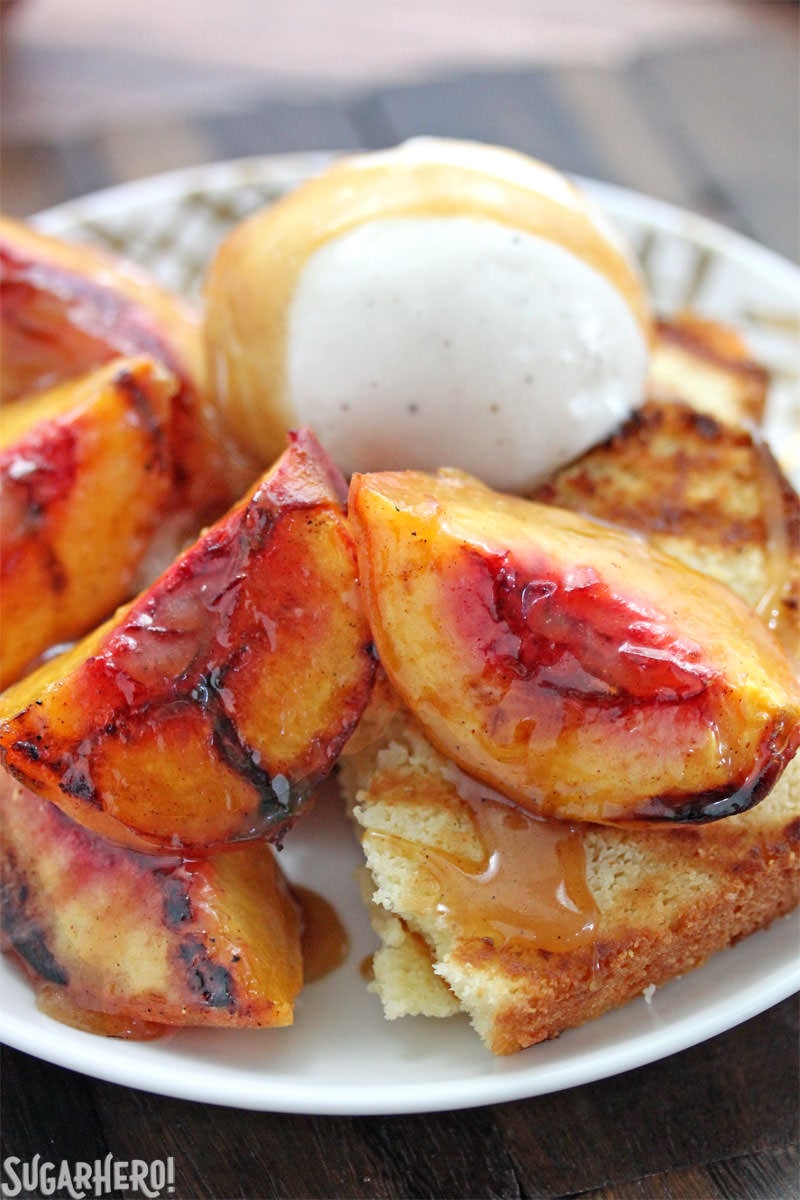 And finally, that same sauce is boiled until it thickens and takes on a caramel color and texture. After that, you put it all together: pound cake! Peaches! A scoop of soft vanilla ice cream! (Oops, did I forget to mention that part?) And a big drizzle of warm honey-cinnamon caramel or cinnamon syrup on top. Heaven. It's hard to believe that something so fast and easy could taste so good.
One quick note: you'll want to buy the season's best peaches–only the juiciest and ripest, please! With such a simple recipe, the quality of the ingredients really shines, and although grilling + dousing in sauce can hide some sins, you'll get the best results using produce with a great texture and flavor already.
I'm not including a pound cake recipe, because this is supposed to be a quick + easy dessert hack, so I feel it's my duty to encourage you to use whatever pound cake you can get your hands on, be it bakery-bought, from the frozen aisle, or home made. If you do want to make your own, this Sour Cream Pound Cake from Stella Parks at Serious Eats is the best recipe I've tried. Swoon.
I hope you'll give this recipe a try before the summer's over!
🍓 More Fabulous Fruit Recipes
Grilled Pound Cake and Peaches
Grilled Pound Cake and Peaches are the ultimate summer dessert! Crisp, butter-brushed pound cake and honey-glazed peaches are grilled to perfection, then served with ice cream and honey-cinnamon caramel sauce. They're perfect end to a summer's barbecue!
Ingredients
6

oz

unsalted butter

(1 1/2 sticks)

, divided use

1/2

cup

honey

1/2

tsp

ground cinnamon

1/4

tsp

ground nutmeg

freshly ground recommended

1/8

tsp

salt

6

freestone peaches

halved and pitted

6

slices

pound cake

sliced 3/4-inch thick

Ice cream

of your choice
Instructions
Melt the 1/2 stick of butter in the microwave and set aside for now.

In small saucepan over medium heat, combine the remaining 1 stick of butter, honey, cinnamon, nutmeg and salt. Heat until butter is melted, then dip peach halves in the mixture.

Grill the peaches for 5 minutes, then flip them, cover, and grill for 5 more minutes. Carefully remove them from the grill, slice each peach half in quarters and cover to keep warm.

While the peaches are on the grill, continue to heat the honey butter mixture until thick and caramelized, about ten minutes. It will get thicker once it cools down, so err on the side of caution. If you find it's too thick, add some cream or milk and heat it to loosen it back up.

Once the peaches are off the grill, brush both sides of each pound cake slice with the melted butter. Grill them for about 2 minutes per side, until the slices are crisp and golden.

Top the grilled poundcake with grilled peaches, cold ice cream, warm honey-butter sauce, and swoon.
Video
Measuring Tips
Our recipes are developed using weight measurements, and we highly recommend using a kitchen scale for baking whenever possible. However, if you prefer to use cups, volume measurements are provided as well. PLEASE NOTE: the adage "8 oz = 1 cup" is NOT true when speaking about weight, so don't be concerned if the measurements don't fit this formula.
Want to learn more about baking measurements and conversion?
Nutrition
Calories:
376
kcal
|
Carbohydrates:
41
g
|
Protein:
1
g
|
Fat:
23
g
|
Saturated Fat:
14
g
|
Cholesterol:
91
mg
|
Sodium:
213
mg
|
Potassium:
51
mg
|
Sugar:
34
g
|
Vitamin A:
755
IU
|
Vitamin C:
0.2
mg
|
Calcium:
29
mg
|
Iron:
0.9
mg
Tried this recipe?
Snap a pic and hashtag it #SugarHero. We love to see your creations on our Instagram @elabau.