These Chocolate-Dipped Frozen Bananas are an awesomely fast and easy recipe for you (and your kids!) to make. Roll them in your favorite topping and enjoy!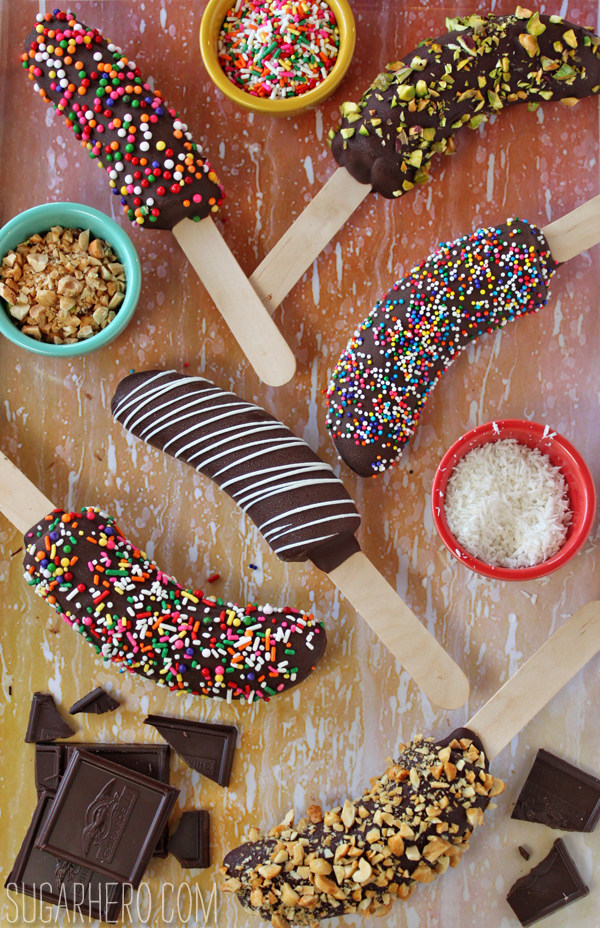 Big news. BIG NEWS!! Sorry to shout, but I'm way too excited to be bothered by social niceties like moderating my Internet tone of voice. (Tone of type?) Do you know what's happening one week from today?
I'll give you a hint: it starts with an "A," ends with an "rrested Development," and is only the greatest, funniest, most awesomest show ever to be cruelly yanked from the airwaves before its time.

Yes, Arrested Development is coming back to television, and I couldn't be more excited. Imagine me running in circles flapping my arms and making high-pitched yipping noises, and you're getting close. To celebrate, I'm teaming up with my blogging BFF Danguole at 10th Kitchen to bring you a whole week of Arrested-Development themed food. This is going to be bananas. Pun most definitely intended.
Danguole started our week off right, with an Elderflower Collins recipe. And in honor of our favorite early-morning drinker, Lucille Bluth, it should be served with a side of toast. Because toast=breakfast, duh. Go check out the recipe, and stay for the AD jokes and "Best of Lucille" video clip show.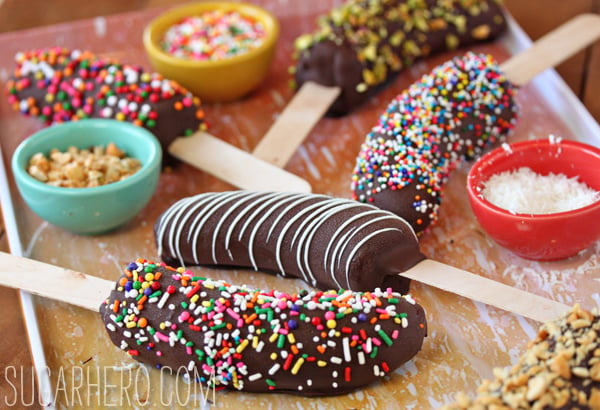 I knew right away what I wanted my first contribution to be. Chocolate-dipped frozen bananas are a big part of the Arrested Development world. After sketchy real estate deals, selling national secrets to Saddam Hussein, and composing folksy jingles for pharmaceutical companies, frozen bananas are the Bluth's main business. Their "Bluth's Original Frozen Banana Stand" is like another character on the show.
The banana stand has been the scene of more heartbreak, magic tricks illusions, sibling rivalry, and uncomfortable cousin moments than any plywood structure should have to witness. And let's not forget the #1 rule of the banana stand: don't burn it down, because there's always money in the banana stand.
But enough TV talk, let's get to the goods! This was my first time making frozen bananas, and I wanted to do them justice. Turns out, making frozen bananas is super easy! (So easy, even Steve Holt could figure it out.) Because they're so simple and fast, this is a great recipe to make with kids. With the weather heating up, it's perfect to have in your arsenal for hot summer days when everyone's craving something cold and the popsicle stash is gone.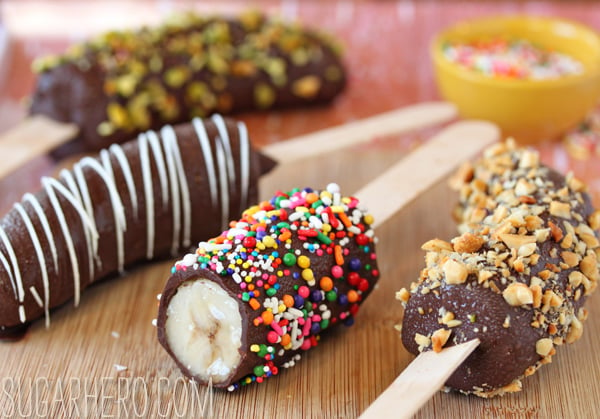 I coated my bananas with semi-sweet chocolate and a variety of toppings: salted nuts, sprinkles, toasted coconut, and white chocolate. I think my favorite variation was the salted pistachios, but really, anything that adds a little crunch is perfect. I liked them best when they sat out of the freezer for about 10-15 minutes, so that the bananas softened just a bit and had a creamy, almost ice cream-like consistency, instead of their initial rock-hard texture.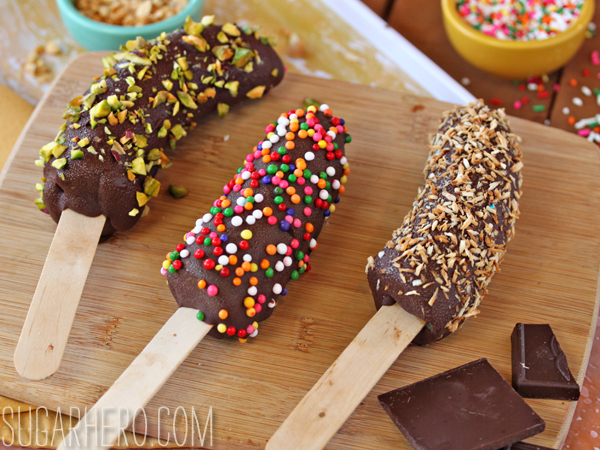 🍓 More Fabulous Fruit Recipes
Chocolate-Dipped Frozen Bananas
These Chocolate-Dipped Frozen Bananas are an awesomely fast and easy recipe for you (and your kids!) to make. Roll them in your favorite topping and enjoy!
Ingredients
5

large bananas

10

wooden sticks

24

oz

semi-sweet chocolate

coarsely chopped

Assorted toppings

sprinkles, nuts, coconut, etc.
Instructions
Peel the bananas and cut them in half so you have 10 banana pieces. Skewer the cut end of each banana with a wooden stick, inserting it in until it's stable. Line a baking sheet with parchment or waxed paper, and place the bananas on the baking sheet and freeze until firm, about 1 hour.

Place the chopped chocolate in a microwave-safe bowl and melt it in 30-second increments. Stir until the chocolate is melted and smooth. Place your toppings in shallow bowls and have them nearby–the chocolate hardens quickly, so you'll want them to be easily accessible. When your chocolate is melted and your toppings are ready, remove the bananas from the freezer.

Hold one banana over the bowl of chocolate. Use a large spoon (a small ladle works well for this purpose) and spoon a generous amount of chocolate over the banana, rotating it and spooning on more chocolate until it's covered. It's important to work quickly, since the chocolate will start to set soon after it touches the cold banana. Let the excess chocolate drip back into the bowl. Quickly move the banana over one of the bowls of toppings, and sprinkle the toppings over the banana, letting the extra drop back into the bowl. Place the banana back on the baking tray, and repeat until all of the bananas are coated with chocolate.

The frozen bananas can now be served. If you won't be eating them right away, store them in an airtight container or zip-top plastic bag in the freezer. If you are serving them straight from the freezer, allow them to sit at room temperature for 10-15 minutes before serving, for the best taste and texture.
Measuring Tips
Our recipes are developed using weight measurements, and we highly recommend using a kitchen scale for baking whenever possible. However, if you prefer to use cups, volume measurements are provided as well. PLEASE NOTE: the adage "8 oz = 1 cup" is NOT true when speaking about weight, so don't be concerned if the measurements don't fit this formula.
Want to learn more about baking measurements and conversion?
Nutrition
Calories:
446
kcal
|
Carbohydrates:
49
g
|
Protein:
4
g
|
Fat:
26
g
|
Saturated Fat:
15
g
|
Cholesterol:
4
mg
|
Sodium:
7
mg
|
Potassium:
597
mg
|
Fiber:
6
g
|
Sugar:
32
g
|
Vitamin A:
70
IU
|
Vitamin C:
5.1
mg
|
Calcium:
45
mg
|
Iron:
4.4
mg
Tried this recipe?
Snap a pic and hashtag it #SugarHero. We love to see your creations on our Instagram @elabau.