Looking for a quick and easy dessert the whole family will love? These chewy Peanut Butter Cup Popcorn Balls are fast, easy, and packed with peanut and chocolate flavor!
If your family is anything like mine, they will love this simple popcorn ball recipe, packed with mini peanut butter cups!
We became a popcorn family about a year ago, and it's all thanks to my son Asher. You might not be familiar with the term "popcorn family"…perhaps because I made it up just now. A popcorn family is a household that has no fewer than 3, and probably closer to 5, different types of popcorn in the kitchen at any given time. If you're careless when opening a cupboard belonging to a popcorn family, you are very likely to have a stray box of popcorn fall on your head. (Let this be a warning to any real-life visitors I might have.)
Before Asher was born, I liked popcorn well enough, but rarely bought it for just the husband and I. But about a year ago, my son finally developed the attention span to be able to sit through a whole movie, and around the same time he discovered the pleasure of eating popcorn while watching movies. He was so thrilled, you'd think he was the first person to ever come across this combination.
Ever since then, he has loved, loved, LOVED family movie nights. He'll ask, with the sweetest Disney princess-style eyelash batting, "Can we have a very special night tonight, mom?" And being a total sucker, I always say yes. How can I resist some quality family bonding, accompanied by quality family snacking? We pop some popcorn, lay out the picnic blanket, and get cozy in front of the latest cartoon obsession. (Kung Fu Panda, you are getting on my last nerve.)
These Peanut Butter Cup Popcorn Balls are fast and easy to make with kids—everything is done in the microwave, so there's no need to turn on the stove, and no scalding hot sugar syrup to stir. (Of course you will still want to supervise your little ones closely!)
These popcorn balls are a little different than most traditional recipes—they're held together with melted marshmallows, sort of like the popcorn version of rice crispy treats. As you might imagine, they're deliciously sweet, chewy, and soft, and the marshmallow mixture makes them very easy to shape into balls.
But the BEST part about these popcorn balls is the mix-ins! I knew I wanted to incorporate chocolate somehow—anyone who has ever tossed a handful of M&M's into their bucket of popcorn at the movies knows how well chocolate and popcorn go together! I decided to take this a step further and put a peanut butter twist on the popcorn balls. The melted marshmallow has peanut butter mixed right in, and then the popcorn is tossed with salted peanuts and cute little mini peanut butter cups. Finally, each ball is drizzled with a little more chocolate, because how could I not?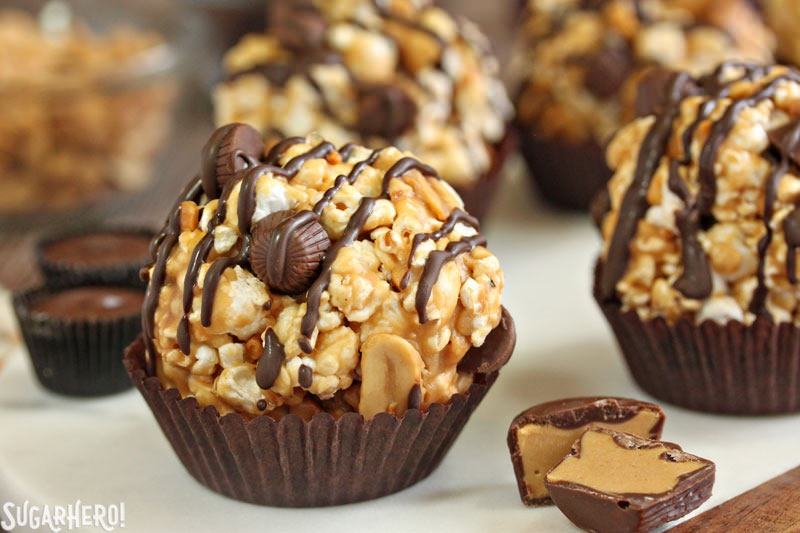 Every single bite of these Peanut Butter Cup Popcorn Balls is filled with chewy popcorn, crunchy peanuts, and delicious chocolate peanut butter cups. I'm a little afraid to have Asher try one, because he may not be satisfied with regular popcorn and a movie ever again! But hey, I won't mind having them regularly either. Now let's talk about how we can branch out from Kung Fu Panda…
[adthrive-in-post-video-player video-id="mRb81cp2″ upload-date="2020-03-26T01:27:37.000Z" name="Peanut Butter Cup Popcorn Balls " description="Looking for a quick and easy dessert the whole family will love? These chewy Peanut Butter Cup Popcorn Balls are fast, easy, and packed with peanut and chocolate flavor!" player-type="default" override-embed="default"]
Peanut Butter Cup Popcorn Balls
These chewy Peanut Butter Cup Popcorn Balls are fast, easy, and packed with peanut and chocolate flavor!
Instructions
Pour the popped popcorn and the salted peanuts into a very large bowl, and toss them together with your hands.

In a large microwave-safe bowl, combine the butter and miniature marshmallows. Microwave for 90 seconds, then stir with a spatula until the marshmallows are melted and mixed into the butter. Add the peanut butter, vanilla, and salt, and stir well.

Pour the peanut butter-marshmallow mixture over the popcorn, and stir until the popcorn is evenly coated. If the popcorn still seems very warm, let it sit for a few minutes until it's around room temperature before adding the miniature peanut butter cups. When it feels temperate, add the chilled peanut butter cups and mix them in. (Chilling them helps prevent them from melting and getting messy.)

Form the popcorn into balls, pressing them firmly between your hands. You should get about 12 3-inch balls from this recipe. Set the finished popcorn balls on a baking sheet lined with parchment or waxed paper.

Melt the chocolate chips in the microwave and stir until smooth. Pour the melted chocolate into a plastic bag and snip a small hole in the corner. Drizzle the melted chocolate over the popcorn balls. Refrigerate the tray for 15 minutes, to set the chocolate, before serving. For the best taste and texture, serve the popcorn balls at room temperature.

These popcorn balls taste best the day they are made, but extra popcorn balls can be stored in an airtight container at room temperature for several days.
Video
Measuring Tips
Our recipes are developed using weight measurements, and we highly recommend using a kitchen scale for baking whenever possible. However, if you prefer to use cups, volume measurements are provided as well. PLEASE NOTE: the adage "8 oz = 1 cup" is NOT true when speaking about weight, so don't be concerned if the measurements don't fit this formula.
Want to learn more about baking measurements and conversion?
Nutrition
Calories:
283
kcal
|
Carbohydrates:
28
g
|
Protein:
6
g
|
Fat:
18
g
|
Saturated Fat:
6
g
|
Cholesterol:
12
mg
|
Sodium:
163
mg
|
Potassium:
159
mg
|
Fiber:
2
g
|
Sugar:
20
g
|
Vitamin A:
141
IU
|
Calcium:
30
mg
|
Iron:
1
mg
Tried this recipe?
Snap a pic and hashtag it #SugarHero. We love to see your creations on our Instagram @elabau.