This post may contain affiliate links. As an Amazon Associate I earn from qualifying purchases. Please see my disclosure policy for more information.
These cute Oreo Cookie Christmas Ornaments are a quick and easy holiday treat! They're so simple, even the kids can help make them. Serve them at a holiday party, or package a few and give them as edible gifts to friends, neighbors, or teachers.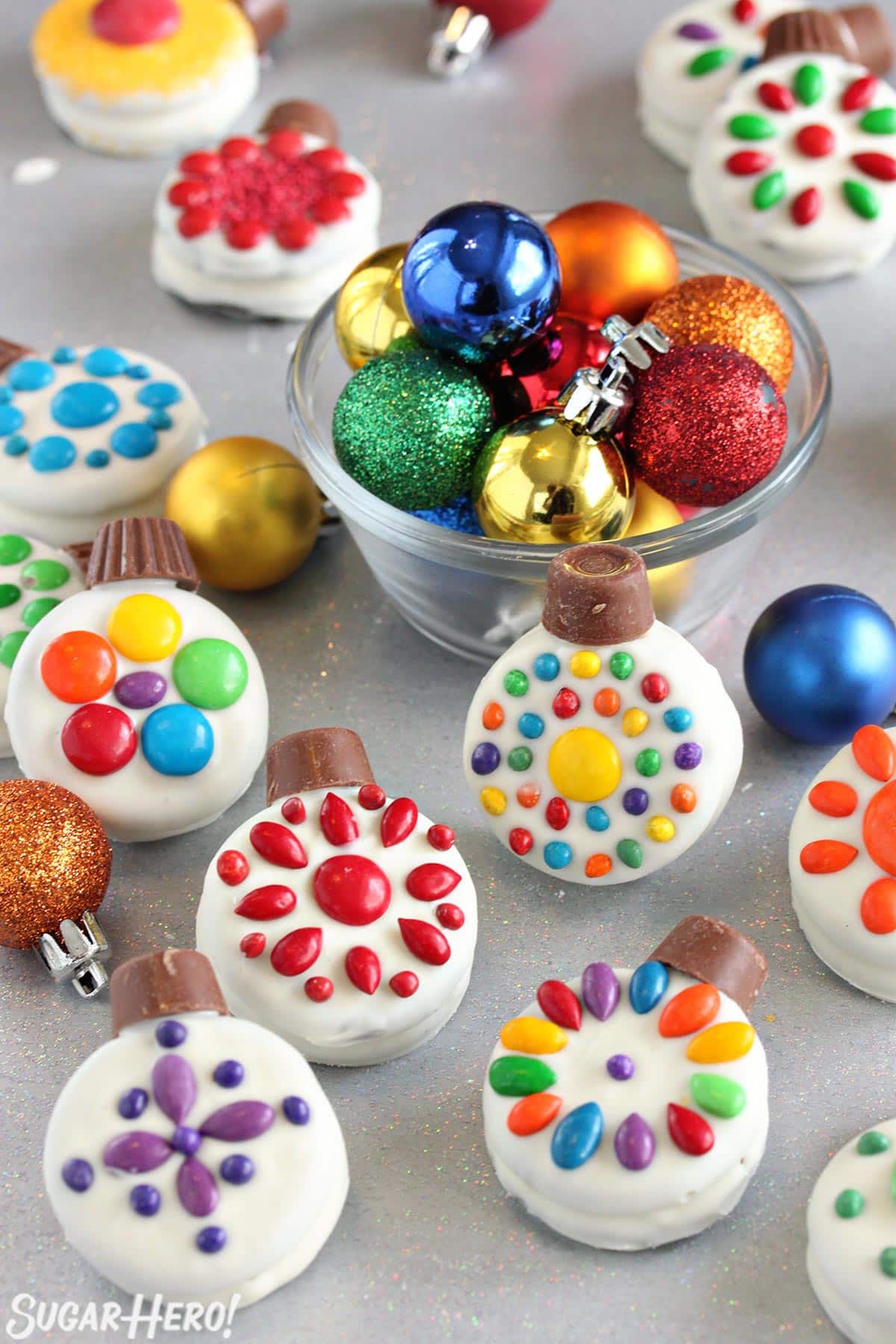 Oreo Cookie Christmas Ornaments
During the busy holiday season, I like to keep a few quick and easy baking projects in my back pocket in case of dessert emergencies. (Yes, dessert emergencies are a real thing!)
Maybe you need a last-minute gift for teachers or friends. Maybe your way-too-thoughtful neighbors dropped off a cookie plate and you were caught empty-handed. Maybe your kids are bouncing off the walls, asking to make Christmas cookies, but you have the energy and enthusiasm of a sloth with pneumonia. *siren sound* That, my friend, is a dessert emergency.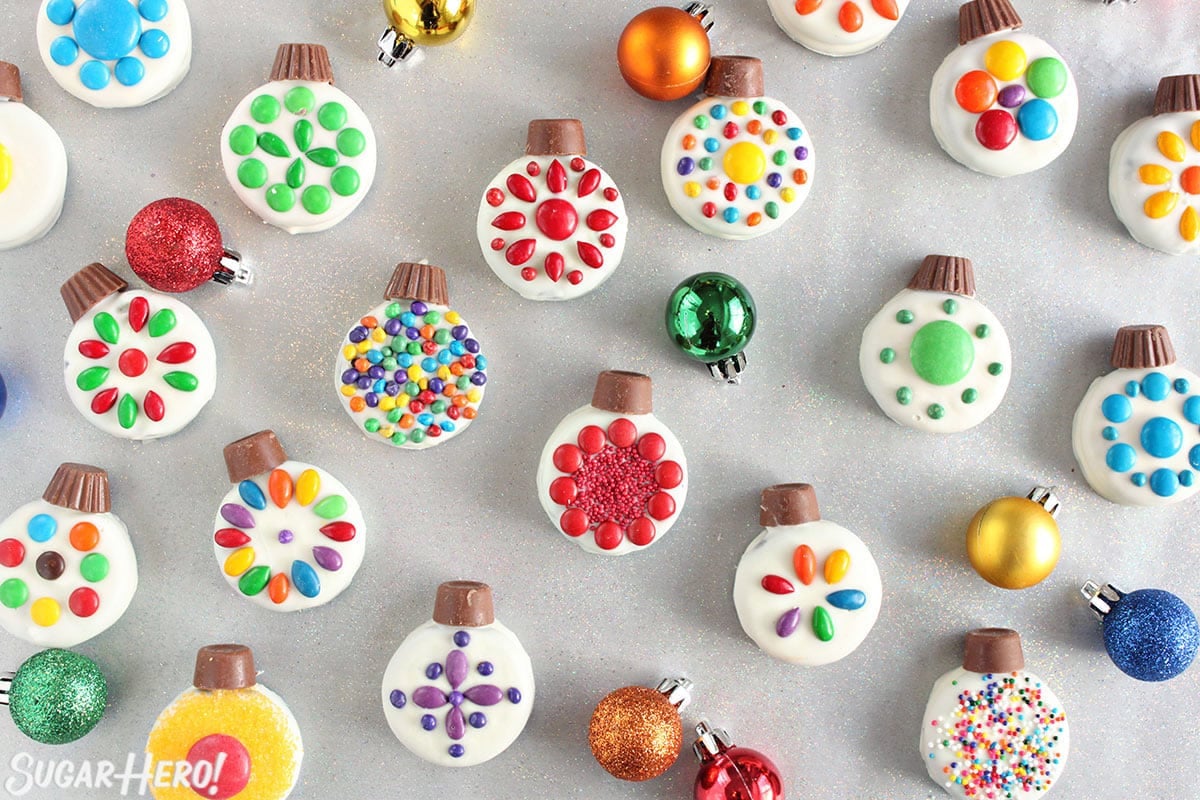 Easy Chocolate-Dipped Oreo Cookies
These simple treats are a holiday variation of chocolate-dipped Oreo cookies. I love them because:
they're SUPER simple
they require just 4 ingredients that you can easily find in stores
you can make them with kids
they're bright and colorful, so they add some holiday cheer, and most importantly…
they taste delicious!
This is one of those recipes where you can probably suss out the instructions just by looking at a picture, but if you've ever tried to make chocolate-dipped cookies and ended up with misshapen chocolate globs, you know that there are some tips and tricks to making these successfully!
Tips for Making Oreo Cookie Christmas Ornaments
You can use a fork to dip the cookies, and it will probably work just fine. But if you regularly make candy (or want to start!) consider investing in an inexpensive set of dipping tools. They're cheap, and the long, narrow prongs make dipping cookies MUCH easier than your typical dinner fork.
The candy coating you use is so important! I don't recommend using white chocolate chips–they won't have the right texture or color. Instead, look for white candy coating (also known as "Candy Melts.") You can find them in off white or bright white. Mercken's is my recommended brand – find Mercken's candy melts here! They have a nice fluid consistency when melted that makes them perfect for dipping. Wilton's is another brand you can use, although they tend to be thicker when melted.
If your candy coating is too thick and gloopy, you can add a small spoonful of shortening to thin it out. Stir it in to the warm candy coating, and microwave briefly if necessary so that it's melted and smooth. Start small and add more only if necessary!
If the coating starts to cool down and get too thick while you're dipping, put it back in the microwave in short bursts to warm it. Don't overheat it, as that will make it too thick. Just 5-10 seconds at a time, stirring well, until it's a dippable consistency again.
Add the decorations right after dipping each cookie, so they're sure to adhere well.
I love to make these with peppermint Oreos, but you can use any cookie flavor you'd like–even other types of sandwich cookies work.
For the tops, I used a mix of mini peanut butter cups and mini Rolo's. They both looked great.
To decorate, use whatever you can find in the store or in your cupboard. I wrote the recipe for mini M&Ms, but the truth is that any small candies or sprinkles will work. Have fun and be creative!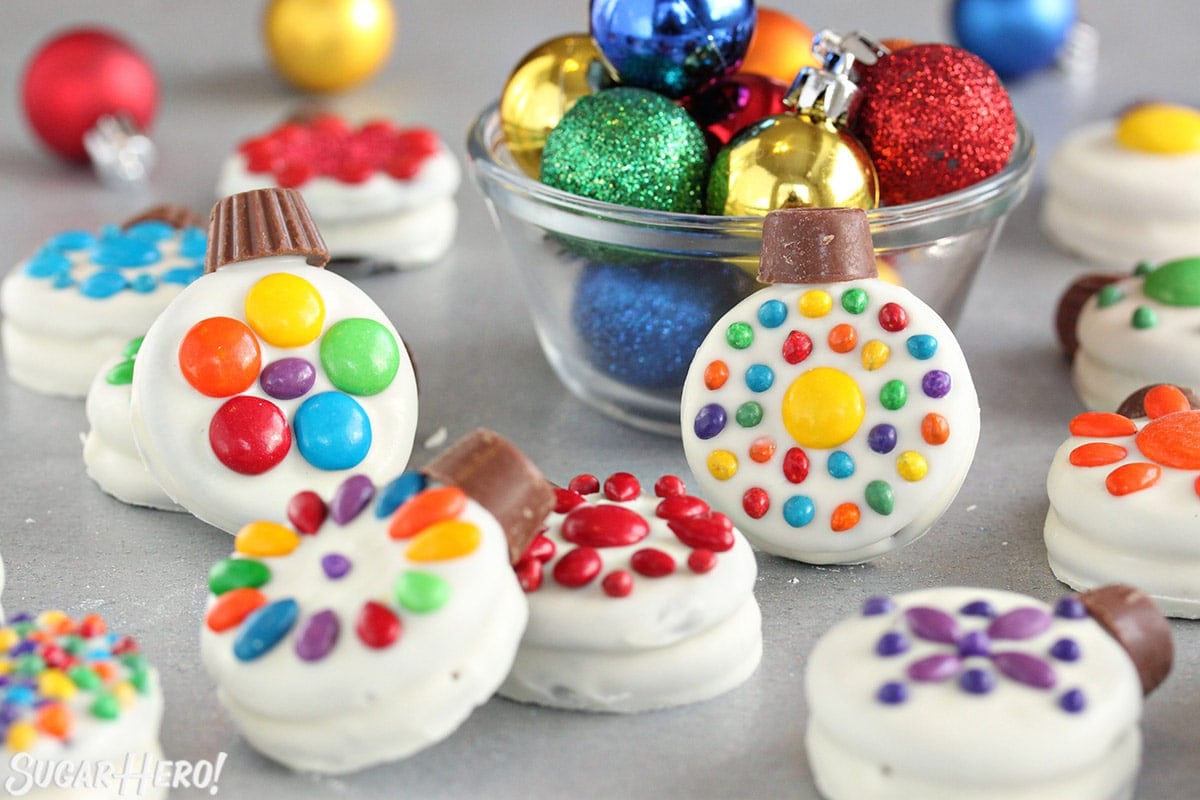 These are a great make-ahead option. None of the components have a short shelf life, and as long as you keep them in an airtight container at reasonable room temperature, you're good to make these 1-2 weeks in advance. So whip up some this week and you can avoid any dessert emergencies. Enjoy!
If you make this recipe, please let me know! Leave a ⭐️⭐️⭐️⭐️⭐️ rating on this recipe below and leave a comment, take a photo and tag me on Instagram @elabau or use #sugarhero.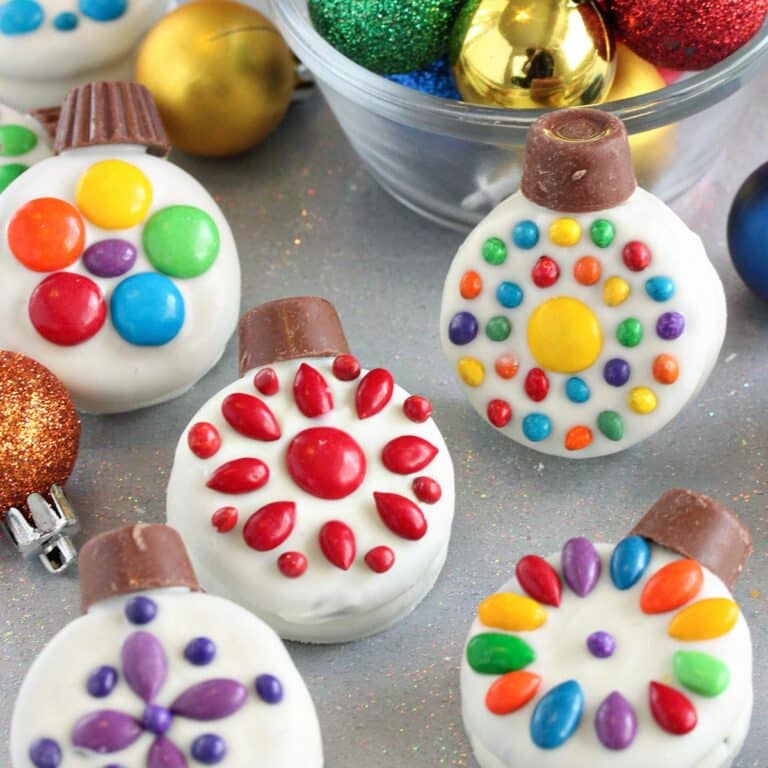 Oreo Cookie Christmas Ornaments
These cute Oreo Cookie Christmas Ornaments are a quick and easy holiday treat! They're so simple, even the kids can help make them. Serve them at a holiday party, or package a few and give them as edible gifts to friends, neighbors, or teachers.
Instructions
Line a baking sheet with waxed paper or parchment paper. Place the candy coating in a medium microwave-safe bowl. Microwave in 30-second increments, stirring after every 30 seconds to prevent overheating, until the coating is melted and smooth.

Using forks or candy dipping tools, dip a cookie in the melted coating until it's completely covered. Remove it from the coating and let the excess drip back into the bowl, then place it on the baking sheet.

While the coating is still wet, press a mini peanut butter cup onto the side of the cookie. Add mini M&Ms to the top in a decorative pattern.

Repeat, dipping the remaining cookies and decorating them with peanut butter cups and M&Ms. If the coating gets too thick while dipping, re-warm it briefly in the microwave until flulid again.

Refrigerate the tray to let the coating set completely, for about 10 minutes. Store these cookies in an airtight container at room temperature for up to two weeks.
MEASURING TIPS
Our recipes are developed using weight measurements, and we highly recommend using a kitchen scale for baking whenever possible. However, if you prefer to use cups, volume measurements are provided as well. PLEASE NOTE: the adage "8 oz = 1 cup" is NOT true when speaking about weight, so don't be concerned if the measurements don't fit this formula.
Click here to learn more about baking measurements and conversion.
Nutrition
Calories:
133
kcal
|
Carbohydrates:
17
g
|
Protein:
1
g
|
Fat:
6
g
|
Saturated Fat:
3
g
|
Cholesterol:
0
mg
|
Sodium:
88
mg
|
Potassium:
49
mg
|
Fiber:
0
g
|
Sugar:
13
g
|
Vitamin A:
5
IU
|
Calcium:
8
mg
|
Iron:
1.1
mg
Share by Email
Share on Facebook
Share on Pinterest