This post may contain affiliate links. As an Amazon Associate I earn from qualifying purchases. Please see my disclosure policy for more information.
This is a classic version of snickerdoodle cookies, with crisp edges, a soft, chewy center, and lots of cinnamon sugar! They're fast and easy to make, and wonderful as an afternoon treat or dessert.
Ah, Snickerdoodles–the unassuming cookie with the completely weird name. Despite their flashy title, at heart they're a homey cookie: made with just a handful of pantry staples, with no complicated techniques, flashy decorations, exciting chunks, or outrageous flavors.
Snickerdoodles are the cookie equivalent of the old quilt passed down from your grandma: not the most beautiful thing, but completely reliable and comforting. They're never at the top of my to-bake list, but every time I have one, I think "WHY don't I make snickerdoodles more often?!" They're perfect for snack time, tea time, or dessert.

How Do You Make Snickerdoodles?
Snickerdoodles are, at heart, just a variation of a sugar cookie recipe. They're made with basic ingredients like butter, flour, and white sugar, and come together like any other cookie dough–you beat the butter and sugar, add eggs, and mix in the drys. But unlike traditional sugar cookies, instead of being rolled out and cut into shapes, they're dredged in a cinnamon-sugar mixture before baking. (I also like to add some spices to my cookie dough itself, to intensify the cinnamon flavor, but if you're a traditionalist you can skip that.)
During baking, the cookies spread and develop a crackly crust on top. The cinnamon sugar caramelizes a bit, giving them a crunchy outer bite, but as long as you don't overbake them, they remain soft and chewy in the center. This texture contrast is one of my very favorite things about snickerdoodles.
Why Is There Cream of Tartar in Snickerdoodles?
The other difference between snickerdoodles and most sugar cookies is the addition of cream of tartar on the ingredient list. Cream of tartar might be familiar to you if you make a lot of meringues or otherwise work with egg whites–it's an acid that's often used to give beaten egg whites stability and structure. But because it's an acid, it also has a second purpose in a baker's kitchen–to react with baking soda. This recipe pairs cream of tartar with baking soda in the cookie dough, and when the two are mixed together, they cause the cookie dough to rise, puff up, and develop those signature cracks upon cooling.
Cream of tartar adds a few things to snickerdoodles–it gives the dough a slight "tang" that regular sugar cookies don't have, and it helps contribute to the chewy texture. These are not cake-like cookies, they have a distinctive chew even when soft, and that's thanks to cream of tartar.
Of course, the real reason there's cream of tartar in snickerdoodles comes down to tradition. You can absolutely make snickerdoodles without it–just substitute 2 tsp baking powder, and omit both the cream of tartar and the baking soda. People would still recognize your cinnamon-covered cookies as snickerdoodles! But without their signature tanginess and chewiness, you just might wonder why they don't taste as good as you remember from your childhood.
Snickerdoodle Variations
It's hard to improve upon a classic, so I certainly won't blame you if you want to eat them plain, with a glass of milk! No shame in that game. But if you want to try something a little different, give one of these a go:
Press the batter into a greased 10-inch cast iron skillet, and sprinkle the top with cinnamon sugar. Bake for 35-40 minutes, until puffed around the edges and a toothpick inserted into the center comes out clean. Serve in wedges with vanilla ice cream!
Similarly, you can make snickerdoodle blondies by spraying a 9×13 pan with cooking spray, then sprinkling cinnamon and sugar on the bottom. Press the batter into the pan, top with more cinnamon sugar, and bake until done. Cut into small squares and then eat 6 squares in a row because they're irresistable!
Try a snickerdoodle ice cream sandwich! The crispy edges and chewy center make for a GREAT ice cream sammie. Pair them with caramel, butter pecan, or plain vanilla bean ice cream for a cool summer treat.
🍪More Classic Cookie Recipes
Cinnamon Roll Ice Cream Sandwiches
These Cinnamon Roll Ice Cream Sandwiches are a fun twist on traditional ice cream sandwiches! Rich cream cheese ice cream is sandwiched between homemade cinnamon rolls to make a treat that's equal parts breakfast and dessert and entirely delicious.
Get the recipe!
Spice Cupcakes with Cinnamon Buttercream
Spice cupcakes are moist, fall-flavored cupcakes made with brown sugar and tons of warm, cozy spices. Finish them off with a big swirl of cinnamon buttercream and a beautiful chocolate feather!
Get the recipe!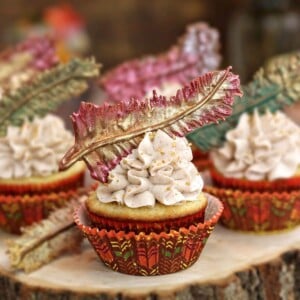 Snickerdoodles
This is a classic version of snickerdoodle cookies, with crisp edges, a soft, chewy center, and lots of cinnamon sugar! They're fast and easy to make, and wonderful as an afternoon treat or dessert.
Instructions
Preheat the oven to 350 F (177 C). In a large bowl sift or whisk together the flour, cream of tartar, baking soda, salt, cinnamon, ginger, and cloves.

In the bowl of a stand mixer fitted with the paddle attachment, cream the butter and sugar together until light and fluffy, 1-2 minutes.

Add the eggs one at a time, beating until they are fully incorporated. Add the vanilla and scrape down the sides of the mixing bowl.

Add the dry ingredients and mix on low speed until well-blended. Stop the mixer when just a few streaks of flour remain, and finish mixing by hand with a rubber spatula.

If you have the time, I think these cookies are better after the dough has chilled for 2 hours–they will be easier to roll, and they will be puffier and not spread as much. However, if you're pressed for time, you can make them right away–they'll just spread and flatten more.

Combine the sugar and cinnamon used for rolling the cookies in a bowl. Scoop small spoonfuls of cookie dough and roll them between your palms to get nice balls. Roll them in the spiced sugar, and place them on cookie sheets covered with parchment paper.

Bake at 350 for 10-12 minutes, until they are puffed, lightly golden, and crinkly on top. Cool on cookie sheets for 2-3 minutes, then transfer to a wire rack to cool completely.
MEASURING TIPS
Our recipes are developed using weight measurements, and we highly recommend using a kitchen scale for baking whenever possible. However, if you prefer to use cups, volume measurements are provided as well. PLEASE NOTE: the adage "8 oz = 1 cup" is NOT true when speaking about weight, so don't be concerned if the measurements don't fit this formula.
Click here to learn more about baking measurements and conversion.
Nutrition
Calories:
144
kcal
|
Carbohydrates:
20
g
|
Protein:
1
g
|
Fat:
6
g
|
Saturated Fat:
3
g
|
Cholesterol:
25
mg
|
Sodium:
130
mg
|
Potassium:
49
mg
|
Fiber:
0
g
|
Sugar:
11
g
|
Vitamin A:
190
IU
|
Calcium:
9
mg
|
Iron:
0.6
mg
Share by Email
Share on Facebook
Share on Pinterest