This post may contain affiliate links. As an Amazon Associate I earn from qualifying purchases. Please see my disclosure policy for more information.
Spice cupcakes are moist, fall-flavored cupcakes made with brown sugar and tons of warm, cozy spices. Finish them off with a big swirl of cinnamon buttercream and a beautiful chocolate feather!
🍂 These Moist Spice Cupcakes Taste Like Fall
When plain vanilla cupcakes just won't do, spice up your life by adding a heaping spoonful of cozy, flavorful spices to transform regular cupcakes into spice cupcakes!
These cupcakes are made with buttermilk, which keeps them ultra-moist, and are flavored with a generous amount of cinnamon, ginger, and nutmeg. To keep the spice theme going, we've topped them with cinnamon buttercream, but they would be equally good with cream cheese frosting or even a light dusting of powdered sugar — check out a list of frosting suggestions below.
If you love the sound of these cupcakes, don't miss some of our other favorite fall recipes, like Pumpkin Spice Cupcakes, Cranberry Sauce Cake, and Apple Cider Fritters.
🧁 Cupcake Tips for Success
Nothing is more disappointing than spending time making a recipe, only to have the recipe not turn out! Here are some of our top tips for making amazing cupcakes, every time:
Have your ingredients at room temperature.

The refrigerated ingredients (butter, eggs, and buttermilk) should be taken out and left to sit on the counter for about 30-45 minutes before baking, so they can come to room temperature. They will blend and incorporate better when they are not cold.

Weigh your ingredients when possible.

If you have a kitchen scale, use that to measure out ingredients instead of measuring cups. Weight measurements are faster and more accurate than volume measurements. (If you don't have a scale, no worries – we provide both weight and volume options in the recipe card!)

Don't over-mix.

Electric mixers are super convenient, but their speed and power also makes it easy to over-mix batters and doughs. When the batter is mixed too long, the cupcakes lose their light and fluffy texture and instead become dense and heavy.

Use a cupcake scoop.

A cupcake scoop makes it easy to scoop uniformly sized cupcakes, and it's neater than using a spatula or regular spoon, too!

Fill the cupcake pan 2/3 full.

Don't overfill your cupcakes – 2/3 is the perfect amount for a generously sized cupcake.

Bake just until done.

Bake until the cupcakes spring back when lightly pressed with your fingertips.
🍯Frosting Options
We've paired the spice cupcakes with a creamy cinnamon buttercream, but if you want to experiment, you can try all sorts of other frosting types and flavors. Here are a few of my favorite frosting recipes to try: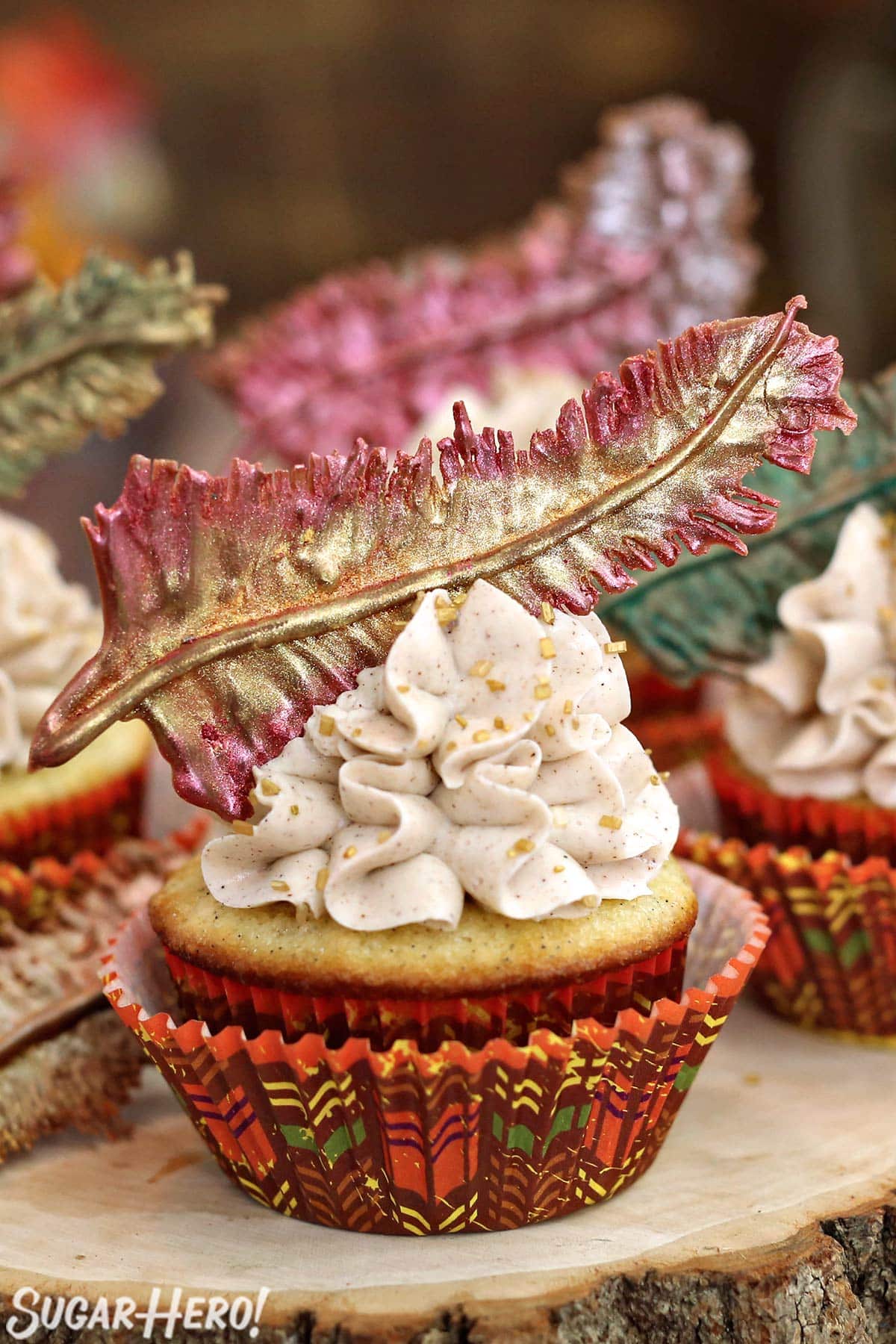 🪶 Decorating Options
These cupcakes are decorated with Chocolate Feathers – a beautiful and easy edible decoration that's perfect on cakes or cupcakes! You can find our full tutorial showing how to make chocolate feathers here. Here are a few other suggestions for how you can decorate these cupcakes:
Chocolate Leaves:

Use leaves from your own backyard to make these gorgeous chocolate leaves.
Flower petals: Read this flower cupcake tutorial to learn how to make easy flower petals.
Chocolate shavings: Take a vegetable peeler to a block of chocolate to quickly create pretty chocolate curls!
Rosettes: Swirl multi-colored buttercream into pretty frosting rosettes with this tutorial.

Keep it simple:

Sometimes all you need is a light dusting of freshly ground cinnamon to finish things off!
💭 Variations and Substitutions
To add even more flavor to these cupcakes, consider adding 1-2 tsp of an extract that pairs well with cinnamon, like almond or maple. You can add the extract to the cake batter, frosting, or both!
If you want to simplify the ingredient list a bit, swap in 1.5 tablespoons of pumpkin pie spice in place of all of the individual spices.
Make your own buttermilk
This recipe calls for buttermilk. If you don't have buttermilk, make your own by mixing together 1/2 cup of milk and 1/2 tsp lemon juice. Let it sit for 5 minutes before using it in the recipe.
If you don't want to make your own, you can swap in an equal amount of sour cream that's been thinned with a bit of regular milk.
❤️ More Cupcakes You'll Love
If you're crazy for cupcake recipes, try one of these next:
Chocolate Feathers
Chocolate feathers are a beautiful way to add a touch of drama to any dessert. You can add these easy edible feather decorations to cakes, cupcakes, tarts, and much more!
Get the recipe!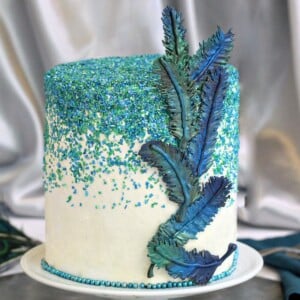 Pumpkin Spice Cupcakes
These easy Pumpkin Spice Cupcakes have a light, fluffy texture and are loaded with pumpkin spice flavor. Top them with cream cheese frosting for the ultimate fall dessert.
Get the recipe!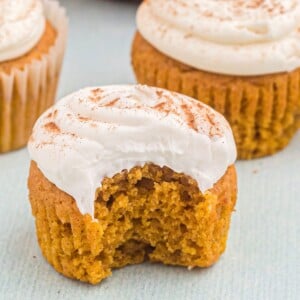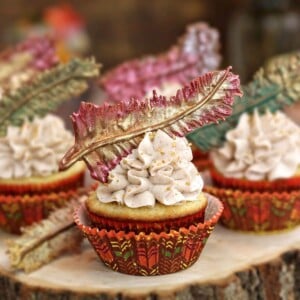 Spice Cupcakes with Cinnamon Buttercream
Spice cupcakes are moist, fall-flavored cupcakes made with brown sugar and tons of warm, cozy spices. Finish them off with a big swirl of cinnamon buttercream and a beautiful chocolate feather!
Ingredients
For the Spice Cupcakes:
6.37

oz

all-purpose flour

,

(1.5 cups)

1/2

tsp

baking powder

1/4

tsp

baking soda

1/4

tsp

salt

1

TBSP

ground cinnamon

1

tsp

ground ginger

1/2

tsp

ground nutmeg

6

oz

unsalted butter

,

(1.5 sticks)

, at room temperature

3.5

oz

granulated sugar

,

(1/2 cup)

3.75

oz

brown sugar

,

(1/2 cup)

, packed

3

large eggs

,

at room temperature

2

tsp

vanilla extract

4

fl oz

buttermilk

,

(1/2 cup)

, at room temperature
For the Cinnamon Buttercream:
3

fl oz

pasteurized liquid egg whites

12

oz

powdered sugar

,

(3 cups)

1/4

tsp

salt

12

oz

unsalted butter

,

(3 sticks)

, at room temperature

1

TBSP

vanilla extract

2

tsp

ground cinnamon
Instructions
To Make the Spice Cupcakes:
Preheat the oven to 350 F. Line cupcake pans with 18 paper liners.

Combine the flour, baking powder, baking soda, salt and spices in a small bowl, and whisk them together. Set aside for a moment.

Place the butter and both sugars in the bowl of a stand mixer fitted with a paddle attachment. Beat on medium speed until light and fluffy, about 3 minutes.

Add the eggs one at a time, beating well after each addition, then add the vanilla extract.

Turn the mixer speed to low and add about a third of the dry ingredients. Once the dry ingredients are incorporated, add half of the buttermilk and mix it in.

Add half the remaining drys, then the rest of the buttermilk, and finish with the remaining dry ingredients. Stop the mixer when just a few streaks of flour remain. Finish mixing by hand with a rubber spatula, scraping the bottom and sides of the mixing bowl well.

Scoop the batter into 18 cupcake liners. Bake for about 20 minutes at 350 F, until the tops spring back lightly when touched. Cool completely.
To Make the Cinnamon Buttercream:
Combine the whites, powdered sugar, and salt in the bowl of a large stand mixer fitted with a whisk attachment. Mix everything together on low speed, until the sugar is moistened and no dry patches remain.

Turn off the mixer, scrape down the sides and bottom of the bowl with a spatula, then turn the mixer to medium speed. Beat on medium for 5 minutes.

After 5 minutes, turn the mixer to medium-low and start adding the softened room temperature butter, a few tablespoons at a time. Once all of the butter is incorporated, add the vanilla extract and cinnamon and mix it in. Stop the mixer and scrape down the bottom and sides once more.

Turn the speed to medium and beat the buttercream for 10 minutes. At the end, you'll have a frosting with a wonderfully light and creamy texture. It can be used right away, or stored in the refrigerator for up to two weeks, or the freezer for up to two months. If you have chilled the frosting, let it come to room temperature and then beat it for several minutes to smooth it out and restore its texture before using it.
To Assemble:
Fit a piping bag with a large open star tip, and fill it with cinnamon buttercream. Pipe a big dollop of frosting on top of each cupcake, and if desired, add a few gold sprinkles. Finish by gently place a chocolate feather on top of each cupcake.
MEASURING TIPS
Our recipes are developed using weight measurements, and we highly recommend using a kitchen scale for baking whenever possible. However, if you prefer to use cups, volume measurements are provided as well. PLEASE NOTE: the adage "8 oz = 1 cup" is NOT true when speaking about weight, so don't be concerned if the measurements don't fit this formula.
Click here to learn more about baking measurements and conversion.
Nutrition
Calories:
382
kcal
|
Carbohydrates:
39
g
|
Protein:
3
g
|
Fat:
24
g
|
Saturated Fat:
14
g
|
Cholesterol:
88
mg
|
Sodium:
179
mg
|
Potassium:
67
mg
|
Fiber:
0
g
|
Sugar:
30
g
|
Vitamin A:
760
IU
|
Vitamin C:
0
mg
|
Calcium:
38
mg
|
Iron:
0.8
mg
Share by Email
Share on Facebook
Share on Pinterest
About Elizabeth LaBau
I'm Elizabeth, but you can call me SugarHero! I'm a former pastry chef turned blogger, cookbook author, and baking instructor, and I consider myself sugar's #1 fan. Learn more from my About page, or connect with me on social media: