Coconut Macaroons are a wonderfully easy gluten-free treat! You need just a handful of common pantry ingredients to make these coconut cookies that are crispy on the outside, and soft and tender on the inside.
I'll be the first to admit that I'm late to the game with these coconut macaroons. I had the best of intentions of posting them 2 weeks ago, before Passover started, and then life started life-ing, and somewhere in between hosting a rainy, muddy egg hunt, celebrating my son's birthday, and trying to surreptitiously disable the robotic puppy we gave him (what were we thiiiiiinking), the opportunity just slipped away from me.
Now obviously, there are more than a few coconut macaroon recipes in the world already. In fact, this very recipe has been kicking around my archives for years now, complete with really terrible blurry pictures because apparently I didn't know about fancy photography tricks like "focusing" 6 years ago.
But I wanted to re-photograph them and share them again, because this is by far my FAVORITE macaroon recipe I've made. There are different methods for making macaroons, and I've tried them all. There are variations with sweetened condensed milk, or where you just stir everything together before baking, but to get the taste and texture that I personally love, I find it necessary to cook everything together on the stove top before shaping and baking them. It's a small change, but it gives the cookies my ideal texture: crunchy and golden brown on the outside, but still really moist and soft on the inside.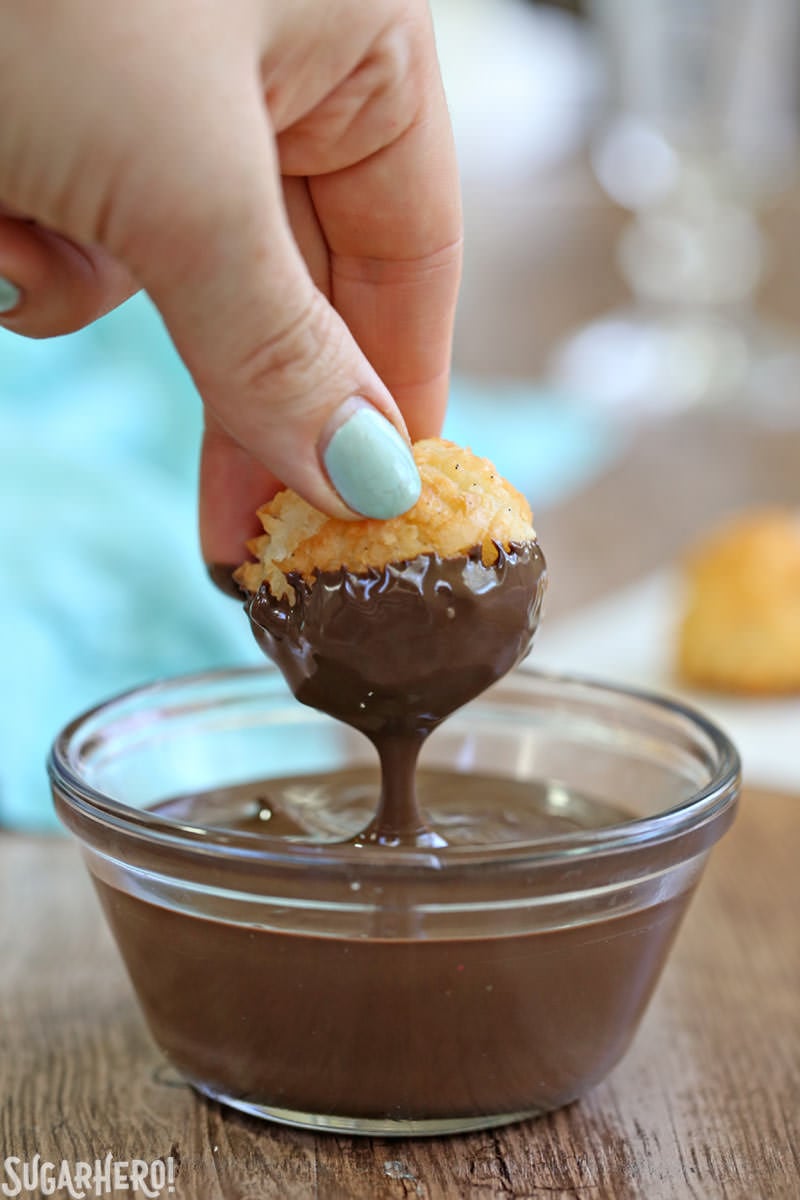 Should we talk about our macaroon pet peeves? I'll go first, because the list is long! It includes: macaroons that are unevenly cooked on the outside, or are still pale white, or have burned bits of coconut sticking out of the top. Or how about when a macaroon LOOKS delicious, but you bite into it and it's unbearably dry, or so sweet it seems gritty in your mouth? For such a simple cookie, it's surprising how many ways it can go wrong.
These cookies avoid all those pitfalls. They bake to a gorgeous, even golden brown, and have the best combination of crispy outside and soft, tender insides. They're sweet, to be sure, but if you add a big pinch of salt and don't make them too large, they're just right to satisfy that mid-afternoon sugar craving.
Now, like with all things in life, I think they're better when combined with chocolate. Seriously, name me 3 things that are NOT improved with chocolate. I'll wait.
I like my macaroons shaped into cones or balls an half-dunked into bittersweet chocolate, but some people like dunking the whole thing, or just dipping the bottom in chocolate. If you can handle serious sweetness, another surprisingly good combination is coconut and butterscotch chips–be sure to add an extra pinch of salt if you go this route.

These cookies are so simple, so unpretentious, and so downright delicious, they deserve a place in your recipe box. Enjoy!
🥥More Coconut Desserts You'll Love!