These Fudge-Striped Shortbread Cookies look like the kind you can buy in the store, but taste so much better! Crisp, buttery shortbread is coated with rich semi-sweet chocolate to make a delicious, beautiful treat.
I'm baaaaaaaack! [Please note that that should be read in a cheerful, playful voice, not in a scary Jack-Nicholson-from-The-Shining-voice.]
I took a short, unplanned hiatus from blogging after the holidays. It was a combination of post-trip fatigue, family illness, major website dramaz (big sigh) and a newfound love of sleep. I didn't blog, I didn't read any blogs (sorry!) and I didn't do much, if anything, on social media. I thought it would be weird to be so disconnected, but it was actually amazing.
[And here's the part where I write a little more about blogging, so if you're just here for the sugar, feel free to scroll down for a truly excellent shortbread recipe.]
I have several big goals for 2014, but the one that I've been focusing on on a daily basis is actually really straightforward and simple: get more sleep. The last few years have been rewarding, but they've also been kind of brutal. I thrive on keeping busy, but at some point, without realizing it, I drifted from being "pleasantly busy" to "insanely stressed and tired at all times." And some of it was legitimate, but some of it was also self-created and, honestly, unnecessary.
I love all my work, but I have a particular soft spot for SugarHero. I love how it's grown, and how it's forced me to grow as well. But you know what else I love? Sleeping! And reading. And running. And taking the occasional weekend off without feeling crazy guilty or agitated. And all of these are things that I haven't done consistently in far too long.
This is all just a wordy way of saying that things might be a little different around here this year. In addition to hanging with my new BFF sleep, I'm also going to spend a lot of time redesigning the back end of the site, which is super boring, but will provide you with great features like an integrated recipe box, a full visual recipe index, and updated print and save features on the hundreds of old recipes on the site. I'm also working on a proposal for another book, and although my agent is being very patient, I don't think she's buying the excuse that yet another dog ate yet another manuscript file. The jig is finally up.
So, it's possible that postings will slow down and be more sporadic this year. I hope that isn't the case, and I'm planning to keep things business as usual, but I'm also committed to being more flexible and cutting myself a little more slack. To 2014! The year I work hard at not working hard!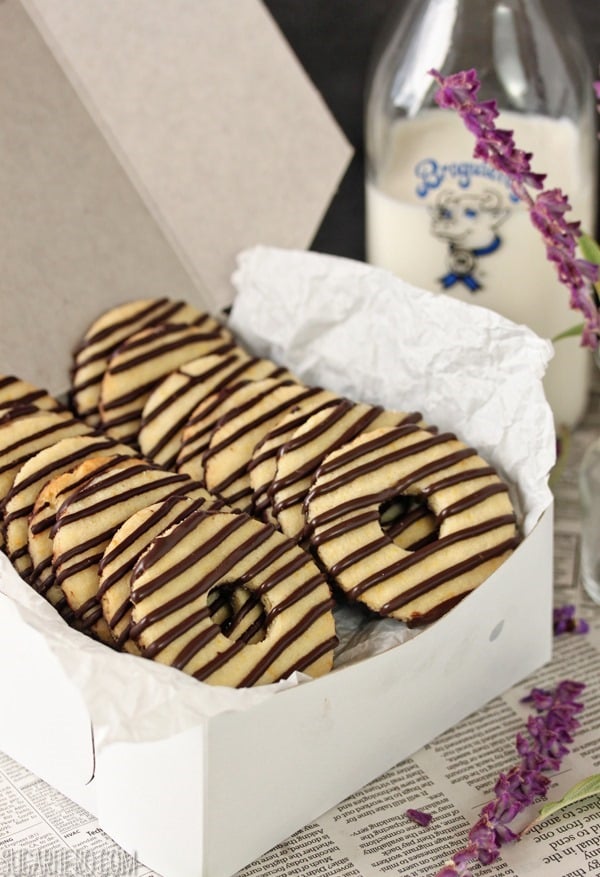 Thanks for indulging me in boring meta-blog talk. As a reward, I come bearing cookies!
Remember those Keebler shortbread cookies with chocolate stripes and chocolate on the back? And remember how they always looked delicious but tasted sort of like cardboard? Good news: they're super easy to make at home, and they taste a million times better! No, a billion! No, a kajillion! I'm no math whiz, but I'm pretty sure those numbers mean you should make these cookies.
The cookies themselves are buttery wonders, with a crisp yet tender crumb that melts in your mouth. They're covered with chocolate (not fudge! I don't know why Keebler called them "fudge-striped," but I followed suit like a mindless sheep), which is the perfect addition to the buttery cookies.
If you're busy, or if you're trying to get more sleep this year too, you can save some time by nixing the round cut-out shape and just cutting them into squares instead. These cookies don't care! They're delicious either way.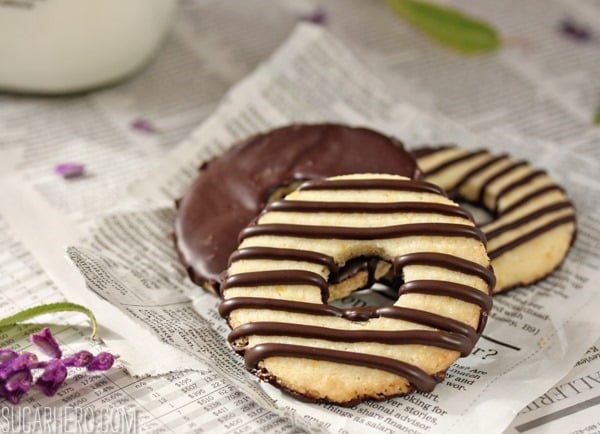 One of your new year's resolutions was to eat more cookies, right? Because that is exactly what you're going to do with these. Good job, you go-getter!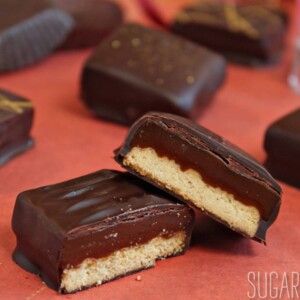 Caramel Shortbread Squares
These Caramel Shortbread Squares are the perfect 2-bite dessert. They have a crisp center covered in soft chewy caramel and the whole thing is coated in semi-sweet chocolate for superb richness!
View Recipe
Pistachio Shortbread Cookies
These Pistachio Shortbread Cookies are an upgraded take on the classic cookie. They have ground pistachios right in the dough, so they're sweet, nutty, and perfect for the pistachio lover. Dip them in chocolate to make them ultra-decadent!
View Recipe
Fudge-Striped Shortbread Cookies
These Fudge-Striped Shortbread Cookies look like the kind you can buy in the store, but taste so much better! Crisp, buttery shortbread is coated with rich semi-sweet chocolate to make a delicious, beautiful treat.
Instructions
This recipe works best in a large (10-14 cup) food processor. If you have a smaller processor, you should make the dough in 2 batches, and if you don't have one, a mixer can be substituted using the instructions that follow. Begin by combining the orange zest and sugar in a small bowl, rubbing them together with your fingertips until the sugar is moist and very fragrant.

If you're using a processor, combine the sugar, flour, and salt in the bowl of the processor. Pulse briefly to mix the dry ingredients. Add the cubed butter and pulse in 5-second bursts, until the dough begins to clump together. Once it just comes together, turn it out of the bowl and knead it briefly into a ball.

If you want to use a mixer instead, use room temperature butter, and combine the butter, orange-scented sugar, and salt in the bowl of a stand mixer. Beat them together until just combined, then add the flour and mix on low speed until blended. Turn the dough out and knead briefly by hand to incorporate any dry patches.

Divide the dough in half, and roll each half between two sheets of waxed paper or parchment paper until it is 1/4" inch thick. Refrigerate each sheet of dough on a baking sheet or cutting board until firm.

Preheat the oven to 350 F. Working with one sheet of dough at a time, cut out 3-inch circles. Use a small 1-inch cutter to cut a hole in the center of each one. You might want to wait a few minutes to cut out the center circle, because cutting the dough straight from the refrigerator might cause the firm cookie dough to crack. Re-roll the scraps and cut again, until you have about 32 circular cookies.

Transfer the cookies to a parchment-covered baking sheet. Bake at 350 F for 10-12 minutes, until they start to color and the edges are golden brown. Remove from the oven and, while still hot, press the cutters into the cookies again—the cookies will spread a little while baking, and re-cutting them after baking will keep the edges clean and neat. Cool the cookies completely on the baking sheets before carefully removing them.

Melt the chocolate, and dip the bottom of each cookie into the chocolate, then place it face-up on the baking sheet. Once all of the cookies are dipped, refrigerate the tray to set the chocolate. Then flip the cookies upside-down so that the chocolate is on the bottom. Transfer the rest of the melted chocolate to a plastic bag with a hole snipped in the corner, and drizzle lines of chocolate over the tops of the cookies. Refrigerate once more to set the chocolate.
Recipe Notes
If you want to keep these cookies at room temperature in a somewhat warm environment, I recommend tempering the chocolate instead of simply melting it. Tempering is a simple process of heating an cooling chocolate to specific temperatures, and it makes your chocolate shiny, smooth, and able to withstand warmth without getting soft or sticky. You can learn how to temper chocolate here. You'll need a chocolate thermometer, but nothing else in the way of special equipment.
Measuring Tips
Our recipes are developed using weight measurements, and we highly recommend using a kitchen scale for baking whenever possible. However, if you prefer to use cups, volume measurements are provided as well. PLEASE NOTE: the adage "8 oz = 1 cup" is NOT true when speaking about weight, so don't be concerned if the measurements don't fit this formula.
Want to learn more about baking measurements and conversion?
Nutrition
Calories:
183
kcal
|
Carbohydrates:
19
g
|
Protein:
1
g
|
Fat:
12
g
|
Saturated Fat:
7
g
|
Cholesterol:
19
mg
|
Sodium:
65
mg
|
Potassium:
53
mg
|
Fiber:
1
g
|
Sugar:
10
g
|
Vitamin A:
220
IU
|
Calcium:
7
mg
|
Iron:
0.8
mg
Tried this recipe?
Snap a pic and hashtag it #SugarHero. We love to see your creations on our Instagram @elabau.
This post contains Amazon affiliate links. For more information, see my Affiliate and Advertising Policy.
link